1/11/2022
We had 2 girls games on the air Tuesday night with Hoquiam at Tenino in EVCO 1A play and in the C2BL Adna traveled to Onalaska. Our re-caps, MVP's and Post Game Show links all below.
Tenino 49, Hoquiam 12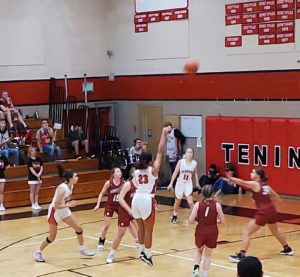 The Grizzlies had not played a game since December 22nd and have only gotten to practice 3 times between then and Tuesday night's game. Tenino also has not been in a game since December 29 and have had limited practices so it was a battle as to who could find a groove the fastest and that was clearly the Beavers and in fact the Grizzlies never did get into any kind of rhythm.
The Beavers got a big 1st half from Ashley Schow who knocked down 18 of her 22 points to lead Tenino to a handy 29-9 lead at the break. The Beavers would add on to their lead in the 2nd half scoring 20 for their 49 total. Alivia Hunter scored all 6 of her point in the 2nd half but had numerous rebounds and tied up for several jump balls with a rigid defense. Abby Severse hit for 10 while Megan Letts had 4, 3 for Grace Vestal and Rilee Jones had 2.
The Grizzlies couldn't get many shots to fall, several rolled off the rim or rimmed out, Graci Bonney-Spradlin led with 4 points, Ella Folkers and Avery Howard each had 3 and Katie Burnett finished with 2.
The Thorbeckes home team MVP went to Alivia Hunter for Tenino and our Pacific Sports Spa visiting team MVP was Graci Bonney-Spradlin for the Grizzlies. Tenino is now 9-3 and 1-0 in league play while Hoquiam drops to 5-3 and 0-1.
Post Game Show 
Highlight Alivia Hunter works it inside for Tenino followed by Ella Folkers draining it from behind the arc for Hoquiam
Onalaska 57, Adna 45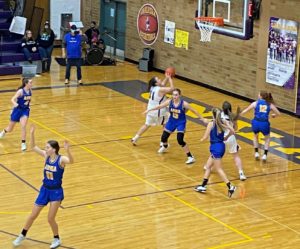 Onalaska handed the Pirates their 1st league loss and did it with a suffocating defense for 3 quarters. Adna came out on-fire lighting up the scoreboard for 19 point and led 19-14 after the 1st 8 minutes of the game. But then the Loggers defense squeezed the Pirates like a massive python taking down its dinner hold Adna to just single digits in each of the final 3 quarters.
At the same time Ony's offense remained stable through the entire game surging to the lead by halftime with a 2 point, 30-28 lead. Callie Lawrence led the Logger attack with a double-double of 18 points and 13 rebounds. Onalaska's well balanced offense added to their lead after 3 with a 41-37 lead and pulled away in the 4th for the 12 point vic tory. The Loggers had 3 in double figures as Morgan Hamilton had 15 and Dakota Hamilton knocked down 13.
The Pirates also had 3 in double figures but all with 10 points included Karlee Von Moos, Kaylin Todd and Summer White. The Loggers are now 2-1 in league play and 8-3 overall while Adna falls to 2-1 in league and 7-5 for the season.
Our Thorbeckes home team MVP went to Morgan Hamilton and our Pacific Sports Spa visiting player MVP was Kaylin Todd.
Post Game Show
www.elisportsnetwork.com