1/12/2022
Two game were on the air Wednesday night on ESN, both re-caps and post game shows are below.
SPSL 4A
Curtis 62, Sumner 58
Sumner fell behind early in this game as it appeared the Vikings would run away from the Spartans taking an 11-2 lead early in the 1st quarter including 3-3balls. Sumner would settle in defensively and held Curtis to just 2 more points in the final 3+ minutes while closing the gap to trail 13-8. Both teams would score a few more points in the 2nd quarter and the Vikings increased their advantage but were still in the game trailing 28-20 at the half.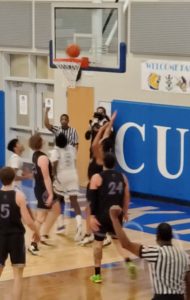 Defensively it was exactly what the Spartans wanted to do and held Curtis under their 35 point halftime average. Sumner knew if they could keep the Viks under 60 they had a great shot at winning but had to get some offense rolling early in the 2nd half. 6 different Vikings had scored by halftime with a well spread out attack led by Cinque Maxwell's 8 points while Zoom Diallo had 7. Ty Edwards kept the Spartans in it with 8 and Ethan Canion nailed a par of 3's for 6.
The Spartans came out on fire in the 3rd quarter and gobbled up that 8 point deficit and even took a 1 point lead 33-32 but then Curtis went on an 18-7 run in the final 4 minutes to extend their halftime lead to double digits 50-40. 
Sumner would not give in and a swarming defense held the Vikings to just 2 points through the 1st 6 minutes of the final quarter. Kaden Lewis would hit a huge 3 ball (highlight below) to tie the game at 52 for the Spartans. Curtis responded with a huge shot from Tyce Paulsen with an off-balance 3 and he was fouled with less than a minute to play to give the Vikings a big 2 possession lead 58-54. 
Sumner had one last chance with less than 10-seconds to play and down by 4 Sumner took the ball from one end of the floor to the other and Ty Edwards put up a shot that missed but Kaden Lewis was there for the rebound and put back for 2 and was fouled with 3.2 seconds to play. Lewis then shot the free throw hard off the back iron hoping for a rebound and put back to tie it. The ball bounced and the Viking's Paulsen grabbed the board and was fouled with 1.2 seconds to play (highlight below). Paulsen sank both free throws to push it to a 4 point lead and the Vikings would hold off the Spartans in a thriller.
Our home team MVP went to Tyce Paulsen and our visiting team MVP was Ty Edwards. Curtis is now 8-3 for the season and 1-0 in league play while Sumner dropped to 2-1 in league and 4-4 overall.
Curtis Scoring: Tyce Paulsen 20, Zoom Diallo 17, Cinque Maxwell 10, Devin Whitten 8, Tyler Logan 6, Gabe Martin 1
Sumner Scoring: Ty Edwards 18, Ethan Canion 12, Kaden Lewis 11, Connor Chalich 8, Carter Stonerock 6, Jaivion McLaughlin 3
Kaden Lewis ties the game at 52 for Sumner
Tyce Paulsen with the Play of the Game
Tyce Paulsen with a big rebound to secure the win
Post Game Show
Central 2B League
Kalama 73, Toledo 58
The Chinooks came out firing and built a 9 point lead after the 1st quarter and the Riverhawks could never close that early gap. Kalama would lead 20-11 after the 1st and added 2 points for a 36-25 halftime lead. Toledo usual hot shooting was off a bit in the 1st half and foul trouble would send the Chinooks to free throw line more than double the number of attempts by Toledo. In the end the Chinooks got 40 free throws. 
In the 2nd half the Riverhawks would make a couple of runs and pulled within 3 at one point but never could re-take the lead. Every time the Riverhawks got close the Chinooks responded and would pull away in the end for the win. 
For Kalama, Jack Doerty led all scorers with 27 including 6 3-balls and Jackson Esary added 19. Jake Cournyer led Toledo with a double-double of 23 points and 11 rebounds he also had multiple 3's with a total of 4. Kalama improves to 7-1 on the year and 3-0 in league while Toledo lost their 2nd league game of the week and fall to 0-2 in Central 2B league and 9-3 overall.
Post Game Show
www.elisportsnetwork.com