(Centralia, WA) The Eli Sports Network is excited to announce the hiring of our new position the Director of Operations, Matthew King. King has been part of the ESN regular broadcast crew for 4+ years. He has called football, volleyball, basketball, baseball, fastpitch and soccer.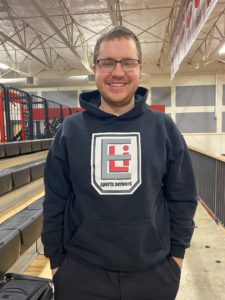 King is a 2015 WF West graduate and then went on to graduate from Washington State University's world renowned Murrow College of Communication program in 2019 with a goal of working in the sports media industry. King has been keeping his play-by-play skills sharp doing a large number of games over the past few years on ESN.
King played football and soccer for the Bearcats but lists baseball as his favorite sport and also likes basketball. He has been learning more about volleyball and has enjoyed getting to know that sport and the strategies and intricacies involved.
His career goals are to work in sports media with the dream of being part of a Major League broadcast team especially for his beloved Seattle Mariners. His idol growing up was not Ken Griffey Jr or Edgar Martinez but rather Dave Niehaus which set his educational path to sports broadcasting. 
King has been working jobs outside of sports media to make his living but with always the goal to make sports media his career. ESN VP of Communications Will Gaethle says ESN, now in our 11th year, has grown incrementally over the years and is now in need and position to offer our 1st full time position. Gaethle says, "We targeted Matthew for this position actually several years ago and simply hoped he would be available when we were in position to offer a full time position."
King's duties will focus on the day-to-day operations of scheduling games with school Athletic Directors, organizing and scheduling ESN broadcast crews and developing new ESN crew members. Gaethle says, "We are moving our focus away from simply getting up video streams to as many games as possible to a more set schedule with full coverage. By that we mean a broadcast crew, follow-up story and re-cap on the ESN website, interviews, pictures, highlight video clips and social media. We all know the traditional media keeps getting chipped away and ESN wants to try and fill part of that ever expanding gap of coverage of high school sports. Matthew is going to be a centerpiece for us making this happen."
King is not the first broadcast college grad with an expanded role. Russell Brown joined ESN a few years ago and picked up additional part time work with ESN. In addition to a large live play-by-play schedule in the Seattle/King County area, Brown became our credentialed reporter to cover the Seattle Sounders and then began working with Seattle University doing some play-by-play which eventually led to a full time position with the college as Assistant Director of Communications.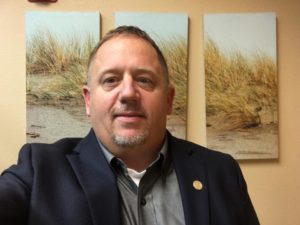 Gaethle says, "the success of Russell moving on to the next level is part of the ESN mission. We want to allow people who cannot get to high school games to be able to watch is one part of our mission and the 2nd part is giving young up and coming sports media students and graduates an opportunity to keep their skills sharp, grow and learn in a real world opportunity and help them take a big step toward their career goals. Russell's success proves our model and while we are excited to have Matthew step into this new role we also will be working and supporting him as he figures out his next step for his future."
King begins working full time with ESN January 17th and will be critical in planning for the upcoming Winter State tournament coverage of bowling, wrestling, cheer, dance/drill and of course basketball. This year ESN will cover all 180 state basketball games in the Tacoma Dome, Yakima SunDome and Spokane Arena.
Then as soon as the Winter Championships are in the books the very busy Spring tournament planning will begin. 
www.elisportsnetwork.com