5/22/2022
(Auburn, WA) Day 3 of the 2022 season and the sun was out with warm temperatures and a huge crowd was on hand to take it all in. The temperature wasn't the only thing that was warm, jockey Kevin Radke remained red hot. A day after tying his own record for most wins in a day at Emerald Downs with 6, Radke kept his foot on the gas pedal winning 3 more races on Sunday for a total of 9 over the last 2 days. Let's get to the Sunday races.
Early Feature Race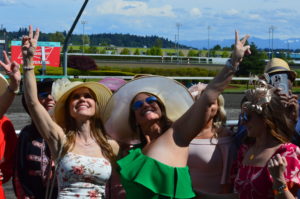 The feature race was the 3rd race dubbed "the Bridget's 50th Purse"and featured a compact field of 5 3-year-olds and up fillies and mares with 3 of them stakes winners and the other 2 having run in stakes races. The horse to beat was Tim and Sue Spooner's Ima Happy Cat who is fast out of the gate and tough to catch. Kevin Radke, the hottest rider at the track had the mount and he knew what to do with Ima Happy Cat and that was to let her run her race.
The public supported Cat making her the even money favorite and when the gates opened Radke and Ima Happy Cat went straight to the lead and quickly built a 2-length lead. Frisco Frills with Kevin Orozco up tried to push Cat but could never fully engage her on the front end. Zippin Sevenz and Leslie Mawing next took their shot but failed to make progress and finished 3rd in front of Frisco Frills. Stakes winner Dontkissntell was the last to make a serious run with Jose Zunino came running late but fell a length short at the wire. The other stakes winner Ms Lynn never got out of 5th and clearly needed a trip over the racing surface.

Ima Happy Cat goes wire-to-wire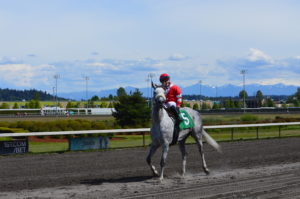 Ima Happy Cat stopped the clock for 5 1/2 furlongs in 1:01.49. That was the fastest 5 1/2 furlong time on the year which is significant considering of the 28 races run so far this season 21 are from the 5 1/2 furlong distance. Dan Markle trains Ima Happy Cat who is now 10-5-4 from 34 lifetime starts and picked up a winners share check for $16,225 pushing her bankroll to nearly $120,000.
Ima Happy Cat is a California  by Smiling Tiger and out of Infernal McGoon by Wekiva Springs and was bred by Dale Mahlum.
Ima Happy Cat ran twice at Emerald Downs last year in 2 Stakes races winning the Hastings Stakes and finishing 4th in the Washington Legislators Stakes.
The Winning Connections of Ima Happy Cat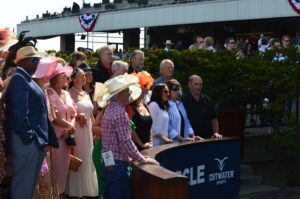 Radke chalks up 3 wins on Sunday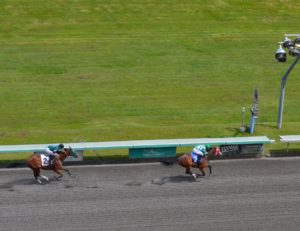 Kevin Radke tied the Emerald Downs most wins in a day record on Saturday with 6 and added 3 more on Sunday. Click here for our story on his 6 win day. Radke got it going in the 1st on Sunday with 1st time starter Midnight Luter for trainer Rosie Simkins and owner Lucky K Racing. Midnight Luter went off as the slight 2-1 favorite over Wild Plan who finished 2nd with Alex Anaya up. Midnight Luter is a Washington bred by Lutes Gift, out of Snooty Gal by Officer and bred by John Kvinsland.
Radke's 3rd win a special one for Trainer Bob Meeking
Radke wrapped up his his weekend with a win in the 8th race with a front running effort from Wheel Rally and trainer Bob Meeking. It was Meeking's 1st win since September of 2020 when Finished My PHD won for the then 92-year-old Meeking. Meeking is now 93 and just a few days away from his 94th birthday on June 6th.
First wins for Orozco and Zunino
Kevin Orozco scored his 1st win of the year on odds-on favorite Tam Tricky in the 2nd race for trainer Blaine Wright. Tam Tricky found herself on a tight lead and in the stretch looked as if she might be done but Orozco and Tam found another gear and pulled off a 1/2 length win.
Jose Zunino came into the season off a fantastic winter and early spring at Turf Paradise but had struggled a bit over the 1st few days until the 9th race when Zunino rode a well timed race aboard Our Lyla Grace at 5-1. Zunino caught You Go Girl with Juan Gutierrez aboard, Gutierrez was shooting for his 3rd win of the day but could not fend off Zunino with Our Lyla Grace.
Gutierrez continues multiple win streak
Gutierrez finished with his 3rd straight multiple win day after a triple on opening day and a double on Saturday. Gutierrez took the 4th race on Collecting Stars for trainer Sam Dronen and owner William Sandeman. Collecting Stars went head and head with favorite Miss Kitness and put her away at the top of the stretch pushing her lead to 2 lengths and finishing off the race clear by a 1 3/4 lengths.
Gutierrez then won the 6th race on Coastal Jazz. Coastal Jazz was the 2nd choice of the bettors but Gutierrez didn't give anyone else a chance leading from start to finish for trainer Steve Bullock and owners Gold Coast Racing. Gutierrez now has 7 wins on the year trailing the 9 of Radke.
Matias, Cruz and Anaya grab wins
Javier Matias won the feature race on opening day grabbed his 2nd win of the meet in the 5th race on Saint Pieus for trainer Niccolo Troiani and owners One Horse Will Do Corp, Saxwold, Saxwold and Chris Stenslie. Saint Pieus and Matias dominated from start to finish, leading every step of the way and pulling away for a 3+ length win at 5-1.
Alex Cruz picked up his 3rd win of the season in Sunday's 7th race with betting favorite Heredia Boxer for trainer Jorge Rosales and owner Oscar Heredia. The 2-time defending jockey Champion is off to a little bit of a slow start and looking to get heated up over the next few weeks.
And Alex Anaya who has been riding exceptionally well hitting the board with several long shots did get his 2nd win of the season after getting his 1st on Saturday when he brought Blood Red Moon from the back of the pack in a 6 1/2 furlong race to sweep past all the competition by the 16th pole posting a 1 1/2 length win for trainer Jim Gilmour and owner Sue Gilmour. The Gilmour's were set to run their horses at Grants Pass this spring but when they closed down the Gilmour's came north and is paying off for them.
News and Notes
The first Inquiry of the season was called and upheld in the 2nd race when Moscow Lady and jockey Javier Matias drifted in, deep in the stretch. The Stewards ruled there was interference against Babiste LaSalle who finished 4th and dropped Moscow Lady from 2nd place to 4th moving up Percy's Sis to 2nd and Babiste LaSalle to 3rd.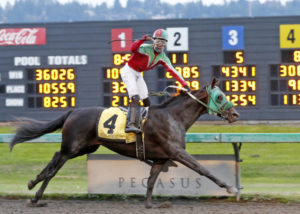 In the 5th race 2021 Gottstein Futurity Champion Midnight Mojo with Eddie Martinez got his first run over the Emerald oval of 2022 and finished 3rd in the 5 1/2 furlong dash. Midnight Mojo is an off the pace runner and is looking forward to longer distances. Martinez told ESN that "Mojo" ran well in the opener and was happy with effort and expects a big year from the 3-year-old by Midnight Lute. The Kentucky bred is trained by Tom Wenzel and owned by George Todaro.
The Claiming box has been busy through the first 3 days with a total of 12 claims dropped. On opening day there were 5 claims and a total of $19,500 being invested, on day 2, 4 horses changed barns with $20,500 worth of transactions and on Sunday, 3 claims totaling $35,000 were dropped. The top claim so far was $25,000 in race 9 on Sunday for Violent Move. Violent Move was owned by John Parker and trained by Candi Cryderman and the new owner is Bruce Cudahy and trainer Dan Markel. The new connections are hoping this race was not a indication of future results as Violent Move finished last, well beaten after showing brief speed.
Week 3
Racing resumes next weekend with cards on Saturday and Sunday, no racing on Memorial Day and then the following week 3 days a week racing begins with racing on Friday evenings along with Saturdays and Sundays for most of the rest of the season.
Photo Gallery
www.elisportsnetwork.com