5/21/2022
(Auburn, WA) Saturday was Preakness Day and day 2 of the live racing season at Emerald Downs but it was all about jockey Kevin Radke in Auburn. Radke would reel off 5 straight wins (all-chronicled below) and then added a 6th win in the 7th race. The 6 wins ties him with 3 others for most wins in a day at Emerald Downs including tying himself.
Radke was the 1st to do it 20 years ago in 2002 winning 6 from 10 races, the 4th and 5th and then the final 4 7th thru 10th races. Seth Martinez tied him in 2008 winning 6 from 8 rides. Martinez won the 1st, 3rd, 4th and 7th thru 9th races. Julien Couton was the 3rd to do it in 2018 when he won 6 from 9 rides winning the 1st and 2nd, 5th and 6th and 8th and 9th races.
The state record for most wins in a day is 7 held by Washington Hall of Famer Larry Pierce. Pierce was 26 when he brought 7 winners home from 8 mounts at Longacres on May 20, 1972. At the time, Pierce was just the 7th jockey in history to record 7 wins in a single day. Here is a re-cap of Pierce's 7 win day:
Race 1 – Gate to wire score on Lacey Creek ($8.90).
Race 4 – Took the lead riding Persian Fleeting in the stretch ($6.60).
Race 5 – Up in time to win by a head on Royal Coachman ($6.90).
Race 6 – Held on for a neck victory on Miss Cindy Shelly ($5.70).
Race 8 – Pressed the pace to score with Do Re Jo ($21.60).
Race 9 – Rallied Sevant ($4.80) from 10th and last to win at  5½f.
Race 10 – Roared down the stretch aboard Vital Penny ($9.30).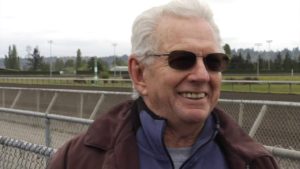 Radke had two chances to tie that historic mark after winning his 6th aboard Mixo in the 7th race. In the 8th he would finish 4th and then 6th in the finale. His best chance to tie the record was in the 6th aboard Tumac Mountain but after pressing the pace of Buckley Bay he faded to 3rd 1 1/4 behind the winner.
However, Radke is the 1st rider in state history to ever win the first 5 races of any card. Likely a feat that will withstand the test of time no doubt.
Another interesting note is the bettors were not surprised much by any of these historic days of riding. Out of a total of 31 wins between the 4 6-winners and Pierce's 7 wins there were 2 $2 wins that paid $23.20 (Mixo for Radke in 2022) and $21.60 (Do Re Jo for Pierce) and 2 that paid $12 (Go Not Whoa for Radke in 2002) and $10 (Maxey Boy for Martinez). The other 27 winners did not pay more than 7-2 with 16 of those at 2-1 or lower.
ESN Talks with Kevin Radke on his Big Day
Here is a re-cap of each of Radke's 6 wins:
1st Race
After a late scratch it was a field of 5 going 5 1/2 furlongs and Orcadian Storm did not disappoint as the 1/5 odds on choice. Jockey Kevin Radke and Orcadian Storm sat behind the front speed of Rough Ride with Alex Anaya up. Rough Ride led by as much as 3 lengths and Anaya was trying to settle him on the front end. As they turned for home Radke had moved to nearly even and was too much for Rough Ride and pulled away to win by 3. Rough Ride was clearly 2nd with Command Sgt Major running an even 3rd and held on for the show while Starzan completed the superfecta.
Orcadian Storm paid $2.60 to win, Rough Ride was 8-1 and returned $4 on the place and Command Sgt Major was 13-1 and both he and Rough Ride paid $3.20 on the show which is a great pay-off considering there was only 5 horses and the 1-5 favorite won. Orcadian Storm is trained by Charles Essex and owned by K + L Racing.
Radke had ridden 8 races on opening day and never got to the winners circle, in his 9th ride he snapped that streak and it would end up setting a tone for Radke on this second day of racing.
2nd Race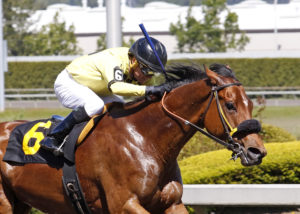 On opening day Juan Gutierrez won the 1st two races and on day 2 Kevin Radke followed suit. Although Radke winning both ends of the early daily double didn't surprise anyone as he was 1-5 in the 1st race and 4-5 in the 2nd. Radke was aboard odds on choice Mean Sharon and went straight to the lead and never looked back winning by a length and 3/4. Mean Sharon is owned by John Parker and trained by Candi Cryderman.
Stablemate Shelby R ran 2nd in a boat race with Juan Gutierrez aboard, Beau Rocks with Jose Zunino grabbed 3rd and Bethel Ridge with David Martin ended up 4th.
The Radke daily double paid $2.90.
3rd Race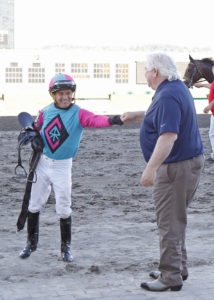 Kevin Radke was ready to show he is back and ready to compete at the highest level when he won his 3rd race in a row sweeping the opening Pick 3  and showed he did not need an odds on choice to get the job done. Trainer Vince Gibson had 2 in the race Coasting with Radke up at 9-2 and Coastal Wonder at 25-1 with Alex Anaya riding. Coastal Wonder went to the lead while Radke laid off the pace sitting in a group of 3. Radke then edged forward caught his stablemate at the top of the stretch and pulled away for the win by 3/4 of a length and held off a fast closing Tap the Bank with Eddie Martinez. Nummy Num with Jose Zunino got up by a neck over Coastal Wonder who did well to hold on for 4th.
Coasting is owned by Ashley Potts. Coastal paid $11.40, $5.60 and $3.80 for a return of $20.80 on your $6 "Combo" ticket. The 1st big pay came in this race on the 10-cent superfecta that returned $102. The Radke Pick 3 didn't fool too many as the 50-cent ticket paid $8.35. The 2nd Radke daily double paid $11.30.
4th Race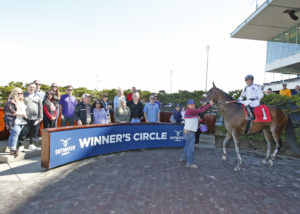 Radke is now officially RED HOT as he won his 4th straight on the day. He did get the 6-5 betting choice and was in a 4 horse blanket finish but came away with the win. The Metal Man with Javier Matias up and Zatter with Alex Anaya were heads apart from the start of this 5 1/2 furlong dash. Crooked Finger Ray with Radke and Crest Drive with Juan Gutierrez sat just behind and as they turned for home it looked like Zatter may pull away as both Crooked Finger Ray and Crest Drive were looking for room and then The Metal Man dug back in on the rail inside of Zatter while Crest Drive and Crooked Finger Ray exploded to the outside and it came down to the photo finish.
When the photo sign came down Radke with Crooked Finger Ray were the winners by a head over The Metal Man who held 2nd by a nose over Crest Drive who snagged 3rd by a head over Zatter.
The Radke Pick 4 returned $24.30, the 2nd Radke Pick 3 paid $20.15 and the 3rd double was good for $16.50.
5th Race
If there were a Pick 5 in the 1st 5 races you would only have needed to string all 5 Radke rides together as he won his 5th race in a row. It appeared his streak was over as Code Charlie with Juan Gutierrez had built a 3 length lead turning for home and was not stopping but Radke was getting after Roman Rush who was chipping away at the lead. As Code Charlie's lead dwindled Roman Rush kept pushing and at the wire caught him by a head for his 5th win.
The pair were 8 lengths clear of I Am Allthatyouare, who actually won last Sunday with Eddie Martinez up and Blue Boy Who with Alex Anaya rounded out the superfecta.
This was the best paying race for Radke as Roman Rush went off at 5-1 and paid $13 to win. The 4th Radke daily double paid $16.90, the 3rd Radke Pick 3 paid $62.40. The 10-cent super was a 5-1 to 4-1 to 5-1 to 25-1 paid $114 on the 10-cent wager.
7th Race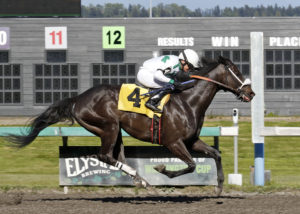 Radke would get a 6th win and tie for most wins in a day at Emerald Downs in the 7th race. Mixo was his mount and after gathering attention from the bettors they figured his win streak was over when he finished 3rd in the 6th race and let him go at 10-1. Mixo sat off the pace to the stretch and then Radke said go and Mixo delivered pulling away to win by 2 1/4 lengths. This was the largest $2 win pay-off of the season so far returning $23.20. Major Munnings with Alex Cruz was the favorite and had the lead but could not resist Mixo and settled for 2nd.
Radke brings Mixo home for win #6
Feature Race
The 8th was the feature race of the day. A field of 6 3-year-old fillies going 5 1/2 furlongs under allowance conditions with a purse of $25,000. Preskitt was the odds on choice at 3-5 with Juan Gutirerrez in the saddle. Javier Matias was on the 2nd choice Cielo Diamonte at 3-1.
Preskitt battled for the lead out of the gate drew clear and was never really challenged cruising to a 1 3/4 length win. Cielo Diamonte closed from last to finish 2nd with lots of run likely can't wait for even a 6-furlong race or longer. The 3rd choice Gold N Glitter at 5-1 finished 3rd with Kevin Orozco up and the 4th choice completed the superfecta, Wegottodrinking with Radke aboard.
Preskitt is trained by Candi Cryderman and owned by John Parker and stopped the clock in a time of 1:03.60. Preskitt is a California bred by Stay Thirsty, out of If Only Ida by Grace Upon Grace. Preskitt is now 3-1-1 from 13 starts and earned $13,750 to push her lifetime account to nearly $50,000.
6th and 9th Races
In the 6th race, Buckley Bay with Alex Anaya aboard snapped Radke's run with a smart front running effort. It was also a big relief for Anaya who has been hitting the regularly but finally broke the ice and got his 1st win. Buckley Bay paid $7.40 on the $2 win. Buckley Bay races Paddock Partners Lmt and trained by Joe Toye. 
In the finale Juan Gutierrez had the favorite Zazen and went right to the front and was gone pulling away to win by more than 8 lengths. Blaine Wright is the conditioner for owners Finger Gun Racing #1. The late $1 all-Gutierrez daily double paid $7.40. The 2nd Pick 5 of the season again hit 4 figures returning just shy of 2k at $1,996.
www.elisportsnetwork.com