5/31/2022
We missed last week but we now have 5 days under our belts and there are a couple of clear early leaders. The rest have really bunched together in the middle with just slight differences.
The Power Rankings are meant to be fun and to focus on the human competition between these awesome athletes. Moreover it's a chance to focus more on each rider and their accomplishments each week. We stress there is nothing "official" about these rankings and we know there will be varying opinions which is also great and we hope it does create more conversations about our sport and our athletes.
Here is our 3rd edition of the Emerald Jockey Power Rankings:
#1 Kevin Radke (last ranking #7)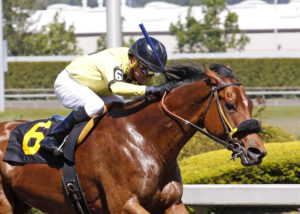 Two time Emerald Jockey Champion Kevin Radke is off to a blazing hot start. After getting shut out on opening day, Radke has responded with 14 wins, including 6 in 1 day and winning at a 33% clip. Radke is also finishing in the money regularly at 62% In our scoring system Radke has a huge 31 point lead over the #2 power rider and a 76 point lead over 3rd. Radke will be tough to knock off if he keeps riding like this.
#2 Juan Gutierrez (last ranking #1)
The all-time leading jockey at Emerald Downs led after day 1 but has been chasing Radke ever since. Gutierrez in most other years would likely be leading or just behind but not trailing by 5. Gutierrez has won on all 5 days including 3 of the 5 days with multiple wins. Gutierrez has a touch of seconditis with 9 wins and 9 2nds along with 8 3rds. He is hitting the board at an amazing 72%. 
#3 Alex Cruz (last ranking #2)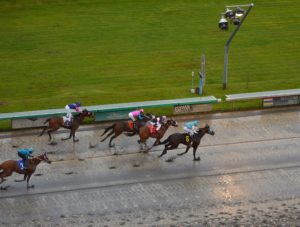 Alex Cruz is off to a solid start but the 2-time defending riding Champion does not want to get too far behind. He trails Radke by 8 with 6 total wins. Cruz has shown he can dominate at this track and with better weather Cruz also may heat up.
#4 Alex Anaya (last ranking #6)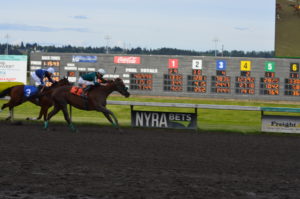 Even though other riders have more wins than Anaya with only 2 but Anaya scored high by hitting the board on a regular basis. He has 8 2nd place finishes, 3 3rds and several more 4th place finishes. Plus he has scored extra points for bringing more 15-1+ shots than anyone. We still expect this to be a break-out year for Anaya.
#5 Javier Matias (last ranking #5)
Javier Matias has the 4th most wins and is a model of consistency. Matias is the type of rider who will always be in the mix and is unlikely to go on a long drought but a massive win run is also something we would not expect. He maintains the 5th spot and don't expect to see him move either way too far over the course of the season.
#6 Kevin Orozco (last ranking #10)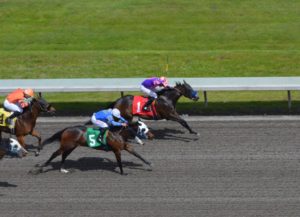 It's been a slow start for Orozco but maybe he's waiting for the Stakes schedule to kick in where he led all riders in Stakes winners in 2021. Orozco only has 1 win but last Sunday he had 3 places and 4 shows. Orozco also rides a lot for the Lucarelli barn who notoriously is a slow starting barn so we see his win total jumping as these runners take their 2nd and 3rd starts of the season.
#7 Jose Zunino (last ranking unranked)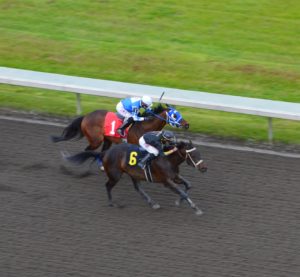 Zunino one of the old pro's at Emerald Downs is starting to get his groove back He's got a win in each of the 3 last days and finding his spots. Zunino likes to sit off the pace and so as the races begin to get longer we believe there will be more opportunities for Zunino to hit the finish line first.
#8 Eddie Martinez (last ranking #4)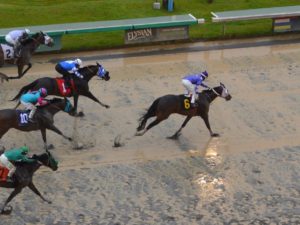 Eddie M dropped a bit from our 2nd rankings as he is fighting for mounts. He has 2 wins including one last Saturday and a 2nd on Sunday but still trying to get more opportunities. He is hitting the board at a rate of 56%.
#9 Leslie Mawing (last ranking #8)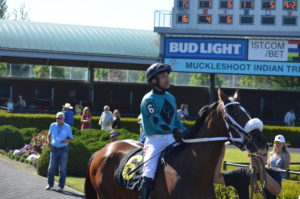 Mawing is another veteran off to a bit of a slow start but just got his 1st win last Sunday. Mawing has been on several that appeared weren't ready to fire in their 1st effort. Wouldn't be surprised if Mawing heats up as the calendar hits June.
#10 Kassie Guglielmino (last ranking unranked)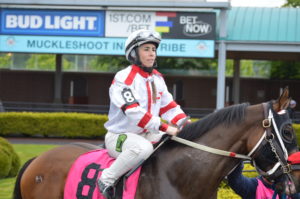 Kassie scored her 1st win this past Sunday and missed the 2nd week so has mounts only in 3 of the 5 days. She has a 2nd, multiple 3rds and 4ths and then finally the win. Kassie may be ready to fire up here in the next few weeks, keep an eye on her. 
Power Rankings Notes:
Jennifer Whitaker got off to a fast start on opening day with 2 wins  but since then only a 3rd and a couple of 4ths. The all-time leading female rider at Emerald Downs just isn't riding as much and will be looking to take her shots. Won't be surprised to see her work her way back into the top 10.
Jose Nava-Marin got his 1st at Emerald Downs after 7 starts. Nava-Marin came in with hopes of catching on early, this win from Sunday may jumpstart him.
Chester Bonnet has done the most with the fewest opportunities with only 3 rides Bonnet has registered a 2nd and a 3rd. It will be interesting to see if he gains the trust of a few more trainers and gets more chances. Right now though you gotta have him on your Superfecta tickets.
www.elisportsnetwork.com