6/23/2022
A lot of movement in this week's Power Rankings. Remember this is a week-to-week measurement not an overall score. Two stakes races also play into this weeks rankings. 
The Power Rankings are meant to be fun and to focus on the human competition between these awesome athletes. Moreover it's a chance to focus more on each rider and their accomplishments each week. We stress there is nothing "official" about these rankings and we know there will be varying opinions which is also great and we hope it does create more conversations about our sport and our athletes.
Here is our 6th edition of the Emerald Jockey Power Rankings:
#1 Alex Cruz (last ranking #1)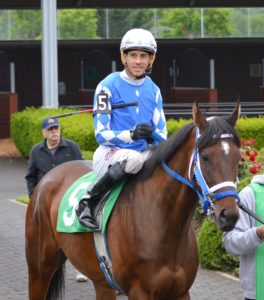 No change here when you have a 5-win night it is tough to get knocked off your perch although we will say Cruz struggled a little over the weekend with just 1 win for a total of 6. Cruz did finish with the highest win percent of the week with 6 from 21 rides for a 29% win percent. He added 3 paces, 2 shows and 3 4th place finishes for a 67% in the top 4 percent. Cruz shooting for his 3rd straight Jockey championship holds on to the #1 spot in our Power Rankings. 
#2 Kassie Gugliemino (last ranking #8)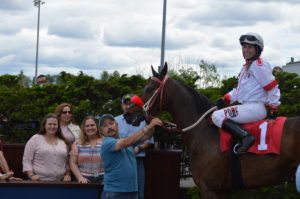 Kassie Guglielmino had the 2nd most wins of the week with 4, winning at least 1 each day with a double on Saturday. She had the 2nd highest win percent of the week at 27% and top 4 percent of 53% and finished with a 4-2-1-1 record from 15 starts. Her average odds on her 4 winners was 5-1 with a low of 7-2 and a high of 9-1.
#3 Kevin Orozco (last ranking #5)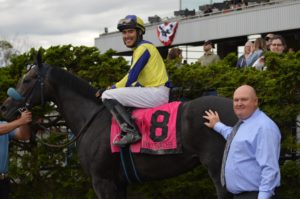 Kevin Orozco was last year's leading stakes winning rider and he picked up where he left off and not with a favorite taking Executive Chef to a 4 length win in the Auburn Stakes as the 3rd choice at 4-1. Orozco also had another win on Sunday and one on Saturday. He was 3-2-1-1 from 12 starts with a 25% win percent.
#4 Kevin Radke (last ranking #2)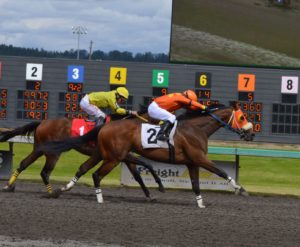 Former #1 and last week #2 on the Power Rankings, Kevin Radke dropped after finishing the week with just 2 wins. Radke however boasts one of the highest top 4 finish percent. From 21 rides, Radke was 2-2-7-4 for just a 10% win clip but a top 4 percent at 71%. We suspect Radke will turn many of those runner-up finishes into wins and won't be surprised to see him atop the standings again.
#5 Juan Gutierrez (last ranking #3)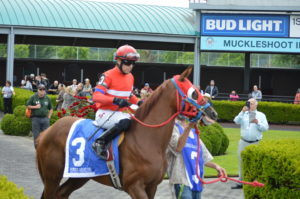 The all-time winningest jockey Juan Gutierrez at Emerald Downs found the winner's circle just once this week but had several close calls with 3 places, 4 shows and 5 superfecta finishes from 15 rides and an eye-popping top 4 finish percent at 87%. Gutierrez was dinged this week for the solo win but we expect to see him higher again.
#6 Leslie Mawing (last ranking #7)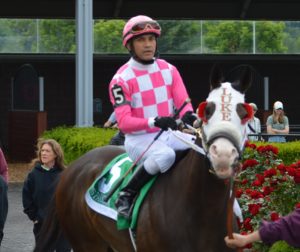 The old pro is starting to get cranked up and taking advantage of the opportunities coming his way. He won twice from 12 starts and added 3 2nds at an average of 10-1. Mawing's 2 wins were at 4-1 and 11-1 for a 7-1 average. Mawing is starting to heat up with the weather.
#7 Javier Matias (last ranking 6)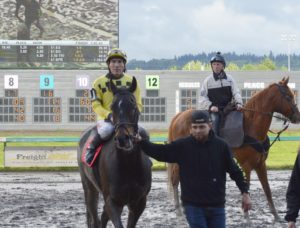 Javier remains very consistent and picked up 2 wins this week and finished with a 2-1-2-3 from 13 starts for a 15% win rate and 53% in the top 4 finishes. Matias sometimes gets a bit overlooked because of his rock solid consistency. This week just too many had a bit better weeks but his consistency will be there when others go cold.
#8 Jose Zunino (last ranking #4)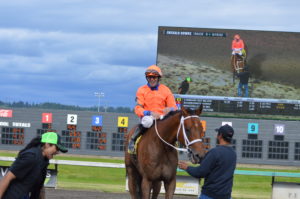 Jose Zunino has had a solid meet and was too just outshined a bit by better weeks from others and despite just an 11% win rate 1 for 9 he rattled home 3 2nd place finishes along with a 3rd and a 4th for a 67% top 4 finish rate. Zunino made the most of he chances.
#9 Alex Anaya (last ranking 10)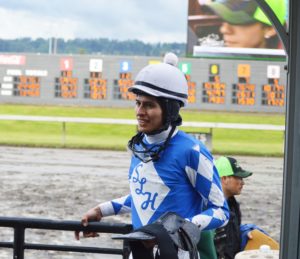 Alex Anaya still has a case of seconditis but did bring home a big win this week. At nearly 19-1 Anaya won on Irish Knight on Saturday and then had just 1 mount on Sunday and nearly scored finishing 2nd a neck back. He 2 other place finishes to go 1-3-0-0 from 8 starts. For the season Anaya is now 3-15-6 from 55 starts.
#10 Eddie Martinez (last ranking 9)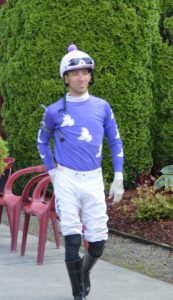 Eddie did not hit the winners circle this week and was limited to just 7 rides. He finished with 2 3rds and a 4th place finish. His ride on Midnight Mojo in the Auburn Stakes just missed 2nd by a head at 25-1. His other 3rd place finish was on Saturday also a huge price at 24-1.
Power Rankings Notes:
There was 1 win not accounted for in the top 10 and that was from visiting jockey Evin Roman who came up from Northern California to ride Slack Tide in the Seattle Stakes that he won going away as an overwhelming favorite. Other riders with starts included Jennifer Whitaker with 5 rides and a show and 4th place finish, Nicole Disdier with 1 ride and a 4th place finish and Jose Nava-Marin who got just 1 ride and placed 2nd. Nava-Marin is 2-1-0-2 from 10 rides. We're a bit surprised he is not picking up a few more rides but we'll keep an eye on Nava-Marin and he should be taken seriously when he does get a mount.
www.elisportsnetwork.com