6/20/2022
"It's a great mix of celebrating our past with the competition of current day" said Muckleshoot Tribal Chairman Jaison Elkins as he and his family were on hand to take in Championship Sunday of the $65,000 Muckleshoot Gold Cup Indian Relays at Emerald Downs and it lived up to its billing with 2 outstanding consolation races and a spectacular Championship finale along with traditional dance and music of the Muckleshoot tribe.
We had a chance to talk with Chairman Elkins about why this event is more than just a horse race with no saddles..
Muckleshoot Chairman Jaison Elkins
Mixed in with the racing are the brilliant color and historical dress of the Tribe with traditional dances and drum beats. 
Traditional Tribal Dancing
Dance Photo Gallery
The annual event is over 3 days with 2 rounds of qualifying heats and then on Championship Sunday there are 2 consolation heats and the Championship race. Each team has 1 rider and uses 4 horses going around the 1-mile track twice. Each team has handlers at each change point and the rider comes flying in, jumps off 1 horse and onto another, bareback. We also talked with Relay Coordinator and Announcer Gayle Skunkcap Jr about the Relay events…
Gold Cup Coordinator and Announcer Gayle Skunkcap Jr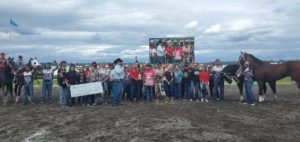 There were a total of 18 teams that participated and each earned their way into one of two consolation races or as one of the top 6 teams into the Championship where a $10,000 check awaited the winning team. The exchange points are the big key in this competition, an analogy would be in car racing where drivers need their crew to help them get in and out of pit stops as quickly and efficiently as possible. 
This would come into play in this year's Gold Cup Championship as by the end of race only 3 teams would finish. With 10k on the line the teams that were behind a bit or simply felt they needed a perfect race and had to push it to have a chance ended up with 3 teams losing their riders out of the exchange box area. 
This opened the door for Tyler Peasley and Omak Express who would cross the finish line first and win their first ever Championship. Peasley had a perfect first exchange to lead most of the first lap. Teton with Miaus Teton riding, grabbed the lead after the second exchange as Omak Express dropped to third. Carlson Relay with Chazz Racine moved into the second. Teton fell out of the competition on the third exchange when their horse stumbled leaving the box area.
Peasley and Omak Express nailed the final exchange and re-took the lead and led the rest of the second and final lap. River Road with rider Tristan Bird wasn't ready to throw in the towel and made a run at Peasely but Peasely saw them and knew he had plenty to keep them at a safe distance behind. We talked with Peasely about the win and he was clearly emotional for finally accomplishing a goal he has been chasing for several years.
Tyler Peasley from Omak Express on winning the Gold Cup
Results from Sunday's heats
Championship ($10,000 to winner)
1st – Omak Express (Tyler Peasley), Omak, WA
2nd – River Road (Tristan Bird in Ground), Crow Agency, MT
3rd – Carlson Relay (Chazz Racine), Browning, MT
DQ (Lost Horse) – Abrahamson Relay (Scott Abrahamson rider), Omak, WA
DQ (Lost Horse) – Teton (Miaus Teton rider), Lincoln Creek, ID
DQ (Lost Horse) – Two Medicine (Cody Carlson rider), Browning, MT
The Muckleshoot Gold Cup Championship Race
In his 1st year as a rider, Azeri Coby rode for the Shoshone-Bannock Tribes from Idaho and came away with a super impressive win in the second consolation race of the Muckleshoot Gold Cup Indian Relay races for team Tissidimit. We talked with Coby about how important it was to have this experience and what his hopes were for the future.
Azeri Coby on his victory in the 2nd Consolation
Second Consolation
1st – Tissidimit (Azeri Coby), Fort Hall, ID
2nd – Amskapi Pikunii (Chris Carlson), Browning, MT
3rd – Mountain Crow Relay (Darren Charges Strong Jr.),  Crow Agency, MT
4th – Cedar Ridge (Jorge Galloway), Fort Hall, ID
5th – Old Sun (Fox Running Crane), Siksika, Alberta, Canada
6th – Starr School (Preston Butterfly), Starr School, MT
The Muckleshoot Gold Cup 2nd Consolation Heat
All teams of course want to be in the finals but when you don't make you still want to win an finish on a high note and that's just what Terrance Holford did with team Grizzly Mountain from the Colville Nation. We talked with Holford after the race and he believes this experience is only going to make him a better rider and also thinks the experience for his team mates will help them get better on those all important exchanges.
Terrance Holford on his victory in the 1st Consolation
First Consolation
1st – Grizzly Mountain (Terrence Holford), Omak, WA
2nd – Little Badger (Justin Burd), Browning MT,
3rd – Strong Horse Relay (Matthew Pakootas Jr.), Nespelem, WA
4th – Counting Coup/Pikuni Express (Narsis Reevis), Usk, WA
5th – S/M Express (Desmond Archilita), Lodge Grass, MT
6th – NorthWest Express (Garrett Mason), Omak, WA
The Muckleshoot Gold Cup 1st Consolation Heat
Photo Gallery
www.elisportsnetwork.com