6/20/2022
(Auburn, Wa) A big day to wrap-up this week of racing with Father's Day always bringing a big crowd on it's own but add in the final day of the Muckleshoot Gold Cup Indian Relay and not 1 but the first 2 Stakes races of the year with the Seattle Stakes in the 5th race and the Auburn Stakes in the finale. Plus Mr Sunshine and not overly warm, but not frigid temperatures made this the best day of the season so far.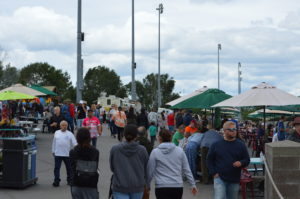 The large crowd with Food trucks and kids activities in the park created a super festive atmosphere and the card featured a total of 8 races with a couple of great betting opportunities with carry-overs in the 50-cent Pick 5 and the 20-cent Jackpot Pick 6. The crowd not only showed up they also bet with a total handle of $1,662,513. That is a 207k average per race handle.
The Muckleshoot Gold Cup Indian Relay races of two consolation runs and the Championship final also took place. Look for our separate story with full Gold Cup coverage, re-caps, pictures, videos and interviews.
Let's get to the Thoroughbred racing and we'll begin with the 2 Stakes races and then re-cap the other 6 races on the day.
Seattle Stakes
A field of 7 was entered in the $50,000 Seattle Stakes with the favorite Slack Tide and Evin Roman traveling up from Northern California to ride the 3-year-old filly for trainer Blaine Wright was the morning line and betting favorite going off at odds-on 4-5. Slack Tide won the Angie C last season at Emerald Downs as her only stakes win but has been racing at Golden Gate and was coming off a solid win effort in April and had been working well leading up to Sunday's 1st Stakes race of the year.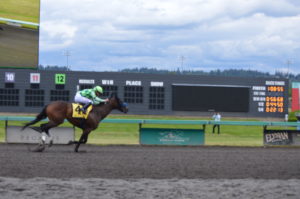 The 2nd favorite was Unsolved Mystery with Kevin Radke in the irons. The Southern California based invader did have one Stakes win under her belt but was at Turf Paradise in May and then ran a 4th in a stake at Santa Anita before shipping up to the NW for trainer Charles Essex. Koron was co-3rd choice but came in as an undefeated 3-year-old making her 1st start with regular rider Kevin Orozco up. Koron is trained by last year's leading Stakes trainer Kay Cooper and much of that thanks to Koron who won 2 Stakes, the Barbara Shinpoch and the Washington Cup Juveniles. Koron was 6-1 along with Frank Lucarelli's recently claimed Ms Parkside. Ms Parkside ran a pair of also rans at Turf Paradise this spring and then won a $25,000 claiming race on May 22nd at Emerald Downs when Mike Hill dropped a claim on her and she left the Joe Toye barn to Lucarelli's. Leslie Mawing got the ride.
The other 3 contenders were 10-1 Cielo Diamonte with Javier Matias up, 14-1 Wegottodrinking with Alex Cruz and the longshot in the field Ropers N Wranglers at 28-1 with Juan Gutierrez.
As the gates opened on the 6-furlong Stakes dash Slack Tide broke best and quickly opened up a length but Roman was not interested in running off a big early lead and in fact was ready to let others go if they chose and to stalk. Koron and Unsolved Mystery quickly made up the length and the trio traveled together just heads apart while setting fractions of a fairly pedestrian 22.13 for the quarter and 44.50 at the half.
As the trio hit the top of the stretch Koron looked like she may make one of her eye-popping moves from last year and Orozco asked her but she only had so much. Unsolved Mystery with Radke was under heavy pressure trying to gain on Slack Tide who Roman knew had much left in the tank and began to pull away at the 1/8th pole. Slack Tide rolled to an easy 4-length win stopping the clock in a time of 1:09.39.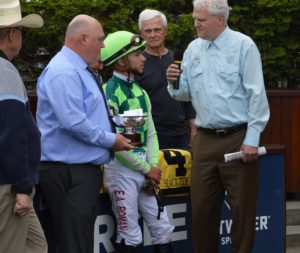 The battle was for the minors and the 28-1 overlooked Ropers N Wranglers for owner/trainer Richard Rennie was coming off a pair of solid turf races at Santa Anita including breaking her maiden in her last out was severely overlooked, split rivals and closed to be a clear 2nd. Unsolved Mystery just nipped Koron for 3rd. We talked with Orozco who said Koron felt good but had no punch in the stretch and felt she needed the race badley. He says they tried to find a race for her to a run under her belt but none materialized and they had to go into the Seattle Stakes on workouts alone. Orozco thinks Koron will be tough with this one in her.
Slack Tide is owned by the Ten Broeck Farm Inc. and trained by Blaine Wright. Slack Tide is a Kentucky bred by Shaman Ghost out of Impeached by Northern Afleet and was bred by Mr and Mrs William Griffin who were in attendance at the race and was part of the Winner's Circle ceremony. With the win Wright becomes the leading trainer of the Seattle Stakes with this win marking the 4th time he has held the trophy.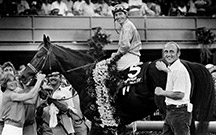 Wright had been in a 3 win tie with trainers Darrell Cannon from the Longacres days 1966-1968 who won it twice with King's Favor in 66 and 67 and then Steel Blade in 1968. Larry Ross won it 3 times with Chum Salmon in 1985, Leading Hour in 1987 and in 1991 with Military Hawk. His wife Sharon Ross was his assistant and then took over the training duties and won 3 of her own Seattle Stakes with Crowning Meeting in 2002 and back-to-back years in 2006 and 2007 with Starbird Road.
Wright's previous wins were in 2016 with Invested Prospect, Alliford Bay in 2017 and Mucho Amor in 2019 for Ten Broeck Farms. The race was not run in 2020 due to the Covid shortened season. Last year Ms Lynn for trainer Roy Lumm won it and owner Ron Bohlman who was a security guard at the track. Bohlkman served as honorary steward for this year's race and awarded the cup to the connections of Slack Tide.
Slack Tide paid $3.80 but coupled with the longest shot on the board the $1 exacta was a healthy $38.00. The 50-cent trifecta was decent as well with a 4-5 shot on top paying $81.70.
Slack Tide is now 3-2-0 from 6 starts and earned $27,500 for the win pushing her career winnings to $84,350. We talked with Evin Roman and Blaine Wright on their win in the Seattle Stakes below:
Stretch Run of Slack Tide's Seattle Stakes Victory
Slack Tide's Jockey Evin Roman
Slack Tide's Trainer Blaine Wright
Auburn Stakes
Blaine Wright was on a roll on Father's Day, winning the Seattle Stakes a record 4 times and then went searching for his 4th Auburn Stakes victory in the final race on the card. Wright sent out a pair of runners beginning with the 3rd favorite Executive Chef with Kevin Orozco up. Orozco rode Chef 3 times at Golden Gate and broke his maiden on the 3rd try. Chef ran one more time in Northern California but with Frank Alvarado aboard and finished 2nd in an allowance race. 
Wright's 2nd starter was Little Casino with Kassie Guglielmino riding. Little Casino was making his 1st start outside of Golden Gate where he had racked up a 2-0-1 record from 7 starts. His past 2 races he was on the upswing with a 3rd place finish on May 7th and a win in April, both races 50k optional claiming.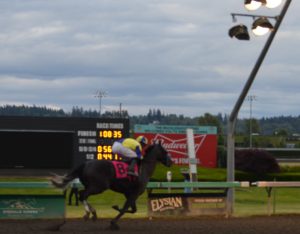 Executive Chef would have to get by the betting choice, lightly raced Saint Pieus with Javier Matias. Saint Pieus ran once at turf Paradise winning with an off the pace run and the ran on May 22nd at Emerald Downs with Matias up and went wire-to-wire in a 5 1/2 furlong run. The bettors felt that Saint Pieus would do the same in the 6-furlong Auburn Stakes. 
But there was other speed in the race including 2nd choice Smiling Goodbye with Alex Cruz. Shipping in from southern Cal, Smiling Goodbye had shown early foot in all 4 of his races but only had the one maiden claiming win. A View From Above from the Kay Cooper barn was one of 2 in the race with a Stakes win. View took the Lads last year and then placed 3rd in the Washington Cup Juvenile but has been off since then. 
The others included Itsallabouttheride with Juan Gutierrez who just broke his maiden in his 3rd career start on June 4th here at Emerald and was another that had early pace. And finally George Todaro's Midnight Mojo not only is the 2nd stakes winner of the race but has earned the most money with his Gottstein Futurity win last Fall. That did not seem to impress many as Mojo went off at 25-1 the longest shot in the race. Eddie Martinez who won with Mojo in the Gottstein was back on board. Mr. Mischief was entered and got into the gate but acted up and flipped and was a late scratch. Neither the horse or jockey Edgar Velasco were injured but it reduced the field to 7 starters.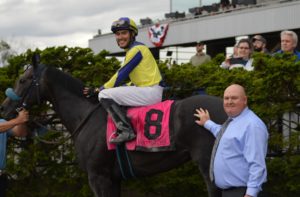 When starter Mark Gibson sprang the gates Smiling Goodbye and A View From Above went to the lead pulling out by 2 lengths over Itsallabouttheride and Saint Pieus who were heads apart early. Executive Chef settled into 5th out in the middle of track breaking from the #8 post. Little Casino and Midnight Mojo trailed. 
As they rounded the turn Saint Pieus joined the leading pair as Itsallabouttheride dropped back with Executive Chef. The 1/4 went in 21.55 and as the trio hit the 1/2 mile they had gone in 44.17 and it was then that the race took on a completely different complexion as Orozco nudged Executive Chef to start making a move on the outside. Just inside the 1/4 pole Orozco then hit go and Executive Chef responded with a quick turn of foot and just like that a 1-length lead. Chef and Orozco were just getting started and blew it open to win by 4+ lengths in a time of 1:08.84.
Meantime, Itsallabouttheride and Gutierrez also began to move along with Midnight Mojo from last and those two blew by the front runners with Itsallabouttheride holding off Midnight Mojo for 2nd by a head. Itallabouttheride then had to hold off an objection which was disallowed. Smiling Goodbye did hold on for 4th and Little Casino ran 5th to complete the Super Hi-5.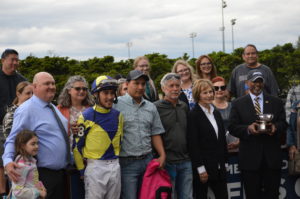 Executive Chef improved to 2-2-1 from 5 starts for Wright and owners John and Janene Maryanski and the Riverbend Stable and earned $27,500 to push his career bankroll to $61,300. Orozco collected his first Stakes win of the season and was last year's leading Stakes jockey at Emerald Downs.
Executive Chef paid $10.20 on the $2 win, the 50-cent trifecta was good for $104.60, the dime superfecta paid $86.33. The 50-cent Pick 5 which had a carry-over paid off $1,011.25 and the 20-cent Jackpot Pick 6 paid $1,655.24 but has a carry-over of $21,574 to next Friday. The Super Hi-5 paid $1,668.40.
Wright now ties Hall of Fame trainer Bud Klokstad with 4 wins in the Auburn Stakes which began on opening day at Emerald Downs on June 20, 1996. Klokstad won the Auburn in 1997 and 1998 with Ropersandwranglers, then won it in 2001 with Jumron Won and his 4th time was in 2005 with Beau Maggie. Wright will be looking to own that record next season and it just might be accomplished with Executive Chef.
Stretch Run of Executive Chef in the Auburn Stakes
Jockey Kevin Orozco on his ride on Executive Chef
The rest of the Sunday Card
1st Race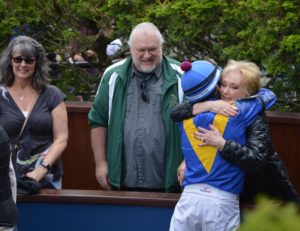 A field of 5 went 6-furlongs and front speed and betting choice Miss Bella scooted out to the front at once with Kassie Guglielmino aboard. There was minor pressure from Paislee's Pulpit with Alex Cruz and Sailing In with Kevin Orozco while 1st time starter Mangata Mist and Eddie Martinez settled in a stalking position and 7-1 outsider Unsinkable Molly B trailed with Javier Matias.
Guglielmino controlled the pace and as she turned for home led by 3 lengths but drifted out toward the center of the track but still looked like a winner at the 1/8th pole. The others were dog paddling behind her except the Unsinkable Molly B. No dog paddling for her as her long strides were like Michael Phelps slicing through the pool on his way to a gold medal and the Unsinkable Molly B was indeed unsinkable blowing by the entire field for a 3 length win.
Miss Bella did well to hold 2nd while Paislee's Pulpit was 3rd and Mangata Mist 4th. Unsinkable Molly B races for Bernadette and David Cox and is trained by Bonnie Jenne. The filly is a Washington bred by Coastguard out of Lady Yodeler by Swiss Yodeler and was bred by Mr and Mrs Edwin Welch.
2nd Race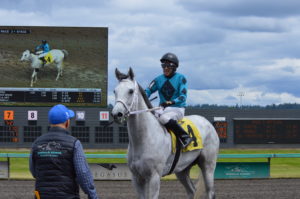 Betting favorite Prospera is a brilliant white and gray in color and her supporters had no trouble following her through the 5 1/2 furlongs sprint. Jockey Kevin Orozco let the front speed go to the lead while he sat a chilly 4th on the outside and stayed out of trouble. For You Only jump out at the start but would fade to last while Yes Your Graze with Alex Cruz hustled up along with Lutes Lil Gift with Kevin Radke. As that pair put away For You Only, Prospera loomed up on the outside and streaked past them for an easy 2 1/2 length win. Yes Yur Graze held well for 2nd and Lutes Lil Gift was 3rd while Mo Connelly rallied late for 4th.
Prospera is trained by Frank Lucareilli and races for Chad and Josh. She stopped the clock in a time of 1:03.48. Yes Your Graze was a 10-1 shot and the $1 exacta with Prospera at 7-5 returned a solid $17.80, the 50-cent trifecta was good for $27.55 and the $1 superfecta paid $178.50.
3rd Race
There was a scratch in the 3rd leaving a field of 6 to go 6 1/2 furlongs. Coastline Sermon with Kevin Radke was the 2nd favorite behind Dennard with Javier Matias. Both watched Benny the Jet at 9-1 take a quick lead with the 2 betting choices sitting just behind. This race would eventually become a 2 horse race with Coastline Sermon and Dennard heads apart to the top of the stretch. Radke asked Coastline for more and got more eventually pulling away for a 3/4 length win. Dennard was 2nd while Smoke and Burn with Juan Gutierrez closed late for 3rd and Party for One with Kassie Guglielmino ran an even 4th.
Coastline Sermon runs for the Still Dreaming Stables and is trained by Vince Gibson. The 5-year-old Kentucky bred ran the 6 1/2 furlongs in 1:16.37.
4th Race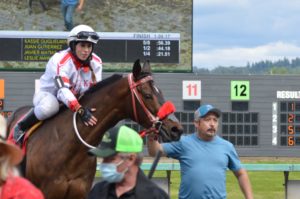 A field of 7 broke from the gates in this 6-furlong run but quickly it dropped to a field of 5 as Hickory Wind lost rider Kevin Orozco at the gate and down the backstretch Eddie Martinez eased Bestio but he did walk off the track. Taking advantage of the chaos was odds-on choice Poverty Bay with Juan Gutierrez who went straight to the lead. 7-2 shot Smoken Shadow with Kassie Guglielmino sat just off the early speed and did not allow the big favorite to get away from her.
These 2 would turn for home heads apart but Smoken Shadow and Guglielmino had Poverty Bay well measured and strode out to a comfortable 2 1/2 length win. Poverty Bay held 2nd while Luther Pass with Javier Matias ran 3rd and Big Paper Daddy with Leslie Mawing finished 4th.
Smoken Shadow races for Vicki Jo and Kenneth Elison and is trained by Debbie Peery. The 3-year-old Cal bred ran the 3/4 mile in 1:09.17.
6th Race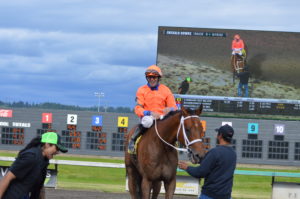 Jose Zunino picked up the ride on Command Sgt Major when James Wooten wasn't available and Zunino made the most of the extra ride.  Sent off at 8-1 the 4-year-old gelding was still the 3rd favorite in the 7 horse field as Bourbonwithatwist was the overwhelming odds-on choice at 1-2. Bourbon went to the lead but could not shake loose as longshot Live a Good Life hounded the favorite but would eventually fade to last.
The early pressure appeared to take something out of Bourbon setting up Command Sgt Major to close down the outside flying past with little resistance for a nearly 2 length win. Bourbonwithatwist couldn't wait for the finish line and just held 2nd by a head over a fast closing Mancuso at the Mic with Javier Matias. Completing the superfecta was Papawasarollingstone with Alex Cruz.
Command Sgt Major is owned by Frank McDonald and trained by Bonnie Jenne. Command paid a nice $18.20 on the $2 win and capped a 50-cent pick 4 with a $144.15 pay-off.
7th Race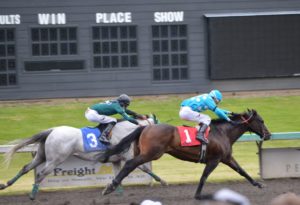 The stalking position is where you wanted to be on this Sunday and betting choice El Alto Hombre with Alex Cruz had a perfect trip sitting in 4th early on and then swinging wide to make a run and then holding off Defense wins with Alex Anaya by a neck. Cruz and the Hombre connections then had to survive an objection where Anaya claimed foul of impeding his run in mid-stretch. After a review the Stewards let the order of finish stand and Cruz got his 1st win since winning 5 races on Friday night. Forever Gold with Jennifer Whitaker was the early pace and held well for 3rd while 2nd betting choice Wheel Rally with Kevin Radke ran 4th.
El Alto Hombre races for Anthony Hoover and is trained by Liz Kowalski, the 7-year-old ran the 6-furlongs in a time of 1:09.02
Claims
There were only 3 claiming races and 1 optional claimer at 30k but still the red tags keep getting handed out and 3 more were dropped on Sunday.
2nd Race
Prospera was  claimed for $15,000 by John Parker and heads to the Candi Cryderman barn.
3rd Race
Dennard was claimed for $2,500 by Dennis Trenkenschuh for trainer Tena Birdwell.
6th Race
Bourbonwithatwist was purchased for $5,000 by Gary Wallace and Richard Vanderwouden and will go to trainer Vince Gibson.
Photo Gallery
www.elisportsnetwork.com