6/18/2022
(Auburn, WA) After Alex Cruz dominated Friday night winning 5 of the 7 races, it was much different on Saturday. 6 different riders picked up wins with 2 doubling but neither leading rider Cruz or 2nd place Kevin Radke got their picture taken. 3rd in the standings Juan Gutierrez would get 1 win but the other 7 wins really is showing how deep this rider colony is.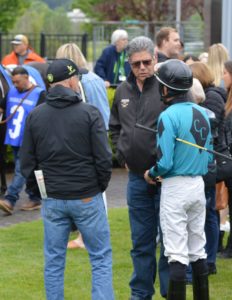 Kassie Guglielmino and Leslie Mawing both had 2 wins. Guglielmino has been on an upward swing and so far this week she has a 3-1-2-0 record from 10 starts. Mawing is 2-3-0-1 from 8 starts. Alex Anaya added 2 more 2nds to his total but finally snapped the win drought and did it in style with the longest shot so far of the season. Anaya is now 3-14-6 for the season from 54 starts. Javier Matias is the 4th rider to reach double digit wins when he recorded his 10th win of the year on Saturday. And Kevin Orozco posted a win and 2 2nds from 5 rides.
A couple of veteran trainers also doubled on Saturday's card and both also trained an exacta, in fact one did it twice. Frank Lucarelli pulled into a 3-way tie with Candi Cryderman and Jorge Rosales with 2 wins on Saturday and in each of those races he also trained the runner-up. Kay Cooper also visited the winners circle twice to push her season total to 3 and she picked up her 4th place which was also behind one of her winners. Candi Cryderman got a win on Saturday also pushing her into that 3-way tie for first.
Favorites
Betting favorites winning are not as scarce as last week when only 3 won over the 3 days and 22 races for a 13% win percent. So far this week in 2 days and 15 races in the books 6 betting favorites have won or 40%. But longer shots have been coming in and several meet pay-out records have already fallen this weekend. Sunday will be interesting with two big carry-overs in the Pick-5 and Pick-6. A few outsiders could spring even larger pay-outs to wrap up this weekend.
Muckleshoot Casino Feature Race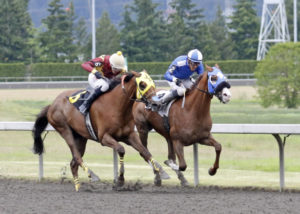 After the 3rd race the favorites had been taking a pounding but this time the 9-5 choice did not disappoint. When the gates opened the 2nd choice Missed the Boat with Alex Cruz went to the front while the favorite, House of Lords with Kevin Orozco sat on the rail just behind. 4-1 shot Bronze Warrior with Kevin Radke was 3rd and Bernalinho with Juan Gutierrez at 5-1 sat 4th. As they rounded the turn of the mile journey House of Lords was shuffled back to 4th but Orozco sat and waited.
Missed the Boat was being pressured but Cruz never gave in and by the time he hit the top of the stretch Missed the Boat was out by a length. Meantime, Orozco had moved up the rail but was still behind Missed the Boat. Eventually a slight hole opened up and Orozco got busy and was able to run down Missed the boat in the final 16th to win by a head. Bronze Warrior finished 3rd and Bernalinho was 4th.
House of Lords races for Fleur De Lis Stable and is trained by Kay Cooper he 2nd win on the card. House of Lords, a 4-year-old Kentucky bred improved to 3-0-1 from 13 starts and picked up a $13,750 winners share pushing his career earnings to more than $36,000.
1st Race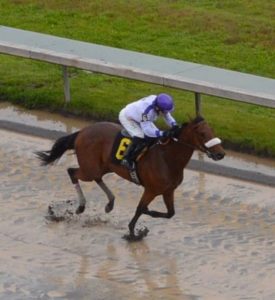 6-5 favorite Willing To Burn with Juan Gutierrez snapped Alex Cruz's 4 race win streak from Friday night with a wire-to-wire win. Cruz was aboard Mean Sharon who ran 2nd but was no match for the lone speed in this one as Willing to Burn pulled away for a 5 1/2 length win. Kerralia with Jose Zunino closed for 3rd while 2nd favorite Simply Perfect with Kevin Radke was 4th.
Willing To Burn became the 2nd 3 time winner of the meet and did it for her 3rd different owner and trainer. This time Charles Essex got the training credit for owners Joe Crawford and Joe Burke. Willing To Burn will be staying in Essex's barn as this was a starter allowance protecting the 5-year-old mare from a claim. She ran the 6-furlongs in 1:09. 43.
2nd Race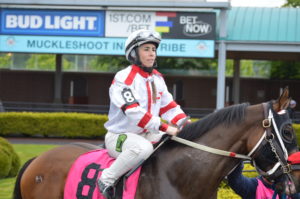 A field of 7 3-year-old maidens went to the post at 6-furlongs with morning line favorite Bobby Buckets with Alex Cruz went off as the 1-1 betting choice but Bobby disappointed his backers ending up 3rd as no one could catch frontrunner Stylish Elegance with Kassie Guglielmino. Guglielmino pushed Stylish Elegance to lead out of the gate and quickly pushed out to a 2 length lead.
Stylish Elegance pushed the lead to 3 and turning for home had built up a sold lead that was big enough to keep the closers Silver King Bain with Leslie Mawing and Bobby Buckets at bay. Validate with Jennifer Whitaker completed the superfecta.
Stylish Elegance ran the 6 in 1:11.43 and comes from the Frank Lucarelli barn for owners Randall and Rossi LLC and Lucarelli Racing Corp. Stylish Elegance was 5-1 and paid $21.40 on the $2 across the board bet. Lucarelli also trained 2nd place finisher Silver King Bain for Ron Crockett and the Lucarelli $1 exacta paid $19.60.
3rd Race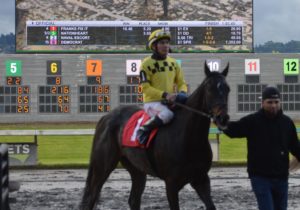 Northwest Rain was another front-runner that no one wanted to challenge early and then were made to pay for it. Javier Matias sent NW Rain and was pressed momentarily by Rough Ride with Alex Anaya but Rough Ride could not keep up and eventually faded to 5th. By then NW Rain had flown the coop and won handily by 2 1/2 lengths.
7-1 Starzan with Kevin Orozco made a nice run to 2nd with Lochness and Kassie Guglielmino taking 3rd and crossing 4th was Devil's Workshop and Leslie Mawing. Northwest Rain is owned by John Parker and trained by Candi Cryderman. Northwest Rain is a Washington bred by Atta Boy Roy and out of Dance with Effie by Chhaya Dance and was bred by John Parker.
4th Race
This may have been the most thrilling race of the day with 3 horses on the wire within a neck of each other and pulling the upset at 9-1 was Lafonda with Kassie Guglielmino aboard winning by a head. Lafonda had been stalking and sitting in 4th place and as the front 3 pace players all began to fade giving Guglielmino and Lafonda 1st run.
Favorite Let It Reign with Jose Zunino was right behind and 24-1 Dontforgetthesugar with Eddie Martinez was 6th and the trip all began to close and all 3 were head and head while passing the tiring horses and no one could separate bug Lafonda held on for the win with Let It Reign 2nd and Dontforgetthesugar 3rd and a length back to 4th place finisher Moscow Lady.
Lafonda is owned, trained and bred by Dr. Ryland Harwood with Jo Ann Harwood also the breeder. This was Harwood's 1st win of the meet. Lafonda paid $20 on the $2 win, the 50-cent trifecta paid $202.45, the 10-cent super returned $90.75 and capped a 50-cent Pick 4 that paid $372.30.
5th Race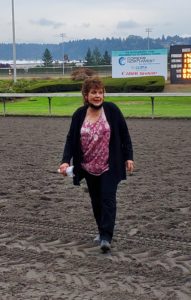 The speed favoring track seemingly shifted in a short period of time and in the 5th once again coming off the pace was what worked. Betting favorite Juspassinthru with Juan Gutierrez went to the lead with 2nd choice Rings of Saturn and Alex Anaya was 2nd along the rail and eventually had to sit and wait for hos chance.
Juspassinthru had a 1 1/2 length lead turning for home but drifted off wide opening the door for Rings of Saturn to burst through and take the lead. Anaya has had a bad case of the seconds but it looked like he would finally get his 3rd win but Saturn's stablemate Forty Smooches with Leslie Mawing was winding up from far back and closed with a rush on the extreme outside to win by a a little more than a length while Rings of Saturn held off a stubborn Juspassinthru for 2nd and American Budha with Alex Cruz was late on the scene for 4th.
Kay Cooper matched Frank Lucarelli from earlier in the card by finishing 1st and 2nd. Forty Smooches is owned by the Jack and Jill Stable and went off at 4-1. Forty Smooches is a Washington bred by Munnings, out of Find Your Spot by Nationhood and was bred by Mr and Mrs Frederick Pabst, the Grasshopper Stable and Jack Fabulich. Forty Smooches ran the 5 1/2 furlongs in 1:03.30. The Kay Cooper exacta paid $13.40.
6th Race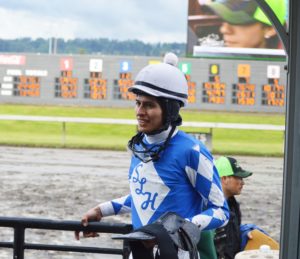 Patience was becoming a virtue and in this race the field of 7 were going 5 1/2 furlongs. Bouncing out of the gate were Decimate, Syzslak and Curling Secret, meantime Executive Action, Irish Knight and Summanus were 4th, 5th and 6th. As the front trio flashed and burned these Executive Action with Kevin Orozco snatched the lead at the 1/8th pole and looked like he was home free but 18-1 stablemate Irish Knight swung out wide and came flying as the pair hit the 1/16th pole the two were head and head and in a final surge Irish Knight got the upset win. It was a huge relief for rider Alex Anaya who was finally able to turn the tables and get the win. Summanus with Kevin Radke got up for 3rd and Curling Secret with Javier Matias finished 4th.
Trainer Frank Lucarelli did it again trained the top 2 finishers. Ron Schmid was the winning owner and the nearly 19-1 shot returned a meet high $2 win pay-out of $39.80. Irish Knight is a Washington bred by Atta Boy Roy out of Knight Club by Matty G and was bred by Pat and Mullan Chinn.
The $1 exacta just missed the $100 mark paying $98.60, the 50-cent Pick 3 was a massive $1,193.10. The 50-cent Pick 4 had the chance to set a new high mark but no one had all 4 winners on their ticket and 3 of 4 paid $83.15.
8th Race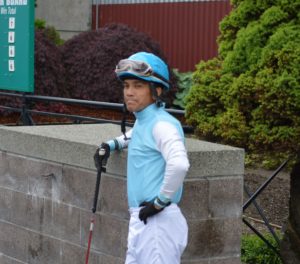 Saturday's finale blew up the tote board when 11-1 Wahasha sat just off the pace until the stretch when Leslie Mawing unleashed the beast getting by frontrunner Flyin By denying Alex Anaya a double on the card and giving one to himself. Anaya and Flyin By was trying to wire the field that hadn't been done since the 3rd race and nearly pulled it off.
Mawing sat 3rd with Wahasha and was never far back in the 5 furlong sprint and stopped the clock in a time of 58.29. Noosita the 6-5 favorite never got rolling and settled for an even run in  3rd while the one who pressed the early pace 16-1 Her Royal Duchess with Nicole Disdier did well to hold onto 4th.
The 11-1 to 6-1 $1 exacta set a meet high pay-off of $135.10. Then add the 6-5 for a 50-cent trifecta pay-out of $197.85 and the 16-1to complete the superfecta paid $105.92. But the big pay was the 50-cent Pick 5 was a meet high $8,041.30 and the 50-cent Pick 3 was also a whopping $1,182.55. The Pick 5 and Pick 6 could have also been high meet pays but no one had all 5 or all 6. The Pick 5 paid a  solid $562 for 4 of 5 and 5 out of 6 in the 20-cent Jackpot Pick 6 paid $997.64. The Pick 5 has an $11,240 carryover to Sunday and the Pick 6 carryover is now nearly $20,000.
Wahasha is owned by Chase and Dan King and trained by Jennifer Nunnally. This was Nunnally's 2nd win of the season.
Claims
The claiming window has been very busy as of late but on Saturday they were given a break as there was only 1 claim dropped during the 8 race card and it was in the last race of the night. Betting favorite Noosita was claimed for $5,000 by Cameron Simpson McVay and goes to trainer Shannon Simpson.
MUCKLESHOOT GOLD CUP CONTINUES AT EMERALD DOWNS
by Vince Bruun
In addition to seven live Thoroughbred races, Saturday's action co-featured day two of the sixth annual $65,000 Muckleshoot Gold Cup Indian Relay Races.
For the second straight day, Abrahamson Relay with Scott Abrahamson riding and Two Medicine with Cody Carlson riding won qualifying heats and earned spots in Sunday's championship Muckleshoot Gold Cup heat. Also winning Saturday was Teton with Miaus Teton handling riding duties.
The three-day competition features 18 teams and concludes with Championship Sunday featuring two consolation races and the championship Muckleshoot Gold Cup heat at 5:46 p.m.
Results from Saturday's qualifying heats
Heat 1: 1st-Teton (Miaus Teton rider), Lincoln Creek, Idaho, 3:29.49; 2nd-River Road (Tristan Bird in Ground), Crow Agency, Montana, 3:35.81; 3rd-Amskapi Pikunii (Chris Carlson), Browning, Montana, 3:39.92; 4th-Cedar Ridge (Jorge Galloway), Fort Hall, Idaho, 3:50.31; 5th-Strong Horse Relay (Matthew Pakootas Jr.), Nespelem, Washington, 3:57.21; DNF-Counting Coup/Pikuni Express.
Heat 2: 1st-Abrahamson (Scott Abrahamson rider), Omak, Washington, 3:33.28; 2nd-Omak Express (Tyler Peasley), Omak, Washington, 3:36.23; 3rd-Starr School (Preston Butterfly), Starr School, Montana, 3:50.13; 4th-S/M Express (Desmond Archilita), Lodge Grass, Montana, 4:03.53; 5th-NorthWest Express (Garrett Mason), Omak, Washington, 4:14.63; DNF-Little Badger.
Heat 3: 1st-Two Medicine (Cody Carlson rider), Browning, Montana, 3:35.56; 2nd-Tissidimit (Azeri Coby), Fort Hall, Idaho, 3:38.31; 3rd-Mountain Crow Relay (Darren Charges Strong Jr.), Crow Agency, Montana, 3:41.31; 4th-Old Sun (Fox Running Crane), Siksika, Alberta, Canada, 3:43.13; 5th-Carlson (Chazz Racine), Browning, Montana, 3:44.38; 6th-Grizzly Mountain (Terrence Holford), Omak, Washington, 3:51.63.
www.elisportsnetwork.com