6/17/2022
Earlier this season Kevin Radke had much of the focus after a 6 win day propelling him to the top of the jockey standings where he has been ever since. Well technically Alex Cruz did tie him at one point but Radke re-took sole possession last Sunday. Meantime, Cruz the 2-time defending riding champion has been chipping away at Radke's large early lead and took his 1st step with a 5 win night win on the first Friday night of racing.
Cruz clearly doesn't mind riding in the evenings as he recorded his 2nd 5 win night Friday night. Cruz won the opener and then reeled off 4 straight in the 4th thru the 7th to end the night. Radke did get one of the other 2 races but Cruz now has sole possession of 1st place with 23 wins to Radke's 21.
In fact, there have been 3 Friday nights of racing and a total of 21 races and Cruz has ridden in 20 of those races. He has 12 wins, 4 2nds, no shows and 2 4th lace finishes for a win percent of 60% and a superfecta finish of 90%. Additionally, Cruz benefited on his 2nd 5 night win by winning with 2 horses on both nights. Take Charge Deputy and Miss Kitness won on both June 3rd and June 17th and he finished 2nd on Union Bliss on the 3rd and winning with Union Bliss on Friday night.
We have re-caps of all 7 races below.
Indian Relay Races
The annual Muckleshoot Gold Cup Indian Relay races are back for their 3-day run and racing began Friday night. Racing will continue on Saturday with all the finals taking place on Sunday. There were 3 preliminary heats on Friday with another 3 prelim heats on Saturday.
As reported by Vince Bruun here are the results of Friday's preliminaries: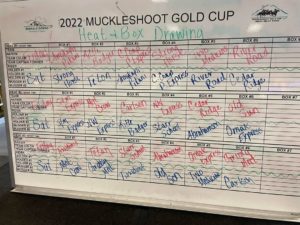 Results from Friday's qualifying heats
Heat 1: 1st-Two Medicine (Cody Carlson rider), Browning Montana, 3:34.51; 2nd-River Road (Tristan Bird in Ground), Oglala, South Dakota, 3:36.35; 3rd-Amskapi Pikunii (Chris Carlson), Browning, Montana, 3:38.35; 4th-Strong Horse Relay (Mathew Pakootas Jr.), Nespelem, Washington, 3:46.35; 5th-Little Badger (Justin Burd), Browning, Montana, 3:47.52; 6th-Counting Coup/Pikuni Express (Narsis Reevis), Usk, Washington, 4:03.17.
Heat 2: 1st-Carlson (Chazz Racine rider), Browning, Montana, 3:35.53; 2nd-Mountain Crow Relay (Darren Charges Strong Jr.), Crow Agency, Montana, 3:39.74; 3rd-Old Sun (Fox Running Crane), Siksika, Alberta, Canada, 3:55.39; 4th-S/M Express (Desmond Archilita), Lodge Grass, Montana, 4:00.81; 5th-Cedar Ridge (Jorge Calloway), Fort Hall, Idaho, 4:02.94; 6th-Northwest Express, Omak, Washington, 4:56.57.
Heat 3: 1st-Abrahamson (Scott Abrahamson), Omak, Washington, 3:40.75; 2nd-Omak Express (Tyler Peasley), Omak, Washington, 3:42.83; 3rd-Grizzly Mountain (Terrence Holford), Omak, Washington, 3:44.25; 4th-Starr School (Preston Butterfly), Starr School, Montana, 3:46.40; 5th-Tissidimit (Azeri Coby), Fort Hall, Idaho, 4:07.87.
We'll have a full report on the finals in our Sunday re-cap.
The Boeing Employees Saddle Club feature Race
Take Charge Deputy certainly likes Emerald Downs coming into the feature race on Friday with a 4-2-3 record from 17 races and came in off of a solid 2nd place finish in the 7-year-old gelding's debut for 2022 and then getting a win in his last start in a Starter Allowance race. The bettors felt confident the Deputy and Cruz would return to the winners circle making him the 1-1 favorite.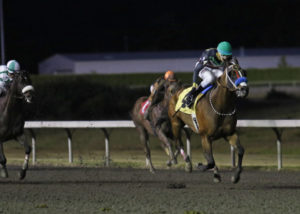 Cruz wasted no time in taking the lead in the 6-furlong sprint. Cruz and Deputy were pressured early by Leprino with Kassie Guglielmino and the pair were head and head through the 1st quarter which went in 22.10. Take Charge Deputy then did just that and extended his lead to 2-lengths and they never looked back and won by a comfortable 2+ lengths in a time of 1:08.42.
Toil and Trouble with Leslie Mawing at 23-1 and 3-2 2nd favorite Mixo with Kevin Radke both sat off the leaders and made their moves inside the 1/4 pole but did not have enough to challenge the winner. Toil and Trouble got the photo over Mixo for 2nd place. Candy Zip ended up a distant 4th to complete the superfecta.
Take Charge Deputy improves his lifetime record to 14-5-5 from 42 starts and races for Rosales Racing F1 and trained by Jorge Rosales. Take Charge Deputy has now banked $172,000 in his career. The favorite matched to the longest shot on the board paid a $1 exacta of $23.30, the 50-cent trifecta was $25.80 and the 10-cent superfecta paid $7.47.
1st Race
A field of 6 maidens went 6-furloings over a sloppy track to kick-off weekend's races. Firing Pin with Alex Cruz up was the 6-5 slight betting choice over 9-5 Bet the House with Kassie Guglielmino. It was 20-1 Coastal Wonder with Alex Anaya up who went straight to the lead and quickly drew off by a couple of lengths, Nummy Num the 5-2 3rd choice with Jose Zunino was down along the rail and as they turned for home snuck through along the rail and captured frontrunner Coastal Runner at the 1/8th pole to take the lead. The favorite Firing Pin had been at the back sitting and waiting and swung out wide for the stretch run and passed Nummy Num inside the 1/16th pole and pulled away for the win. Bet the House ran an even 3rd while R N' R Atthebeach with Kevin Radke got up for 4th.
Firing Pin is owned by Ramer Holton and trained by Jose Navarro. The 3-year-old gelding is a Washington bred by Linchpin out of Judicature by Tribunal and was bred by Ramer and Clare Holtan.
2nd Race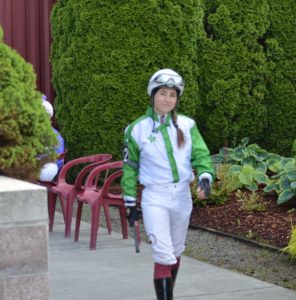 The bettors could not make up their minds on this field of 5 with the favorite #2 Confidence Builder with Juan Gutierrez to co-"longshots" at 7-2 Unlimiteddataplan with Kevin Radke and Big Fashion with Kassie Guglielmino. In between were a pair of 3-1 shots, Brio Is Awesome with Kevin Orozco up and Alex Cruz on Keepinmypromise.
In the 1st race a loose front runner was caught in the upper stretch, in the 2nd race the track showed how fair it was playing as Big Fashion went straight to the lead, Guglielmino got Big Fashion to relax and held a 2 length lead early on and while turning for home Kassie let Big Fashion out and let the 3-year-old filly do her thing. She rolled to an easy win. Unlimiteddateplan come up the rail just holding off Brio is Awesome for 2nd while Confidence Builder settled for 4th.
Big Fashion is the first 3-time winner at Emerald this season and won for owners Steve and Letha Haahr and trained by Jeff Metz. Big Fashion has been in a claiming tug-o-war being claimed 2 races ago by John Parker and trainer Candi Cryderman from owners Saratoga West and trainer Jeff Metz after breaking her maiden. Parker and Cryderman then ran her back in a 5k claimer and owner Steve and Letha Haahr claimed her back for Metz. After tonight's win Parker and Cryderman get Big Fashion back hoping they are just beginning to see her potential.
3rd Race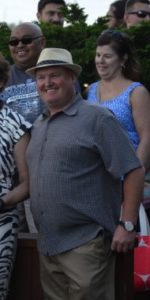 How would the 3rd race play out with a field of 5 going 5 1/2 furlongs was the question. The public was set on La Waun with Juan Gutierrez up at 3-5 and was breaking from the 1 hole and looked for the lead but instead was hooked by not 1 but 2 others including Mamacallmeboo with Alex Cruz and 10-1 outsider Capital Expense with Kassie Guglielmino. Those 3 were heads apart from the start to entering the far turn where Mamacallmeboo started to drop back leaving it a 2 horse battle. Meantime, 2nd favorite Mahi Mahi with Kevin Radke was beginning to stir from far back.
As they turned for home it was the odds on choice La Waun next to throw in the towel and Capital Expense inherited the lead but Mahi Mahi was swung wide and came flying catching the longshot inside the 16th pole to pull away for a length win. La Waun held 2nd and R B Eye with Javier Matias closed from far back to complete the superfecta.
Mahi Mahi is owned by Richard Caswell, Jim Strelo & Shawn Horan and trained by Blaine Wright. The $1 exacta with the 2-1 2nd choice to the 10-1 runner-up returned $37.
4th Race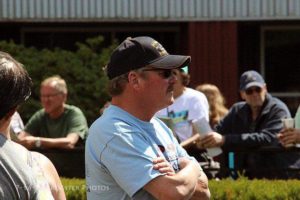 Alex Cruz kicked off his 4 straight wins with a dominating front running victory on Miss Kitness who the bettors also believed would run away with the 6-furlong run making the 5-year-old Kentucky bred mare the odds-on 3-5 favorite. Cruz and Miss Kitness quickly took a length lead stretching it to 1 1/2 while setting fractions of 21.88 and 44.75.
2nd favorite Dance Fighter with Jose Nava-Marin aboard tried to keep pace but ended up with the best view on the grounds of Miss Kitness's front running win as Cruz and Miss Kitness pulled away for a 4 length win. Dance Fighter was clearly 2nd best while Cameo Shores closed from last to 3rd with Kevin Radke and completing the superfecta was Dodropin and Juan Gutierrez.
Miss Kitness stopped the clock at 1:10.87 and races for Lusk Racing and trained by Vince Gibson.
6th Race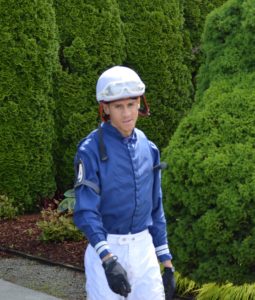 The public favored Master Recovery with Javier Matias to come from well off the pace and to get up in time and was let go at 3-2. 4-1 shot Buckley Bay was expected to take the early lead and jockey Kevin Radke did just that but was quickly joined by Warfront Fighter with Alex Cruz up. The 3-1 2nd favorite never trailed by more than a 1/2 length.
The pair set fractions of 22.71 for the quarter and 44.91 for the half but as the night went on the track tightened up and speed was carrying further than earlier in the card when the track was listed as sloppy. Tapit at Midnight sat back in a stalking position of 4th but when they turned for home Warfront Fighter pulled even with Bay and pulled away and would win by 2 3/4 lengths. Buckley Bay didn't completely spit it but battled to hold on and would settle for 3rd while Tapit at Midnight with Leslie Mawing got up for 2nd and the favorite Master Recovery did close but ended up 4th a head back of Buckley Bay. The winning time was 1:16.23.
The win was the 2nd in a row for Warfront Fighter for owner Cameron Simpson McVay and trainer Shannon Simpson. It's Simpson's 2nd all-time victory at Emerald Downs and is now 2-1-1 from 11 starts. Warfront Fighter is a 5-year-old gelding and California bred. He earned $6,353 for the win and pushes his lifetime earnings to almost $95,000 and has a lifetime record of 4-7-3 from 27 starts.
7th Race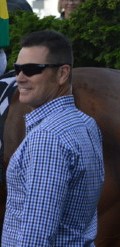 A field of 9 lined up for the start of the finale and Alex Cruz was looking to cap off his 2nd 5 win Friday night in just 3 Friday nights. Cruz was aboard 3-1 2nd choice Union Bliss and broke from the 5 gate of the 6 1/2 furlong run. Cruz stalked in this one sitting 4th all up the backstretch while longshot Bodeeman with Alex Anaya set a brisk pace. Cruz didn't sit too long and engaged Bodeeman at the 1/2 mile and was just a head behind.
The 5-2 favorite Bailius was well back early on with Jose Zunino sitting 2nd last. As they approached the top of the stretch Cruz looked to steal the race right then extending the lead to 2 lengths. Bailius was making up a lot of ground and split horses but Union Bliss had flown the coop and won by nearly 3 lengths. Bailius would finish 2nd while 14-1 J C Express got up for 3rd with Juan Gutierrez, Luck is My Name with Kevin Radke took 4th and Stonus Maximus with Kassie Guglielmino ended up 5th to complete the Super Hi-5.
Union Bliss is trained by Jeff Metz who picked up his 2nd win of the night and owned by Saratoga Northwest Racing Club. The 50-cent Pick 5 returned a season low of $154.90 and the 20-cent Jackpot Pick 6 paid $105.74 but a hefty $18,037 carries over to Saturday.

Claims
The claiming window was hot last week and off to another fast start with a total of 6 claims for a total of $34,500
1st Race
Firing Pin was claimed for $5,000 by Saratoga West and goes to trainer Jeff Metz.
Nummy Num was taken for $5,000 by James Nunnally for trainer Alan Bozell.
2nd Race
Big Fashion was purchased for $8,000 by John Parker going to trainer Candi Cryderman.
Confidence Builder claimed for $8,000 by David Martinez and Russell Hulk and Martinez is the trainer.
4th Race
Miss Kitness was claimed for $3,500 by Tsuijikawa Racing LLC for trainer Jorge Rosales.
7th Race
Luck Is My Name was claimed for $5,000 by Bean Acres LLC and the new trainer is Robert Bean.
www.elisportsnetwork.com