6/28/2022
Two Stakes races were on the 10-race card Sunday afternoon at Emerald Downs with sunny skies and sunny weather. The annual visit from our friends to the North at Hastings Park came down to visit and served as honorary stewards of the Hastings Stakes which was the first Stakes in the 7th. The Budweiser, and first prep to the Longacres Mile was in the 9th. Plus 8 other races and a special tribute race to honor Glen Todd who was a titan in Canadian racing but a huge friend Washington racing as well. We'll begin with the 2 Stakes races and then the rest of the card. Let's get to the races!
The Hastings Stakes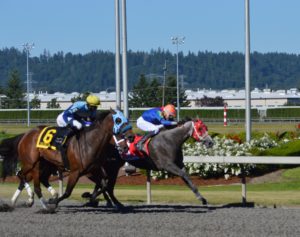 A field of 7 lined up to contest the Hastings at 6-furlongs. The bettors favored Daffodil Sweet with Juan Gutierrez at 9-5. The multiple stakes winner just missed in a prep race by a nose. Daffodil seemed primed for a big run. Ima Happy Cat with Kevin Radke was the 2nd choice at 2-1 her supporters knew she would be in 1st place but the question was for how long.
The next 3 contenders were either 9-2 or 5-1 and included Blazingbellablu a multiple stakes winner taking 2 at Turf Paradise this past spring and won the Kent Stakes at Emerald last year. She was 3rd favorite with regular rider Alex Cruz up. Maybe I Will shipped in from Northern California for trainer Blaine Wright and Kevin Orozco was named to ride was 5-1 and the other 5-1 was Dontkissntell with Jose Zunino who had 18 top 3 finishes in 27 career starts with 152k in her bank account. The other 2 entries Ms Lynn and Brilliant Bird were 27-1 and 30-1 and finished 6th and 7th in that order.
Ima Happy Cat did go to the lead but gave it inside the 1/8th pole which is where the race really began. Daffodil Sweet took over the lead but Maybe I Will rolled up on the outside and Blazingbellablu was closing on the rail to and the 3 battled to the line with Orozco and Maybe I Will surging at the line for a neck win over Blazingbellablu who took 2nd by a half length over Daffodil Sweet. Dontkissntell rallied late for 4th and Ima Happy Cat faded to 5th.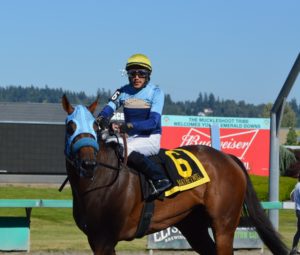 Maybe I Will ran the 6-furlongs in a Stakes tying effort in a swift 1:08.38, tying the effort of Stopshoppingdebbie in 2014. Maybe I Will is owned by Fairview LLC and trained by Blaine Wright, the Cal bred picked up $27,500 to push her career earnings over the 100k mark to $122,252.
With the win Wright swept the 1st three stakes races to get his 49th career Emerald stakes win and puts him all alone in 4th behind Doris Harwood, Frank Lucarelli and Jim Penney. Orozco got his 2nd Stakes win of the year to push his career total to 21 and moves him into the top 10 leapfrogging Frank Gonsalves for the 10 spot. Gallyn Mitchell is the all-time leading stakes winner at Emerald with 80.
Maybe I Will paid $12 on the win and $22.40 on the combo bet. The $1 exacta paid $37, 50-cent tri $55.70 and 10-cent super $27.93. Maybe I Will anchored the 2nd pick 4 that paid $125.15.
We talked with both Blaine Wright and Kevin Orozco below about Maybe I Will's run in the Hastings Stakes.
Jockey Kevin Orozco on his ride on Maybe I Will
Trainer Blaine Wright on Maybe I Will's performance
The Budweiser Stakes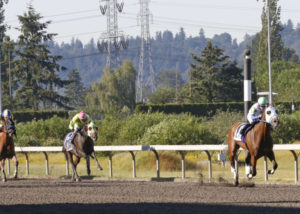 The Hastings Stakes may have played a role in the Budweiser Stakes where Ima Happy Cat went to the lead and was out front but could not make her speed last and faded to 5th. In the Bud Stakes there was no question who was going to the front, Papa's Golden Boy from the 10 post would zoom to the lead with Kevin Radke, but the bigger question was who would go with Papa or would everyone hope the speed would simply hit a wall in the stretch?
The good news for the other 9 trainers in the field of 10 going 6-furlongs is that it likely didn't matter what strategy they had attempted it was not gonna work in this race. Papa's Golden Boy smoked the field leading by as much as 4 lengths according to the charts but announcer Bill Downes called a 7 length lead right at the 1/8th pole and he just never stopped winning by 4 1/2 and stopping the clock in a blistering 1:07.76. That was the fastest 6-furlong time of the meet and nearly equaled what Papa did last year in the Budweiser of 1:07.71. This was just the 2nd year the Bud was run at 6-furlongs.
The race was on for 2nd and 5-2 slight betting favorite Top Executive with Alex Cruz ran well and snatched 2nd by a neck over 13-1 Five Star General with Leslie Mawing. Slew's Tiz Whiz and Jose Zunino ran on late for 4th. 3rd favorite Windribbon was in a good stalking position but flattened out and Anyportinastorm also at 4-1 ran a flat effort.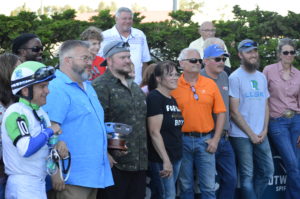 Papa's Golden Boy's trainer Vince Gibson felt he had the 6-year-old Washington bred tightened up and ready to go and said he seriously had never been so confident in a horse before the race. Gibson told us he was kicking down the barn door Sunday morning and he just knew Papa was ready to roll. His gut feeling could not have been more on the mark.
Papa's Golden Boy is owned by Lusk Racing and added $27,500 to his earnings which now tops 156k. Papa's Golden by by Harbor the Gold out of Brookie Girl by Proud Citizen was bred by Bar C Racing Stables. It was Radke's 26th career stakes win at Emerald and he moves into a 7th place tie with legendary Gary Baze. Meantime, Gibson picks up his 3rd career stakes victory.
Papa's Golden Boy was let go as the 2nd favorite at 5-2 and paid $7.60 on the $2 win and with the 2 longshots finishing 3rd and 4th the $1 superfecta with the 2 favorites finishing 1 and 2 paid $787.10. Below is the stretch run of the Bud plus interviews with the owner Gary Lusk and jockey Kevin Radke.
Stretch run of the Bud Stakes
Jockey Kevin Radke on his ride on Papa's Golden Boy
Papa's Golden Boy owner Gary Lusk on the Bud win
The rest of Sunday's card
1st Race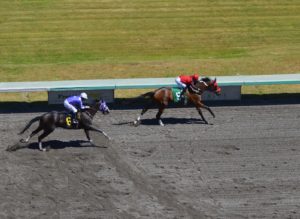 A field of 6 went a mile and 6-1 outsider Milords Oathkeeper was the lone speed and jockey Juan Gutierrez challenged the other 5 to get by. Gutierrez milked the front end with about a length lead setting fractions of 24.28 and 47.47. As Milords hit the top of the stretch they held a 2 length lead and had plenty to maintain that distance to the wire for the upset win.
9-2 Mancuso at the Mic with Javier Matias closed up as 2nd best and odds-on favorite Union Bliss ran an even 3rd and had no closing kick while 12-1 Shakela's Destiny with Eddie Martinez completed the superfecta.
Milords Oathkeeper races for Margaret Root and is trained by Blaine Wright and bred in Oregon by Dr and Mrs Jack Root. Milords paid $14.80 on the $2 win and then $1 exacta was good for $38.20.
2nd Race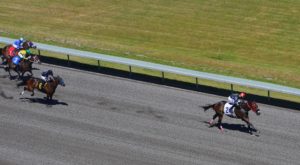 Trainer Jorge Rosales and jockey Alex Cruz were red hot as a team this week winning 3 on Friday night and adding a 4th here with front runner Heredia Boxer. Cruz took the 1-2 shot straight to the front held a steady 1 length lead setting fractions of 22.39 and 44.96 in the 6 1/2 furlong run and at the top of the stretch Heredia Boxer was gone pulling away for a nearly 4 length win. Ethan's Animal stalked and ran a solid 2nd for Kevin Orozco while Kevin Radke on Naval Escort passed a tiring Ididntseethatcomin for 3rd.
Heredia Boxer finished in 1:15.15 and is owned by Oscar Heredia and paid $3 on the $2 win. The $1 daily double with the 6-1 in the 1st paid a decent $17.
3rd Race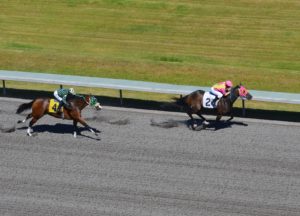 A field of 6 3-year-olds and up fillies and mares went 6 furlongs and the 3rd straight front runner dialed it in coast-to-coast. The betting public remained unsold on the front speed as Classic Leah went off at 9-1and went to the front. This time there was pressure and jockey Leslie Mawing didn't overreact and gun it instead held 2-1 2nd choice Le Tub with Juan Gutierrez just off their flank. Please Me with Kevin Radke was right there as well.
Turning for home Mawing had some gas in the tank and Leah extended to a 1 1/2 length lead and held sway to finish in front by 2. Le Tub did well to hang in for 2nd denying Please Me who took the show with a gap back to 4th place finisher Emerald Sea with Jose Zunino.
Classic Leah is owned by Paul Johnson and trained by Vince Gibson. Classic Leah paid $20 on the $2 win and $32 on the classic $6 combo ticket. She also capped the first 50-cent pick 3 with a very good $122 pay-off considering there was a 1-2 shot middle winner.
4th Race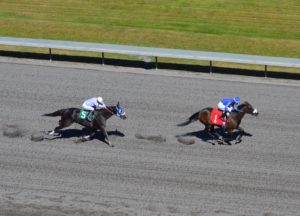 4 races and 4 front running wins as Eddie Martinez decided not to try and buck the trend with odds-on choice Prince of Luck in a 6 1/2 furlong run for 3-year-olds and up. Prince of Luck went off at 3-5 and took a length lead, extended it to 1 1/2 at the top of the stretch and pulled away for more than a 2 length victory.
2nd choice Erotic with Kevin Radke rallied from 4th to grab 2nd and then a pair of longshots hit the board with 17-1 Pequeno Monte and Jose Zunino took 3rd and Bearcreek Mountain with Alex Anaya was 4th at 19-1.
Prince of Luck ran the 6 1/2 in 1:17.60 and comes from the barn of Scott Freeman and is owned by Free Brook Racing LLC. Prince of Luck was the final piece to the 1st 50-cent pick 4 that also paid really well with 2 odds-on winners at $212.35.
5th Race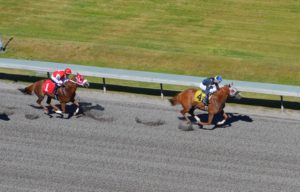 The 5th race saw the end of the front runner streak and boy did it flip. 7-1 Lady Commish with Alex Cruz broke last in the field of 6 going 6-furlongs and sat at least 6 lengths behind through the first 4 furlongs. Juan Gutierrez had 9-1 Percy's Sis took the early lead and 2-5 odds on choice Youonlylivetwice went with her and the two threw down heads apart setting fractions of 22.18 and 45.73. As they approached the top of the stretch Lady Commish began to get rolling  and was just a length behind. Cruz had Lady Commish in full gear swamping the top two to pull off for a 3 3/4 length win. Youonlylivetwice finished a clear 2nd while Percy's Sis held 3rd and Gold Coast Girl completed the superfecta.
Lady Commish runs for Fred and Cindy Desimone and Ray McCanna and is trained by Tim McCanna. She ran the 6-furlongs in 1:11.20 and returned $17.80 on the $2 win.
6th Race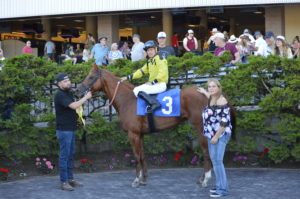 A field of 6 went 6-furlongs and the public was split between Onefineday with Alex Cruz at 1-1 and Antecedence with Kevin Radke at 6-5. The other 4 were 11-1 or higher. Onefineday went to the front taking a quick 2-length lead setting a 22:07 fraction for the quarter but Antecedence and Cards N Coffee closed the gap and were all within 1/2 length. 11-1 Twilight Galaxy with Kenneth Deonauth was sitting in 4th at this time and Fully Compliant with Juan Gutierrez was 2nd last. 
As they turned for home Antecedence was going best and began to pull away while Twilight Galaxy and Fully Compliant engaged Onefineday and those 2 would battle for 2nd with Galaxy holding on by a nose over Compliant and Onefinday a 1/2 length back in 4th.
Antecedence races for John Parker and is trained by Candi Cryderman and stopped the clock in 1:12.12. 
8th Race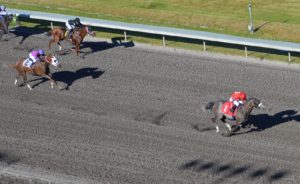 Zazen was the overwhelming 1-2 favorite in this field of 6 going 6-furloings for fillies and mares, 3 and up and she did not disappoint. Zazen was claimed in her last race for $30,000 by Tim and Sue Spooner and she paid off immediately for the longtime Washington owners and their longtime trainer Dan Markle.  After struggling as a 2-year-old with 4 maiden races with little to be excited about but oddly was never higher than 4-1. She would break her maiden this season at Emerald on May 21st changing tactics and going to the lead and she blitzed the field by 8 3/4 lengths. In her 1st try against winners she lost by a neck as the odds on choice and that's when the Spooner's took her.
Kevin Radke got his 1st ride on Zazen and as they broke in a 3-way battle for the lead Radke would not give in to Oreo's Dream with Juan Gutierrez and Donne Cattive. By the half she had a 1 length lead and turning for home had doubled it and by the end had doubled it again to 4 lengths. 2nd choice Crazy About You and Leslie Mawing ran on for 2nd while Oreo's Dream held for 3rd and Jacana and Alex Cruz grabbed 4th. 
Zazen ran the 6-furlongs in 1:10.57 and is a Washington bred by Grazen out of Smokin' Grey by Smoke Glacken and was bred by Mr and Mrs William Griffin.
10th Race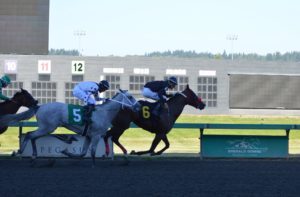 After the front speed runners slowed down a bit, front speed caught on again in the 8th and 9th races with Zazen and Papa's Gold Boy. So Alex Anaya thought hey why not roll out to a big lead on 14-1 Lil' Miss Mischief in the get-away race of the week and see how far she'll go in the 5 1/2 furlong sprint. Anaya had 1 big worry and that was 2-5 odds-on choice She Said My Way with Kevin Orozco. Orozco with a stalking style of horse no question was hoping someone would go with the early speed but that did not happen as Lil' Miss built a quick 2 length lead and extended it to 3 while setting fractions of 21.96 and 45.70. 
At the top of the stretch Anaya let her out another notch and built a huge 4 length lead over Aly's Nation with Nicole Disdier while Orozco swung wide for stretch run and came flying. But Anaya and Lil' Miss Mischief had flown the coop and held off She Said My Way by a 1/2 length while Aly's Nation held 3rd while Barsinthecar with Leslie Mawing closed to be 4th and to complete the Super Hi-5 was Talkingnonstop with Kevin Radke.
Lil' Miss Mischief races for Cameron Simpson McVay and is trained by Shannon Simpson. Lil' Miss Mischief paid $31.20 on the win bet and capped off the final pick 4 with a $619.70 pay, the Pick 5 went for $981.50 and the Super Hi-5 paid $548.40. The Jackpot 20-cent Pick 6 again had multiple winners selecting all 6 and each receiving $1,360.12 but again the Jackpot pool pays off in full when there is only 1 winning ticket so the carry-over going into the holiday weekend is now up to $32,367. 
Claims
1st Race
Union Bliss was claimed by Lynn Hebdon for $5,000 and goes to the Jorge Rosales barn.
4th Race
Erotic was claimed for $2,500 by Hillary Durham and goes to trainer Jorge Rosales.
Prince of Luck was taken for $2,500 by Dawn Spillman for trainer Robbie Baze.
6th Race
Antecedence was claimed for $2,500 by Lusk Racing for new trainer Vince Gibson.
10th Race
She Said My Way was claimed for $5,000 by Saratoga Northwest Racing Club and goes to trainer Jeff Metz.
Glen Todd
The 5th race was the Glen Todd Memorial Purse. Todd passed away at the age of 75 in March but had a huge impact on thoroughbred racing not only in Canada but also the United States with a big impact on Washington State. Todd had been in racing for 59 years and was integral in keeping racing alive in British Columbia. In 2007 he began his North American Thoroughbred Horse Company and during the last 14 years had 49 black type Champions including Taylor Said who won the Longacres Mile at Emerald Downs in 2012.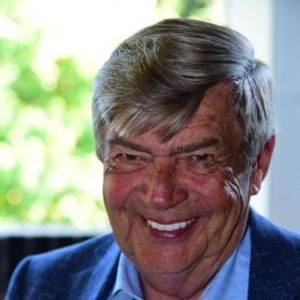 Todd was a member of the British Columbia Sports Hall of Fame and ran 2 international trading companies his father had founded. Todd stepped up huge during the Covid year and gave Hastings a 1-million no interest loan to help purses so racing at Hastings could survive. 
Todd also had a passion for women's fastpitch and took over a local association and built it from 11 teams to well over 100. He eventually created and financed the Canada Cup National Tournament to give the Canadian National team a venue to host a big time tournament and is now considered one of the sport's premier international tournaments. 
Todd's wife Sandra passed away in 2007 and he is survived by 2 daughters Shelley and Dana, 4 grand kids and also listed is jockey Mario Gutierrez. Todd welcomed Gutierrez to his home and became his mentor as a young up and coming jockey. He rode for the powerful NAHC stable but Todd saw more in him. The story goes he drove Mario personally to Santa Anita and dropped him off. With tears in each others eyes Todd told Mario he was not trying to "get rid of him" but he needed to take a shot at riding at the top level. Todd again knew what he was doing as Gutierrez went on to win not 1 but 2 Kentucky Derby's. Todd and his family consider Mario and his family part of theirs. 
NW racing was very lucky to have a friend and partner like Glen Todd in this very difficult business and his absence will be felt no question for years to come.
Photo Gallery
www.elisportsnetwork.com