6/26/2022
Summer arrived and weather came with it to kick-off the 2nd Stakes weekend of the season. The Budweiser and Hastings will be run on Sunday afterfnoon. In the meantime a total of 15 races over Friday and Saturday. Hydrogen won the feature on Friday night and on Saturday
Below is our race-to-race coverage of both days. We cover the feature race first and then the other races. Let's get to this week's action.
Saturday Racing
John Parker Racing Feature Race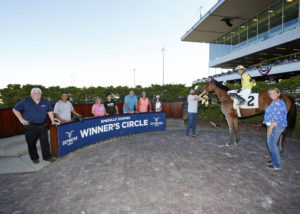 The field of 6 went 6-furlongs in the Saturday John Parker Racing Feature Race and Judicial, a 4-time winner at Emerald Downs in 2021, went off as the 1-1 betting favorite with Juan Gutierrez riding. Judicial broke alertly and quickly took command by a length over Sleepy Sue with Jennifer Whitaker at 9-1, Red Noon Rising with Kevin Radke at 8-1 and 4-1 Lady O'Prado with Javier Matias.
Meantime, 2nd favorite Queen Breezy with Alex Cruz was patient and watched the four in front of him scramble. As the quartet traveled around the far turn Judicial with inside position began to tire and started to drift off the rail opening up a huge hole for Queen Breezy sitting behind the 4 front-runners. Cruz did not hesitate and hit go and the Queen with a burst of speed quickly swallowed up all four and took a length lead at the top of the stretch and simply extended all the way to the wire for a 5 1/4 length win. Sleepy Sue had a solid effort and was clearly 2nd while Red Noon Rising held 3rd and Lady O'Prado was 4th while Judicial faded to 5th.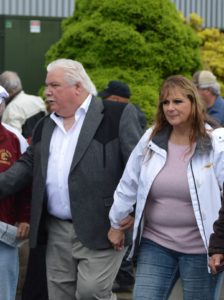 Queen Breezy gave the win to John Parker who won his own feature race to make it extra special and Candi Cryderman picked up the training win. Queen Breezy stopped the clock in 1:09.60 and is a 5-year-old mare Washington bred by Linchpin out of Roxy Skylar by Hampton Bay and was bred by Alan Bozell.
Queen Breezy paid $14.60 on the $2 across the board bet and with the betting favorite out of the top 4, the $1 superfecta was a nice $267.50. Queen Breezy is now 5-3-2 lifetime from 16 starts and increased her bankroll to more than $50,000.
1st Race
A field of 5 maiden 3-year-olds went 5 furlongs and betting favorite Mybestisyettocome with Alex Cruz broke from the 2 hole about a length behind Smiling Patrick with Alex Anaya and Cowboy Causeway with Leslie Mawing. Cruz didn't wait long to engage the duo in front and took a head lead at the 3/8's pole and held that slim lead to the top of the stretch and then draw away by a length and a half. Cowboy Causeway got up for 2nd by a head over 2-1 Bet the House and Smiling Patrick completed the superfecta.
Mybestisyettocome races for Cameron Simpson McVay and trained by Shannon Simpson and returned $4.20 on the $2 win.
2nd Race
The bettors had this one pegged as 1-2 favorite Coastal Run went wire to wire in this 6-furlong dash for fillies and mares. Kevin Radke broke smartly ad took a quick 1 1/2 lead and never allowed any of her competitors to get closer than that and won by 1 3/4. 13-1 Sharp Curve with Juan Gutierrez ran a clear 2nd with 5-1 Camden High and Javier Matias in for the show while 33-1 Easy Does It and Jose Zunino capped the superfecta.
Coastal Run ran the 3/4 mile in 1:11.09 and races for Wayne Williams and the Terra Firma Farm and trained by Joe Toye. Coastal Run is a 4-year-old Washington bred by Coast Guard, out of Tasya by Successful Appeal and was bred by Nina Hagen, Sharon Ross and Jeanette Kirschman.
3rd Race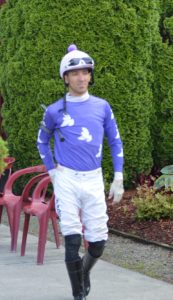 The 2nd 2-year-old race of the year was a field of 9 1st time starters that the betting public had a hard time separating. The favorite was 3-1 Stickinittotheman with Kevin Orozco and trained by Frank Lucarelli. That paired teamed up Friday night to win the 1st 2-year-old race of the year so maybe that's how some came to favor them in Saturday's race.
There were then 4 horses between 4-1 and 5-1 and 4 horses between 17-1 and 19-1. 5-1 Aloha Breeze with Eddie Martinez broke well from the 9 hole and took command right away in the 5 furlong dash quickly building a 2 length lead. I'm Beth Dutton at 9-2 was right behind with Juan Gutierrez followed by Chippewa and Javier Matias.
But there was no catching Aloha Breeze who pulled away for a 4 3/4 length win. Stickinittotheman ran on well to be 2nd while I'm Beth Dutton settled for 3rd and 4th went to Chippewa. Aloha Breeze races for George Todaro and trained by Tom Wenzel. Aloha Breeze ran the 5 furlongs in 57.67 and paid $12.20 on the $2 win. The $1 exacta was a strong $30.60 return, the 50-cent trifecta paid $72.60 and the 10-cent superfecta was good for $94.14.
4th Race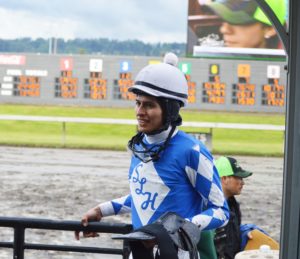 A field 5 3-year-olds and up entered the gate in this 6-furlong sprint and the overwhelming favorite was Nationheart, the odds-on choice went off at 3-5. When the gates opened it was overlooked Freestone at 9-1 with Alex Anaya up that took the early lead with Nation heart sitting right behind in the cat bird's seat.
The race would end up being a match race with Freestone leading all the way into deep stretch when Orozco asked for more from Nationheart but Freestone was indeed all heart holding on for the win by a neck in an all-out performance by both runners. They were more than 2 lengths in front of the next pair and 5-1 Warriors Hero with Alex Cruz got the neck down for 3rd over 9-2 Mosquito Fleet and Javier Matias.
Freestone is owned and trained by Valentin Garcia and ran the 6-furlongs in 1:10.27. Freestone paid a handsome $20.40 on the $2 win and capped a pick 4 with big favorites to pay a decent $139.80.
5th Race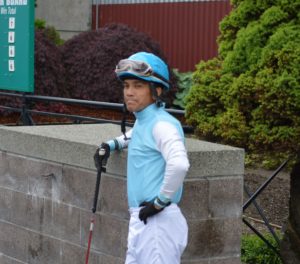 A well matched group of 9 3-year-old maidens went 6-furlongs with Abrierwin with Juan Gutierrez at 2-1 and then 7 between 3-1 and 13-1. 10-1 Gypsy Sun had the early lead but would give way to Ears To Us with Leslie Mawing up. Mawing would pull away for a length or more advantage and looked to be cruising to the win when Hickory Wind with Kevin Radke rallied and Mawing had to shift in another gear just holding off the fast closing Hickory Win to post the head victory. Brannigan came from far back to snatch 3rd by a neck over Book Smart and Kevin Orozco.
Ears To Us is owned by Paul Caravetta who also bred the BC gelding and is trained by Mike Puhich. Ears To Us stopped the clock in 1:11.03 and paid $20.60 on the $2 combo bet and capped a healthy 50-cent pick 3 paying $191.45.
6th Race
7 starters in this 6-furlong event and no fooling the bettors this time as Collecting Stars went off at 2-5. Juan Gutierrez sent Stars to the front and led early by just a head over 5-1 Top Hat High Jinks with Jose Zunino and the boat race was on with Collecting Stars extending that lead to 2 at the top of the stretch and drawn away by 6 1/4 at the finish. Top Hat High Jinks held well for a clear 2nd while Whata Flirt with Alex Cruz ran 3rd and Gold Supply with Kevin Radke 4th.
Collecting Stars is owned by William Sandeman and trained by Sam Dronen. The Idaho bred ran the 6-furlongs in a time of 1:10.14 and was the anchor of the 2nd pick 4 which paid $231.30.
8th Race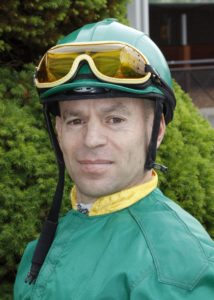 The finale for Saturday saw the money fall onto #6 Dark N Handsome with Kevin Radke up bet down to odds-on leaving the next 3 choice between 6 and 7-1. Feather Inthe Wind with Juan Gutierrez went to the front in the 5 1/2 furlong affair and built a 2 length lead at the top of the stretch. Dark N Handsome had stayed in striking distance but flattened out. The new danger was Jennifer Whitaker on Love That Kid coming up the rail but then had to shift course to the outside of Feather and finishing with a rush to miss by a nose. Dark N Handsome held 3rd while Fantastic Dream with Leslie Mawing was 4th and capping the Super Hi-5 C Jaxon with Alex Anaya.
Feather Inthe Wind ran the 5 1/2 in 1:04.96 and races for Big Bill and Company #1 and is trained by Jose Navvaro. Feather Inthe Wind paid $16.20 on the $2 win, the $1 exacta was $64.40, the 50-cent tri $92.40 and the dime super $42.76.
The 50-cent Pick 5 was a solid $1,423.90, the 20-cent Jackpot pick 6 paid 6 of 6 for $993.18 but $27,135 carried over to Sunday. Remember the only way to collect the whole pot is to be the single winning ticket. And no one hit the Super Hi-5 carrying over $1,252 to Sunday.
Claims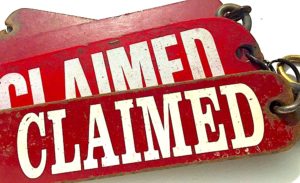 2nd Race
Camden High was claimed for $8,000 by Dennis Trenkenschuh and goes to trainer Teena Birdwell.
La Popis went for $8,000 to new owner Matt Hughes and trainer Niccolo Troiani.
4th Race
Nationheart was claimed for $15,000 by Paddock Partners Ltd and goes to trainer Joe Toye.
Friday Night Racing
Muckleshoot Casino Feature Race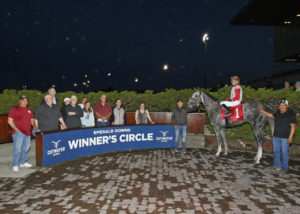 A field of 7 lined up to go a mile over a fast track. Hydrogen was the 1-1 betting choice with Kevin Radke and he took up a stalking position in the 4th place early on. Meantime, 2nd favorite Mike Operator with Alex Cruz and long shot Western Rule with Jennifer Whitaker got into a front end battle that likely took too much out of both contenders. 10-1 Jedi Knight with Kevin Orozco sat in 3rd watching the front end and putting himself in position for first run.
As the they worked their way up the backstretch and approached the far turn, it was still Mike Operator by a head over Western Rule but Hydrogen had moved up the rail but was stuck behind Western Rule and Jedi Knight to his outside. As they turned for home Jedi Knight surged to the lead and looked to have cleared the field enough especially with Hydrogen stuck on the rail but then Radke found an opening and angled out for a final run.
As they passed the 16th pole Jedi Knight was hoping to give his backers a handsome 10-1 pay-off but Hydrogen dug in and got up in the final strides to get the win by a neck. Jedi Knight was 2nd, Mike Operator held on well for 3rd and Rocky Tough with Alex Anaya gained his best stride too late but completed the superfecta.
Hydrogen stopped the timer in 1.36:14 and earned $9,075 for owners Hern/LePley Racing and for trainer Tim McCanna. This was McCanna's 1st win of the season, he is a 10 time training champion at Emerald second only to Frank Lucarelli. Hydrogen paid $4.20 on the $2 win and coupled with 10-1 Jedi Knight paid $11.30 on the $1 exacta.
1st Race
Friday night racing began with a bang as 4 of the 5 runners went out leaving the 14-1 longest shot on the board, American Royalty in the dust as track announcer Bill Downes estimated at one point in the 6 1/2 furlong run that A-R trailed by 15 lengths. With any of the 4 in position to win it was 2nd longshot Sassy Edie with Eddie Martinez leading and pressuring from just off was 7-2 shot Dodropin with Alex Cruz.
As they turned for home Sassy Edie was trying to hold off Dodropin but had traveled off the rail. In the meantime, American Royalty was getting rolling and Javier Matias was loaded sweeping by the entire field right up rail for a 1 1/2 length victory. Dodropin got up for 2nd, Sassy Edie held on for 3rd 2-1 Beau Rocks finished 4th. The 1-1 favorite Shelby B faded to 5th.
American Royalty runs for Debbie Van Horne and owners Wilwin stable. American Royalty stopped the clock in 1:18.26. A-R paid $30.80 on the $2 win, the $1 exacta was good for $84.80, the 50-cent trifecta $136.70 and the $1 superfecta $783.20. Not bad for a 5 horse field!
2nd Race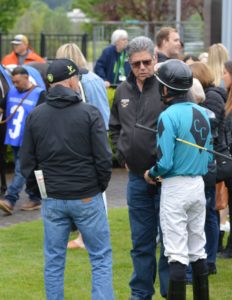 This was the first 2-year-old race of the season and the much anticipated run ended somberly and we cover that down below in our Track notes. All were 1st time starters in this 4 1/2 furlong dash. Gunnin for Gold the morning line favorite but went off at 4-1 quickly bolted out of the gate and quickly separated with a 1 1/2 length lead with Alex Anaya aboard.
Parker's Gold with Kevin Radke was next and Deshambeau with Kevin Orozco up was just behind along with Mister Midas and Javier Matias. As the pack began to catch a tiring Gunnin for Gold, Parker's Gold fell throwing Radke and the chain reaction led to Secret Saga trying to avoid Parker's Gold tossing Kassie Guglielmino. Again, more on that situation down below in the track notes.
Deshambeau took over the lead and drew away for a 3 length win. Mister Midas ran 2nd and closing from far back Eddie Martinez got Lloyd's Logic up for 3rd and It's Turbo with Leslie Mawing finished 4th. Deshambeau races for Mike Hill and trainer Frank Lucarelli. Deshambeau at 6-1 paid $29.40 on the $2 combo ticket, the $1 daily double was huge at $216.90, the $1 exacta with 16-1 Mister Midas was good for $123.10, the 50-cent tri $216.05 and the 10-cent superfecta $221.22 or $2,212.20 on the $1 bet.
3rd Race
Alex Cruz was aboard his 1st of 3 straight winners Dyf and was on the betting favorite at 8-5 and sat a patient trip on the outside in 4th early on. The early pace faded but first run went to Jersey Red and Jose Zunino who took the lead in the stretch but could not deny Dfy who got up in the final strides to win by a neck. Miso Fast with Jennifer Whitaker closed late for 3rd and Tumac Mountain was 4th by a nose.
Dyf comes from the Jorge Rosales barn for owner Lynn Hebdon. Dyf ran the 6 1/2 furlongs in 1:17.10. Dyf finished off a nice 50-cent pick 3 paying $256.40.
4th Race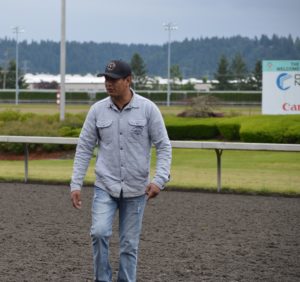 Alex Cruz and Jorge Rosales teamed up again in the 4th and the public was not fooled as they bet Upo down to 7-5. The early pace in the 1-mile race didn't last and the stalkers lined up to take their shots with 9-1 Foster Boi and Nicole Disdier going first trying to steal the race on the turn with a 2-length lead but could not hold off 2-1 Deepingreen with Juan Gutierrez who took the lead at the top of the stretch.
Cruz meantime was cutting into the difference with Upo and by the 1/16th pole was even only to draw off by 1 1/2 for the win. Deepingreen held 2nd and Foster Boi 3rd with Blame it on Kitty getting up for 4th. Upo stopped the clock in 1:36.32.
Upo races for Hillary Durham and trained by Rosales. The Cruz/Rosales daily double paid just $4.20 but Upo finished off a 50-cent pick 4 that paid $486.20.
5th Race
Why not 3 in a row for the Cruz/Rosales combination and once again the bettors were not fooled betting Sir Deputy down to 1-1. Cruz this time went straight to the lead but first had to shake Orcadian Storm and then it was Candied Lute that gave Sir Deputy no break but by the top of the stretch Cruz was out by just a 1/2 length and the challenges were not over as old pro Wine at Nine rolled up on the rail and nearly got there losing to Sir Deputy who posted the impressive front running win.
Candied Lute held 3rd and Crest Drive would finish 4th. Sir Deputy covered the 6 1/2 in 1:16.30. Sir Deputy is owned by Rosales Racing F1 and Oscar Heredia. The all Cruz/Rosales pick 3 paid off at odds of 4-5 at $3.75.
7th Race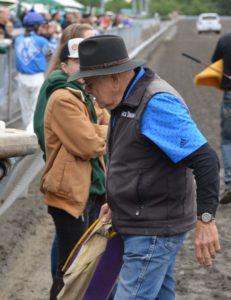 In the finale a field of 7 went 5 1/2 furlongs and it was Street Demand finishing like Friday night started with a 14-1 shot winning. Jockey Leslie Mawing sat just off the pace trailing betting favorite Bennyandthechicks with Juan Gutierrez. The other front speed was Chumley with Nicole Disdier while Street Demand sat behind the front two.
There wasn't much change other than Street Demand rolling up on the outside taking control in deep stretch posting the 1 length win while Bennyandthechicks held 2nd by 2 lengths over Chumley and Oxbow Park got up for 4th.
Street Demand is owned by Bean Acres and trained by Robert Bean, Bean's 1st win of the season. Street Demand ran the 5 1/2 in 1:04.16. The 50-cent trifecta paid $117.40, the 10-cent super was $61.28. The Pick 5 returned $134.30 and the 20-cent Jackpot pick 6 paid $546.12 and had a carry-over of $24,486. The 50-cent Super Hi-5 paid $1,303.50.
Track Notes:
2-year-olds begin on somber note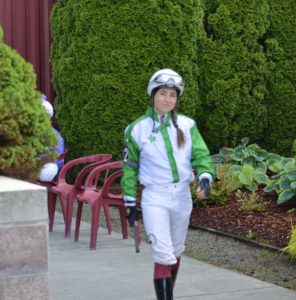 There's always great anticipation for the 2-year-olds when they begin to run and Friday night featured a big field but did end in a way no one wants to see. All 8 starters were racing for the 1st time and turning for home Parker's Gold took a bad step and went down tossing jockey Kevin Radke right in front of several horses in pursuit.
Horses don't like to step on other horses or humans which led to Secret Saga trying to jump over the incident throwing jockey Kassie Guglielmino to the ground. Unfortunately, Parker's Gold suffered a break but Secret Saga was walked off the track.
Amazingly, Radke was only banged up and would go on to ride the rest of the night and in fact winning the feature on Hydrogen.  The news was not as good for Guglielmino who broke her leg and will be out for an undetermined amount of time. ESN talked with Giglielmino who told us she did break her fibula and will need surgery. She told us that the doctor stated it was a clean break and was optimistic for a speedy recovery. Guglielmino will meet with an orthopedic surgeon on Sunday and will have a better understanding of what will need to be done and a timeline for recovery.
I was made for Friday Nights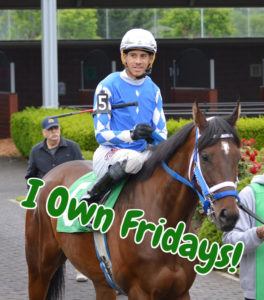 Coming into the 4th Friday night of racing leading rider Alex Cruz has dominated winning literally 60% of the Friday night races including 2 5-win nights and placing in the top 4 90% of the time he was still to be considered on this Friday. He didn't get a 5-bagger but did win 3 and placed and showed in just 5 mounts.
Cruz's Friday night record is now 25 mounts out of the 28 potential races, 15 wins, 5 seconds, 1 show and 2 4ths. His win percent on Fridays is a mind boggling 60% and he has now won 54% of all Friday races regardless of if he is in the race. His top 3 percent is 84% and he is part of the superfecta in 92% of his Friday night races. Overall he is in the top 4 on Friday nights, regardless of if he is in the race or not an astounding 82%.
Total handle for the 7 race card on Friday night was $970,232.
Claims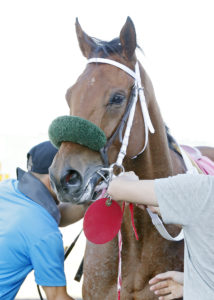 The claiming window was busy on Friday night with a total of 11 claims at a combined figure of $59,500.
1st Race
Beau Rocks was claimed for $2,500 by new owner and trainer Jennifer Nunnally.
3rd Race
Dyf was claimed for $3,500 by Letha and Steve Haahr and goes to trainer Jeff Metz.
Tribal Impact goes to new owner Dawn Spillman for $3,500 and heads to the Robbie Baze barn.
5th Race
Crest View was claimed for $5,000 by Jon Lindley for trainer Frank Lucarelli.
Orcadian Storm was claimed for $5,000 by Remmah Racing Inc for trainer Jorge Rosales.
Sir Deputy was taken for $5,000 for the Still Dreaming Stable and heads for the Vince Gibson barn.
Wine at Nine was red tagged by owner/trainer Valentin Garcia for $5,000.
6th Race
Hydrogen was claimed for $10,000 by Eliska Kubinova and trainer Jorge Rosales
Robs Lucky Spirit was taken for $10,000 by John Parker and goes to Candi Cryderman's barn.
7th Race
Bennyandthechicks was tabbed for $5,000 by new owners Rosales Racing F1 for trainer Jorge Rosales.
Oxbow Park was claimed for $5,000 by James Carter for trainer Jill Sorrano.
www.elisportsnetwork.com