6/24/2022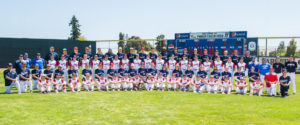 This year's Baseball All-State series begins on Saturday with 2 games and then another 2 games on Sunday and will be played at Yakima Valley College. The 4 teams are made up of invited All-Stars from across the state into 4 teams. The 4-teams have been dubbed Team Adams, Team Baker, Team Rainier and Team St. Helens. Each team has 19 players except for Team Adams with 18.
Teams will play 8-inning games and the two winners on Saturday will play each other on Sunday for the Championship, while the two losing teams will play in the consolation. 
Eli Sports will be live streaming each game with Matthew King on the call. Here is the broadcast schedule and link to watch live. The broadcasts will be on the NFHS Network and is a subscription network of $10.99 for 30-days. You only need to buy 1 subscription to watch all 4 games and you may cancel at anytime. 
Link to subscribe and watch live on the NFHS Network
Saturday, 6/25 11:00am Team Baker vs Team Adams
Saturday, 6/25 3:00pm Team Rainier vs Team St. Helens
Sunday, 6/26 10:00am Consolation Team #1 vs Consolation Team #2
Sunday, 6/26 1:30pm Winning Team #1 vs Winning Team #2
Team Rosters
Team Adams
Head Coach: Cory Aitken; West Valley (Spokane)
Assistant Coaches: Ozzie Smith and Christian Gilbert
1   Ethan Smetheram   Auburn HS
2   Colton Anardi   Auburn HS
3   Sterling Lipscomb  Shadle Park HS
4   Justice Huels  Pasco HS
5   Gavin Parker Napavine HS
6   Jeren Eldridge  Arlington HS
8   Aaron Herst  Garfield HS
9   Andrew Aitken  West Valley (Spo) HS
10 Thunder Doty  Crosspoint HS
12 Duke Ohligschlager  Lynden HS
14 Andrew Moberly  Kentridge HS
15 Rylan Haider  Olympia HS
16 Riley Moyer  College Place HS
20 Caleb Gray  West Valley (Spo) HS
21 Carson Burke  Franklin HS
22 Reece Walling  Prairie HS
23 Grant Cunningham  Seattle Prep HS
24 Cade Slayton  Lynden HS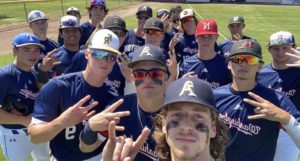 Team Baker
Head Coach: Mike Olson; Bonney Lake
Assistant Coaches: Doug Montgomery and Keith Bosley
1   Carson Nakagawara  Ballard HS
2   Julius Hooks  Tahoma HS
3   Cameron Duggan  Bonney Lake HS
4   Logan Moore  WF West HS
5   Gunnar Shiotani  Ballard HS
6   Anthony Myers  Federal Way HS
7   Abram Woodward  Brewster HS
8   Ricco Longo  University HS
9   Noah Weintraub  Eastlake HS
10 Jeremiah Crain  Puyallup HS
11 Dominic Nolan  Nathan Hale HS
12 Drew Sanidad Eastside Catholic HS
13 Justin Brennan  Lakes HS
14 Matthew Salive  Grandview HS
20 Adam Brooks  Puyallup HS
21 Brandon Faire  University HS
22 Derek Bergeson  Royal HS
23 Nicholas Lewandowski  Bonney Lake HS
24 Chandler Tuupo  Issaquah HS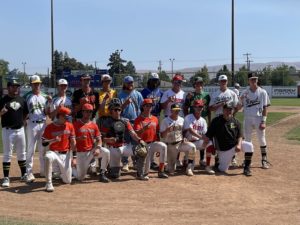 Team Rainier
Head Coach: Grant Richardson; Richland
Assistant Coaches: Charlie Moody and Jason Martinez
1   Chase Cretti  Fife HS
2   Joseph Weissenfels  Richland HS
3   Tyson Laugen  Ephrata HS
4   Jonah Shull  Bothell HS
5   Dylan Watts  Enumclaw HS
6   Noah Imboden  Kalama HS
7   Drake Anderson  Enumclaw HS
8   Isaac Marchand  Kentwood HS
9   Winston Roberts  Ephrata HS
10 Bryce Johnson  Meridian HS
11 Kyle Memarian  Skyview HS
12 Easton Herdman  Central Kitsap HS
15 Nainoa Nall  Lincoln HS
16 Reed Stamps  Chelan HS
20 Tyler Howard  Skyview HS
21 Garren Gooler  Naches HS
22 Carson Coffield  Mt. Spokane HS
24 Cam Kallsen  Richland HS
25 Jaxton Helmstetler  West Seattle HS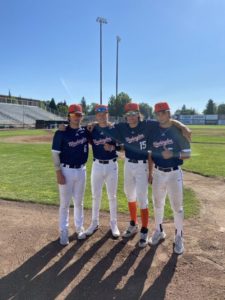 Team St. Helens
Head Coach: Stephen Donohue; Columbia River
Assistant Coaches: Mark Haley and Scott Hunter
2   Austin Paul  Redmond HS
3   Sam Boyle  Columbia River HS
4   Gunnar Graves  Kettle Falls HS
5   Tyler Harper  Tri-Cities Prep HS
6   Asher Lindgren  Moses Lake HS
7   Drew Hanbcock  Camas HS
8   Jackson Purcell  Moses Lake HS
9   Jack Varney  Mercer Island HS
10 Bryce Didrickson  Interlake HS
11 Tyler Hogan  Monroe HS
12 Jackson Toms  Kelso HS
13 Richie Rodriguez  Auburn-Mountainview HS
14 Beckett Jarnagin  Port Angeles HS
15 Casey Struckmeier  Columbia River HS
21 Will Rankin  Oak Harbor HS
22 Ty Messner  Kiona-Benton HS
23 Mason Kelley  Sumner HS
24 Carter Gaston  Kelso HS
25 Colton Bower  North Kitsap HS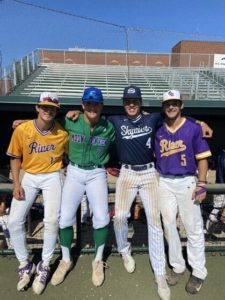 www.elisportsnetwork.com