6/23/2022
O'Dea High School grad Paolo Banchero made state history Thursday night by becoming the first basketball player picked #1 in the NBA draft to graduate from high school in Washington State. Banchero was selected by Orlando. Most experts were sold that Jabari Smith Jr from Auburn was going to be #1 but just prior to the start of the draft ESPN reported that it was Banchero and not only was it Banchero they really never considered anyone else.
Banchero joins a very exclusive club as a Washington State high school grad as only the 3rd ever taken #1 in any sport. The first to do was Steve Emtman a Cheney High School grad then went to the University of Washington was taken #1 overall by the Indianapolis Colts in the NFL draft in 1992. Drew Bledsoe was the only other #1 pick also to the NFL after playing his high school career at Walla Walla and college years at WSU he was taken first by the New England Patriots in the 1993 NFL draft. Bledsoe was also just inducted into the WIAA Hall of Fame this past Spring.
Two other Washington natives were taken in the 1st round, Tari Eason from Garfield High school and MarJON Beauchamp from Yakima. Below our coverage of Banchero we have coverage of those two as well.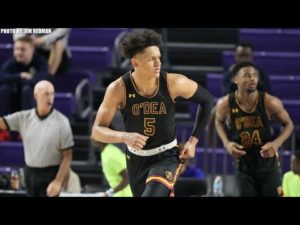 Banchero's high school career included trips to the state tournament for the 3 years he could go. As a Freshman the Irish got to day 3 of the tournament before they were knocked out. Banchero averaged 14 points and 10 rebounds as a freshman. His sophomore year he began to blossom increasing his scoring to 18 per game while grabbing 10 boards and added 4 assists each game as well. That production helped O'Dea roll to a State Championship as an 11 seed over Mount Spokane 70-39. Banchero was named MVP as a sophomore.
Banchero's junior season saw the Irish fall short in the Championship team in their bid to win back-to-back titles. Banchero led the Irish scoring nearly 23 points a game, more than 11 rebounds, 4 assists and 2 blocks. It wasn't enough to top a very good Garfield team led by Tari Eason who we will talk about here shortly.
Banchero's Senior year was the Covid 19 pandemic season and he had committed Duke and did not play the shortened season that was able to be eventually played in late Spring.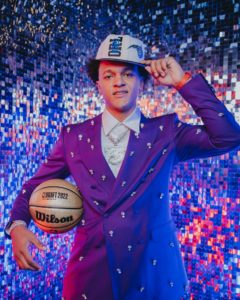 Banchero was then off to Duke to play for legendary coach Mike Krzyzewski and in his 1st and only season he averaged 17 points, 8 rebounds and 3 assists. He was named ACC Rookie of the year, 1st team All-ACC and 3rd team All America.
Banchero is of Italian descent and made the Italian National team top 24  but did not play for Italy.
ESN talked with WIAA Executive Director Mick Hoffman who told us, "we all knew Paolo was a special talent and those talents got to be displayed on a massive national stage at Duke. And now basketball fans all over the world know who Paolo Banchero is and that is a great reflection of how Paolo was raised and coached during the years that really count."
Hoffman says he knows Banchero's mom and dad were athletes at the University of Washington, his Dad played football and mom Rhonda basketball and she would go on to be drafted herself in the 3rd round of the WNBA and played professionally. Hoffman says, "his mom was also his coach and you can see the skills, discipline and commitment that we want all our student athletes to experience and grow from. In Paolo's case he has made it pay-off big time with his historic achievement of being only the 3rd Washington State high school athlete ever to be drafted #1.
We congratulate him, his family and also Tari Eason from Garfield for being the 17th overall pick and MarJON Beauchamp from Yakima as the 24th overall pick."
Paolo Banchero is selected #1 by NBA Commissioner Adam Silver
Early on as a Freshman Banchero was showing dominance in the paint
Banchero takes over in a State Quarterfinal
Banchero with D and a Flush in State Championship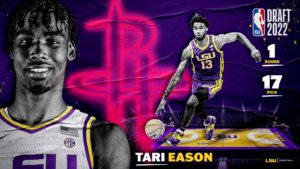 Tari Eason a graduate from Garfield high school was drafted #17 in the 1st round  by the Houston Rockets. Eason graduated in 2020 finishing his high school career with a State Championship beating O'Dea. In his final year of high school Eason averaged 23 points, 8 rebounds and 3 steals and was named 3A player of the year.
Eason committed to the University of Cincinnati and played his freshman year for the Bearcats. Eason earned AAC All-Freshman team honors while averaging 7 points and 6 rebounds per game. He then transferred to LSU for his sophomore year where he broke through averaging 17 points and nearly 7 rebounds a game. Eason earned 1st team All-SEC and SEC 6th man of the year honors. He declared for the NBA draft in March.
Eason with the defense and the slam in the state semi-final
Eason with touch draining a 3 as time expires
The 3rd 1st round selection from Washington state was MarJON Beauchamp originally from Yakima. He had an unusual route to becoming the 24th pick of the 2022 NBA draft by the Milwaukee Bucks.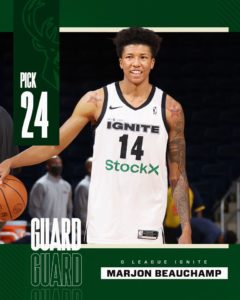 Beauchamp's journey began when he decided he wanted to play against the best competition possible and transferred to Nathan Hale to play in the always tough Metro league with Brandon Roy as his coach where he was part of a State Championship team. He then transferred to Garfield when Roy took the job to lead the Bulldogs and Garfield would win a State Championship. His 3rd season he again transferred this time to Rainier Beach. There Beauchamp helped lead the Vikings to a 5th place finish at state and MVP of the Metro league and several All-State honors.
Following his Junior year Beauchamp transferred to a Christian school in Arizona where he played basketball but then came home to Yakima to finish his high school and graduated from Eisenhower. Beauchamp had several opportunities to play at the college level but instead chose to train for the 2021 NBA draft. But had to return due to the Covid outbreak. That's when he reconsidered playing college and actually played at Yakima Community College in the NWAC trying to decide his next move. 
He was concerned about his amateur status and again passed on division 1 offers and signed with the G-League. He then declared for this year's draft and the Milwaukee Bucks were not scared off by his unusual path to the big time and took him in the 1st round.
ESPN talks with an emotional MarJON Beauchamp after being selected by the Bucks
www.elisportsnetwork.com