6/23/2022
There was so much that happened over the past weekend, 2 Stakes, the Muckleshoot Gold Cup, Father's Day and finally some sunshine! We wanted to go back and highlight some of the accomplishments that were easily overlooked if you weren't paying attention.
Trainer Highlights
In the training ranks there were 2 that tripled this past week while 4 had 2 wins.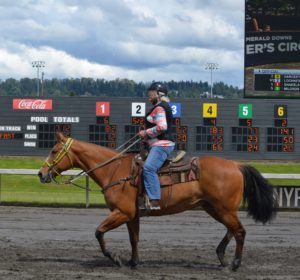 Bonnie Jenne saved all her starts for Sunday and she made them all count with 3 starters, 2 wins and a big 2nd. Jenne got things rolling in the 1st race with Unsinkable Molly B as the 7-1 2nd longshot. Javier Matias sat last and blasted through on the rail for a 3 length win for owners Bernadette and Dave Cox. Jenne got her 2nd win of the day with Command Sgt Major, again overlooked by the bettors at 8-1. Jose Zunino sat 3rd and stalked and rolled past for a 1 3/4 length win for owner Frank McDonald.
Jenne was close to a triple but settled for 2nd 4 lengths behind the winner but a head in front of 3rd place in the Auburn Stakes. Itsallabouttheride also an outsider at 7-1 with Juan Gutierrez got the 2nd place money in the stake. Jenne is now 5-1-2 from 16 starts on the year, that's a whopping 31% win rate and 50% top 3 finish. All totaled, Jenne racked up $28,425 in purse money from 3 starts. Not a bad Sunday at all!
Blaine Wright we have written a lot and interviewed him this week but he is also one of two that had 3 wins. Slack Tide won the Seattle Stakes and Executive Chef took the Auburn Stakes and he got his 1st win on Friday night with Mahi Mahi in the 3rd race. Wright had another 2 finish 2nd and 3 shows from his 11 starters.
Frank Lucarelli's barn is now firing on all cylinders as he was the other conditioner with 3 victories. He also had 2 2nds and a 4th from 9 starts. Lucarelli got his 1st win on Saturday in the 2nd race with 5-1 Stylish Elegance and Kassie Giglielmino up for owners Randall and Rossi LLC and Lucarelli Racing Corp, he also ran 2nd in that race for the 1st of his Lucarelli exacta's. His 2nd win was his 18-1 Irish Knight with Alex Anaya for owner Ron Schmid and again he also grabbed 2nd with Executive Action. Lucarelli got his 3rd win on Sunday in the 2nd with Prospera and Kevin Orozco aboard for owners Chad and Josh.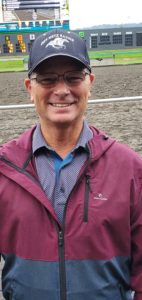 The other trainers with 2 wins included Vince Gibson, Jeff Metz and Kay Cooper. Cooper also had her own Cooper exacta. Other trainers who had stand-out performances included Jose Navarro who had 1 starter and won the opening race on Friday night, Candi Cryderman started 13 and finished with 1 win, 5 2nds and 2 3rds and 4ths. Jorge Rosales had 4 starters and completed his own superfecta with a win, place, show and 4th. Debbie Peery ran 4 got a win and a 2nd, Liz Kowalski got her 2nd win of the season as she sent out 2 and won with one and 4th with the other, Jennifer Nunally got a win and a 3rd with 6 starters and Ryland Harwood got his 1st win of the season with 9-1 Lafonda in the 4th race on Saturday.
Overall trainer standings now have Blaine Wright and Frank Lucarelli deadlocked with identical 9-6-7 records. Last weeks leaders Candi Cryderman and Jorge Rosales each got a win but both fell behind by 1 with 8 wins each. Vince Gibson is next in 5th all by himself with 7 wins while 3 are tied for 8th with 5 wins and include Joe Toye, Bonnie Jenne and Sam Dronen.
Jockey Standings
You can get more information on the riders in our Power Ranking 6 that was put out on Wednesday but here are the overall standings:
1st Alex Cruz 24-18-14
2nd Kevin Radke 22-17-20
3rd Juan Gutierrez 18-15-21
4th Javier Matias 11-5-6
5th Jose Zunino 8-11-13
6th Kevin Orozco 7-9-7
6th Kassie Guglielmino 7-7-8
8th Leslie Mawing 6-8-7
9th Alex Anaya 3-15-6
9th Eddie Martinez 3-4-6
11th Jennifer Whitaker 2-1-3
11th Jose Nava-Marin 2-1-0
13th Evin Roman 1-0-0
Owners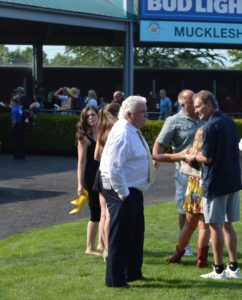 No owner had more than 1 win this past weekend as the purse money was well spread out. John Parker remains the leader and although only got 1 win his horses have been very competitive and he scored 5 2nds on the week as well. Parker is on record saying he is shooting for 30 wins this season and currently has an 8-11-5 mark, 5 wins in front of the nearest challenge.
3 owners or ownerships sit with 3 wins and they are led by Chad and Josh with a record of 3-1-1, Lusk Racing has a 3-4-3 mark and the Purple Rose Stable is 3-2-2. Now there are many partnerships with different people that make tracking owner wins a little difficult so owner wins are only counted as they appear and has to be a 100% match. For an individual owner like John Parker it's easy to follow but for example, Lucarelli Racing is part of owner of 4 winners this season but only the exact ownership group gets credit for the win as far as standings work.
Several owners got their 1st win of the year this past weekend and include Bernadette and David Cox who won with Unsinkable Molly B on Sunday, also on Sunday the Still Dreaming Stables won with Coastline Sermon, Frank McDonald's Command Sgt Major was a winner and Anthony Hoover got his 1st with El Alto Hombre.
On Saturday, Joe Crawford and Joe Burke won the opener with Willing to Burn, Dr. Ryland Harwood took the 4th with LaFonda, the Jack and Jill stable won the 5th with Forty Smooches, Ron Schmid won the 6th with Irish Knight, the Fleur De Lis Stable won the Saturday feature with House of Lords andChase and Danna King won the finale with Wahasha.
Friday night 1st time winners included Ramer Holten Jr in the 1st with Firing Pin, Letha and Steve Haahr won the 2nd with Big Fashion and Richard Caswell, Jim Strelo and Shawn Horan took the 3rd with Mahi Mahi.
Fast Times
There was a new fastest time recorded for the season in the 1-mile distance. House of Lords with Kevin Orozco up ran the 1 time around in 1:35.39 in the 7th and featured race on Saturday. House of Lords is trained by Kay Cooper and owned by Fleur De Lis Stable. Here are the distances run and rast times recorded for 2022 so far:
Season Fastest Times
5 Furlongs :56.97 Overly Fast (3g) May 28
5 ½ Furlongs 1:01.49 Ima Happy Cat (7m) May 22
6 Furlongs 1:08.35 Spittin Image (5g) June 5
6 ½ Furlongs 1:15.58 Willing to Burn (5m) June 4
1 Mile 1:35.39 House of Lords (4g) (June 18)
The Betting Window
Exacta Oddity

In an earlier re-cap story we mentions that trainer Frank Lucarelli had 2 races where he won and placed 2nd for an all Lucarelli exacta and Kay Cooper also did the same, this all happed on 1 day this past Saturday. On Sunday an even stranger double exacta, in the 1st race trainer Bonnie Jenne won the race and owners John and Janene Maryanski's owned and Blaine Wright trained entry ran 2nd. Then in the final race of the day John and Janene Maryanski with the Riverbend Stable and Blaine Wright trained won and the exacta was completed by trainer's Bonnie Jenne entry. Who knew the key to the exacta on Sunday was matching the Maryanski's with Bonnie Jenne?
Favoring the wrong horse
We mentioned how Frank Lucarelli and Kay Cooper had completed their own exacta finishes on Saturday with Lucarelli doing it twice. Well the betting public couldn't seem to get it right with the dual trainer entries. In each case the longer shot won. In Lucarelli's 1st exacta finish Stylish Elegance won at 5-1 while Silver King Bain was 2nd at 5-2, the $1 exacta paid $19.60. In Lucarelli's 2nd exacta, Irish Knight was nearly 19-1 at 18.90-1 and won the race over his 2nd entry Executive Action at 5-1, that $1 exacta pay-out was the 2nd highest of the year at $98.60. In Kay Cooper's exacta Forty Smooches was 4-1 and her 2nd entry Rings of Saturn went off at 3-1 for a $13.40 $1 exacta pay-out.
In fact 10 times a trainer had 2 horses in a race this last week and the betting public got it wrong 60% of the time. Of those entries the horse with the longer odds finished better than the one the bettors felt was the stronger contender. We did not count one though as technically it was counted as a start but as the gates opened a rider was dislodged and for the fair comparison we did not count that because we do not know how that horse would have run without the incident. But even then it would have been 11 starts and 6 of the longer shot finished better including Irish Knight at 18-1 and will be mentioned again below so maybe a $2 cover bet on the high odds of a double trainer entry is an insurance policy bet to consider.
Big Pay-Outs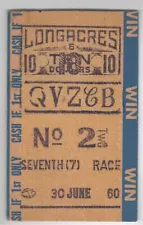 This was the 2nd week in a row that there was a chance to make big money. Several new pay-out highs were hit beginning with the $2 win. Irish Knight won at 18.90-1 and set a new $2 win return of $39.80.
There were other big pays too whether you like the horizontal bets of the daily double, pick 3's etc or the horizontal bets of the exactas, trifectas and supers. There were 2 new high $1 Exacta pays both in the same day on Saturday. The one was the Irish Knight to Executive Chef 1-2 combination which paid $98.60 in Saturday's 6th race. That top pay would last just 2 races when Wahasha at 11-1 would win and Flyin By ran 2nd at 6-1 and the new $1 high exacta pay is $135.10.
On Friday night the 50-cent Super Hi-5 paid off big with 3-1 Union Bliss winning followed by a 5-2, 14-1, 6-1 and 9-2 shots combined for an incredible $1,774.65 pay-off.
There were 2 big pays in the 50-cent Pick 3 and Pick 4 on Saturday and no doubt would have been in the 50-cent Pick 5 and 20-cent Jackpot Pick 6 but no one got all 5 or 6 in those bets, however 4 of 5 still paid a healthy $562 and 5 of 6 returned $997.64. The Pick 3 were the 4th, 5th and 6th races that combined Lafonda at 9-1 to Forty Smooches at 4-1 to Irish Knight at 18-1 for a $1,193.10 return. The Pick 4 of the 5th, 6th, 7th and 8th races started with 4-1 Forty Smooches to 18-1 Irish Knight to 9-5 House of Lords and finished with 11-1 Wahasha and paid a whopping $8,041.30.
Overall there were 7 bets that paid more than $1,000. There were 16 Pick 3 wagers this past week and they averaged $191.20 but thanks to 2 massive pay-offs on Saturday including the new high of $1,193.10 but also on Saturday another one just missed the high pay returning $1,182.55. The lowest Pick 3 of the week returned just $7.90.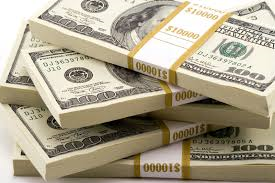 The Pick-4 returned an average of $1,015.16 thanks to the massive 8k return on Saturday, however, it could have been much larger as one of the returns was just $85 for 3 out of 4, had one person connected all 4 the pay-outs would have skyrocketed.
Looking ahead the 20-cent Jackpot Pick 6 has a carry-over now up to $21,574. This bet only pays out to a single ticket winner otherwise only a percent is returned to those with the most wins and there is a carry-over. This pot is now getting into "interesting" territory. Last year the highest pay-out of the season was the Jackpot Pick 6 where 1 bettor walked away with more than $81,000.
So regardless of what wager you like best there were several chances to do well and not even having to rely on crazy 80-1 shots winning for you to collect significantly. Whichever bet is your favorite best to stick to it and find your spots where you can maximise your wagers. This week looks fun with a couple of big fields of 2-year-old first time starters, it's always fun to find a longshot.
This week's Preview
The summer weather will help attendance for sure and this week along with another pair of Stakes races as highlighted below there is some racing to get the weekend going on Friday and Saturday. Friday night 7 races are set with 54 starters for an average of 7.7 per race. There is also the 1st 2-year-old race with a field of 9 set go in the 2nd race at 4 1/2 furlongs.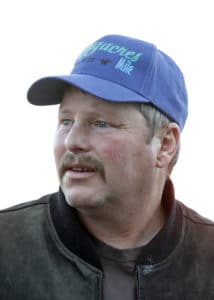 The morning line favorite comes from the Vince Gibson barn for owners Lusk Racing. Gunnin For Gold will break from the #4 hole with Alex Anaya up and will begin at the odds of 5-2. George Todaro's Lloyds Logic gets the dreaded rail post, jockey Eddie Martinez will have to be on top of the break there for trainer Tom Wenzel and is morning-line 7-2. The 3rd choice is 9-2 Parker's Gold from Candi Cryderman's barn for owner John Parker. Kevin Radke gets the call and will break from the 5 position.
On Saturday there are 8 races with 58 set to go postward and a 7.3 average per race. 10 2-year-olds will go in the 3rd race on Saturday afternoon. The maiden-special-weight event will go 5-furlongs and feature a field of 10. The early favorite is Lute's Diamoind at 3-1 with Alex Cruz who will break from the 1 post for trainer Kenneth Person. At 4-1 is Stickinittotheman from the Frank Lucarelli barn and Kevin Orozco in the saddle. Then a pair of 5-1 co-3rd favorites. #2 I'm Beth Dutton with Juan Gutierrez riding for trainer Mike Puhich and #10 Shelby Gold, Lucarelli's 2nd of 3 entries in the race with Jose Zunino. Lucarelli will also start 15-1 Time of Fortune with Leslie Mawing.
Sunday there are 10 races and 68 starters set to go for a 6.8 average per race. Overall for the week there are 25 races with 180 starters for an average of a solid 7.2 per race. Out of the 10 races on Sunday only 5 are claiming races including a 25k maiden claimer. There is 1 optional claiming/allowance race with 2 other allowance races and 2 Stakes. Emerald Downs Media Director Vince Bruun has a preview of those 2 Stakes race the Budweiser and Hastings Stakes.
Sunday Stake Race Previews
by Vince Bruun
The $50,000 Budweiser Stakes begins the three-race series for older horses culminating with the $150,000 Longacres Mile on Sunday, Aug. 14. The $50,000 Hastings Stakes launches a three-race series for older fillies and mares climaxing with the $75,000 Emerald Distaff, also on Sunday, Aug. 14.
Coming off a sweep of last weekend's stakes for 3-year-olds, trainer Blaine Wright entered three in the Budweiser: 2021 Horse of the Meeting Top Executive, 2021 Longacres Mile runner-up Windribbon, and Emerald Downs newcomer Torpedo Away.
The Budweiser also features defending champion Papa's Golden Boy, who was edged by Top Executive in a 5 1/2 furlong allowance last month; 2019 Budweiser Stakes winner Anyportinastorm; and two-time Longacres Mile-placed Five Star General.
In the Hastings Stakes, 7-year-old Ima Happy Cat attempts to win the race for a third consecutive time after gate to wire victories in 2019 and 2021. Also in the Hastings, 2021 Washington Horse of the Year Blazingbellablu makes her season debut for trainer and co-owner Charles Essex. A 4-year-old Washington-bred by Grazen, Blazingbellablu won three stakes last year and is 3 for 3 lifetime at six furlongs. Daffodil Sweet, a two-time divisional champion at Emerald Downs, also runs in the Hastings, along with 2021 stakes winner Ms Lynn and Northern California shipper Maybe I Will.
www.elisportsnetwork.com