6/29/2022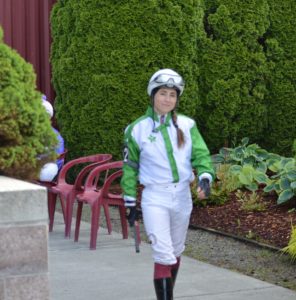 Jockey Kassie Guglielmino suffered a broken leg last Friday night when her mount Secret Saga threw her off as the 2-year-old gelding in his first career race tried to avoid another horse who had gone down. Guglielmino was tossed high in the air and came down hard on her leg fracturing her fibula. She was taken to the local hospital and confirmed the break.
Initially, there was optimism for a chance at a fairly quick return. That hope was ended when she had surgery on Tuesday. ESN talked with Kassie and she told us the break was a little more severe than doctors were hoping for looking at the x-ray and ended up having to put in 2 plates. 
Guglielmino says that is going to keep her off the leg for least 6-weeks and then she hopes it will be at a point that she can begin re-hab. She was not going to give a timeline for her return because she says it's all up to the next 6 weeks and the hope the proper healing takes place and then she can move on to setting goals and a schedule to get back to riding.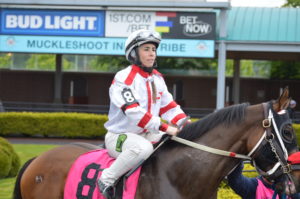 At the time Guglielmino had just rocketed up our Jockey Power Rankings to #2 coming off a 4 win week. When she got hurt she was tied for 6th in the jockey standings with a 7-7-8 record from 53 starts and winning at a 13% clip while finishing in the top 3 42% and racking up $121,834 in earnings.
When we talked with her she was in good spirits and positive about her recovery and focused on getting back in the saddle. We will be checking in with Kassie throughout her recovery and keeps fans updated on her progress.
www.elisportsnetwork.com