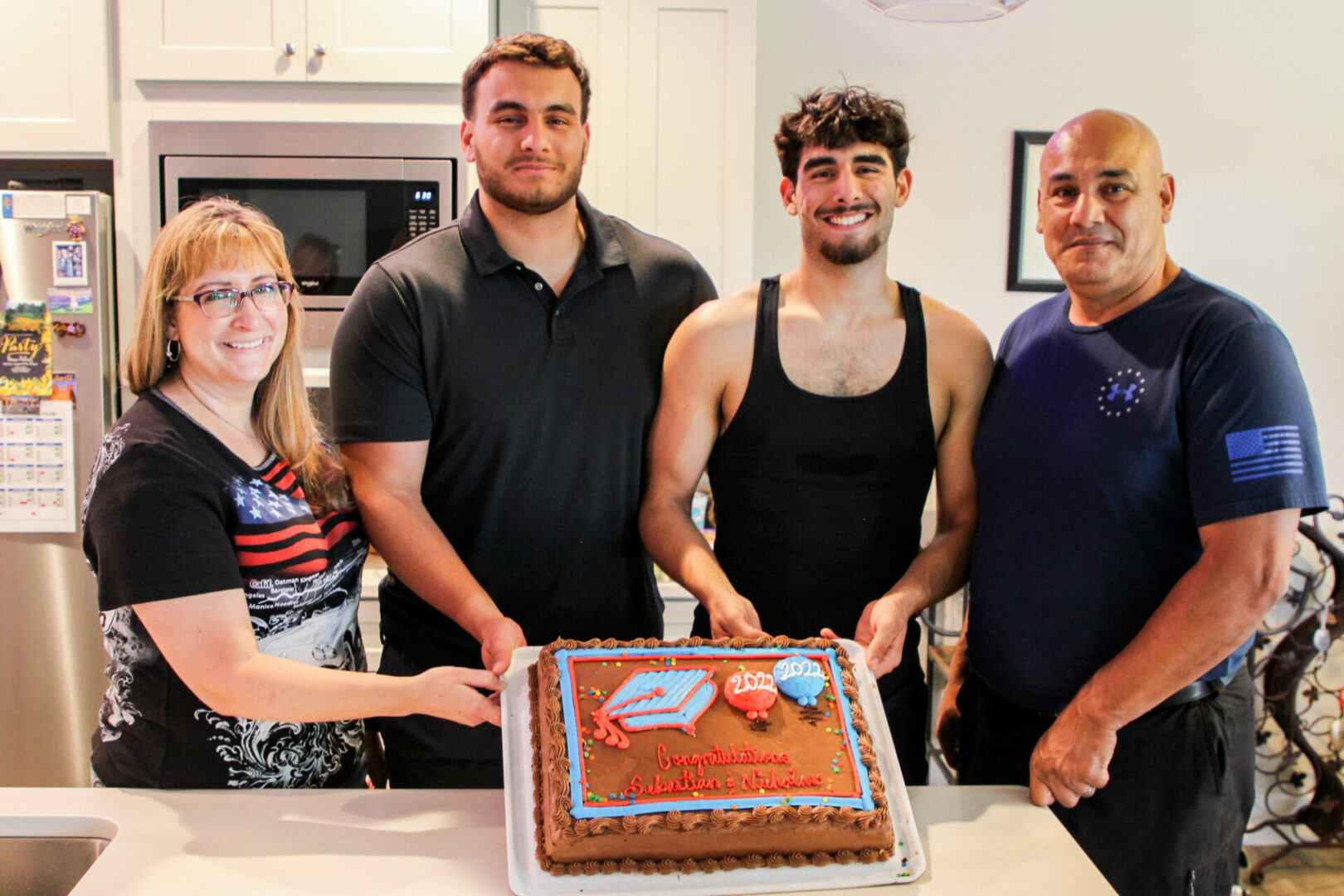 Washington-Native Sebastian Gutierrez Hoping to Protect Russell Wilson This Season
Denver Broncos Signed DII Offensive Lineman as UDFA
by Jamie Council
The year is 2010. Pasco-native Sebastian Gutierrez is watching Russell Wilson on the Tri-City Dust Devils in his home town, and watching his favorite NFL player
Champ Bailey take the field with his then-struggling Broncos.
"He was one of my role models growing up," said the 6-6, 295-pound tackle Gutierrez. "I haven't always been a lineman."
The year 2010 is also when Minot State University made the jump from the NAIA to NCAA DII, but Gutierrez didn't know that would come into play just yet. Fast forward to 2022, things have come circle in many ways, but some things have stayed the same.
The Gutierrez family have been Broncos fans since the 90's when Denver re-did their logo. The family liked Washington-native John Elway, and when the Broncos won a couple Super Bowls in the late 90's, they were hooked. However, now that their eldest son is on the team, their fandom has swayed a bit further from the Seattle Seahawks.
"Excitement," said mother Dena Gutierrez of when she learned her son was going to Denver. "Tears of joy. That was the very exciting partly because we have always been Broncos fans as well as Seahawks fans, so that part was almost too surreal… Like a dream."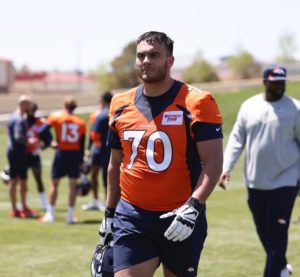 The Journey to Denver
Gutierrez left Washington Tuesday to start final preparations for Training Camp. The 10 days back in the Tri-Cities surrounded by family, however, allowed him to take a deep breath and focus on where he's come from and where he wants to go.
"Right now, my mindset is controlling what I can control," said Gutierrez. "At the end of the day it's a big competition. The unknown is a little… I won't say scary, but makes me anxious."
Since the draft, life has been a whirlwind, that started when he first learned he would be signed by the Broncos It was off for five weeks of Rookie Mini Camp and OTA's. The Broncos had the Minot State (DII) alum playing swing tackle.
"I got some valuable reps," reflected Gutierrez. "They were seeing how I handled the competition. Overall I think that everything was positive."
Hailing from Pasco, the Tri-City Dust Devils at Gesa Stadium has been the home of MiLB for decades. Gutierrez remembers watching Russell Wilson play for the team. Of course, his biggest memories come from a household of Seahawks fans.
"Cheering when they're winning, crying when their losing," Gutierrez joked.
But bigger than sports, the lineman said he has always respected Russell Wilson as a leader. The saying is don't meet your heroes, but Gutierrez says otherwise:
"I walk into the locker room when OTAs start, I see him," recounted Gutierrez. "Of course, after the first practice, I had to go say Hi, tell him I've watched him as a Dust Devil and this and that to make that connection with him. He's a very humble guy, a true role model."
The Whole Family Along for the Ride
Florentino is a lab technician at the nuclear cleanup site of Hanford. Dena is a nurse. They raised Sebastian and Nicholas, and during the eldest time home, celebrated both their son's accomplishments.
"We've always been outgoing," said Florentino, "trying to staying positive with these kids and very family oriented."
Sebastian, signing with the Broncos, and Nicholas, graduating from Columbia Basin Community College, where he also plays basketball. Florentino and Dena saying that hard work and leadership are what they tried to exemplify.
"My parents did so much for me," said Gutierrez about his success, "instilling the right values. It's worth noting they never pushed me to do anything I didn't want to do. It was my decisions, but they laid the ground work for all this to happen."
The whole family has been there for every step of the way, but what have they been saying to Gutierrez during this fickle time of trials of tribulations? "No matter what happens, we'll support you either way," said Dena.
She said that he has a great education; Sebastian just a couple credits shy of a Master's Degree in Sports Management from Minot State. Right now his focus in on making it in the NFL, but Sebastian plans to finish his capstone project and complete his Masters at some point.
"He knows it's an uphill battle," said Florentino. "It's always been an uphill battle. He's going to fight it."
Forever an Underdog
The Tri-Cities are comprised of Kennewick, Richland, and Pasco. About the time that Gutierrez was in high school was the time that new high school opened in Pasco. Gutierrez attended Pasco High School while much of the athletic talent elected to attend the shiny new high school.
"I've been on bad teams my entire life," admitted Gutierrez.
The lineman was recruited to Minot State University as a tight end. The Beavers transitioned from NAIA to DII, and have struggled to be competitive in the Northern Sun Intercollegiate Conference (NSIC) for the past decade: An underdog program once again. Now coming into the NFL as a Division II player, Gutierrez once again finds himself an underdog with a giant hill in front of him.
"Being a DII guy," explained Gutierrez. "Not many people getting this opportunity from Division II; it makes me a little hungrier for this position and wanting to make the team, and willing to compete — Making sure I know what kind of opportunity this means for a guy like myself."
What would it take to not be an underdog? The Broncos just a few years removed from a Lombardi Trophy and building a roster to look twice at. Gutierrez said that you can put him in a winning program, but his mindset will always be that of an underdog:
"It's still going to be there, but it's going to be playing the situation you're in. Being a DII guy, I'm always going to have a chip on my shoulder."
Faith Guiding the Way
On his left wrist, Gutierrez wears a bracelet that says God Strong and Pray First.
"It reminds me that I need to thank god for everything that I have and realize that I wouldn't be here without him."
Raised in a Catholic household, those values still remain a big part of who he is.
Making Denver Home
At the family BBQ, between games of volleyball and bags, Gutierrez was on the couch, cheering for the Colorado Avalanche on their way to a Stanley Cup.
"I'm an Avs fan now," said the lineman. "I'm fully embracing Denver."
Gutierrez looks to continue to call Denver home; the next step in his journey competing for the 53-man roster. Broncos Training Camp starts July 27th .
www.elisportsnetwork.com