6/30/2022
The Power Rankings are meant to be fun and to focus on the human competition between these awesome athletes. Moreover it's a chance to focus more on each rider and their accomplishments each week. We stress there is nothing "official" about these rankings and we know there will be varying opinions which is also great and we hope it does create more conversations about our sport and our athletes.
Here is our 7th edition of the Emerald Jockey Power Rankings:
#1 Alex Cruz (last ranking #1)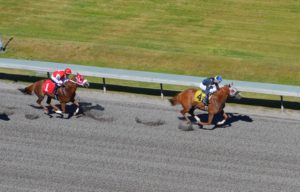 Alex Cruz with another productive week. Cruz continued his domination on Friday nights with 3 wins but then added 2 wins on Saturday and Sunday. He also just missed winning the Hastings running 2nd with Blazingbellablu and then 2nd in the Budweiser Stakes on Top Executive. He finished the week riding 22 races and finished with a 7-3-4-2 record, led all jockeys in win percent at 32%, top 3 finishes at 67% and superfecta finishes 73%. Cruz with a chokehold on #1, 
#2 Kevin Radke (last ranking #3)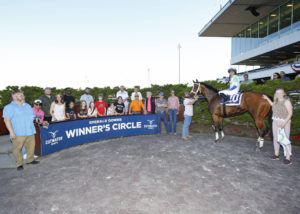 Kevin Radke had a very consistent week underway with 3 wins, 2 places, 4 shows and 4 4th place finishes and as solid as that is it likely would not have moved him out of 3rd in the rankings. But then he won the 8th race on Zazen and then took the 9th, the Budweiser Stakes to finish with 5 wins. For the week he had 23 starts and a 5-2-4-4 record a win rate of 22% and top 4 finish at 65% and was good enough to push him back up to #2.
#3 Kevin Orozco (last ranking #3)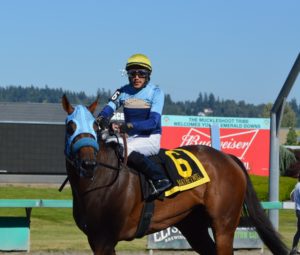 Kevin Orozco was in danger of dropping this week with a case of the 2nd's. He did get a win in the year's 1st 2-year-old race on Friday and then got his 2nd win of the week in the Hastings Stakes on Maybe I Will. He has won 2 of the 4 Stakes races and was the leading Stakes rider in 2021 and is looking to defend that title as the current early leader. Orozco had 13 mounts and finished the week 2-7-1-1 for a 15% win clip but 77% top 3 finish and a week high 85% top 4 finish.
#4 Leslie Mawing (last ranking #6)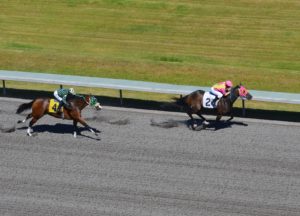 Leslie Mawing came into the season with more career earnings than anyone and he is getting on a roll. He had wins on all 3 days and continues to be in the money on a regular basis despite not always on the odds-on choice. Mawing was 3-4-1-4 from a season high 20 mounts for himself. That's a 15% win rate, 40% top 3 and 60% in the superfecta rate.
#5 Juan Gutierrez (last ranking #5)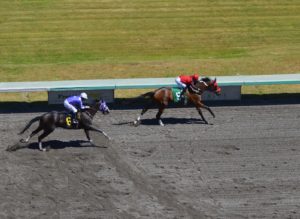 Juan Gutierrez got started a little slow last week and didn't get a win until Saturday. He ended up with 3 wins on the week but no doubt was disappointed coming within a half length in the Hastings. Gutierrez finished the week with 21 rides and a 3-4-1-4 record which was a 14% win rate, 38% in the top 3 and 57% in the top 4.
#6 Eddie Martinez (last ranking #10)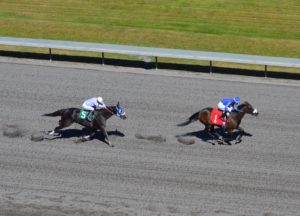 Eddie Martinez takes a significant jump this week picking up 2 wins from just 9 chances. Martinez has been riding hard and again one with not a lot of favorites to ride is making the most of his opportunities. Eddie was 2-0-2-1 for a 22% win rate, 44% top 3 and 56% top 4 finishes.
#7 Javier Matias (last ranking 7)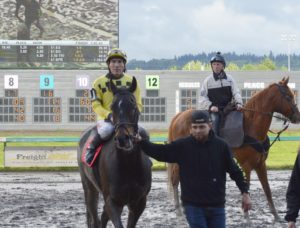 Another week and another very consistent week for Javier Matias. He began quickly winning the 1st race of the week but did not find the winners circle after that. He had 15 rides with a 1-2-1-4 record for the week and holds on to the #7 spot.
#8 Alex Anaya (last ranking #9)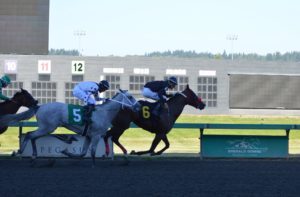 Alex Anaya steps up 1 after recording 2 wins this past week including a front-running victory on Lil' Miss Mischief in Sunday's finale at 14-1. Anaya was on 11 and finished 2-0-0-3 for a win clip of 18% and 45% in the top 4. He also won on a 9-1 shot and his average odds for the week was 15-1. 
#9 Jose Zunino (last ranking 8)
Jose Zunino has been hot and cold this entire season and was a little cool this last week not getting a win but still hitting the board. Zunino rode 15 and he record for the week was 0-2-1-5 for a 53% top 4 finish.
#10 Jennifer Whitaker (last ranking unranked)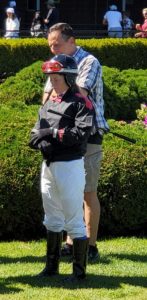 Jennifer Whitaker is more choosy these days on the horses she rides for Howard Belvoir but when she is on you best keep an eye on her. She rode just 5 last week, didn't get a win but got 2 places and a show. She was 5 mounts 0-2-1-0 with a 60% top 3 finish rate. A win would have pushed her up to 9th. We won't be surprised to see her start picking up a win or two on a weekly basis.
Power Rankings Notes: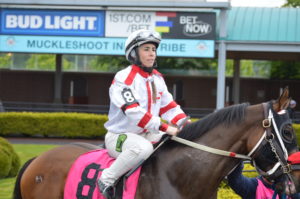 One name that is not in the top 10 is Kassie Guglielmino who only rode 1 race last week and it was the 2nd race on Friday night when her mount tried to avoid a fallen horse and dislodged her tossing her high in the air and she suffered a broken leg. Kassie had surgery on Tuesday. We have an updated story here on her current status.
In other rider news, both Nicole Disdier and Kenneth Deonauth had their best weeks with very limited chances. Disdier rode 5 races and tallied 3 3rd place finishes for a 60% top 3 finish. And Deonauth had just 1 ride and finished in the money for the 1st time with a 2nd place finish. Edgar Velasco also hit the board this week with a 3rd place finish from 3 mounts.
www.elisportsnetwork.com