7/7/2022
The Power Rankings are meant to be fun and to focus on the human competition between these awesome athletes. Moreover it's a chance to focus more on each rider and their accomplishments each week. We stress there is nothing "official" about these rankings and we know there will be varying opinions which is also great and we hope it does create more conversations about our sport and our athletes.
Some big movement and new names on the top 10! Here is our 8th edition of the Emerald Jockey Power Rankings:
#1 Juan Gutierrez (last ranking #5)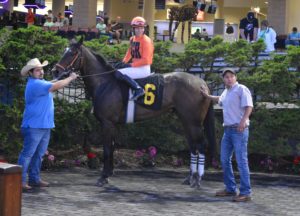 It's tough to replace the 2 time defending jockey champion who has been and remains red hot but we simply could not deny the week Juan Gutierrez had as he blew up last week. He is the 1st rider this season to score 10 or more wins in a week and he did it in a balanced approached with 4-3-3 wins over the 3 days. In our scoring system her scored the highest weekly amount  by far and was 32 points in front of Cruz who was 2nd on our list this week. Gutierrez was a blazing 48% win clip and 81% in an exacta with a week record of 10-7-0-1 from 21 starts. Guti jumps from #5 all the way to the top!
#2 Alex Cruz (last ranking #1)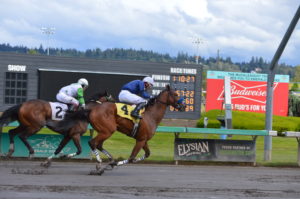 Alex Cruz had his run stopped atop our Power Rankings not by anything he did but simply an amazing week by Gutierrez. Cruz was solid as a rock this past week and no chance of him dropping more than 1 spot. Cruz rode all 23 races last weekend and scored 5 wins or a 22% rate. His record for the week was 5-7-2-4 for a 61% top 3 finish and a 78% in the superfecta finish. Cruz is clearly focused on winning his 3rd straight riding title and expect him to be at the top of our rankings every week.
#3 Jose Zunino (last ranking #9)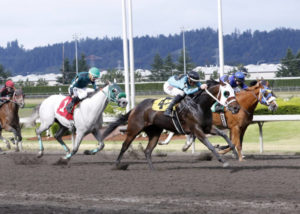 Jose Zunino had a couple of slower weeks but bounced back with a strong effort in the 1st weekend of summer. He rode 12 times and had 3 wins for a 25% win rate. He did not have any places but showed 5 times and placed 4th 1. This was a 75% top 4 finish rate. Zunino is currently in 5th place in the rider standings with 11 just 1 behind Javier Matias for 4th place.
#4 Kevin Radke (last ranking #2)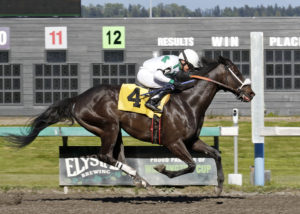 Kevin Radke has had a tremendous season so far sitting in 3rd place, 1 behind Juan Gutierrez for 2nd and also had 3 wins on the week. However, he had 21 mounts so his win percent was 14%. He finished the week 3-3-4-3 from 21 rides for a 62% top 4 clip. But Radke with the most wins in a single day of 6 can blow up at any time. 
#5 Leslie Mawing (last ranking #4)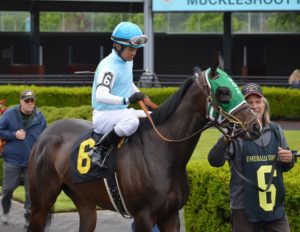 Leslie Mawing drops 1 spot and had another solid week but got only 1 win. Mawing was in 13 races and finished with the lone win along with 2 places, 3 shows and 5 superfecta finishes for a top 4 rate of 85%. Mawing is in the mix on a regular basis and was just one of those weeks he could only get the lone win.
#6 Kevin Orozco (last ranking #3)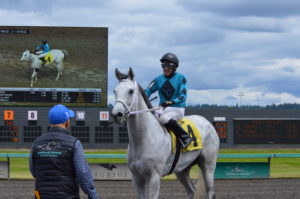 Kevin Orozco pretty much mirrored what Leslie Mawing did, he was coming off a big week, moved up to #3 with his 2nd Stakes win but last week rode 13 and also got just 1 win. His record for the week was 1-0-4-2 for a 54% top 4 finish. The Stakes races are back this week so we expect to see the leading Stakes rider to bounce back in a hurry.
#7 Eddie Martinez (last ranking 6)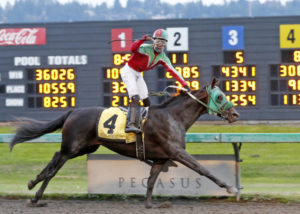 Eddie Martinez keeps nibbling around the edges of having a big week, this time he did not get a win but went 0-2-2-0 from his 8 rides and those rides, let's says are not odds-on favorites. This put him at 50% for top 3 finishes. Martinez also knows how to win Stakes races so he too no doubt welcomes the schedule getting back to Stakes action.
#8 Javier Matias (last ranking #7)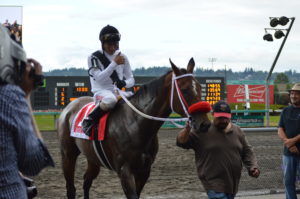 This was the low of the season for Javier Matias who has had at least 1 win every week of the season so far and sits all alone in 4th place in the jockey standings. Matias went 0-1-2-2 from 8 mounts. We don't see or expect a long term slump from this veteran, expect a bounce back week.
#9 Edgar Velasco (last ranking unranked)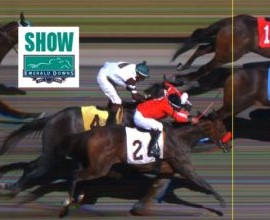 Edgar Velasco makes his 1st appearance on the Power Rankings with his effort and determination. Velasco gets few rides and had just 4 last week and came away with his 2nd place finish if the season and a 4th place finish. Velasco gives his rides no matter how long of a shot his best each time.
#10 Vladimir Jensen (last ranking unranked)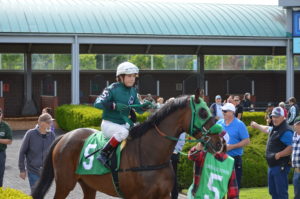 Vladimir Jensen gets his 1st mention this week he rode 3 times and showed and placed 4th. Vladimir gets nothing but long shots and he rides each race hard and has had a hand in some of the bigger pay-outs of the season. His effort earns a top 10 ranking this week.
Power Rankings Notes:
Alex Anaya fell off the Power Rankings this week because he dealt with a case of the flu and was off all his mounts. Anaya is slated to ride this weekend and after ESN talked with him on Sunday to confirm he was off and he did confirm it but said he was feeling a lot better and will be ready to go this week.
This was the 2nd weekend without Kassie Guglielmino as well who is nursing a broken leg. No word yet on an estimated time she could return but she had 2 steel plates put in and those will be in place for 6 weeks and then she will be re-evaluated.
Jennifer Whitaker was the only other rider to take mounts last week, she had just 3 mounts and finished 4th once.
www.elisportsnetwork.com