7/7/22
(Centralia, WA) The college sports world was rocked last week with the announcement that UCLA and USC would be leaving the Pac 12 to join the Big 10. While the Midwest celebrated that news as they become a "super conference", the west coast has a dark cloud hanging over the future of the conference. But that might just be the tip of the iceberg, there could be a trickle down effect into the recruiting of high school athletes.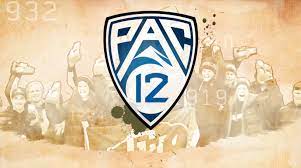 Of course this all starts locally with the Division 1 teams and what happens to them. The University of Oregon and University of Washington seem to be in the best place despite being denied in their attempts to also join the Big 10. Because of their larger brands and success in sports, those programs will still draw viewers regardless of what conference they are in. Those schools will likely still be a top choice of Washington recruits regardless of the sport that they play.
However, if both Washington and Oregon leave the Pac 12 it can either help or hurt the recruiting of Washington high school athletes. Just looking at football recruits from Washington State in the class of 2022, 16 committed to play D1 FBS college football in Washington, 7 committed to other Pac 12 schools, 20 committed to an FBS school not in the Pac 12 or in Washington, and 49 committed to non-FBS schools. That means 53% of the D1 football commits chose to play in the Pac 12 which may cease to exist after 2024.
Now you might be wondering, how could this actually affect these athletes? Well for starters, the Pac 12 always got a great look at west coast athletes because they were so close to where these athletes played their high school sports. It didn't take long trips to scout players. Athletes also got to play closer to home at the next level even if their school was playing on the road. If the kid went to Oregon State, they might travel for some early season games, but most of the time they would be playing no further than Utah and Colorado. If Washington and Oregon leave for the Big 10 or Big 12, half of their season will be two time zones away at least. Travel will be extremely difficult on the athletes and friends and family not being able to watch them play as many games could make things difficult as well.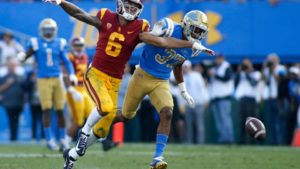 Another issue is the competition of teams trying to recruit the same players. With these Pac 12 teams going elsewhere to play their games, they will start recruiting and scouting players in those areas more. They will want to try to take players from their conference foes such as Michigan and Ohio State. More focus in those areas will draw in more recruits and those teams won't have as many spots or scholarships for the high school athletes coming out of Washington.
There can also be positives with the shuffling as well. The opposite of Washington and Oregon recruiting in other areas is that Big 10 and Big 12 teams could start recruiting heavier in the Pacific Northwest if they play some games there. There are already three Big 10 players that have come from Washington state in J.T. Tuimoloau and Emeka Egbuka both at Ohio State and Jacob Schuster at Minnesota. If these guys can find success in the Big 10, Washington could become a hot bed for recruitment in the Midwest.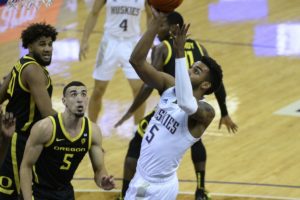 Another positive stems from the success of another former Washington high school athlete in Cooper Kupp. Kupp played at Eastern Washington, an FCS school, and go on to be one of the greatest receivers in the NFL. This shows that there are other routes to have collegiate athletic success. Eastern Washington football is a traditional power, Central Washington mens basketball and Western Washington womens basketball are coming off historic seasons and Gonzaga is a blue blood in college basketball. There are many other schools that would give athletes a platform to succeed and keep those athletes close to home as well. It isn't Pac 12 or bust anymore for many of these young athletes.
There are a ton of unanswered questions surrounding college sports right now including NIL rules and now college alignment is just adding another wrinkle into the mix. While the west coast seems to be in trouble as of right now there is still hope. That hope depends on what Oregon, Washington, Arizona, Arizona State, Utah and Colorado decide to do. There is still a chance UCLA and USC stay but that looks dim. Recruitment is going to change. For now all we can do is hope things clear up and give Washington athletes a better environment to set themselves up for successful careers.
elisportsnetwork.com