7/6/2022
With little fanfare new federal regulations regarding horse racing went into effect Friday night. The Horse Racing Integrity and Safety Authority (HISA) was created under legislation pushed by Kentucky U-S Senator Mitch McConnell and was part of the 2020 Covid-relief bill signed into law by President Trump. The law was created with a grand vision of uniting the horse racing industry with equal standards of practice for different aspects of racing from drugs to how jockey's are allowed to ride their horses.
Let's start with the jockey's because this is most visible to the public and if they do not understand the new rules many fans will likely wonder why the rider of the horse they selected isn't doing more to try and win the race.
The HISA rules have some basic registration requirements and standardized safety gear for helmets and vests but the biggest change is the riding crop usage. First, the design of the riding crop is different but they have pushed off enforcing the use of the new crops due to a lack of supply so that part of the rule will be enforced when the supply demand is met.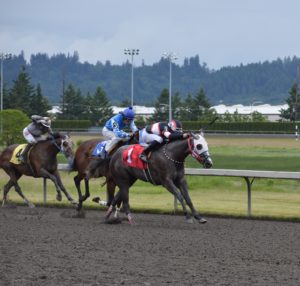 Now the tricky part for jockeys they are limited to using the crop to 6 times in a race and no more than 2 in a row. After 2 strikes they have to wait for the horse to take 2 strides to see if it responds. They can also use the crop tapping on the shoulders while holding the reins with both hands and touching the neck and they can wave the crop at the horse without touching as much as they want.
Riders may not hit the horse if they raise the crop above their helmet. They also may not hit persistently when the horse shows no response. There is no definition to the term of persistently especially when they are limited to only 6 strikes per race. The other vague rule is you cannot strike a horse after the horse has attained its maximum placing in the race. Again, no definition as to how to determine that while riding in the race.
There are severe penalties for riders who do not follow these rules. If a Jockey strikes the horse one to three times more than the six permitted, they will be fined $250 or 10% of their earnings from that race, whichever is greater. They'll also be suspended one or more days and receive three cumulative violation points.
If they strike the horse four to nine strikes over the limit, the fine goes up to $500 and the suspension is three days with five cumulative violation points. Under this infraction the rider is not the only one penalized as the owner and trainer will have all earnings disqualified from that race with the 4-9 extra strikes infraction.
At 10 or more strikes beyond the six-strike limit, the jockey will pay a $750 fine, receive a five-day suspension, and get 10 points on his or her record and the horse will be disqualified from purse earnings.
ESN talked with Emerald Downs' 2-time defending jockey Champion and current leading rider Alex Cruz on how the first 3 days under the new rules went for him and his fellow riders. Cruz was rather blunt in his response.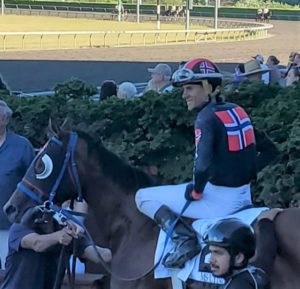 Cruz said, "what can I tell you is there are advantages and disadvantages. But in my opinion, it will deliver a serious blow to the pockets of all of us, the workers, owners and fans. In my case it affects me a lot as well as my fellow riders. How does it affect us? Our daily living, our business loss of mounts, you cannot ride with confidence for fear of being fined and punished. We know a mistake could cost us drastically and the owner and trainer and we would likely lose that business.
The other thing that isn't talked about is the distraction when you are in action. I mean by that, that you are not concentrating on your work since you are literally counting in your mind how many times have you hit, not going over the count, not raising your hands over your shoulder, changing the way you ride. Then I have to determine if my horse has reached his best finish. There has not been a lot of training or information on how to make sure we are inside some of those vaguely written rules. Retraining riders who have been riding for more than 20 years and really having to start again is difficult and more factors.
This is going to be very hard for all of us. You will see more horses of lesser ability win races and many favorites will fall. There are many horses that need to be kept busy since they are slow to start and need to be close and finish off at the end. It will be thought that the sport will be more insecure, more accusations of cheating (cheater) and potentially boring with a chance at losing even more of our dwindling fanbase. Maybe it will cause many to quit the business entirely.
An example, if 2 riders come fighting the entire final stretch head to head for victory and one of the riders has already used his 6 attempts to hit and cannot continue hitting, what will the fans think who thought that he stopped the horse to let the other win, don't you think, it will look ugly for the spectators? Owners could lose large amounts of money all for fear that they will be fined, suspended and or removed (disqualified) from the prize by rules that have been created under these new rules that remain disproportionally vague and open to many different interpretations."
Cruz hopes fans will understand that riders no longer can do many of the things they had done just the week before and that all jockeys are trying their best to win because unlike professional athletes that sign contracts, they only get paid a livable wage when they can win. Cruz says it is going to take time, more for some and less for others to truly understand the impacts of the new rules. 
ESN also talked with horse owner Darrin Paul who has been following this process since it was passed back in 2020. Paul was not pleased with what he call's government overreach and although there may be some good things included the overall negatives or unknowns could have dramatic impacts on the industry. 
Paul says he believes they are trying to solve problems that are not near what they are being made out to be with the illegal drugging and doping. He also isn't sure how or if they completely thought through the testing protocols and how to enforce it all. Below Paul talks about his overall view of the new rules.
Horse Owner Darrin Paul on the New HISA Rules
Big sweeping changes such as the HISA rules always will come with skepticism especially as government run operations, only time will tell just how burdensome they will be and the impact on the overall health of the horse racing industry.
www.elisportsnetwork.com