7/4/2022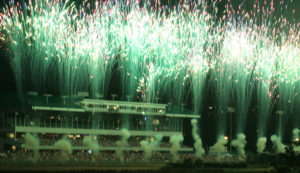 The annual Fireworks display on July 3rd began in 1998, marking this as the 25th year of the night before tradition. Unfortunately it rained and made things a bit soggy. The track had determined they would only sell 10,000 tickets and were sold out. The 1st race is moved to 5pm and 8 races were on the card. There were a total of 44 runners for a 5.5 average per race., The track began as sloppy and was then wet fast. The handle for the day was $1,573,321.
There were some interesting finishes and fun news notes for the week. There were no Stakes races this week, they resume next Sunday with the 1st two 2-year-old Stakes next Sunday, the Angie C and the King County Express. Let's get to Sunday's action!
Track News
Jockey Rides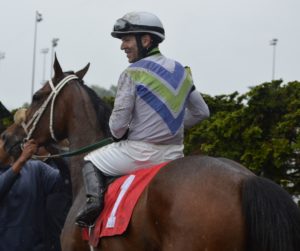 Juan Gutierrez became the 1st double digit winning rider in a week but did not surpass the best winning percent for the season. Gutierrez rode 21 over the weekend and won 10. He took 4 on Friday night and then tripled both Saturday and Sunday. Even though he had 1 more win, Kevin Radke's performance the 2nd week was even more impressive now that we look back.
It was May 21 and 22, only 2 days of racing in May, Fridays were not added until June. Radke won 9 of 19 races and odds are if there had been a 3rd day of racing he very likely would have had at least 10 wins. He won 6 on the 21st including the 1st 5 in a row out of 9 races. He then won 3 from 10 races on Sunday. Alex Cruz also has a 9 win week as he won 5 on the 1st Friday night on June 3rd. He also had a 5 win night on Friday, June 17.
Here are the top riding performances so far this season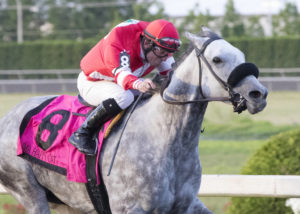 Most wins in a single card
1. Kevin Radke 6 May 21
2. Alex Cruz 5 June 3
3. Alex Cruz 5 June 10
Most wins in a week
1. Juan Gutierrez 10 July 1, 2 & 3, 23 total races 43%, number of mounts 21 48%
2. Kevin Radke 9 May 21 & 22, 19 total races 47%, number of mounts 17 53%
2. Alex Cruz 9 June 3, 4 & 5, 23 total races 39%, number of mounts 21 43%
Wins by fewest number of jockeys on a single card
1. 2 (Alex Cruz, Javier Matias 2), Friday, June 3, 7 races on the card.
2. 3 (Cruz, Radke, Kassie Guglielmino), Friday, June 17, 7 races on the card.
2. 3 (Gutierrez, Cruz, Radke) Friday, July 1, 7 races on the card.
Wins by the most number of riders on a single card (there has not been a day yet that each race was won by a different jockey)
1. 7 (Radke doubled) Sunday, June 12, 8 races on the card.
1. 7 (Kevin Orozco doubled) Sunday, June 19, 8 races on the card.
1. 7 (Radke and Cruz with multiple wins), Sunday, June 26, 10 races on the card.
Week Riding Re-Cap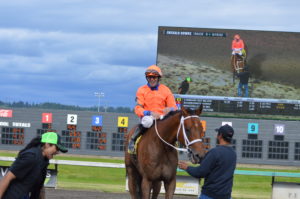 Jose Zunino with only 12 rides won 3, showed 5 times and had a 4th. This is a 25% win clip and 75% in the superfecta. Edgar Velasco had 4 rides got a 2nd and 4th for 50% in the top 4 finishes, Eddie Martinez had 8 rides with a pair of 2nds and 3rds for 50% in the top 3 places and Vladimir Jensen had 3 mounts with a 3rd and a 4th for a 67% superfecta finish.
Leslie Mawing and Kevin Orozco both slipped a little this week after a couple of good weeks. Both had 13 rides and both got a win. Mawing finished 1-2-3-5 for a 85% in the top 4 week and Orozco was 1-0-4-2 for a 54% superfecta finish week. Javier Matias had his at least 1 win a week streak snapped going 0-1-2-2 from 8 rides and finished with a 56% in the top 4.
Juan Gutierrez finished the week 10-7-0-1 from 21 mounts. That is a massive 48% win percent and 81% exacta rate. Top 4 finish overall was 86%. Alex Cruz rode all 23 races and found the winners circle 5 times with 7 places, 2 shows and 4 4ths. 22% win clip, 61% in the top 3 and 78% top for the week. Kevin Radke rode 21 of 23 and finished 3-3-4-3, a pretty even week for Radke. 14% win rate and 62% top 4 finish.
Alex Anaya missed his 3rd straight day of riding as he battled the flu. He reported to ESN on Monday that he is much better and expects to be back this coming week.
Jockey Win Standings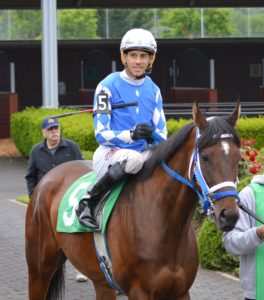 1 Alex Cruz 36
2 Juan Gutierrez 31
3 Kevin Radke 30
4 Javier Matias 12
5 Jose Zunino 11
6 Kevin Orozco 10
6 Leslie Mawing 10
8 Kassie Guglielmino 7
9 Eddie Martinez 5
9 Alex Anaya 5
11 Jennifer Whitaker 2
11 Jose Nava-Marin 2
13 Evin Roman 1
Owners Share the Wealth
The owners were very generous to each other this week as there were no multiple winning owner groups. 23 different owners stood in the winners circle this week including 13 with their 1st wins of the year. Remember each entity is its own, so individuals or groups may ne part owners with others and may have had wins in those other ownership groups but there were 13 original owners or groups that got their 1st win of the year this weekend. They included Dave and the Little Lady Stable, Steve Koler, Finger Gun Racing #2, Antonio Mendoza, White Diamond Syndicate and Gary Crandall, Jane Catherine Maller, Gold Coast Racing II, REV Racing and Frank Lucarelli, Ron Crockett, Ron and Nina Hagan & Don and Alice Whitmore & Steve Bullock, Dan and Tanya Freeman, Tracey and Paula Henline and the Emerald Racing Club (more on ERC below).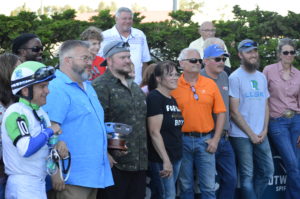 The leading owner remains John Parker with 10 wins although it was the 1st week Parker did not get a win. He sent out 4 this week and had 2 seconds and a third. We talked with Parker on Friday and he was a bit frustrated telling us he had 14 horses he could enter this past week but only could get 4 in on races that filled. He is hoping with the addition of 2-year-olds and the cycling of horses through that more chances will open up as the season continues.
Meantime, no owner made a big run but Lusk Racing did pick up 1 with a win on Sunday with New Every Morning in the 6th to push their win total to 5. Chad and Josh and the Purple Rose Ranch each got a win and are tied for 3rd with 4 wins. Purple Rose winning the 1st race of the week with Stanley Ryder and Chad and Josh on Saturday with Big Paper Daddy.
James Carlin picked up his 3rd win of the season with Silvery Orb in the 5th on Sunday. It was Carlin's 3rd win from 4 starts. Carlin and William Sandeman are tied for 2nd highest win percent with 3 or more wins, both are 3 from 4 starts and a 75% in rate. Oscar Heredia tops them all at 100% going 3 for 3.
Parker also leads in earnings with $132,610 while Lusk Racing is 2nd at $71,715 and in 3rd is Chad and Josh with $60,108 in the bank.
Emerald Racing Club scores 1st Win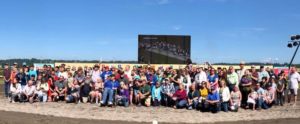 The Emerald Racing Club is an annual tradition that is meant to expose new folks to owning a race horse. Up 200 may participate and the cost is a flat $500. As an owner you are a true owner and will share in the profits up to $500. In other words it is only a promotion to give folks a taste of what its like to own a thoroughbred and the fun that can be had. If at the end of the season there is more money left over after everyone getting their $500 back the balance is then donated to local horse charities. The $500 fee overs the state licensing of each ERC member plus training and boarding fees
The club with their new trainer this year, Jeff Metz had 2 horses to begin with Tengo Sed and Onefineday. Tengo Sed won on Sunday, the 1st win of the season for ERC in the 4th race for $3,500 claimers. However, Tengo Sed was claimed out of the race by Ashley Potts for trainer Vince Gibson.
ERC earned $4,950 for the winner's purse on Sunday plus they get the $3,500 claiming price and collected a total of $8,450. Emerald Downs Media Director Vince Bruun is also the Emerald Racing Club's manager and says he and Metz will be looking to claim or even purchase in a private deal another horse. Bruun says the goal of the club is to give the owners a real life experience and getting a horse claimed from you is part of that experience and quickly added but so is claiming one back.
Trainers Shined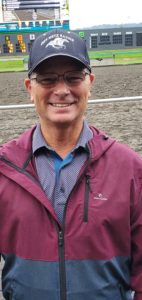 7 trainers posted multiple wins over the 23 races this week with Vince Gibson and Jeff Metz leading the way with 3 each. Gibson picked up 2 on Sunday in the 6th with New Every Morning and in the 8th and final with Code Charlie. His 1st win of the week was on Saturday in the 2nd with Flyin By. Metz won one each day, on Friday night in the finale with Silent Declaration, on Saturday in the 3rd with Blame It On Kitty and on Sunday with Tengo Sed, the Emerald Racing Club's entry.
Other highlights is Jorge Roslaes remains red hot with 2 wins and 2 2nds from 4 starts and remains the leader in the trainer standings, Steve Bullock sent out 2 and won with both of them 1 on Saturday and 1 on Sunday. Blaine Wright recorded a pair of wins and 2 3rds from 5 starts, Tom Wenzel picked up wins 6 and 7 with 2 wins, 2 3rds and a 4th from 5 starts, and Frank Lucarelli got 2 wins on Saturday to push his career win total to 1,999. He had 2 chances on Sunday to get #2000 but fell short.
Other trainers with wins this week included Shelly Crowe, Charles Essex, Steve Koler, Tim McCanna, Joe Toye and Rigoberto Velazquez who got his 1st win of the season with his 2-year-old filly Miss Dynamic who visually stunned fans with her 10-length win in Saturday's opener.
Leading Trainers by wins after the weekend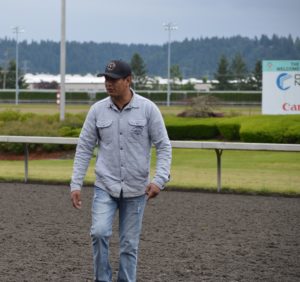 1 Jorge Rosales 14
2 Blaine Wright 13
3 Frank Lucarelli 12
3 Vince Gibson 12
5 Candi Cryderman 10
6 Tom Wenzel 7
6 Joe Toye 7
6 Jeff Metz 7
9 Sam Dronen 6
10 Bonnie Jenne 5
The Betting Window
It was a fan friendly day of wagering with not many chances for a big pay-day. The top $2 win was in the 2nd race with 5-1 You Go Girl paying $13 even. The only W-P-S bet that returned $10 or more. The top $2 place also from race 2 was Zippin Sevenz at 6-1 paid $6.40 and 2 paid $4.20 in the $2 how bets. In the 2nd Zippin Sevenz and in the 7th 12-1 Fire Walker.
The best vertical bets were all in the 2nd race as well with the exacta paying $24.80, 50-cent trifecta $50.90 and 10-cent superfecta $20.53. The horizontal's can be summed up with this being the 1st day not one Pick 4 reached $100.
Race Re-Caps
Muckleshoot Casino Feature Race
6 starters lined up to run the feature on Sunday just prior to the spectacular Fireworks Show. It was a race for 3-year-olds in an Allowance or Optional Claiming event with a $25,000 purse going 6-furlongs.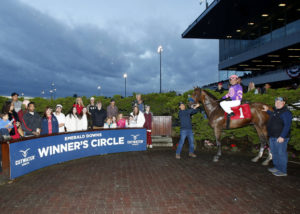 The betting choice was Smiling Goodbye with Juan Gutierrez at 1-1, the 2nd choice 2-1 Little Casino and Kevin Radke. Eddie Martinez was 5-1 as the 3rd favorite then came 12-1 El Maestro with Alex Cruz, 12-1 Fire Walker and Javier Matias and 13-1 Mr. Mischief with Edgar Velasco.
Overly Fast and Martinez broke first with Little Casino and Smiliing Goodbye all lined up just heads apart for the lead. The trhee set a quick 21.72 quarter time and as the rounded the far turn Overly Fast began to tire and the 2 favorites went on clicking the 1/2 mile in 44.21. At the top of the stretch it was a 2-horse race with Smiling Goodbye holding a head lead over Little Casino who had 3 lengths on Fire Walker.
Little Casino on the rail would not budge and Smiling Goodbye could not put away the Kentucky bred and as they reached the 1/16th pole still nothing between and in a final lunge Little Casino would just get by Smiling Goodbye for the win by officially a head. They were 7 1/2 in front of Fire Walker who held on by a head over a fast closing Mr. Mischief. The final time was 1:09.15 over the wet fast surface.
Little Casino is owned by Tracy and Paula Henline, their 1st win of the year as owners and trained by Blaine Wright. Little Casino is now 3-0-1 from 6 lifetime starts and picked up the winner's share of the purse of $13,750 to push his career earnings to $56,690.
1st
The field of 5 took 1 trip around in a mile race to kick-off the special holiday racing night. Shifty Dancer with Eddie Martinez went to the lead with 6-5 favorite Erotic and Alex Cruz aboard sitting just behind. Party for One and Kevin Radke would sit 3rd with a pair of Jim Gilmour trained runners sitting 4th and 5th.
Not much would change as they were about halfway around the far turn Cruz pressed go on Erotic and would draw away for an easy 5 1/4 length win while Shifty Dancer held 2nd easily and Party for One ran an even 3rd all the way around the track. 22-1 Clarence Heads with Vladimir Jensen completed the superfecta.
Erotic is owned by Hillary Durham and trained by Jorge Rosales.
2nd
The 2nd was for fillies and mares 3 and up going 6 furlongs and featured a strong field of 5. Frisco Frills with Kevin Radke coming off an impressive season opening win holding off Stakes winner Daffodil Sweet for an upset win was now the favorite and expected to run another front-running winning race and went off as the 6-5 favorite.
The public got half of that thought correct as Frisco Frills would go to the lead but never shook entirely free of 6-1 Zippin Sevenz. 2nd choice Time For Gold with Kevin Orozco sat 3rd with 5-1 You Go Girl and Juan Gutierrez 4th. A blazing 1st quarter of 21.65 and half in 44.23 with pressure from Zippen Sevenz was too much for Frisco Frills who threw in the towel by the top of the stretch and would finish last.
This opened the door for Zippin Sevenz who got 1st run but You Go Girl was loaded and burst past all-comers to draw off and win by 2 1/2. Zippen Sevenz ran hard the entire way and held well for 2nd by a neck over an even run from Time For Gold. Our Lyla Grace with Jose Zunino would complete the superfecta.
You Go Girl is owned by Ronald and Nina Hagan, Alice and Don Whitmore and Steve Bullock and trained by Bullock. You Go Girl is a Washington bred by Coast Guard out of Jasmine's Melody by Artax and was bred by Ron and Nina Hagan.
3rd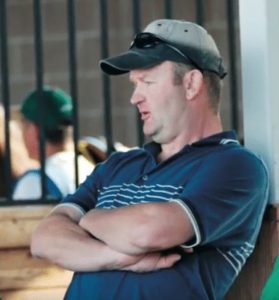 5 fillies and mares 3 and up went 6 furlongs and favorite Yes Your Graze with Alex Cruz nearly went wire-to-wire. This was nearly the perfect parade race with 2 exceptions, 3rd favorite It's Curlin Time and Juan Gutierrez took a head lead in the 1st call over Yes Your Graze but quickly gave way to Graze by a 1/2 length. That's how the 2 would remain all the way to the finish line with Yes Your Graze winning by 3/4.
4-1 Sacagawea and Eddie Martinez started 3rd and finished 3rd while 3-1 2nd choice I am Yours with Kevin Radke began 4th and Tyche Awaits You and Leslie Mawing was 5th until the final jumps when Tyche edged I am Yours by a neck for 4th place.
Yes Your Graze stopped the clock in 1:10.73 and is trained by Tim McCanna and owned by Dan and Tanya Freeman.
4th
This was the 3rd of the 4 races sitting in 2nd place early was where you wanted to be early on and the Emerald Racing Club looking for their 1st win were right there with Tengo Sed and Juan Gutierrez aboard. Tengo went off at 5-2 a great price from a horse with 200 owners and was the 2nd favorite behind 6-5 Brony Boy and Alex Cruz. Brony took the lead in the 5 1/2 furlong race but Guti and Tengo laid off about a length behind. Brony Boy carved our fractions of 22.27 and 45.25 which felt like slow enough times to hold off the challenges but instead Tengo Sed was sitting on a big race and engaged Brony Boy at the top of the stretch to take a head lead and then eased away to a 2-length win.
Brony Boy was a clear 2nd, Norski with Javier Matias made a late run at 12-1 for 3rd and 11-1 Tribal Impact with Kevin Orozco completed the superfecta. Tengo Sed comes from the Jeff Metz barn and ran the 5 1/2 in 1:03.26.
5th
There were 2 late scratches knocking the field from 7 to 5 going 5 1/2 furlongs. This was a wide open affair with the favorite Nana's Angels with Juan Gutierrez at 2-1 and the longest shot on the board the other 4 all at 7-2. Nana's Angels did take the early lead with never more than 5 lengths separating the field until the stretch when Silvery Orb with Jose Zunino  was on even terms with Nana and drew off to a comfortable 2 length win.
Nana's Angels held 2nd by 3, Princess Payton with Eddie Martinez got up for a clear 3rd with Aliceshouseofheart and Alex Cruz taking 4th. Silvery Orb ran the 5 1/2 in a time of 1:03.65 and races for James Carlin and trained by Tom Wenzel.
6th
It was another 5 1/2 furlong sprint and for the first time of the day we had a wire-to-wire winner. New Every Morning went straight to the front and Alex Cruz never gave his competition a chance controlling the pace from the opening bell. New Every Morning led 2nd place Not By Might with Kevin Radke every step and Not By Might the 9-5 betting choice had to settle for riding shotgun the entire way finishing 2nd. 5-1 Diamond Willow and Leslie Mawing got by 2nd choice 2-1 Linchtown with Juan Gutierrez for 3rd.
New Every Morning races for Lusk Racing and is trained by Vince Gibson.
8th
The 2nd start to finish winner of the day was no contest as Juan Gutierrez finished like he began the week with a win and with Code Charlie it was a thrashing. Gutierrez and Code Charlie took a quick length lead and by the 1/2 mile had stretched it to 4 lengths setting fractions of 21.35 and 43.45. By the top of the stretch the 2-5 odds on choice led by 5 and cruised to an easy 3 1/2 length geared down at the wire.
Iron Rob at 7-1 rolled into 2nd place with Alex Cruz up, Irish Terrier and Jose Zunino at 14-1 was 3rd and Marque It Up and Eddie Martinez at 15-1 finished 4th while Roman Rush and Kevin Radke was 5th to cap the Super Hi-5.
Code Charlie is a Washington bred by Desert Code out of La Midnite Classic by Atticus and was bred by Nancy Sorrick. Code Charlie is owned by Paul Johnson and trained by Vince Gibson.

Claims
1st Race
Erotic was claimed for $2,500 by White Diamond Syndicate and Gary Crandall for trainer Vince Gibson.
4th Race
Brony Boy was claimed for $3,500 by Jose Puentas and Maria Valenzuela and Jose Puentas will train.
Tengo Sed was taken for $3,500 by Ashley Potts for trainer Vince Gibson.
6th Race
New Every Morning was claimed for $8,000 by Oscar Heredia and Victoria Reyes Mora for trainer Jorge Rosales
Not By Might was claimed for $8,000 by John Parker for trainer Candi Cryderman
www.elisportsnetwork.com