7/3/2022
Saturday Racing
Saturday afternoon racing featured an 8 race card with a total of 49 starters for an average of 6.1 per race.
The Betting Window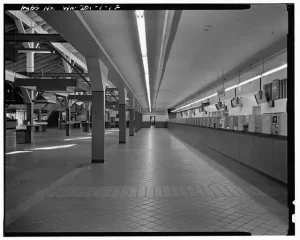 The big news of the weekend at the betting windows was the 20-cent Jackpot Pick 6 that only pays off the full pool if there is 1 single winning ticket. After wagering closed on Saturday the pot was $45,370.72 and a single ticket had the numbers 1-2-2-7-4-3 for the highest pay of the season. The record pay-out was last year paying more than $81,000.
There was no big longshot that really would have knocked out a majority of bettors but only 1 betting favorite won and several odds-on choices did not win. The 1st race of the pick 6 was the 3rd and 5-2 2nd choice Blame It On Kitty won followed by the only favorite to win in the series Big Paper Daddy at 8-5. Moscow Lady was next at 7-2 and the 3rd favorite followed by 4-1 Curling Secret also the 3rd favorite. 3rd choice Mr. Stang won the feature race and finishing it off was a 6-1 entry and was the 5th favorite of 7 and was the hardest to get of the 6 races.
That series of winners did not kick-off any other horizontal crazy pays the 50-cent pick 5 did pay well at $1,077.70, the pick 4's paid $207, $335 and the last one $282.40.
The 2nd race verticals paid well with an 8-1 winning to an 18-1 the $1 exacta was $77.50. Add on the 2-1 2nd choice and the 5-cent trifecta paid $111.20 and the 10-cent superfecta with a 3-1 in 4th paid $86.06 or $860.60 for the $1 super. This was also the best $2 win of the day at $18.20 and top $2 place at $12.
Gutierrez remains Red Hot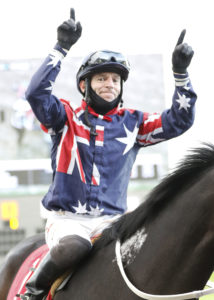 Juan Gutierrez is off to a fast start this Holiday weekend winning 4 on Friday night and then tripling on Saturday. Jose Zunino was the other multiple winner on the day taking the late daily double. Gutierrez won the 1st race on Miss Dynamic, the 3rd on Blame It On Kitty and the 5th on Moscow Lady. The other 3 winners on the day were Leslie Mawing, Kevin Orozco and Alex Cruz.
The betting public hasn't always made Gutierrez the favorite but when he wins this week it has been at an average of 2-1. His high $2 win pay-out was $9.20 and his low was 1-1 at $4.
Heading into Sunday's racing Alex Cruz remains on top with 33 wins, Kevin Radke is right behind at 29 and Juan Gutierrez has made up a lot of ground and sits in 3rd with 28. Javier Matias is all alone in 4th with 12 wins while there is a 3 way tie just behind Matias between Kevin Orozsco, Leslie Mawing and Jose Zunino all with 10 wins.
Alex Anaya was off his mounts for a 2nd straight day. He has been suffering from a bout with the flu.
Saturday a Great Day for Owners looking for Win #1
6 of the 8 races were won by owners or groups scoring their 1st win of the season. Antonio Mendoza, Jane Catherine Maller, Ron Crockett, White Diamond Syndicate & Gary Crandall, Gold Coast Racing II and Rev Racing with Frank Lucarelli all got their 1st wins. Now there are many different combinations of owners and groups so some may have wins by themselves or with other partners but all of these individuals and combinations got their 1st win on Saturday.
Trainer Notes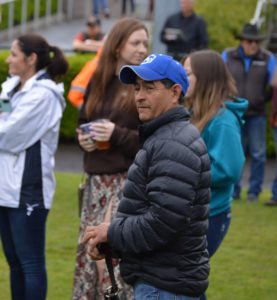 Rigoberto Velasquez is no longer in the "close but no cigar" category getting his 1st win of the season with 1st time starter Miss Dynamic who certainly opened some eyes with her 10-length win. It may have been the most dominant win of the season. Velasquez is now 1-5-6 from 28 starts.
Vince Gibson picked up his 10th win of the season and is now the 5th trainer to hit double digit wins. Jeff Metz got a win pushing his win total to 6, Tom Wenzel also got his 6th win of the year in the finale of the day. Steve Bullock got his 2nd win of the season and Jorge Rosales won a race, his 13th of the season that gave him sole possession of 1st place in the trainer race. 1 in front of Blaine Wright and Frank Lucarelli.
Speaking of Lucarelli he is one of 2 conditioners with 2 wins so far, Jeff Metz is the other but Lucarelli is now 1 win away from his 2,000th career win. Lucarelli won the 4th race with Big Paper Daddy and Kevin Orozco and got win 1,999 in the feature race with Mr. Stang. Jose Zunino would bring him home off the pace.
Lucarelli runs horses at Lonestar in Dallas as well but he does not have one in on Sunday in Texas. He will have 2 chances to win on Sunday, the 2nd race with Time for Gold the 2nd favorite with Kevin Orozco and in the 5th race with Leone and Orozco up again and is 8-1 morning line.
Muckleshoot Casino Feature Race
A field of 6 went postward in the 6-furlong dash and Defense Wins with Alex Cruz was the betting choice at 3-2. Hard to Deny with Juan Gutierrez was the 2nd choice at 5-2 and 3rd favorite went to Mr. Stang with Jose Zunino up.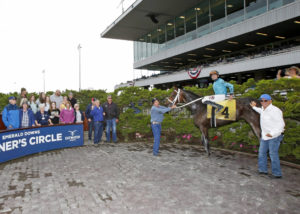 Hard to Deny went straight to the lead but was quickly challenged b y Forever Gold with Jennifer Whitaker. The pair would set fractions of 22.46 and the half in 44.50. Democrat showed a little early interest but the 9-1 shot would fade and finished last. Muncey sat well behind and the 14-1 longshot in the field never did threaten.
Turning for home Forever Gold was trying to pull the upset at 7-1 and held a 1 1/2 length lead. Hard to Deny was not giving up and dug back in while Mr. Stang was winding up from 5th and Defense Wins was between horses and closing as well. Just inside the 1/8th pole Forever Gold began to shorten strides and the gap was closing but none were closing faster than Mr. Stang who rolled over the top and pulled away for a 1 1/2 length win. Hard to Deny held 2nd by a neck over Defense Wins and Forever Gold finished 4th.
The win was trainer's Frank Lucarelli's 1,999th career win. The track's all-time leading trainer has a chance to get #2,000 on Sunday with 2 starters. Mr. Stang is owned by Chad and Josh and stopped the clock in a time of 1:09.20.
1st 
6 2-year-old fillies went to the gate with all but one as 1st time starters. If there was a perfect name in the race it was the 6-5 favorite Miss Dynamic. Juan Gutierrez let Miss D break and boy did she quickly stretching her early lead in the 4 1/2 furlongs sprint to 3 lengths. Top of the stretch she had opened up by 6 and blew the field away by 10 at the end stopping the clock at 50.93.
The race was a parade with Gunnhild and Alex Cruz running a clear 2nd at 5-2, An Veiw Too with Javier Matias was 3rd and Shesalilrunaway with Kevin Orozco was 4th.
Miss Dynamic races for Antonio Mendoza and trained by Rigoberto Velasquez and is a Washington bred by Dynamic Impact out of Miss Salome by Harbor the Gold and bred  by Antonino Mendoza.
2nd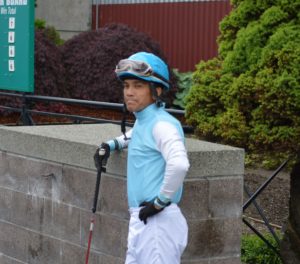 Flyin By did not fly by anyone as Leslie Mawing sent the 3-year-old filly in the 6-furlong run and never looked back. Flyin By set fractions of 22.04 and 45.19 finished in 1:11.04. The public disregarded the front runner and let her go at 8-1 and she won by 2 lengths.
She's My Ride with Eddie Martinez ran on from last to place at a big price if 18-1. Noosita and Juan Gutierrez took 3rd and capping the superfecta was A Whole Lotta Hula with Kevin Radke.
Flyin By races for White Diamond Syndicate and Gary Crandell and trained by Vince Gibson. Flyin By is a Washington bred by Coast Guard, out of Wind a Flyin by Blazonry and was bred by Vince and Pamela Gibson.
3rd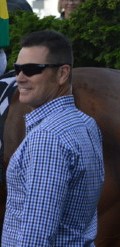 The 1-mile race had 6 going in this starter allowance and Upo with Alex Cruz was the overwhelming favorite at odds on 3-5. The 2nd choice had Juan Gutierrez aboard Blame It On Kitty at 5-2. The top 2 dropped back 4th and 5th early and let the 2 longest shots on the board battle on the lead. 27-1 Dennard led by 3 at the quarter pole but was hitting the wall and by the top of the stretch only had a head lead over a fast closing Upo with Blame It On Kitty making her move from far back. Upo took a short lead  but could not the deny the fast moving train of Blame It On Kitty who pulled away for a 1 1/4 length win. Robs Lucky Spirit with Kevin Radke got up for 3rd and Master Recovery with Javier Matias finished 4th.
Blame It On Kitty ran the mile in 1:37.95 for owner Jane Catherine Maller and trainer Jeff Metz.
4th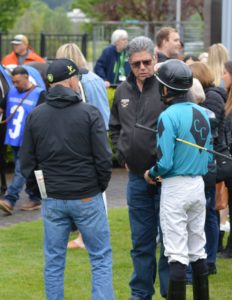 The 2nd leg of the Pick 6 was the only leg the betting favorite won and Kevin Orozco didn't want to waste any time going straight to the front and never looking back. By the top of the stretch Orozco had a 2 length lead and let Daddy out another notch to win by 2 1/2. Brannigan rallied late with Edgar Velasco and was a clear 2nd best as they were 12 lengths in front of 3rd place finisher Music Icon with Kevin Radke. Whisper and Wink with Leslie Mawing cleaned up the tote board in 4th.
Big Paper Daddy ran the mile in 1:37.19 and races for Chad and Josh and trained by Frank Lucarelli. Big Paper Daddy is a Washington bred by Coast Guard out of Go Jackie Go by Matty G and was bred by Ron and Nina Hagen.
5th
A field of 6 3-year-old fillies and mares and up broke from the gate Moscow Lady with Juan Gutierrez was the 3rd choice at 7-2 broke 4th and rode the perfect stalking trip. Never further than 3 lengths back as the wheeled to the stretch a head back of betting choice Rodeo Rose with Leslie Mawing. Gutierrez and Moscow Lady drew even and then edged away for a 1 1/2 length win. Rodeo Rose was 2nd by 4 1/2 over 19-1 Fly Robin Fly with Kevin Orozco and Paislee's Pulpit with Alex Cruz took 4th.
Moscow Lady ran the 6-furlongs in 1:10.69 and races for Gold Coast Racing II and trained by Steve Bullock. Moscow Lady is a Washington bred by Abraaj out of Moscow Symphony  by Moscow Ballet.
6th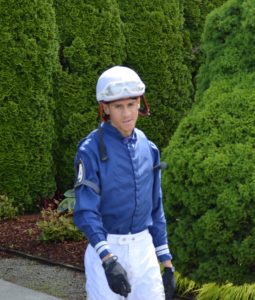 When the gates flung open 2 broke to the lead leaving the other 4 3 lengths behind. Odds-on favorite Juspassinthru with Juan Gutierrez had a head lead over 4-1 Curling Secret with Alex Cruz up. The match race would remain head and to the top of the stretch with Juspassinthru holding on to the slim lead. Curling Secret would not give an inch and drew even midway down the stretch and had a slight advantage as they head bobbed to the wire and Curling Secret won the photo finish by a head.
The duo set fractions for the 6-furlong run were 21.44 for the quarter and 44.15 for the half with a final time of 1:10.34. They were in front of 3rd place Perfect One with Kevin Orozco by 4 1/2 and it was another 5 1/2 back to Igottabooboo with Leslie Mawing in 4th.
Curling Secret is owned by Remmah Racing Inc and trained by Jorge Rosales.
8th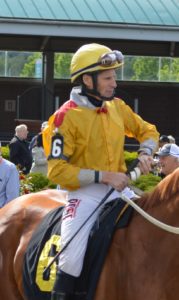 In the finale 7 went 5 1/2 furlongs and once again the race was won out of the gate with Whatsthediff and Bobby Buckets going at it. The pair set the quarter fraction in 22.19 and 45.85 for the half and Alex Cruz on the favorite Bobby Buckets thought they could shake Whatsthediff with Jose Zunino at 6-1 but Whatsthediff had plenty in the tank as they hit the top of the stretch and took a head lead, Bobby Buckets tried to respond but didn't have enough and Whatsthediff surged to a 1 1/2 length win.
I'm Mr Big threatened with Leslie Mawing up and closed within a 1/2 length of a tiring Bobby Buckets but settled for 3rd. Devils Off Duty with Kevin Radke finished 4th and Hefty Garcia with Kevin Orozco placed 5th to cap the Super Hi-5.
Whatsthediff is owned by Ron Crockett and trained by Tom Wenzel. The 3-year-old is a Washington bred by Abraaj and out of Spot On Babe by Tribal Rule and was bred by Ron and Nina Hagan and Ron Crockett.
Claims
2nd Race
Flyin By was claimed for $5,000 by Kimberly, Rebbecca and Linda Johnston and goes to trainer Kimberly Johnston.
Noosita was claimed for $5,000 by Dennis Snowden, Dan Minardo and Russ Nakagawa and goes to trainer Howard Belvoir.
5th Race
Fly Robyn Fly was red tagged for $15,000 for Rick Kessler or Terra Firma Farm for trainer Joe Toye.
R Happy Place also goes to trainer Joe Toye after Paddock Partners Ltd for $15,000.
_____________________________________________________________________________________________
Friday Night Racing
Friday night had a 7 race card with 38 entries an average of 5.4 per race. The handle on the night was $944,433.
New Mr. Friday Night?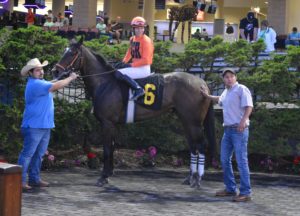 Mr. Friday Night Alex Cruz who came into Friday night winning 60% of all races on Friday nights slowed down a little bit getting only 1 win and had a new challenger for Mr. Friday night as Juan Gutierrez won 4 times. It began Gutierrez's way in the 1st when he nosed out Cruz for the win. Gutierrez would then win the 2nd on Sweet Katie O and then would bookend the night with wins in the feature race on Fire Escape and the finale aboard Silent Declaration. Kevin Radke won the other 2 races.
Only 3 riders won a race on Friday night the 2nd time that has happened but not the record for this season. On Friday night June 3rd Alex Cruz won 5 and Javier Matias won the other 2 so only 2 jockeys got to the winners circle that night. On Friday, June 17 Cruz, Kassie Guglielmino and Kevin Radke were the other 3 riders only winner night. All 3 days featured just 7 races.
There is no day that each race was won by a different jockey, the closest was on June 12 with 7 riders winning out of 8 races, only Kevin Radke doubled up and on June 19 it was Kevin Orozco doubling up with 7 riders winning out of 8 races. There was another 7 rider win day, that was on June 26 but there were 10 races and Radke and Alex Cruz won multiple races.
Off His Mounts
Alex Anaya coming off a pretty good week and with several rides was off Friday night with a bout with the flu. Anaya says he is resting and doing everything he can to get back as fast as he can.
Trainer Notes 4 is the number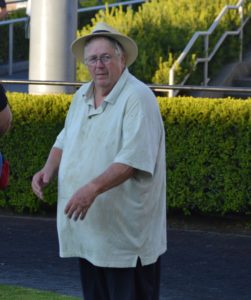 Mike Pierce, Charlie Essex and Shelly Crowe all picked up their 4th win of the season and they did it in the 1st 3 races. Pierce got it started with Stanley Ryder, Essex got his 4th with Sweet Katie O and Crowe scored with Mixo. Pierce is now 4-4-4 from 18 starts, Essex is 4-3-2 from 26 starts and Crowe is an efficient 4-4-2 from just 11 starts or 91% top 3 finish rate. The 50-cent pick 3 of our 4th winners paid $24.95.
Conditioner Steve Koler got his 1st win of the season in the 4th race when Kevin Radke held off all challengers and won by a length at 7-1 with Blame the Devil. Koler is also the owner.
Owners break their Maiden
Friday night 3 owners got their 1st win of the season. Dave and the Little Lady Stable won the 2nd race with Sweet Katie O, Owner/Trainer Steve Koler took the 4th with Blame the Devil and Finger Gun Racing #2 won the feature race with Fire Escape from Blaine Wright's barn.
The Betting Parlor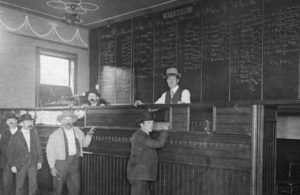 The night began pretty good for just a 5 horse field Stanley Ryder was 3-1 and paid $8.20 on the $2 win. Proudtobesicilian was 2nd at 7-2 and 5-1 Benny the Jet took 3rd while betting favorite Tumac Mountain was 4th at 6-5. The $1 exacta paid $27.30 (26-1), the 50-cent trifecta paid $76.60 (152-1) and the 10-cent superfecta $23.72 (236-1), not often you can get 236-1 in any pay-out in a 5 horse field.
The 2nd race was only 4 horses and amazingly again some good pay-outs. The odds-on choice at 3-5 Shirl's House finished 4th. The 2nd choice at 8-5 won followed by the 3rd pick at 5-1 and 26-1 ran 3rd. It is very difficult to get a 26-1 shot in most races but unheard of in a 4 horse race. $1 exacta paid $13.50 (12-1), the 50-cent trifecta paid $23.10 (45-1) and the 10-cent superfecta in a 4 horse field paid $7.91 or on a $1 bet $79.10. The cost to box all 4, guaranteeing you a win is $2.40 or $24 for the $1 bet giving you a $55 profit.
The 4th race saw some good pays with a 7-1 on top over a 19-1 who got up for 2nd to the 4-5 odds on choice 3rd and a 9-1 4th. The $1 exacta paid $137.40, the 50-cent tri $141 and the 10-cent super $145.82 or $1,458.20 on the $1 super. The 1st Pick 4 paid $190.90.
There wasn't any startling pay-outs for the rest of the night, the Jackpot 20-cent Pick 6 had multiple winners and paid $293.06 and a carry-over of $35,688 went to Saturday. The Pick 5 paid $224.05.
Muckleshoot Casino Feature Race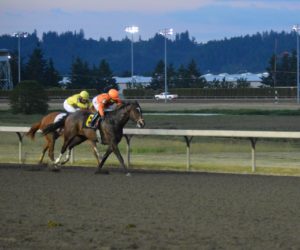 The 6th race was the Muckleshoot Casino Feature race and featured a field of 5 after Awesome Daze acted up at the gate and was scratched b y the stewards. Fire Escape went off as the 1-1 betting favorite. Juan Gutierrez was aboard and went straight to the front and took a length lead and never relinquished that lead. Fire Escape set fractions in the 5 1/2 furlong sprint of 21.62 for the quarter and 44.79 at the half and won by a length in a time of 1:03.70.
Cielo Diamante with Javier Matias closed from last place to get 2nd by a 1/2 length over 13-1 longshot Tam Tricky with Kevin Orozco. Enchanting Way with Kevin Radke was 4th to complete the superfecta.
Fire Escape is owned by the Finger Gun Racing #2 group and trained by Blaine Wright. Fire Escape earned $13,750 and the 3-year Cal bred filly is now 2-1-1 from 5 lifetime starts increasing her earnings to more than $32,000.
1st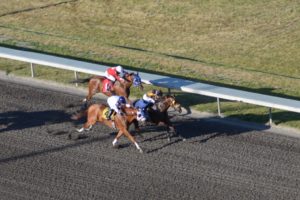 A field of 5 went 6-furlongs and Tumac Mountain with Leslie Mawing up went off as the 6-5 favorite. Proudtobesicilian with Mr Friday Night, Alex Cruz went straight to the lead, while Benny The Jet with Jose Zunino sat just off and 3-1 Stanley Ryder with Juan Gutierrez aboard in 3rd. Tumac Mountain and Inquisition trailed. Proudtobesicilian carved out fractions of 22.47 for the quarter and the half in 45.57. Stanley Ryder began making his move around the turn and engaged Proud at the top of the stretch and looked like he would roll on by for a clear win.
But Proudtobesicilian had more left and battled to the wire but Stanley Ryder and Gutierrez got the head down to win it in a photo. Benny The Jet held 3rd and Tumac Mountain finished 4th. The final time was 1:10.19 for owner Purple Rose Ranch and trainer Mike Pierce. Stanley Ryder is a Washington bred by Atta Boy Roy out of La Mariah by Country Light and was bred by Tom and Becky Birklid.
Stanley Ryder paid a nice $17 on the $2 combo bet, the $1 exacta paid 27-1, the 50-cent trifecta paid $76.50 and the $1 superfecta $237.20.
2nd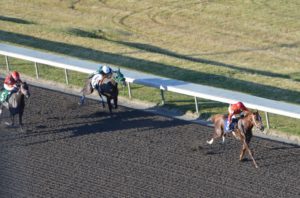 Just 4 lined up for the 6-furlong 2nd race after a late scratch and Shirl's House was the odds-on choice at 3-5. Sweet Katie O and Juan Gutierrez were 2nd favorites at 8-5 and they went straight to the lead. 26-1 longshot Steel Nerves with Vladimir Jensen ran up the rail into 2nd while Alex Cruz stalked with the favorite and Clubhouse Wave with Kevin Radke trailed.
Turning for home Gutierrez let out Katie and they pulled away for an easy 4 3/4 length win while Clubhouse Wave rallied for 2nd and Steel Nerves held 3rd. Cruz had Shirl's House in striking position at the 1/4 pole but she had no response and finished 4th.
The winning time was 1:11.40 and the winning trainer was Charles Essex who also had the favorite in this one. Dave and the Little Lady Stables are the owners and the 4-year-old filly is a Washington bred by Abraaj out of Pippa Bou Peep by Harbor the Gold.
3rd
Mixo with Kevin Radke up sat just off front running Cody's Choice for most of the 6 1/2 furlong run and then moved to the outside and overtook 9-1 Cody's Choice with Juan Gutierrez to win going away by 1 1/4 lengths in a time of 1:15.63.
Cody's Choice was a clear 2nd and Toil and Trouble with Leslie Mawing was 3rd and Crooked Finger with Kevin Orozco completed the top 4. Mixo is owned by the Mischief Club and trained by Shelly Crowe. Mixo is a Washington bred by Abraaj out of Valour Road by Honour and Glory.
4th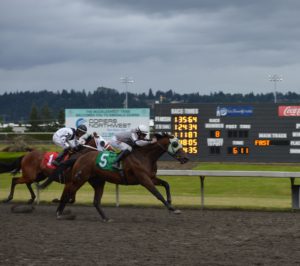 7 lined up for the 4th race of the night with Mayhem and Chaos bet down as the 4-5 favorite with Jose Zunino up. However, when the gates opened 7-1 Blame the Devil with Kevin Radke and 19-1 Marksman On Target with Leslie Mawing broke out in front with 16-1 Sweetwater Clyde. Clyde didn't last on the lead while the pair set fractions of 23.57 and 47.21.
By the top of the stretch Blame the Devil had edged away by a half length but Marksmen On Target did not throw in the towel and they finished that way with Blame the Devil winning by a length. Mayhem and Chaos got up for 3rd and completing the superfecta was Firing Pin with Alex Cruz.
Blame the Devil is owned and trained by Steve Koler.
5th
The 5th race was a 5 1/2 furlong sprint with 6 runners and the public split on who they supported with Major Munnings at 3-2 and Makah Lane at 8-5. Major Munnings would stalk the early pace of Northwest Rain with Javier Matias and Goldie's Hills with Leslie Mawing while Makah Lane settling behind all of them with Juan Gutierrez.
As they turned for home Major Munnings got the first run with Cruz just a head behind while Makah Lane began to wind up. Major Munnings put away frontrunning Northwest Rain but then had to fend off Makah Lane and the two would go head and head to wire with Major Munnings hold on for the win. Candy Zip and Jose Zunino rallied late for 3rd and Goldie's Hills held on for 4th.
Major Munnings ran the 5 1/2 in 1:03.43 and comes from the Joe Toye barn for owners Paddock Partner Ltd.
7th
In the finale 6 went from 6 1/2 furlongs and 2nd favorite at 5-2 Too Tall to Call went straight to the lead with Kevin Radke and quickly took a 2 1/2 length lead. Favorite Silent Declaration at 9-5 with Juan Gutierrez sat just off the pace as Too Tall to Call carved out fractions of 22.42 and 45.46. The rest of the field was a parade.
As the top 2 hit the top of the stretch Silent Declaration began to pressure Too Tall to Call and eventually wore him down and pulled away to win b y a length. Too Tall to Call was 2nd by 1 1/2 while Assurance with Jose Zunino was a clear 3rd by nearly 10 lengths over Tap the Bank who finished 4th and R n' R Atthe Beach completed the Super Hi-5.
Silent Declaration stopped the clock in 1:17.47 and is owned by Saratoga West and trained by Jeff Metz.
Claims
There were a total of 5 claims for a total of $27,500.
1st Race
Stanley Ryder was claimed for $2,500 by Rosales Racing F1 and trainer Jorge Rosales.
Tumac Mountain was taken for $2,500 b y William Jensen for trainer Joe Toye.
4th Race
Mayhem and Chaos was claimed for $5,000 by Indigenous Stable and Filos Stables for trainer Kay Cooper.
5th Race
Makah Lane was purchased for $12,500 by new owner Saratoga West and goes to trainer Jeff Metz.
7th Race
Too Tall to Call was claimed for $5,000 by the Purple Rose Ranch for trainer Mike Pierce.
www.elisportsnetwork.com