Where It All Starts
Young Racers Hit Richland Waters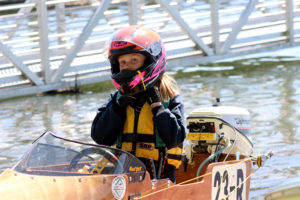 Story and Photos by Jamie Council
Tri-Cities, Washington is known as Hydro-Town. Surrounded by three rivers, hydro races are a summer staple including the Water Follies that brings the H1 Unlimited circuit to the Columbia River. However, the drivers start on a much smaller stage. Last weekend, the Richland Regatta took place where J-Boat drivers faced the uneasy waters of the Columbia.
Brody Wyant crossed the John Mostoller Finish Line multiple times in the weekend. The 12-year-old grew up around the sport. His father, Dan, being a sponsor of H1 Unlimited. "I just watching the Unlimiteds run," said Brody, "and I wanted to do that when I got older, so I thought this would be a good place to place to start.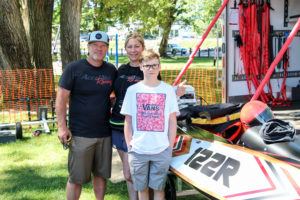 Wyant Family: Dan, Brody, Lisa
They got one boat. Now they have six. "It's a lifestyle," laughed Lisa. "Every time you get a boat wet, you get another one," added Dan. It's easy to get in; hard to get out." The family says the toughest part has been the learning curve of the sport. "It's a steep learning curve for all of us," explained Dan. "Not knowing anything — soup to nuts, you have to make friends and watch people and learn everything."
Seeing success as such an early team helps Brody in his pursuit, and he attributes the preliminary accomplishments on his biggest teammate: "My dad and all the time that we've spent in the shop working on it over winter," said Brody without hesitation, "and seat time."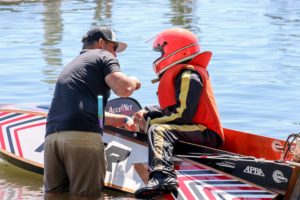 Brody is also figuring that out quickly behind the wheel. In one race at the Richland Regatta, he hit a log early in the race – Breaking off his skid fin, which made turning difficult and had to adjust in real time to cross the checkered flag first. "I had to let off a lot in the turns and lean out as far as I could," explained Brody.
The J-Boats go about 45 miles an hour. Brody will graduate to bigger faster boats, with the speed and power his ultimate goal. "My goal is to race in an unlimited hydroplane when I get older," stated Brody. The Wyant's take to the road – First to Madison, Indiana to watch the H1 Unlimited boats including Strong Racing From there, they'll head to Springfield, Ohio for nationals, and then to a race in Illinois. Like racing is a family, they will be taking Carson Kelly's boat.
The Wyant's are unique in the fact they are just breaking into the sport. The racing world is often called a family; in a literal sense, most of the time. Coming in second on Saturday was Harper Kelly-Moen. She is 11 years old and a fourth-generation driver. "We are one of the families that's been in it the longest," said Kristina Moen.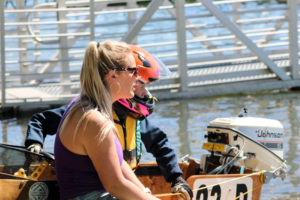 Harper Kelly-Moen and mother, Kristina Moen, preparing for race at Richland Regatta Niece of H1 Unlimited driver J. Michael Kelly in Strong Racing's Miss Tri-Cities, her mom, Kristina Moen, also sat behind the wheel. In fact, Harper is racing in the same haul Kristina did years ago.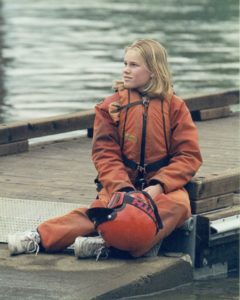 "My great grandpa started doing it," said Harper, "and then my poppa started doing it, and then my Uncle Mike starting doing it, and then my older cousin Carson started doing it. My mom did it too."
In her pink helmet, Harper was the only female behind the wheel over the weekend. She has no big dreams of following in her uncle's footsteps, but that doesn't mean she doesn't have the same competitive mindset in her blood. On Saturday, the race for second was tight, and Harper bided her time to eventually make her pass on the outside.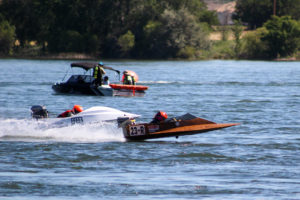 "I just went full all the way," said Harper, "and tried to get a good start." She says she wants to continue to work on her starts while Kristina says she loves to see the normalization of females in the seat, including her daughter. "I think it's awesome," said Kristina. "A lot of the time, girls aren't seen doing motor sports. For her to go out there and be competitive with the boys, it's great to see her be just as good as the boys, better sometimes."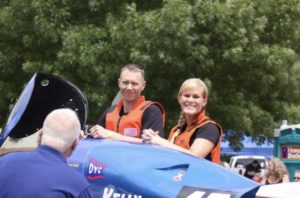 The J-Boats fill the time between the main events, but for these young drivers, it's the biggest stage they've been on so far. For some, they have dreams of racing on an even bigger stage…But they have to start somewhere.

Photo Gallery
www.elisportsnetwork.com