7/9/2022
(Auburn, WA) "Mr. Friday Night" Alex Cruz was back with 3 wins last night after winning only 1 the Friday before. Out of 5 Friday nights Cruz won 5, 2, 5, 3,1 and now 3. That's 19 wins from 42 races or he has won 45% of the races on Friday nights regardless if he rode in them or not. His actual riding record for the evening cards is 19-6-3-7 from 39 mounts. That's a 49% win clip, 64% in the exacta, 72% in the trifecta and 90% in the superfecta. Out of 39 rides Cruz has hit the top 4 35 times.
Some may say it's because of all the big favorites Cruz is on which is why he is so successful. Taking a look at his average odds for his 39 mounts on Friday nights his average odds are 9-2. For his 19 winners, there have been several odds-on choices and in fact a $2.40 win pay-off as his low pay-out but still averages slightly above 2-1. With the shorter fields especially this is a pretty good return on a guy who is winning nearly half of all the races on Friday nights.
Muckleshoot Casino Feature Race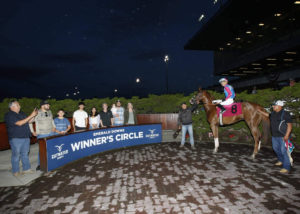 After 2 scratches a field of 6 went 6-furlongs and leading rider Alex Cruz wasted no time going to the front with 3-2 favorite Mamacallmeboo and quickly separated themselves from the rest by a length and a half. 8-1 Starzan with Kevin Orozco tried to keep up running in 2nd early while 5-2 second choice Mosquito Fleet with Javier Matias sat 3rd.
Mamacallmeboo set the fractions of 22.19 and 44.70 as he approached the top of the stretch with a 2-length lead and never slowed down extending that lead to 3 1/2 at the wire for the easy win in a time of 1:09.29. Mosquito Fleet finished a clear 2nd while 5-1 Devils Workshop with Jose Zunino overcame a horrendous start to take 3rd over Starzan who completed the superfecta.
Mamacallomeboo races for Horseplayers Racing Club #341 and comes from the Tim McCanna barn. He is a Washington bred by Abraaj out of Holy Mama by Holy Bull and bred by Horseplayers Racing Club. Mamacallmeboo is now 3-2-1 from 10 lifetime starts and added $6,325 to his bankroll which is now more than 31k.
Race Re-Caps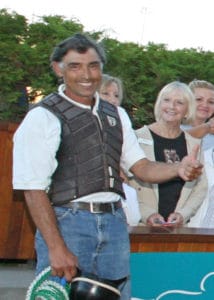 In the other races, Zatter got things rolling in the 1st race with Cruz aboard in a wire-to-wire run from 6 1/2 furlongs. Zatter won by 4 in a time of 1:16.02 over Coastline Sermon with Kevin Radke up while Jersey Red with Jose Zunino took 3rd and Poppy's C Note with Javier Matias completed the superfecta. Zatter is owned by Paddock Partners Ltd and trained by Joe Toye.
In the 2nd race Hall of Fame trainer Howard Belvoir sent out Larsen Bay with Leslie Mawing at nearly 12-1 and stunned the field of 5 going 5 1/2 furlongs. Larsen Bay sat 5th and last early on about 6 lengths off the front speed then pulled within about 3 while turning for home then blew by all of them to win going away by 1 1/2 lengths. 10-1 2nd longshot Tribunal Love with Zunino rallied up for 2nd while 1-1 favorite Floyd Knowles with Cruz was 3rd and Silent Declaration with Juan Gutierrez was 4th.  Larsen Bay stopped the clock in a time of 1:04.70 and Belvoir is the owner and trainer. Larsen Bay is a Washington bred by Coast Guard out of Port Wakefield by Katowice and bred by Belvoir.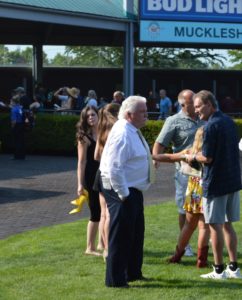 6 starters went 5 1/2 in the 3rd and odds on choice Coastal Run with Radke up would take the early lead as expected but she would have company from Wahasha who did not allow the favorite to settle. This ultimately cost Coastal Run who had just a 1/2 length lead at the top of the stretch over Unlimiteddataplan with Cruz aboard. Cruz hit the go button and rolled on by to "cruz" to a 2 1/2 length win while Miss Monique with Mawing up closed late and was a clear 2nd at 8-1. Coastal Run held 3rd while Wahasha and Brio Is Awesome with Kevin Orozco deadheated for 4th. Unlimiteddataplan ran the 5.5 in 1:04.15 and races for Angry Horse Racing Stable and is trained by Alan "The Boz" Bozell.
Leading owner John Parker and his trainer Candi Cryderman have been hit with a case of 2nd-itis and did not get a win last week for the 1st time all season. They quickly rebounded from that to get a win Friday night in the 4th when Lookout Taylor with Kevin Radke up blew away the competition romping to an 8+ length victory. The field of 6 went a mile and Lookout Taylor stopped the clock in 1:36.99. 3-2 favorite Kerraila with Jose Zunino was 2nd, Cocoa Cents and Mawing were 3rd at 12-1 and completing the superfecta 10-1 Cameo Shores with Cruz.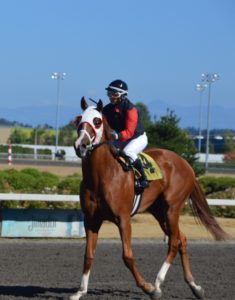 Howard Belvoir doubled on opening day for his first 2 wins of the season and on Friday night he picked up his 5th and 6th doubling for the 2nd time with Decimate. The front running Washington bred by Atta Boy Roy has been starting fast but stopping over his past few outings but this night regular rider Jennifer Whitaker again went to the lead but held him together going 22.39, a reasonable pace. The half went in 44.92 and the rest of the field had allowed Decimate to settle and set the tone without pressure and he would not be caught. Despite several lining up to take their shot Decimate at 7-2 won it by a 1/2 length in 1:10.07. 7-2 Boss Nine with Mawing got up for 2nd while favorite Summanus and Radke took 3rd and Mischief Road with Cruz finished 4th. Belvoir owns, trains and bred Decimate.
In the 7th and final 8 broke from the gate going a mile but it was again the engine where it started and ended. C Jaxon and Kevin Radke went to the front, set all the fractions and won by a comfortable length. Although C Jaxon lever led by more than 2 lengths it felt like he could have gone around 2 or 3 more times and no one would have caught him. He ran the mile in 1:39.88 and is owned and trained by Cliff Balcom. Balcom and Leslie Balcom bred C Jaxon by Coast Guard out of Wings Are the Way by Ihtimam. 5-1 Ghostrider with Alex Anaya was a clear 2nd, favorite Atlatl with Cruz was 3rd, 4th went to 7-2 Moon Curcumference with Orozco and 5th completing the Super Hi-5 was 30-1Perfect Blend with Nicole Disdier.
Jockey Notes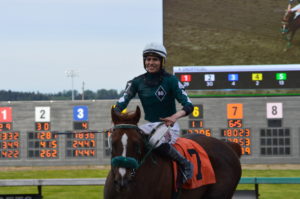 Alex Cruz led in wins on Friday night with 3, Kevin Radke scored 2 wins in the 4th on Lookout Taylor and the 7th aboard C Jaxon, Leslie Mawing won the 2nd on Larsen Bay and Jennifer Whitaker took the 5th on Decimate.
Other notes, Friday saw the return of Alex Anaya who missed all of last week with flu symptoms. Anaya had 3 rides with his best finish 2nd on Ghostrider in the 7th. Juan Gutierrez took off his final mount in Friday's nights 7th race on Moon Circumference for undisclosed reasons at this time. Kevin Orozco picked up the ride and finished 4th. 
Trainer News
All-time leading Emerald trainer Frank Lucarelli is stuck on 1,999 career wins after sending out 3 on Friday night and getting 2 2nds. He will try again on Saturday with1 in the 1st and 2nd races.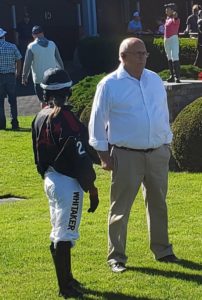 Howard Belvoir scored a rare daily double/trifecta with 2 wins on Friday night as the sole owner, trainer and breeder of both Larsen Bay and Decimate. Belvoir has 6 wins on the year winning 2 on opening day and pulling off another double on Friday night. Last year's leading trainer Joe Toye had a high win percent in 2021 at 24% with a 29-15-22 record from 123 starts and 54% in the top 3. This year the wins are coming a little more grudingly as he is now 8-10-11 from 47 starts with a 17% win rate and 62% in the top 3. Toye is currently tied for 5th with Jeff Metz.
Former Emerald training champion Tim McCanna remains red hot scoring his 5th win from 15 starters when Mamacallmeboo won the feature. McCanna is now 5-3-2 for a 33% win percent and 67% in the top 3. Alan Bozell got his 4th win and is on his way to a very solid season with a 4-4-3 from 17 starts clip. And it's either win or nothing for Cliff Balcom who got his 2nd win of the season in the finale with C Jaxon. Balcom is 2-0-0 from 11 starts.
Owner Re-Cap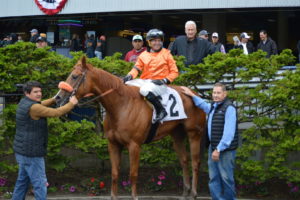 The early leader for owner, trainer and breeder of the week is Howard Belvoir with his rare double-triple of being the sole owner, trainer and breeder of both of his wins on Friday night. Belvoir now is now 3-1-2 from 17 starts as sole owner. he is part of several other partnerships. Cliff Balcom was the other owner trainer to get a win on Friday night and almost had all 3 but shares the breeding of C Jaxon with Leslie Balcom.
Leading owner John Parker who set a season goal of 30 wins and was shut out for the first time last week got back in the win column on Friday night with Lookout Taylor. Parker is now 11-13-9 with a 21% win rate. He leads the 2nd leading owner Lusk Racing by 6. 
Paddock Partners LTD got their 4th win of the season and are now 4-4-3 on the season when Zatter took the opener wire-to-wire. Two owners got their first wins of the season when the Angry Horse Racing Stable got their 1st win in the 3rd race with Unlimiteddataplan. Horse Players Racing Club #341 took the feature with Mamacallmeboo for their first picture in the winners circle. Horse Players though will have to get another horse to try and do it again as they lost Mama to a claim.

Claims
1st Race
Prince of Luck was claimed for $3,500 by Michael Radovich and goes to trainer Jorge Rosales.
2nd Race
Silent Declaration was claimed for $5,000 by the Purple Rose Ranch for trainer Mike Pierce.
6th Race
Mamacallmeboo was claimed for $8,000 by Lusk Racing for trainer Vince Gibson.
Mosquito Fleet was taken for $8,000 by Karen, Clark, Jerry Ackerman and Anthony Lombardo and goes to trainer Frank Lucarelli.
www.elisportsnetwork.com