7/9/2022
Saturday's 8 race card fell short of runners with 2 scratches in each of the 1st 3 races leaving just fields of 4. In the 1st two races trainer Frank Lucarelli had 3 chances but could not get his 2,000th career win leaving him with 6 chances on Sunday at Emerald Downs if he doesn't get it with one of his entries at Lonestar Park near Dallas earlier on Sunday.
Meantime, Robert Gilker teamed up with Alex Cruz to take Saturday's featured race. Both Cruz and Kevin Radke tripled while lightly ridden Vladimir Jensen set a new high $2 show pay-off twice hitting the board with a 29-1 then 49-1 shot.
Muckleshoot Casino Feature Race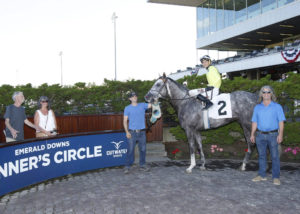 Six starters lined up to go 6-furlongs in the Saturday Muckleshoot Casino featured race and Nine One One with leading jockey Alex Cruz was the even-money favorite. The public had it figured right as Cruz and 4-year-old gray gelding went straight to the lead and quickly built a 2 length lead and non one would get any closer.
Nine One One set fractions of 21.75 for the quarter and the half in 44.13. Nine One One had something left for the stretch drawing away to win by 3 1/2 lengths in a time of 1:08.59. Nine One One races for Robert and Victoria Gilker and Ted Smith, Robert Gilker is the trainer.
12-1 March On Linch with Jose Zunino rallied late from last to pass them all but the winner to get 2nd, 5-1 Forty Smooches with Leslie Mawing made a bid on the turn but then flattened out for 3rd while 9-2 Ethan's Animal and Kevin Orozco completed the superfecta.
This was only Nine One One's 3rd career start and is now 2-1-0 from 3 starts and picked up $13,750 to add to his bank account pushing his lifetime earnings to more than $34,000. Nine One One paid $4 on the $2 win and combined with 12-1 March On inch paid $15.40 on the $1 exacta.
Race Re-Caps
In the 1st race Fly Patti Fly with Kevin Radke went start to finish in a race for 2-year-old fillies. Fly Patti Fly was the longest shot on the board at 6-1 rolling to a 1 1/4 victory. She ran the 5 furlongs in 59.50. Fly Patti Fly is owned by the Swag Stables and trained by David Martinez. She is a Washington bred by 2017 Longacres Mile winner Gold Rush Dancer, his 1st winner at Emerald Downs. Fly Patti Fly is out of No Files on Doodle by Storm Blast and was bred by Keith and Jan Swagerty.
California Halo the 4-5 choice with Juan Gutierrez ran 2nd, Goin' Coastal with Cruz was 3rd and Bobbie O with Orozco finished 4th. Fly Patti Fly paid a healthy $15.60 on the $2 win and combined with the 4-5 fav the $1 exacta returned $21.50 or a 20-1 return in a 4 horse field.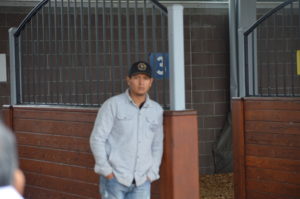 In race 2 for 3-year-olds and up going 6-furlongs it was again a field of 4 with one late scratch and again it was all front speed as 4-5 odds on choice Curling Secret took the lead, drew off by 5 entering the stretch and won by 3 1/2 geared down by jockey Alex Cruz. Abraaj Mirage and Radke was a clear 2nd while Executive Action with Orozco was 3rd and Irish Knight with Alex Anaya took 4th.
Curling Secret is owned by Remmah Racing Inc and trained by Jorge Rosales. Curling Secret coupled with Fly Patti Fly paid a solid $21.60 on the 1st Daily Double of the day, another 20-1 pay-off this time in back-to-back 4-horse fields.
The 3rd race was the 3rd straight 4 horse field after 2 late scratches. Antecedence coming off a big win was the 4-5 favorite while the other 3 were split with one at 3-1 and the other 2 at 7-2. With all the front speed winning it didn't look like Aquinas had much chance having to come from behind by an early 9 lengths in the 6 1/2 furlong run. At the half she was still last behind by nearly 8 lengths but jockey Javier Matias knew what he was doing and timed it perfectly rolling over the top of all of them for a 1 1/4 length win.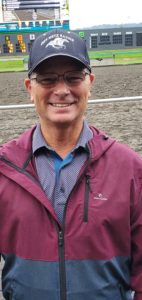 3-1 Sassy Edie with Eddie Martinez was up for 2nd, Antecedence was 3rd and Shez a Grinder with Nicole Disdier ran 4th. Aquinas was a late scratch Friday night and re-entered in this race and is owned by Letha and Steve Haahr and trained by Jeff Metz. The 50-cent Pick 3 of the 3 4-horse races paid a cool $62.05. To box the 3 races with an all to all to all bet it would have cost you $32 and left you with a $30 profit. The 7-2 to 3-1 $1 exacta also paid well $19.30 or 18-1.
6-horses broke from the gates at 5 1/2 furlongs in the 4th race with the public split on who they favored with Lovely Hussar and Jose Zunino the favorite at 2-1 and the longshot Her Royal Duchess with Disdier at 8-1. It was 3-1 Ashley Beautiful with Radke up who was a front runner but never really clear off and it was simply a game effort to dig in and hold off Lovely Hussar. Susy's Heart with Mawing was 3rd and Fully Compliant with Juan Gutierrez capped the super.
Ashley Beautiful ran the 5.5 in 1:04.31 and comes from the Shelly Crowe barn and is owned by Cesar Chaverin. The 50-cent pick paid a whopping $641.30. To box all 4 races and guarantee a win it would have cost you $192 giving you just short of a $450 profit.
In the 3rd race Aquinas came from 9-lengths back otherwise it was all front runners at Emerald on Saturday and the 5th race going a mile was no different. 2-1 favorite Wear the Crown with Radke up led by about 2 lengths all the way around to the top of the stretch then pushed it 5 lengths and blew the field away winning by 10. Wear the Crown ran the 8-furlongs in 1:35.86 and races for Hern/LePley Racing and trained by Tim McCanna. Bailus with Zunino got up for 2nd, Stonus Maximus ran 3rd and Bennyandthechicks was 4th.
Apparently only Javier Matias knows how to come off the pace on Saturday as noted above he was 9 back in the 3rd to come from behind and win, this time he was as far back as 13 in this 1-mile race with 8 starters. Matias was on 10-1 Rocky Tough and at the 3/16ths pole he steadied and was still 5 lengths behind at the top of the stretch but Matias found a gap and roared to the front winning by 1. 7-1 shot Frank's Fix It, who Matias had won on and been riding had Martinez who was out winging on the front and held 2nd. 29-1 and longest shot on the board Big City Bane with Vladimir Jensen also finished strong while 4-1 Pistol Power took 4th.
Rocky Tough ran the mile in 1:35.86 and is owned and trained by James Gilmour. The big odds touched off some big pays with the $1 exacta returning $102.70, the 50-cent trifecta $812.90, the $1 superfecta $9,870.80 or $987 for 10-cents and the 2nd 50-cent Pick 4 paid well again at $590.94
In the finale was only the 3rd horse to come from off the pace but the 6-5 betting choice was just a 1 1/2 length off the lead but You're The Cause with Alex Cruz had to battle with 10-1 Cause I'm Cool and Eddie Martinez down to the final jumps to score the win. 49-1 Indian Rule with Jensen gave the $2 win bettors a thrill leading for most of the 6-furlong race before settling for 3rd. 15-1 Fantastic Dream finished 4th and 9-2 Cowboy Causeway completed the Super Hi-5. You're the Cause then had to sit through an inquiry but it was ruled both You're the Cause and Cause I'm Cool leaned into each other in deep stretch and no change was made.
You're the Cause is owned by Ernest Sherman and trained by Blaine Wright. You're the Cause paid just $4.40 to win but with all the longshots lining up right behind there were some good pays including the 50-cent trifecta returning $124, the 10-cent superfecta $102.62or $1,026.20 for $1. The 50-cent pick 5 paid well at $769.35. The 20-cent Jackpot Pick 6 paid off 5 winners $112.26 and a carry-over of $4,429 and there was no winner in the Super Hi-5 which carries $1,609 over to Sunday. And Indian Rule returned a season high $2 show pay-off of $15.40.
www.elisportsnetwork.com