7/16/2022
Sheffield stifles Dodgers, Lewis homers in Rainiers win
By Alex Benzegala
(Tacoma, WA)
The Tacoma Rainiers made it two in a row against the Oklahoma City Dodgers on Friday night, behind an outstanding pitching performance from starter Justus Sheffield and timely batting to get a 7-3 victory at Cheney Stadium.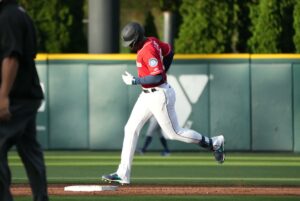 It was not the best of starts for the Rainiers, as OKC took the lead in the top of the first inning when Jason Martin hit a two-run home run, his 19th of the season to give the Dodgers a 2-0 lead. It was all Rainiers from there as Tacoma scored 3 runs in the bottom of the 3rd inning off former Mariners and Rainiers pitcher Sam Gaviglio, when Kyle Lewis hit a 3-run blast to right field to give the Rainiers a 3-2 lead. According to the Rainiers baseball information department, the Lewis homer was his 7th in his last 10 games, including MLB games for the Mariners. It was also his 5th in a Rainiers uniform in 14 games.
Tacoma picked up right where they left off in the 4th, tagging Gaviglio for 3 more runs to take a commanding 6-2 lead after a pair of RBI singles for Joe Odom and Scott Heineman. Alex Blandino added one more in the inning with a sacrifice fly to score Joe Odom.
That was more than enough run support for Sheffield, who was cooking after the first inning, pitching 5 straight scoreless innings before giving up a run in the top of the 7th off a Rainiers error to cut the lead to 6-3. The veteran left-hander pitched a season high 6 and 2/3 innings and struck out 4 to improve to 3-5 on the season.
Gaviglio took the loss for OKC to fall to 6-4. Tacoma improved to 37-50,  while the Dodgers fell to 51-37.
The Rainiers tied the series with OKC at 2-2 and will send Mariners star pitcher George Kirby to the mound in his highly anticipated Tacoma debut on Saturday evening against the Dodgers. First pitch is at 7:05 from Cheney Stadium.
www.elisportsnetwork.com