7/23/2022
MMA: Bellator MMA makes Debut at Emerald Queen Casino
By Alex Benzegala
Tacoma, WA – On a night that the sport of Mixed Martial Arts returned to Western Washington with a major Bellator card, there were many impressive performances and highlight finishes that thrilled  MMA fans and showcased some of the best talents the sport has to offer to the fans of the Pacific Northwest.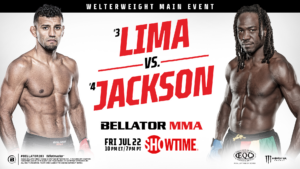 Bellator is widely regarded as the 2nd biggest MMA company behind only the UFC , and Bellator 283 from the Emerald Queen Casino on Friday night featured former Bellator Welterweight champion Douglas Lima, riding a three-fight losing skid, facing rising contender Jason Jackson, winner of five straight fights. The Brazilian Lima is a fan favorite; however it was the Jamaican Jackson who put on a dominant performance, winning a unanimous decision by shutout scores of 50-45, 50-45, 50-45. Jackson used his superior wrestling to take down Lima at will in every round and keep him there, while also mixing in elbows and strikes that wore down Lima.
The win for Jackson secures his spot among the top contenders in the welterweight division and could earn him a title shot soon, while former champion Lima is in a difficult and unfamiliar position, losing his fourth fight in-a-row and his future uncertain.

While the main event was not exactly the most thrilling of fights, there were plenty of fireworks and upsets throughout the night. Arguably the most shocking and thrilling result was in the co-main event, when Tofiq Musayev from Azerbaijan, an unranked lightweight making his Bellator debut, stunned the #1 lightweight contender Sidney Outlaw with a knockout just 27 seconds into the first round. Musayev initially hurt Outlaw with a right hook to the head that wobbled him, and Musayev landed another right hook that sent Outlaw to the floor, forcing the referee to stop the fight.
The devastating knockout should send Musayev directly to title contention, where he could meet another lightweight who shined on Friday, Usman Nurmagomedov.  The native of Dagestan who was ranked 3rd in the Bellator Lightweight standings dismantled Chris Gonzalez in the 1st round, getting a front naked choke submission.
It will be interesting to see who Bellator decides to give the next title shot at lightweight face champion Patricky Pitbull. Federal Way native and Decatur High School graduate Bensen Henderson was the #2 ranked contender entering Friday, but with the statements Musayev and Nurmagomedov made on Friday combined with the Outlaw loss, that spot would appear wide open.
The main card on Friday began with arguably the fight of the night, when undefeated heavyweight prospect Davion Franklin, 5-0 and ranked 8th in the Bellator rankings got upset by Brazilian veteran Marcelo Golm by rear-naked choke with just 24 seconds left in the third and final round. It was a dramatic comeback win for Golm, who was getting grounded and pounded on and was bleeding profusely from the right eye when he turned it around and took advantage of what appeared to be a fatigued Franklin. Many observers, including Eli Sports Network's Alex Benzegala had Franklin winning the fight two rounds to zero, and well on his way to victory before the dramatic stoppage.
The prelims had some good fights as well, most notably the final bout, when undefeated Dalton Rosta earned a spectacular Knockout of fellow undefeated  contender Romero Cotton. The finish was a superb punch combination featuring a leaping superman punch followed by a left hook that knocked Cotton cold. Rosta improved to 7-0 in Bellator and positioned himself for a big fight that could lead to a title shot.
Overall, it was an exciting night of fights for MMA fans in the Northwest, and with the Event Center at the Emerald Queen Casino being sold out for Bellator 283, it could be expected that a major MMA event could return to Washington State sooner, rather than later.
www.elisportsnetwork.com