7/28/22
For the final time this season, the Seattle Mariners opened up a series against the Houston Astros on Thursday night at Minute Maid Park. As has been the case since 2015, the Mariners struggled against Houston as the Astros took game one of the four game set 4-2.
Houston jumped out to an early lead when American League MVP candidate Yordan Alvarez doubled to right. Alex Bregman would step up next and launch his 13th home run of the year into the Crawford Boxes in left to put Houston up 2-0 in the 1st inning.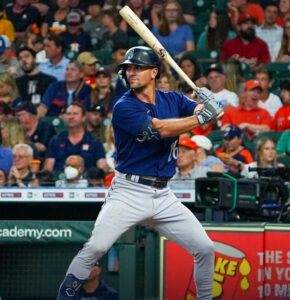 The Mariners would have their best inning in the 3rd off of Houston starter Jose Urquidy. Adam Frazier would reach on a leadoff single and would reach third after back-to-back walks to Dylan Moore and Julio Rodriguez. With the bases loaded and nobody out, Ty France would hit a fairly deep fly ball to center that was caught by Jake Meyers. Frazier would tag and score while Moore moved up to third and Rodriguez to second. Carlos Santana would then ground out to first to score Dylan Moore and even the score at 2-2. Rodriguez was left stranded at third when Eugenio Suarez grounded out to third.
Both Urquidy and Mariner starter Logan Gilbert were money after that as only two runners reached second base from the 3rd through the 6th. Gilbert would come up with a big strikeout of Chas McCormick to finish off six strong innings.
The battle of the bullpens that followed was very intriguing as both bullpens had been strong all year. Andres Munoz would not have his best outing for the Mariners in the 8th. Munoz hit Yuli Gurriel with a 1-2 count to lead off the bottom half of the inning. After a Gurriel stolen base, Alex Bregman would hurt the Mariners once again with an RBI double to left center to put Houston back in front 3-2. Bregman would move to third on a groundout and a wild pitch would allow the Astros' third baseman to score to give Houston some extra breathing room headed to the 9th.
A two out single by J.P. Crawford kept the Mariners in it against Houston closer Ryan Pressly. Pressly would strikeout Cal Raleigh though to end the game and give Houston their fourth consecutive win over the Mariners.
Seattle (54-46) drops to 11 games back of the first place Astros in the AL West. with the win, Houston (65-35) snaps their three game losing streak ahead of the trade deadline. Game two will take place on Friday at 5:10p as two former Cy Young winners square off. Robbie Ray (8-7, 3.90 ERA) looks to figure things out against his kryptonite in Houston while the Astros counter with the ageless Justin Verlander (13-3, 1.86 ERA) who is looking to win his third career Cy Young.
Top Performers
Mariners
Ty France- 1-3, RBI
J.P. Crawford- 2-4, 2B, Excellent Defense
Logan Gilbert (ND)- 6 IP, 5 H, 2 R, 2 ER, 2 BB, 6 SO
Astros
Alex Bregman- 2-4, 2B, HR, 3 RBI, 2 R
Yordan Alvarez- 1-3, 2B, R, BB
Jose Urquidy (ND)- 6.2 IP, 4 H, 2 R, 2 ER, 2 BB, 3 SO