7/29/2022
The Power Rankings are meant to be fun and to focus on the human competition between these awesome athletes. Moreover it's a chance to focus more on each rider and their accomplishments each week. We stress there is nothing "official" about these rankings and we know there will be varying opinions which is also great and we hope it does create more conversations about our sport and our athletes.
Alex Cruz remains the top rider, when you average 2 wins a day it will be tough to get knocked out but he did have to hold off veteran Emerald rider Jose Zunino who probably had his best week ever here in the PNW. Here is our 11th edition of the Emerald Jockey Power Rankings:
#1 Alex Cruz (last ranking #1)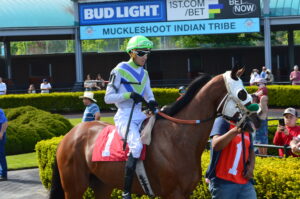 Alex Cruz has his sights set on winning a 3rd straight riding title and he continues to add to his lead each week. He won more than anyone again last week with 6 wins. It could have been more with 6 2nd as well as he went 6-6-2-4 from 23 mounts. A 26% win rate and 78% top 4 finish. Enough to hold onto #1.
#2 Jose Zunino (last ranking #8)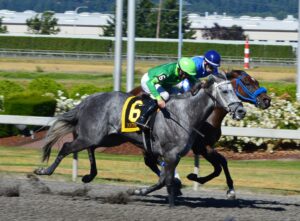 Jose Zunino shoots up our Rankings 6 spots, that's what sweeping both Stakes races will do for you. Zunino who is also limited in rides had 3 wins from 12 chances or a 25% win ratio, the 2nd highest of the week. But Zunino also added 1 2nd, 5 3rds and a 4th so he was highest in top 3 finishes at 75% and 2nd highest top 4 or superfecta placings at 83%.
#3 Juan Gutierrez (last ranking #3)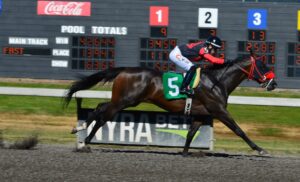 Juan Gutierrez maintained his 3rd spot winning the 2nd most on the week with 5 trips to the winners circle. Gutrierrez finished 5-3-4-4 from 22 rides for a win percenbt of 23%, top 3 55% and top 4 finish of 73%.
#4 Kevin Radke (last ranking #2)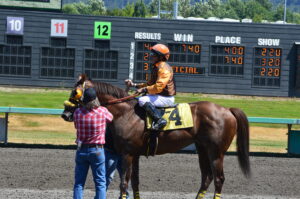 Kevin Radke slipped 2 spots from #2 not because he had a bad week but the others had just a little bit better of a week. Radke remained solid with a record of 4-5-1-4 from 22 chances. Also in his case like Cruz, 1 or 2 of those 2nds become wins and it's a different story. Radke finished winning at 18%, top 3 at 45% and top 4 finishes at 64%.
#5 Leslie Mawing (last ranking #5)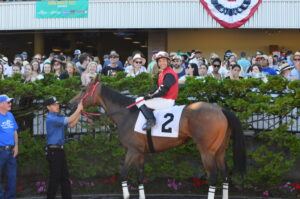 Leslie Mawing barely held onto his #5 ranking and won 2 races. But his win percent was just 9% as he had 22 mounts. He did finish 2-3-3-6 with a 36% top 3 and 64% top 4 finish. But we must point out Mawing gets on a lot of horses at longer odds, he does not shy away from rides with perceived little chance of being successful.
#6 Kevin Orozco (last ranking #4)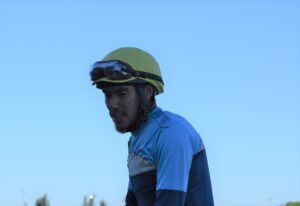 Kevin Orozco dropped a few this week but did not get off to a good start when he had to sit out on Friday night bitten by the new HISA rules. But Orozco bounced back for a solid weekend winning 1 and finishing with the highest top 4 placings percent of all for the week. Orozco was 1-1-3-2 from 8 rides for a 13% win rate, 63% top 3 and 88% superfecta clip.
#7 Javier Matias (last ranking 6)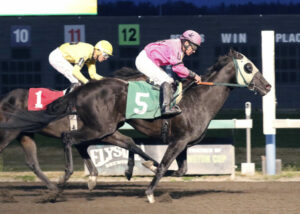 Mr. Last to 1st did it again twice this week. (See our story in Track Notes here) Javier Matias' last 7 wins have been from way back in the pack and he comes rolling over the top late. Matias won the feature races on Friday and Saturday but limited rides and on longer shots limited his production outside of the wins. He finished 2-0-0-1 from 9 mounts a 22% win percent but the same 22% for top 3 and just 33% top 4 finishes. The reason for the slight drop.
#8 Alex Anaya (last ranking not ranked)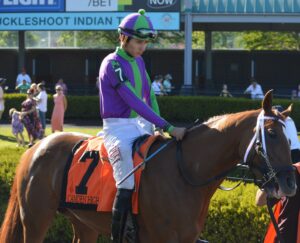 Alex Anaya is back in the Power Rankings after dealing with a couple of health issues over the last few weeks and he posted a strong comeback with a 1-3-1-1 record from 9 starts. That's an 11% win clip, 56% top 3 and 67% top 4. Anaya has also been bitten big time by the 2nd place bug with a season mark of 6-20-7 from 87 rides. His win percent for the season is 7% but his 2nd place percent is 23%.
#9 Eddie Martinez (last ranking 7)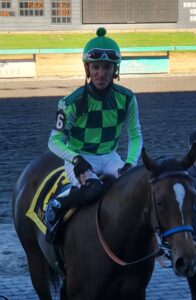 Eddie Martinez grinds away with the opportunities he gets ands hits the board on a regular basis. This week he had just 7 rides and finished 2nd and added 2 3rds and finished with a 43% top 3 percent.
Power Rankings Notes:
As we mentioned in our Track Notes Story on Thursday, Jake Samuels makes his return to racing since October 1, 2020. He has several rides set up for the weekend. Oracio Muro is back this week with a few rides, he did hit the board in his 1st week at Emerald Downs. Vladimir Jensen will have to sit out 2 days for a riding infraction.
There are only 22 races carded this week and that call was made by track President Phil Ziegler who said the reason was due to the excessive heat. He said he understands the frustration of not having more races this week but he has to balance the health and safety of everyone from the grooms and horses to ticket sellers and the fans. Ziegler stated there was a chance full cards could have been scratched as they were last year due to extreme heat and air quality. He said that is the scenario we want to avoid is a total cancellation. With cooler temperatures in the long range forecast Ziegler was confident race cards will return to normal.
www.elisportsnetwork.com