Sounders Road Struggle Continue
7/29/2022
By Alex Benzegala
(Los Angeles, CA) The Seattle Sounders lost their 3rd straight road match on Friday as they aimed to get back into a Western Conference playoff position with a victory over MLS leading LAFC, but instead Seattle dug a deeper hole in their quest for their 15th straight playoff appearance.  LAFC pulled off a 2-1 comeback win at Banc of California Stadium in Los Angeles to win their 4th straight match.
Seattle got the start they needed by striking first in the 14th minute when Sounders Midfielder Christian Roldan found some space on the left and delivered a cross that LAFC defender Jesús Murrillo knocked into the back of his own goal to give Seattle a 1-0 lead.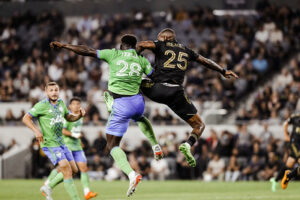 LAFC responded by taking over the match by applying pressure on the Sounders, in the 26th minute former Mexican International star Carlos Vela appeared to score a wonder-goal to tie the match, but it was ruled that Vela had touched the ball with his arm and the goal was disallowed.
The Sounders looked like they would take a 2-0 lead in the 32nd minute when Ecuadorian International Javier Arriaga was wide open on a corner kick and missed a shot from point-blank range.
The missed opportunity proved costly because LAFC continued to apply the heat and finally broke through in the 35th on a long-range  left footed strike from the left side from forward Kwadwu Opoku, and the Ghanaian known as Mahala tied it to make it 1-1.
LAFC kept applying pressure on Stefan Frei, forcing the veteran to make some key saves, including a critical stop to rob Cristian Arrango in the 40th to keep the score tied.
However, it was Vela who got his first goal in nearly two months, who again handled a cross, this time right in front of Frei and just got it past the goalkeeper to make it 2-1 LAFC in the 43th.
It was LAFC who dominated the latter stages of the 1st half, and Seattle adjusted in the 2nd half to make the match more even. Seattle started to alleviate some of the high pressure Los Angeles was applying and had some chances to tie the match, particularly on corner kicks, but the Sounders ended the match with zero shots on target in the 2-1 defeat.
The match for Seattle was an opportunity to get their first victory at LAFC since 2019, but instead they failed to get back into a Western Conference playoff position. With their third straight away loss, Seattle fell to 9-2-11 with 29 points and 9th in the Western Conference, one point and two spots away from the final playoff spot.
Seattle will head back home to Lumen Field for a pivotal match against FC Dallas, a team that is currently ahead of the Sounders in the Western Conference and in a playoff spot. Match time is at 7 pm on Tuesday.
www.elisportsnetwork.com