7/29/22
A lot happened in the last 24 hours for the Seattle Mariners. Some things were much better than others. The Mariners made a deal to acquire the best starting pitcher on the market Luis Castillo from the Cincinnati Reds in exchange for four top prospects. It was the distraction everyone needed from the game in which the Mariners dropped another one to the Houston Astros 11-1.
The Mariners only run came on a Julio Rodriguez RBI double in the 8th that made the score 10-1. Robbie Ray continued his struggles against the Astros. In three starts against Houston this season, the Cy Young winner has pitched 10.2 innings while allowing 23 hits, 14 runs, 7 walks and only 7 strikeouts. They have proven to be Ray's kryptonite in 2022.
On offense, the Mariners struggled against Houston pitching again as Justin Verlander was flat out dominant. The Cy Young contender has held a grudge against Seattle since his worst start of the season came against the Mariners back in May when he gave up six runs in six innings. Since then in his three starts against Seattle, Verlander has gone 21.2 innings, allowed 15 hits, but only three runs and five walks compared to 26 strikeouts.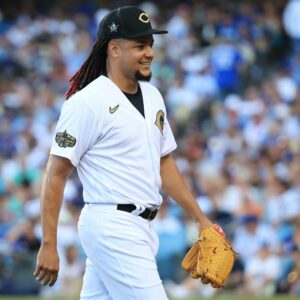 Enough of the game though. The big news came late when the trade for Luis Castillo was announced. There have been mixed reactions for the price the Mariners had to pay for the Cincinnati ace. The M's sent three of their top five prospects to the Reds including top prospect Noelvi Marte, as well as fellow shortstop and the number two prospect Edwin Arroyo. Pitchers Levi Stoudt and Andrew Moore completed the package.
Now, Jerry Dipoto has been criticized for not doing enough and going and getting the big names. The Mariners were going to have to pay for a bonafide ace and two-time All-Star who is under club control through the end of 2023. Plus, they were in a bidding war with teams like the Yankees and Dodgers and even division rival Rangers to acquire Castillo. They had to go big to                                                                             compete with contenders and payrolls like that.
Of course, this trade very likely takes the Mariners out of the Juan Soto sweepstakes. But they don't need to make a massive move to get another bat. Mitch Haniger should be returning very shortly, and he alone should provide a spark to a lineup that has struggled since the All-Star break. That is a very big in-house solution to the Mariners biggest issue right now.
While Seattle looks to have a solid rotation already, young guys like Logan Gilbert and George Kirby are going to throw way more innings than they ever have in their professional careers. Whether they decide to shift to a six-man rotation or move Kirby into a long relief role, the extra rest will benefit the team in the long run.
While Luis Castillo might not be a massive name, he has vicious stuff. This season Castillo is 4-4 with a 2.86 ERA in 85 innings. He has 90 strikeouts compared to 28 walks and after missing the entire month of April, has gotten better each month with July being his best month so far. In July, Castillo has pitched 28 innings, allowing 18 hits, just six runs, with seven walks and 30 strikeouts.
He has a fastball that lives in the upper 90s and a devastating changeup and can mix in a slider as well. If he is on top of his game, Castillo is one of the best pitchers in the sport. In four starts against American League teams this season (Blue Jays, Red Sox, Rays, Yankees) Castillo has pitched 26 innings, allowing 14 hits, just four runs, eight walks and 31 strikeouts. That is what he is doing against playoff caliber teams.
Now Luis Castillo is expected to make his Mariner debut early this week in the Bronx. Whether you like the trade or think the Mariners overspent, we can all see Jerry Dipoto is going for it. Twenty years have passed since the Mariners last made the playoffs. With the acquisition of Castillo, the front office is doing everything they can to avoid that number climbing to 21.
Top Performers
Mariners
Julio Rodriguez- 2-4, 2B, RBI
Jesse Winker- 1-3, 2B, R
Robbie Ray (L, 8-8)- 2.2 IP, 5 H, 4 R, 4 ER, 4 BB, 3 SO
Astros
Alex Bregman- 2-4, 2B, 3 RBI, R, BB
Yordan Alvarez- 3-3, HR, 2 RBI, 2 R, 2 BB
Aledmys Diaz- 3-5, 2 HR, 2 RBI, 2 R
Justin Verlander- 7.2 IP, 5 H, 1 R, 1 ER, 1 BB, 5 SO
Updates
The Mariners remain in the 2nd Wild Card spot as they are half a game ahead of Tampa Bay and 1.5 behind Toronto.
Luis Torrens became the first position player to pitch for the Mariners in 2022. No that is not a good thing.
Former Reds Jesse Winker and Eugenio Suarez talked to Luis Castillo after the game and said they were very excited to have him join the team and Castillo himself was excited to compete. The three were teammates in Cincinnati from 2017-2021.