7/30/22
After losing five straight games to the first place Houston Astros, the Seattle Mariners were looking to try to turn around their misfortune and prove that they can hang with the Astros. Thanks to an unlikely hero and a late rally, the Mariners managed to snap their losing streak to their division rivals as the M's got the 5-4 win on Saturday.
Seattle got off to a fast start in the third game of their four-game series in Houston. After scoring just three runs in the first two games combined, the Mariners tagged Houston starter Framber Valdez for three runs in the first inning.
Ty France was the first base runner of the game when he was hit by a pitch for the 17th time this season. Kyle Lewis would help try to make the Astros pay with a single to center. After a wild pitch, the Mariners had a golden opportunity with runners on second and third with just one out. Eugenio Suarez would beat the shift with a groundball into right center field to score France and give the Mariners a 1-0 lead.

They weren't done there. J.P. Crawford would hit a grounder to first and the Astros had an opportunity at a double play to end the inning. Crawford would hustle down the line though to beat out the throw back to first to allow Kyle Lewis to score and make it 2-0 Seattle. Dylan Moore would get hit in the foot to give Adam Frazier an RBI opportunity with runners on first and second. Frazier would cash in with a base hit to make it 3-0 Mariners.
Chris Flexen was in a very nice groove through four innings without allowing a hit. That changed with the leadoff man in the bottom of the 5th. Aldemys Diaz hit his third home run in two days and his nineth of the season to get the Astros on the board making it 3-1. Flexen would get in more trouble later in the inning with runners on first and second with one out but a flyout and groundout helped end the inning.
Flexen would see his day come to an end in the 6th with a runner on second and one out. Matt Festa took over and got Jeremy Pena to flyout for a big out number two. Aledmys Diaz would strike again however with an RBI single to right to cut the Mariner lead to 3-2.
It would get worse in the 7th. A leadoff double by Martin Maldonado was followed by an RBI double by Jose Altuve to tie the game at 3-3. Yuli Gurriel would then single to center to score Altuve and give the Astros a 4-3 lead.
The 8th would be eventful for the Mariners. Julio Rodriguez would strikeout swinging but also got hit in the wrist in a scary moment for the Mariners. He would leave the game in the 9th. After a single by Ty France, a fielders choice by Kyle Lewis, and a walk by Eugenio Suarez, J.P. Crawford would step up with runners on first and second with two outs. Crawford would hit s slow roller to first to end the Mariner threat.
Headed into the 9th, the Mariners' bench was thin. With Julio Rodriguez out of the game with a wrist injury and Dylan Moore leaving with back spasms, it was all hands on deck. Jesse Winker didn't need to take the bat off his shoulder as he drew a four pitch walk and Adam Frazier followed with a line drive off the glove of Jose Altuve for a base hit. Sam Haggerty would strikeout and pinch-hitter Cal Raleigh would groundout to first for the second out.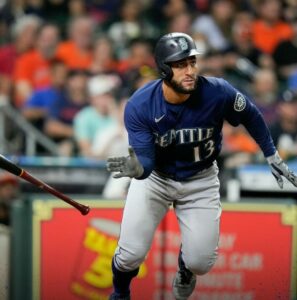 With runners on second and third and two outs, former Astro Abraham Toro entered the game for the injured Rodriguez. Of course everyone remembers the initial reaction to Toro being traded to the Mariners and no it was not good. A rough 2022 campaign for Toro wasn't making things better, but he would be the guy in this situation. Toro ripped the first pitch into right field for a two-run single and give the Mariners a 5-4 lead.
With a defense resembling the little league mentality of just throwing players in positions, Paul Sewald looked to finish the job against the top of the Houston order in the 9th. Jose Altuve would line out to Frazier in center, Yuli Gurriel would popup to Crawford at shortstop, and MVP candidate Yordan Alvarez would groundout to Ty France at second to cap off a comeback win for                                                                          the Mariners 5-4.
It was one of the gutsiest wins this season for Seattle. After having the early lead and watching it slip away while also losing a couple players to injury including your franchise cornerstone, it seemed the air was taken out of the team. But they fought. They did what the Mariners have done for almost two seasons now and pulled a rabbit out of their hat to get a win and some confidence back against Houston. It could be a win that boosts them to go on a run and end the drought for good. Only time will tell.
Seattle (55-47) now sit 11 games back of Houston (66-36) in the AL West. The Mariners maintain the second Wild Card spot 1.5 games behind Toronto for the top spot and half a game ahead of the third Wild Card holder in Tampa Bay. Cleveland remains the biggest threat to move into a Wild Card but sit 2.5 games behind Tampa Bay.
The Mariners and Astros will play for the final time this season on Sunday when Seattle sends George Kirby (2-3, 3.50 ERA) to the mound in hopes of earning a split in the series. The Astros will try to take three of four as they counter with veteran Jake Odorizzi (4-3, 4.25 ERA).
Top Performers
Mariners
Abraham Toro- 1-1, 2 RBI
Adam Frazier- 2-4, RBI, R
Chris Flexen (ND)- 5.1, 3 H, 2 R, 2 ER, 4 BB, 1 SO
Astros
Aledmys Diaz- 3-3, HR, 2 RBI, R, BB
Jose Altuve- 1-4, 2B, RBI, R, BB
Framber Valdez (ND)- 7 IP, 5 H, 3 R, 3 ER, 1 BB, 7 SO
Updates
The x-rays on Julio Rodriguez's wrist came back negative. Julio is not expected to play Sunday but the Mariners avoid disaster and a larger injury.
Against his former team, Abraham Toro is now hitting .277 with four home runs, five doubles, and 20 RBI. That is the most runs batted in he has in his career against any team.
GM Jerry Dipoto says the Mariners might still be interested in a bullpen arm and maybe some outfield depth but also notes they might not look to add a bat with the return of Mitch Haniger on the horizon.
Speaking of Haniger, he went 0-2 with a walk and was hit by a pitch in the Rainiers 5-4 win over the El Paso Chihuahuas on Saturday.
The Mariners placed reliever Tommy Milone on the 15-day IL with a cervical muscle strain. Brennan Bernardino was recalled to join the club.