7/31/22
The Seattle Mariners just couldn't catch a break on Sunday in the season finale against the Houston Astros. After placing both Julio Rodriguez and Dylan Moore on the 10-day IL and with Ty France out of the lineup with a wrist injury, the team fought hard but eventually fell to the Houston Astros in 10 innings by a score off 3-2. in the last regular season meeting between the teams in 2022.
The early morning news of the loss of Julio and Moore kind of sucked the energy out of the team and fans. Jack Larsen was called up from Double A Arkansas to get the start in right field mainly for the fact he could get to the game on time. Jarred Kelenic was also on his way from Tacoma to Houston as he was called up as well.
It was a really rough start for the Mariners as they couldn't get anything going against Astros starter Jake Odorizzi. Odorizzi was making his third start of the season against Seattle and once again he was dominant. After Seattle hit Odorizzi around in his first start against them back in April, he figured it out and in his next two starts, including Sunday, he went 13.2 innings while allowing just six hits, no runs, three walks, and 11 strikeouts with a season high eight occurring on Sunday.
George Kirby did not get off to a good start. He hit Jose Altuve with the first pitch in which some people believe was in retaliation for Julio Rodriguez being hit on Saturday. Regardless of if it was or wasn't, Kirby did not have good control in the 1st. With runners on first and third, a double steal would allow Altuve to score to give Houston a 1-0 lead. A Kyle Tucker RBI single with two outs extended the lead to 2-0.
The score would stay the same until the 8th inning. There were a combined five hits from the 2nd through the 7th inning. George Kirby really settled down and gave the Mariners a solid four innings and Penn Murfee was great after that as well. Jake Odorizzi went seven innings and allowed just two hits and two walks with eight strikeouts.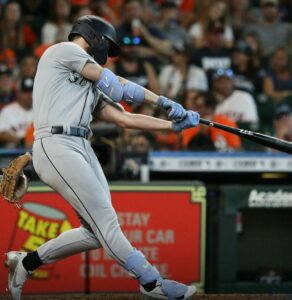 Houston would bring in one of their elite relievers in Ryne Stanek to pitch the 8th. After getting Abraham Toro and Jarred Kelenic to pop out for a quick two outs, Stanek once again looked to throw a dominant inning of work. Adam Frazier would reach base for the third time when he drew a two out walk. Jesse Winker then would jump all over a first pitch fastball and launch his 9th home run of the season to tie the game at 2-2.
Paul Sewald would come in and pitch an easy bottom of the 8th to keep things tied. Both teams would have a runner reach in the 9th but Ryan Pressly for the Astros and Erik Swanson for the Mariners would throw a scoreless inning to send the game to extras.
With the extra innings rule of a runner starting the inning at second base, it doesn't take much to get at least a run in. It proved to be tough for the Mariners. Toro popped up and then Kelenic and Frazier would strike out for a quick inning for Hector Neris.
The Mariners bullpen would really be thinned out come extras so they had no choice but to put in Brennan Bernardino to make his major league debut with the winning run on second and the top of the Astros order due up. Seattle would intentionally walk Jose Altuve. Yuli Gurriel would then line out to Adam Frazier in right to put the winning run on third with Yordan Alvarez coming to the plate. Alvarez would once again come up big with a walk off RBI single to give Houston the 3-2 win.
Seattle (55-48) will now look to piece together the roster with the abundance of injuries the team is dealing with right now as they head to the Bronx for a three-game set with the best team in baseball in the New York Yankees. The Mariners will start Marco Gonzales (6-10, 3.66 ERA) in game one as the Yankees hand the ball to Domingo German (0-1, 8.22 ERA) in the opener. The Astros (67-36) will welcome Boston to town as Luis Garcia (8-6, 3.81 ERA) takes on Nathan Eovaldi (4-3, 4.43 ERA) in game one.
Top Performers
Mariners
Jesse Winker- 1-4, HR, 2 RBI, R
Adam Frazier- 2-4, R, BB
George Kirby (ND)- 4 IP, 3 H, 2 R, 2 ER, 1 BB, 7 SO
Astros
Jake Odorizzi (ND)- 7 IP, 2 H, 0 R, 0 ER, 2 BB, 8 SO
Jose Altuve- 2-3, R, BB, SB
Yordan Alvarez- 1-5, RBI, Walk-off
Updates
Julio Rodriguez and Dylan Moore were placed on the 10-day IL. Jack Larsen was added to the 40-man roster and called up. Jarred Kelenic was also called up from Tacoma. The Mariners designated Marcus Wilson for assignment to make room for Larsen on the 40-man roster.
Seattle sent Taylor Trammell to Triple-A Tacoma on a rehab assignment.
The Mariners also traded Anthony Misiewicz to the Kansas City Royals for cash.
Mitch Haniger hit his second home run with the Rainiers on his rehab assignment as part of a 1-2 day with 3 RBI and two walks. Haniger has a chance of returning to the Mariners on Friday to begin the homestand.
The Mariners finish the season series with Houston with a record of 7-12.