8/1/22
We all knew this stretch to end July and start August was going to be extremely tough to watch for the Mariners. That was just the case Monday night when they started a three-game set in the Bronx against the best team in baseball, the New York Yankees. The long ball and a lack of hitting with runners on all added up to Seattle dropping the opener 7-2.
It didn't take long for the Yankees to get to Mariners starter Marco Gonzales. After a threat in the first inning for the Mariners, the Yankees countered quickly. DJ LeMahieu led off with a single followed by Aaron Judge just missing a home run and settling for a double. The third batter of the game for New York would be Anthony Rizzo and he would hit a long three run home run for his 26th of the season and the Yankees already had a 3-0 lead.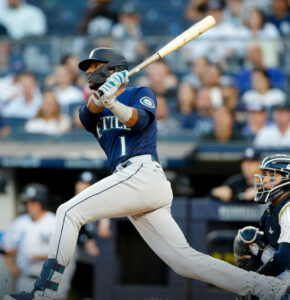 The Mariners would get one of those back almost immediately. Kyle Lewis would lead off the 2nd and line a home run into left for his third of the season to make it 3-1. It was Lewis' first home run against a team other than the Houston Astros.
The bottom of the 2nd would also be unkind to Gonzales. A two out walk to LeMahieu brought up the MVP frontrunner in the American League in Aaron Judge. Judge just missed a homer in his first at bat but would not miss here. He launched his MLB leading 43rd home run of the season and the Yankees saw their lead blossom to 5-1.
Seattle tried to make their own two out noise in the 3rd. After a quick two outs, Eugenio Suarez would put together a nice at bat and drew a walk. Carlos Santana would follow with his 1,500th career base hit with a line drive to center and then J.P. Crawford would draw a walk to load the bases. Kyle Lewis would battle but ultimately hit a groundball to short to help Domingo German get out of the jam.
The deficit would shrink in the 4th for the M's. A two out double for Abraham Toro turned things over to the top of the order. Adam Frazier, who hit .314 in the month of July, started August off right with a base hit to right to score Toro and cut the Yankee lead to 5-2.
Again, it was a quick counter for the Yankees. A breakout All-Star, Jose Trevino, who is a great defensive catcher, showed he could swing the bat too. Trevino would launch his eighth home run of the season and the lead was back up to four for the Yankees at 6-2.
The Mariners would not have another baserunner reach second for the rest of the game. Domingo German, who had struggled this season, was able to pitch around trouble consistently early and then gave way to a very good Yankee bullpen. They would slam the door on the Mariners and after Trevino hit his second home run of the game and 9th of the season, the Yankees got the 7-2 win.
The Mariners (55-49) continue to struggle to get the bats going since the All-Star break as they are averaging just three runs per game since the Midsummer Classic. The Yankees (70-34) are averaging over five runs per game since the break but offense will be hard to come by for both teams in game two of the series. Seattle will send second year breakout star Logan Gilbert (10-4, 2.78 ERA) to the mound to face the Yankees Jameson Taillon (10-2, 3.72 ERA) in a fantastic pitching matchup.
Top Performers
Mariners
Kyle Lewis- 1-4, HR, RBI, R
Adam Frazier- 1-4, RBI
Marco Gonzales (L, 6-11)- 5.1 IP, 9 H, 6 R, 6 ER, 3 BB, 5 SO
Yankees
Jose Trevino- 2-4, 2 HR, 2 RBI, 2 R
Aaron Judge- 2-4, 2B, HR, 2 RBI, 2 R
Anthony Rizzo- 1-4, HR, 3 RBI, R
Domingo German (W, 1-1)- 5 IP, 6 H, 2 R, 2 ER, 3 BB, 1 SO
Roster Moves
Claim OF Travis Jankowski from the New York Mets
Sign free agent SS Jonathan Villar to a minor league contract
Activate both Luis Castillo and Travis Jankowski. Option Brennan Bernardino and Jack Larsen to Triple-A Tacoma in corresponding moves.
DFA reliever Danny Young. Young had an ERA of 7.36 in 3.2 IP for Seattle this season.
Ken Giles has been sent to High-A Everett on a rehab assignment
The MLB Trade Deadline is on Tuesday at 3p PST. Jerry Dipoto could make a late move but it wouldn't be a big one if a deal gets done.