8/2/2022
The final week of July was 3 days of 90+ degrees and  it was Premio Esmeralda Weekend, a celebration the Hispanic and Latino workers and fans. The weekend celebration included the famous dancing horses, mariachi music and dancers.
The Dancing Horses
On Sunday a special surprise guest sang the National Anthem, Country Music and Television star Trace Adkins did the honors. Adkins was scheduled to perform a concert at the Muckleshoot Casino Sunday night and was planning on spending the day at the races so when asked to sing by Emerald Downs President Phil Ziegler, he agreed.
Trace Adkins clip of National Anthem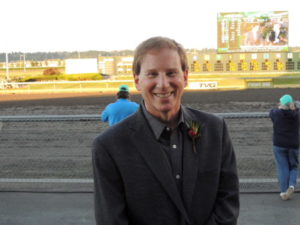 The race days were limited to 7 races each day due to the excessive heat. Ziegler says he know many horsemen were not happy with the limited number of races but he stood by his decision stating not only are the horses, jockeys, gate crew and everyone else who handles the horses but he had to consider the track's other employees as well along of course with the fans. The weather forecast looks like the regular number of races will be carded next week.
There were no stakes races this week but returns next week as August is a huge month for stakes with 2 on August 7, 4 stakes highlighted by the $150k Longacres Mile on the 14th. There are 4 stakes on the 28th including 2 quarterhorse stakes. The final 3 stakes will be on closing day, September 18 capped off with the $70,000 Gottstein.
Whose that Announcer? Whose that Handicapper?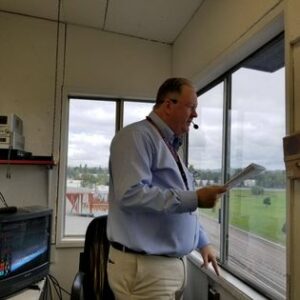 There were a couple of familiar faces at the track this week, one the former track announcer Tom Harris and then many know who Phil Ziegler is but he was sitting in as the handicapper on Saturdays card. Harris was filling in for Bill Downes who took a week off to go back to his hometown and re-energize for the stretch run of the 2022 season. Downes is a native of Pittsburgh and went home to visit his family and dogs for the week. 
Harris took over full time as the 3rd announcer in track history when Matt Dinerman left to be the full time announcer at Golden Gate in San Francisco. Harris stepped down after last season to spend more time at his home with family in Spokane but remains available to jump in like this week. Harris was also here during the Corgi races co-hosting the recorded event for ESPN.
Joe Withee everyone knows had a commitment on Saturday so Track President Phil Ziegler filled in as the pre-race host. Withee was back for Sunday's races with his regular partner Jon Lindley and Downes will be back this week after a mid-season breather.
Track Notes
Jockeys
It was a tough week for leading rider Alex Cruz. Cruz got food poisoning and spent his time bouncing back and forth to the hospital but thought he could ride on Friday and did get in 6 rides including a win on a 39-1 shot. Cruz then went back to the hospital on Saturday and did not ride. Cruz was back on Sunday and got a front running win in the finale.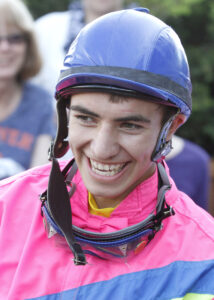 We talked with Cruz and he said he wasn't sure where he may have gotten the food poisoning but he also tested negative for Covid so that was the good news. Cruz admitted he felt tired and rundown on Sunday and had lost about 10 pounds saying he weighed in at 109.
We also asked him about winning in a 39-1 shot and he said he couldn't remember when the last time was that he won on a huge longshot but had to be at least 5 years ago.
There was a new/old face at the track this past week when Jake Samuels put the silks on for the first time since October 1st, 2020. Samuels is married to jockey Kassie Guglielmino who is re-habbing a broken leg from a spill earlier this season. Samuels had several rides on all 3 days and did get a win with Enchanting Way blowing the doors off the field with a 12+ length win. We caught up with Jake and talked with him what he has been doing for the past 22-months and why the comeback now.
Catching Up with Jake Samuels
For the week 9 different riders got to the winners circle and were led by Juan Gutierrez who scored 5 wins including the feature race on Saturday. 3 riders had 3 wins over the 21 races contested and they were Eddie Martinez, Kevin Radke and Leslie Mawing with Martinez and Radke each winning a feature race.
Scoring doubles were Alex Anaya and Alex Cruz while Jake Samuels and Clayan Millwood each had 1 win both their first wins of the year For Millwood shifted his tack from Gulfstream Park up to Emerald Downs on July 17. It took him 11 tries to get his 1st win but he got his picture taken after race 1 on Friday night aboard Hunters Ghost. We'll have more on jockeys with the 12th Power Rankings  later this week.
Top 10 Jockey Standings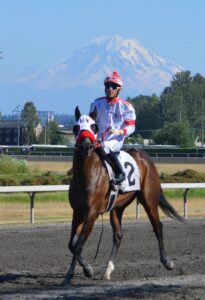 1 Alex Cruz             225  58  45  33
2 Kevin Radke        237  48  41  41
3 Juan Gutierrez     207  47  39  38
4 Leslie Mawing     159  20  25  26
5 Kevin Orozco       142  17  22  23
5 Javier Matias        119  17  13  15
7 Jose Zunino          122  15  20  30
8 Eddie Martinez       92  10  15  15
9 Alex Anaya             95    8   20   7
10 Kassie Gugielmino 53   7   7    8
Trainers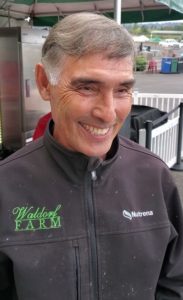 Two trainers tripled this including defending champion Joe Toye who broke out of his 2nd and 3rd"itis". Coming in to the week Toye was 11-12-12, certainly a very solid season but he picked up 3 wins from 5 starts to push his overall record to 14-12-12, a 22% win rate and 59% top 3.
Rigoberto Velasquez is putting in his usual 2nd half push and also went 3 for 5 this week. Velasquez's all 7 wins have come in the month of July including his 1st stakes win with Miss Dynamic in the Angie C. Velasquez is 7-6-9 from 48 starts a 15% win clip and 46% top 3 finish.
There was one other multiple winner and that was Debbie Peery who was 2 for 2. Peery also won the feature race on Sunday with Smoken Shadow. Peery is now 5-4-2 from 21 starters a 24% win percent and a top 3 rate of 52%.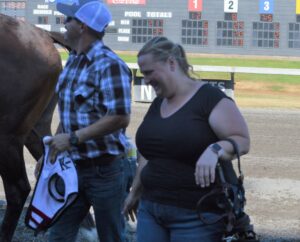 Other winners included Robbie Baze, Tena Birdwell, Candi Cryderman, Shelly Crowe, David Martinez, Jeff Metz, Jose Navarro, Vince Gibson, Frank Lucarelli, Joe Ortega, Sergio Perez, Jose Puentas and Blaine Wright.
Jose Puentas and Joe Ortega both got their 1st wins of the season. Ortega joined Sergio Perez as the only single owner/trainer combinations to win a race this week and was Perez's 2nd win of the year.
Leading trainer Jorge Rosales was shut out for the first time in several weeks but his competition made limited ground on his lead with Gibson, Lucarelli and Wright all getting just 1 win. Cryderman got one and remained  in the chase as did Toye with his big 3 win week but trailing by 7 he is going to have to have several more big weeks to make a run at defending his title.
Top 10 Trainer Standings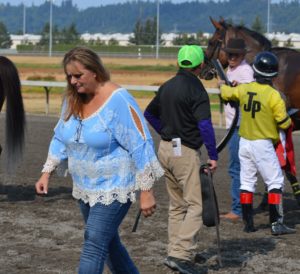 1 Jorge Rosales              57  21  14   8
2 Blaine Wright              75  18  14  14
2 Vince Gibson               80  18  13   9
4 Frank Lucarelli            106  17  17  19
5 Candi Cryderman         78  15  22  14
6 Joe Toye                       64  14  12  12
7 Tom Wenzel                 49  12   9   10
8 Jeff Metz                      78  11  14   8
9 Rigoberto Velasquez   48   7    6    9
10 **7 tied with 6 wins
Owners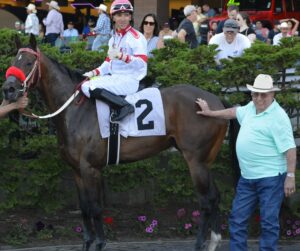 Leading owner John Parker picked up a win and maintains a huge lead in the owner standings but his personal goal of 30 wins is getting tougher to reach each week. Parker is now halfway there but 32 race days have been completed and Parker will have to pick up the pace to get 15 wins in the final 20 days.
Meantime 3 owners picked up a pair of wins. Kenneth and Vickie Jo Elison won the finale on Friday with Cowboy Causeway and then the feature race on Sunday with Smoken Shadow. Paddock Partners Ltd won 2 on Friday taking the 2nd with Le Tub and 4th race with Red Noon Rising. Meantime, Lisa Baze was part of 2 wins on Saturday sharing a win with Jerry Carmody when Cody's Choice finished 1st and then in the 4th race Enchanting Way won easily and Baze shared the win with Luis Torres and Rancho Viejo.
Chad and Josh got a win and are now tied with Paddock Partners for 2nd with 7 in the owners win standings behind Parker's 15. The Purple Rose Ranch is 1 behind all alone in 4th with 6 wins.
Top 5 Owner Standings by Wins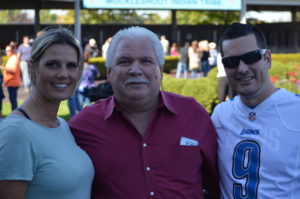 1 John Parker                 70  15  19  12
2 Chad and Josh            33   7    2     5
2 Paddock Partners LTD 24   7    3     4
4 Purple Rose Ranch      26   6    4     6
5 Lusk Racing                 32   5    7     6
5 Remmah Racing Inc     15    5   3     3
_____________________________________________________________________________
Sunday Muckleshoot Casino Feature Race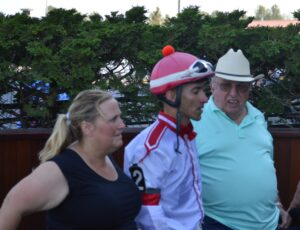 Smoken Shadow smoked out of the gate and quickly grabbed the lead with Eddie Martinez in the 6 1/2 furlong run. Smoken Shadow set fractions of 22.55 and 44.88 but Martinez controlled the pace. As they turned for the home stretch Martinez let out Smoken Shadow and the 3-year-old gelding responded and would go on to win by an easy 3 1/4 lengths.
Betting choice Naval Escort sat off the pace with Alex Cruz up and closed well to grab 2nd by a neck over Harbor Outlaw with Jake Samuels who held off Ididntseethatcomin with Juan Gutierrez by a neck for 3rd.
Smoken Shadow ran the 6 1/2 in 1:15.23 and paid $12.20 and capped off a season high Pick 3 that paid $1,078.45. Smoken Shadow is owned by Kenneth and Vicki Jo Elison and trained by Debbie Peery. The Elison/Peery/Martinez connection was 2 for 2 this weekend also winning on Friday night with Cowboy Causeway. Smoken Shadow is now 2-1-1 from 6 starts and boosted his bankroll to nearly $36,000.
Stretch Run of Smoken Shadow's Win
Winner's Circle Festivities with Joe Withee and the Winning Connections
Other Sunday Races Re-Cap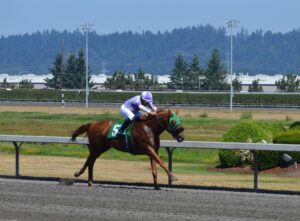 After a short battle on the front end Clubhouse Wave took control with Kevin Radke aboard and stretch their lead to 3 lengths by the top of the stretch and more than doubled it at the finish. Clubhouse Wave is owned by Jose Puentes and Maria Valenzuela and trained by Puentas. She Said My Way with Gutierrez ran 2nd, First Time Player with Jose Zunino ran 3rd and finishing the superfecta Coastal Queen with Samuels.
In the 1st of 2 2-year-old races on the day Gold Rush Junior dominated the 5-furlong dash. Juan Gutierrez started off just behind Lloyds Logic and Martinez but had a 1 1/2 length lead at the top of the stretch and extended that lead to 4 1/4 at the finish line in a time of 57.57. Lloyds Logic held on for 2nd by a head.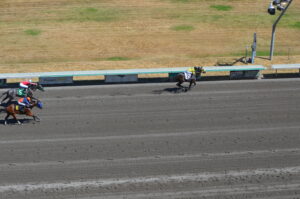 Contejas with Orozco up just missed 2nd taking 3rd and wrapping up the superfecta was Wart with Radke. Gold Rush Junior is owned by John Parker and trained by Candi Cryderman and is a Washington bred by Gold Rush Dancer, out of Among the Stars by Harbor the Gold.
The first 2 races front speed was the key, in the 3rd Napoletano took to the back of the pack letting the other 5 set the tone. Odds-on choice Poverty Bay with Gutierrez went to the lead as expected and built a 2 length lead at the half and maintained that lead to the top of the stretch. Leslie Mawing on Nepoletano had been urging the 3-year-old gelding getting him into the race and had moved into 2nd at the top of the stretch then angled out and ran down Poverty Bay to win by 3/4s. Cause I'm Cool ran 3rd with Martinez by a neck over Hefty Garcia and Radke. Napoletano went off at 13-1 and paid $28.20 on the $2 win. Luigi Di Pietro was the winning owner and the trainer was Rigoberto Velasquez.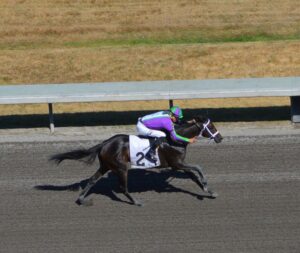 The big pays kept coming on Sunday when 25-1 Ila View Too and Alex Anaya stunned the field with a strong stretch run blowing past the pace setter Chippewa with Cruz to win by 3 1/2 lengths. Zoe's Pride with Radke closed well but just missed 2nd by a neck while Out of Stars with Zunino rolled in 4th setting up a massive 10-cent superfecta. Ila View Too paid $52.80 on the $2 win and the 10-cent superfecta returned $2,180 or $21,180 on the $1 pay. Ila View Too is owned by Swag Stables and Kevin Erickson and trained by David Martinez.
In the 5th race a perfect stalking trip set up the win for Tiz a Macho Girl with Kevin Radke. Nana's Angels and Gutierrez went right to the lead and built a 1 length lead  turning for home. Tia a Macho Girl was 3rd nearly but Radke moved into position to 2nd as the pair turned this into a match race. Tiz a Macho Girl would not be denied and pulled away for the 1 1/2 length win. Nana's Angels was 2nd by 5+ lengths Gold Coast Girl with Matias was 3rd and Toe Dancer with Mawing took 4th. Tiz a Macho Girl is trained by Jeff Metz and owned by Saratoga West and Letha and Steve Haahr.
Iowa Kid was the betting favorite and lone front speed in the finale and leading rider Alex Cruz knew what to do leading from gate to wire never really being challenged. J. C. Express and Radke ran a good 2nd while Blessed Brother with Mawing ran on for 3rd, Bubbles is on Fire and Zunino 4th and completing the Super Hi 5 was Sweetwater Clyde with Martinez. Iowa Kid ran the 6-furlongs in 1:10.62 and is owned and trained by Joe Ortega.
The Betting Window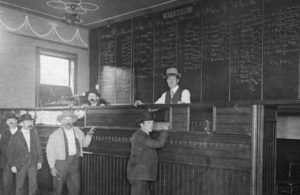 Sunday was a day filled with big pays in all the bets beginning in the 3rd race when 13-1 Napoletano won and paid $28.20 on the $2 win. That capped off a 50-cent Pick 3 that paid $142.25. The 4th race followed up with a 25-1 shot in Ila View Too cruising to the wind and paying $52.80 on the $2 win, $19 place and $13.40 for the show or a whopping $85.20 on the $2 Combo.
The longshot capped a 50-cent Pick 4 that paid $1,999.50. The $1 Daily Double was $496.30, the 50-cent Pick 3 was good for $383. But the other bets also paid well with a 4-1 running 2nd and 8-1 3rd and a 29-1 shot 4th. The  $1exacta paid $159, the 50-cent trifecta $485.40 and the 10-cent superfecta a massive $2,180 for the 10-cent bet. This sets a state record for the $1 superfecta pay-out. The $1 pay-out was $21,800 and more than $6,000 higher than the state record of $15,581.35 set back on August 31, 2014.
In the 5th race the 9-5 2nd favorite won but still racked up a 50-cent Pick 3 that paid $866.65 and the 2nd 50-cent Pick 4 paid $1,819.50 and a $285.10 $1 Daily Double. In the 6th race 5-1 Smoken Shadow won completing a 25-1 to 9-5 to 5-1 and the 50-cent Pick 3 paid $1,078.45.
The 8-5 favorite won the final race and in an oddity the Pick 5 pay-offs were the exact same for all 6 meaning there was likely one  ticket with an "all" selection for the final race as there was a single winner. It would have taken a real strange twist to have multiple tickets alive but with only 1 winner for each entry, if that indeed happened that would be a longer shot than actually winning the bet. The final 50-cent Pick 4 paid huge again this time $2,184.40, the 20-cent Jackpot Pick 6 paid $621.38 with $1,521 carrying over to next Friday. The 50-cent Super Hi-5 paid $164.80.
Claims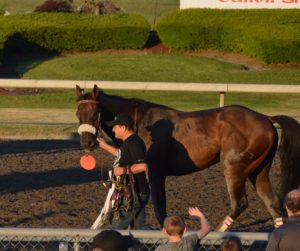 1st Race
She Said My Way was claimed for $8,000 by John Parker and goes to trainer Candi Cryderman.
3rd Race
Poverty Bay was claimed for $25,000 by Rick Kessler and Terra Firma Farm for trainer Joe Toye.
7th Race
Iowa Kid was claimed for $2,500 by Luanne Bean or Camden High Corp for trainer Robert Bean.
Firing Pin was claimed for $2,500 by Lusk Racing and goes to the Vince Gibson barn.
______________________________________________________________________
Saturday Muckleshoot Casino Feature Race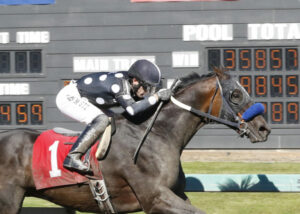 Torpedo Away launched from dead last and ran past them all on his way to winning the Saturday feature race. Juan Gutierrez was certainly patient away from the gate about 5 lengths behind and as they turned for home was just a length behind the top pair of Nine One One with Eddie Martinez and Coastal Jazz with Kevin Radke. The 3 of them were well clear of the rest of the field.
Torpedo Away had too much momentum and pulled out to a 3/4 length win, Nine One One was 3/4's better than Coastal Jazz and El Alto Hombre would complete the top 4 finish. Torpedo Away ran the 6 1/2 furlongs in 1:14.26.
Torpedo is owned b y Seamist Racing LLC, Blaine Wright Racing Stable and Dallas Becker and is trained by Blaine Wright. Torpedo Away is a Washington bred by Jake La Gold out of Victorys Legacy by Harbor the Gold and was bred by Daniel McCanna.
Torpedo Away earned $13,750 for the win and now has a career record of 9-4-7 and has a career bankroll of more than $158,000.
Other Saturday Races Re-Cap
1st race went to front running Hunters Ghost with Clayan Millwood getting his 1st win at Emerald Downs. Millwood controlled the pace of the 1-mile distance from start to finish and held off a closing pair of Perfect One with Kevin Orozco and Warriors Hero with Kevin Radke who finished 2nd and 3rd. Irish Knight with Alex Anaya was 4th. Sergio Perez owns and trains Hunters Ghost and this was his 2nd win of the meet. Backers of the Ghost were rewarded with an 8-1 pay-off of $19.80.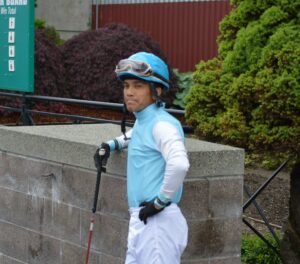 5-2 favorite Cody's Choice got off a step slow but quickly took command and rolled to an 8 1/2 length win. Leslie Mawing did not wait after the slow beginning and got Cody's Choice in the lead for good. There was a deadheat for 2nd between Sir Deputy with Radke aboard and Mister McLean and Javier Matias while Mojave and Kevin Orozco was 4th. Cody's Choice is owned by Lisa Baze and Jerry Carmody and trained by Rigoberto Velazquez. Cody's Choice coupled with Hunters Ghost paid a nice $86.20 on the $1 Daily Double.
Front speed was the name of the game in the 3rd as Big Paper Daddy and Kevin Orozco went straight to the lead and held well throughout the one-mile race winning by 1 1/4. Overly Fast the betting Choice with Eddie Martinez made a run but was clearly 2nd in front of the rest of them by 10 lengths. Boss Nine with Mawing would take 3rd and Abraaj Mirage was 4th. Big Paper Daddy is owned by Chad and Josh and trained by Frank Lucarelli. Big Paper Daddy ran the 1-lap in 1:35.57 and is a Washington bred by Coast Guard out of Go Jackie Go by Matty G. and was bred by Ron and Nina Hagen.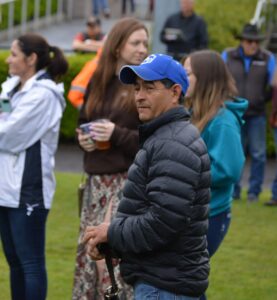 Jake Samuels returned to racing after a 22-month break and posted his first win since October 1, 2020 on Enchanting Way. He won by the widest margin of the meet and did not fool the public as the odds-on 1-2 favorite. Enchanting Way ran the 6-furlongs in 1:08.39 clear by 12 1/4 lengths. Moscow Lady with Radke up was clearly 2nd best while La Popis with Matias edged out Sadie's Snowstorm with Gutierrez for 3rd. Enchanting Way is owned by Lisa Baze, Luis Torres and Rancho Viejo and trained by Rigoberto Velasquez. Even with the 1-2 favorite winning the 50-cent Pick 4 still paid a decent $352.65.
It was another front running effort in the 5th race with Coastal Run going start to finish at a nice price of 5-1. Alex Anaya broke well with Coastal Run from the 2 hole drew out to a 3 length lead turning for home and held off all challenges by 3/4 of a length. Kiss Ride Goodbye with Matias closed well but was 2nd best, Stand in Your Love at 28-1 with Millwood was 3rd and Wahasha capped a big superfecta taking 4th at 41-1 under Samuels. Coastal Run races for Wayne Williams and Terra Firma Farm and is trained by Joe Toye. The 4-year-old filly is a Washington bred by Coast Guard, out of Tasya by Successful Appeal. The 10-cent super returned $380.53.
The finale on Saturday was a blanket finish with Diamond Willow and Juan Gutierrez getting the head decision at 9-2. Igottabooboo and Mawing ran a winning race but just got caught and 12-1 Too Tall to Call nearly pulled the upset a nose back of 2nd place. Rowdy Returns with Jose Zunino ran 4th and completing the Super Hi 5 was Charlie the Gent with Martinez. Diamond Willow is a Washington bred by Coast Guard, out of Zenovit by Private Gold and was bred by Ron and Nina Hagen. Diamond Willow is owned by Bill Nooney and Robbie Baze and trained by Robbie Baze.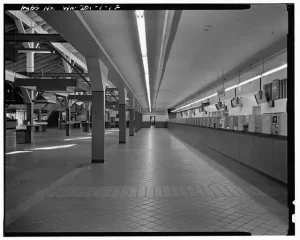 The Betting Window
There were some good straight bets on Saturday's card beginning with the 1st race and Hunters Ghost at nearly 9-1 paid $19.80 on the $2 win. You also got a $52.80 $1 Exacta and a $106.60 $1 trifecta with the 10-cent super paying $20.07.
The 5-2 favorite won the 2nd but still with Hunters Ghost returned $86 on the $1 bet or $172 on the old fashioned $2 minimum DD. The 1st 50-cent Pick 3 of 8-1 to 5-2 to 2-1 paid a healthy $225.10. When the Pick 3 was 1st introduced it was a minimum $3 wager so that pay-out would have been $1,350.60.
In the 5th race Coastal Run paid 5-1 or $12.80 while Stand in Your Love returned $6.80 on the $2 show. The 5-1 to 5-2 to 28-1 to 41-1 superfecta paid $380.53 on the 10-cent bet. The traditional $1 wager would have put $3,805.30 in your wallet.
And in the final race the $2 win was an even $11 while the 20-Jackpot Pick 6 was not a big draw after it was hit for 40-G's on Friday night but still paid $346.10 for 6 winners and $692 carried over. The 50-cent Pick 5 was good for $587.45, meantime the Super Hi 5 was not hit and carried $957 over to Sunday.
Claims
2nd Race
Mamacallmeboo was claimed for $12,500 by Ron Sutton and Dave Duke and goes to trainer Rigoberto Velasquez.
_______________________________________________________________________
Friday Night Muckleshoot Casino Feature Race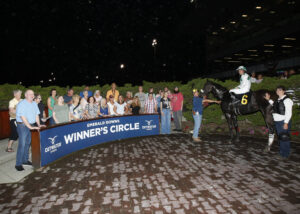 8-year-old Mixo just keeps getting better with age as the Washington bred gelding holding off 1-1 favorite Take Charge Deputy by a nose. Jockey Kevin Radke sat in the perfect stalking trip in 3rd early on with Muncey and Take Charge Deputy right behind. The 3 let Frisco Frills and Forever Gold battle on the front end setting sizzling fractions of 21.57 and 43.64.
Turning for home Mixo got the first run and held the lead inside the 16th pole when Take Charge Deputy and Muncey came flying from behind and in the blanket finish Mixo got his nose down first while Take Charge Deputy held off Muncey by a neck, Forever Gold ended up 4th.
Mixo ran the 6 furlongs in 1:08.43. Mixo is owned by the Mischief Club and trained by Shelly Crowe. Mixo is a Washington bred by Abraaj out of Valour Road by Honouor and Glory. Mixo is now 9-8-11 from 47 career starts and has earned more than 152k.
Mixo was the 2-1 2nd choice and paid $6.20 on the $2 win but did cap a nice 50-cent Pick 3 worth $275.
Other Friday Races Re-Cap
Race 1 went to 10-year-old Wine at Nine owned by the Two Putts for the Win, Gary and Maureen Hallett and trained by Vince Gibson. Wine went from last to 1st with Leslie Mawing at the controls and was the 9-5 betting choice. Command Sgt Major with Kevin Radke was 2nd, Dyf and Alex Cruz was 3rd while Irish Terrier with Juan Gutierrez completed the superfecta. Wine at Nine is now all alone in 3rd place for most wins at Emerald Downs with 18.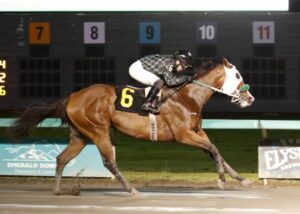 In race 2 Le Tub with Juan Gutierrez aboard came from just of the pace to overhaul a stopping front speed and won by 1 1/2 lengths stopping the clock at 1:09.15 for 6 furlongs. Heat seeking Leta ran second with Radke, odds on choice Queen Breezy with Cruz was 3rd and Blowing Bayou with Kevin Orozco placed 4th. Le Tub is owned by Paddock Partners Ltd and trained by Joe Toye. The 9-2 shot returned $19.80 on the $2 combo ticket.
7 went 6-furlongs in the 3rd race and betting favorite Dennard got off a step slow but quickly took command down the backstretch and jockey Eddie Martinez held on well for the win by a little more than a length. Dennard is owned by Dennis Trenkenschuh and trained by Tena Birdwell, Birdwell's 3rd win on the year and first win since May 21. Tribal Impact with Cruz was 2nd, Licorice Drop Pops ran 3rd with Gutierrez and taking 4th was Mike Man's Gold. Mike Man's Gold at 12-years-old is the record holder for most wins at Emerald Downs with 26, this was his 2nd start of his final season and improved from a 7th place finish up to 4th.
Red Noon Rising with Juan Gutierrez whose been running several even races finishing 3rd and 4th popped a big one on Friday running down Mean Sharon to get her by a head on the line. Mean Sharon with Radke just missed and settled for 2nd, Daniel the Dreamer with Orozco was the early speed and held on for 3rd by a nose over race favorite Miss Kitness. Paddock Partners got their 2nd win of the day as owners as did trainer Joe Toye. Red Noon Rising ran the 3/4's mile in 1:09.27.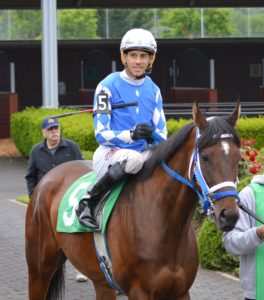 The tote board blew up in the 5th race when leading rider Alex Cruz went to the lead on 39-1 Feather inthe Wind and held on by a head over even money favorite Lutes Lil Gift to set a new $2 win high for the meet of $81.40 and a $2 place high pay if $23.80. The green ticket $6 Combo or $2 across the board for those unfamiliar with the combo bet, paid $112.60. Feather intheWind races for Big Bill and Company #1 and trained by Jose Navarro. Tam Tricky with Orozco was 3rd and N P Forty with Mawing completed the superfecta which paid a handsome $171.94 for the dime bet or $1,719.40 on the $1 super.
Jockey Eddie Martinez got his 2nd win of the day with a nice stalking run in the night's finale. Cowboy Causeway would pull away from the field in deep stretch to win by 2 3/4 at 5-1. Tap the Bank with Mawing got up in time for 2nd by a head over 3rd place Senor Fabuloso. Indian Rule finished 4th and Salty Dan with Oracio Muro to cap off the Super Hi 5. Cowboy Causeway is owned by Kenneth and Vicki Jo Elison and trained by Debbie  Peery.
The Betting Window
Friday night certainly had chances for folks to cash in with the 39-1 winner by Cruz in the 5th. The 50-cent Pick 5 paid a season high by just $10 of $9,169.05. There was a single winning ticket in the 20-cent Jackpot Pick 6 which meant the Jackpot paid off and did so in the amount of $40,052.28. This is the 2nd largest pay-out of the season, a Jackpot Pick 6 paid more than $45,000 on July 2nd. This is the 3rd largest in track history, last year there was and $81,000 Jackpot pick 6 winner.
The 50-cent Pick 4 returned $2,345.30 and the 50-cent Pick 3 paid $491.25. And the  50-cent Super Hi 5 was also a money maker paying $518.50.
Claims
3rd Race
Eyebrows were raised when 39-1 Street Moxie was claimed for $2,500 by Saratoga West  and goes to trainer Jeff Metz.
Tribal Impact was also taken to the Metz barn for $2,500 for new owner Alexis Silva Martinez.
4th Race
Red Noon Rising was tagged for $5,000 by Alan Peterson for trainer Jorge Rosales.
5th Race
Tam Tricky was claimed for $15,000 by Horseplayers Racing Club and Rakoczy Racing for Jeff Metz.
6th Race
Take Charge Deputy was purchased for $20,000 by John Parker and goes to trainer Candi Cryderman.
www.elisportsnetwork.com