7/28/2022
(Auburn, WA) It was a busy weekend last week with the craziness of the Corgi's to the drama of the 2 Stakes races but there were a lot of other things that happened as well. In this week's Track Notes we review how the jockey's did, update the trainers, highlight owner achievements and other fun notes and updates.
Here's the set-up, there were 24 races with a total of 149 starters for an average of 6.2 per race. The handles were for Friday, $1,236,520, on Saturday $884,532 and on Sunday $1,825,178 for a 3-day total of 3.94-m. A per race handle of $164,426. Pretty strong numbers for the 3-day weekend so let's get to it!
Jockeys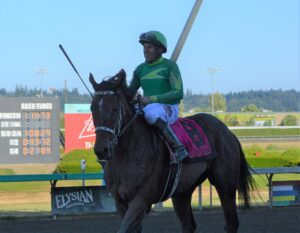 4 riders dominated the number of rides with Alex Cruz, Juan Gutierrez, Kevin Radke and Leslie Mawing combined for 89 of the 149 available rides or 60% of all the rides, leaving 40% for everyone else. The 4 jockeys won 17 of the 24 races or 70% but what they didn't do is close the door on the hottest jockey of the week, Jose Zunino. Zunino was 3-1-5-1 from 12 mounts for a 25% win clip, 75% top 3 finish and 83% superfecta placing. More importantly 2 of his 3 wins were both Stakes races on Sunday.
Leading rider Alex Cruz has continued his torrid pace winning another 6 races extending his lead over Radke who had 4 wins on the week. Gutierrez won 5 and Mawing had a pair of wins. Javier Matias had 2 wins while Kevin Orozco had a win and only rode 2 days after having to sit out on Friday and Alex Anaya had a win and looked like he was finally recovered after dealing with the flu. We'll have more on the jockey's on Friday with our weekly Power Rankings.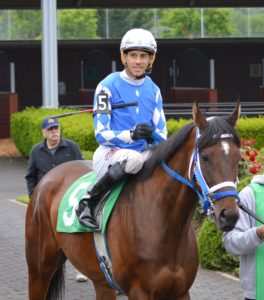 Top 10 Jockey Standings
1) Alex Cruz          214  56-41-31
2) Kevin Radke     218  45-34-37
3) Juan Gutierrez  187 42-36-37
4) Javier Matias    113  17-11-13
4) Leslie Mawing  145  17-23-23
6) Kevin Orozco   125  16-21-19
7) Jose Zunino     115  15-20-29
8) Eddie Martinez  80  7-12-14
8) Kassie Guglielmino 53  7-7-8
10) Alex Anaya      87  6-20-7
The Closer
Emerald Downs is known for being a fast track and where front running speedsters do very well. Riders must know how to get out of the gate and be in the hunt early. One rider has decided to buck the trend. Javier Matias is currently tied for 4th in the jockey standings with 17 wins.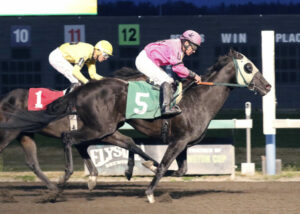 However, his last 7 wins have all come from well back, in fact 6 of the 7 Matias rallied from last to 1st and the other one was a 9 horse field and was 2nd last to 1st. Also in this streak he had another runner come from last to finish 2nd by a head. Matias typically saves ground and rallies up the inside rail. Matias says the inside usually always opens up, you just have to be in the right spot at the right time.
Matias has rallied from as far back as just 5 lengths in a 5 horse field but was in last place to trailing by as many as 14 lengths. It is likely further back these are all based off the increment reports from Equibase in the official charts. In his 7 come from behind wins, again all of these are wins 11-17 beginning on June 19th to his most recent last Saturday, Matias trailed by a total of 62.5 lengths or another way to look at it in these 7 wins he trailed an average of at nearly 9 lengths in each of those wins.
On Friday, July 15 was his largest gap that he made up when he rode Master Recovery to the win after trailing by as least 14 lengths. The least amount of ground he needed to close was on Sunday, July 10 with Lady O'Prada where he closed 5 lengths for the win.
His 7 wins are also far from popular as none of them were betting favorites and the lowest odds he won with was 3-1 and the longest shot 18-1. His last 7 wins were 18-1, 3-1, 15-1, 10-1, 10-1, 14-1 and 7-1. The average odds of winning over these 7 races was a whopping 11-1 or an average $24 win pay-off.
Return to Action for 1 half; Walking Boot for the other half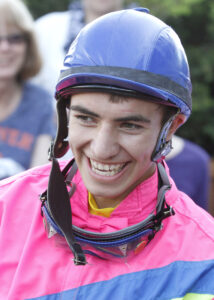 It's been since 2020 since jockey Jake Samuels has been given a leg up to ride a race, until this weekend. Samuels who is married to jockey Kassie Guglielmino decided to take some time off as he and Kassie welcomed their baby daughter to the world. Kassie resumed racing but broke her leg earlier this season in a spill. She is now re-habbing and in a boot. We talked with Kassie who says she is getting impatient but other than that the healing process is coming along as she recovers at her Eastern Washington home. Still no firm timeline for Kassie's return.
Jake Samuels last rode on October 1, 2020 and his last win was the 9th race aboard Grinder Sparksaglo for owner Richard Sena and trainer Robbie Baze. He got the 4-1 shot to the finish line a neck ahead for the win. He rode one more race that night in the 11th and finished 2nd on Merry Marie for Frank Lucarelli at 19-1. Since then he has been on the sidelines but has been working horses for some time. Kassie says he's just got that itch back and it was time to get back to riding races.
Samuels is coming back not for just a couple of rides but rather he has 4 lined up for Friday night including the 1st race on 3-1 Pulpits Power for trainer Tiffani McDevitt who is also making her first start at Emerald Downs. McDevitt has been a regular at Grants Pass and the Oregon Fair circuit but with the closure of Grants Pass is going to take her first swing at the Auburn oval. Samuels has 3 mounts set for Saturday, at the time of this writing the Sunday card had not been posted.
Trainers
4 trainers had multiple wins last week and even though Vince Gibson had 3, it was Tom Wenzel's week. His 2 wins were in both Stakes races sweeping the top dollar races for owner K D Thoroughbreds and both with jockey Jose Zunino with Dontkissntell in the WA State Legislators Stakes and the Governors Stakes with Slew's Tiz Whiz. Wenzel started 5 and went 2-1-2 for a 40% win rate and 100% top 3.
Gibson won 3 and started 13 for a win percent of 23% and he also placed once, showed and finished 4th twice each for a 46% in the top 3 and a 62% superfecta finish.
The other two conditioners with 2 wins was veteran trainer Kay Cooper who started 5 and went 2-1-0-0 for a 40% win clip and 60% top 3&4 finish. Meantime the leading trainer Jorge Rosales did lose a step to Gibson but gained on all his other closest contenders and was close to blowing the trainer standings open. Rosales started 13 and got 2 wins but finished with 6 seconds a 3rd and a 4th. Just a couple of those 2nds go to 1st place and Rosales would be putting a ton of pressure on the rest of the trainer field. He was 15% in the win column but 69% top 3 and 77% top 4 finish for the week.
Top10 Trainer Standings
1) Jorge Rosales    55  21-13-8
2) Blaine Wright    69  17-14-12
2) Vince Gibson     76  17-13-9
4) Frank Lucarelli   94  16-16-18
5) Candi Cryderman 75  14-21-13
6) Tom Wenzel       44  12-7-9
7) Joe Toye             58  11-12-12
8) Jeff Metz            71  10-13-7
9) Bonnie Jenne     29  6-6-4
9) Kay Cooper        38  6-9-4
9) Howard Belvoir  65  6-3-8
Owners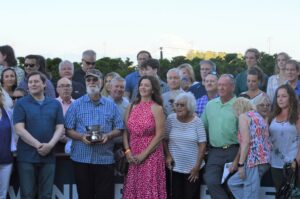 There were 2 owners with double wins this past week but one stuck out with a superior effort and that was K D Thoroughbreds (Karl and Darlyne Kreig) who saddled both Stakes winners, Dontkissntell and Slew's Tiz Whiz. You can read more about these two wins and the emotional significance of those wins to Mrs. Kreig here.
The other owner to win twice was the Remmah Racing LTD who picked up a win on Saturday with Bobby Buckets and then in the get-away race on Sunday with Orcadian Storm.
Leading owner John Parker picked up another win this week in the 4th race on Friday with Lookout Taylor. Parker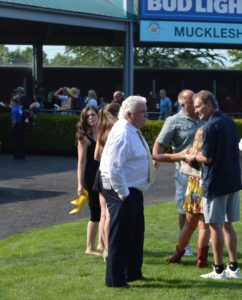 now has 13 wins and a 14-18-11 record from 67 starts. Coming into the season Parker had a goal on hitting 30 wins which was a 1 win for every 1.7 days. He is 16 short with 23 days to go so to hit his goal he has to win at a 1 win every 1.4 days. Parker is hoping the many 2nds will start turning in to more wins as he makes a final push for that high bar he set for himself and his team this season. We know Parker is a competitor so it will be fun to see if he can make that run to his personal goal.
Meantime, there is no doubt who the winning owner will be as Parker leads his nearest competitors by more wins than they have 13-6, but there is a spirited race for 2nd with the new and to many surprising Purple Rose Ranch which is owner/trainer Mike Pierce. Pierce has been a huge lift to the backside of the track with a solid stable and not afraid to run his horses where they best fit and not afraid of getting in on the claiming game. The Purple Rose Ranch moved into a tie for 2nd with power owners Chad and Josh. Each with 6 wins.
With their 2 wins this week Remmah Racing moved into a tie for 4th with 5 wins. Lusk Racing sits with 5 victories along with Paddock Partners and Cameron Simpson McVay. Paddock Partners got their 5th win last Saturday in the 3rd race with Zatter and Simpson McVay got his 5th in the following race on Saturday with Waterfront Warrior.
Big Percents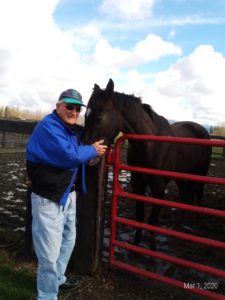 We took a quick look at owners with 10 or more starts this year to see who has the highest win percent and topping them all is Remmah Racing on the strength of their 2 wins this past week they have 5 wins from 15 starts for a 33% win rate. Two others were 30% and they included K D Thoroughbreds who also won twice this week and have 3 wins from 10 starts. K D is tied with Margaret Root who also has started 10 and won 3 for a 30% win rate.
The best 100% win record is a 3 way tie of 2 for 2. Ten Broeck Farm, Antonio Mendoza and Jorge Roslaes/Oscar Heredia are all 2 for 2 for the 100% win. The best 100% with a top 3 finish rate is Rick Kessler and Terra Firma Farm, they have started 7 and are 2-4-1, hitting the board with each of their starts.
The Betting Window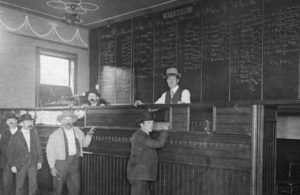 Once again there were some great chances to make some money last week, this time is seemed to be in the multiple race tickets over the single race exoctics. But that's where we'll start with the best exacta, trifecta and superfecta an WPS pays in the feature race on Friday night.  Javier Matias came flying from last to 1st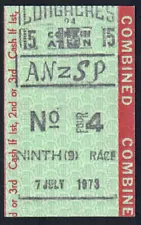 aboard 18-1 You're the Cause and Debbie Van Horne trained paid $39.40 on the $2 win, $17 to place and $7.80 to show. This in old school betting of a green ticket with a red stripe or the old $5 combo ticket would have paid $160.50. The $1 exacta paid $82.50, the 50-cent trifecta paid $243.70 and the 10-cent super returned $102.11 or $1,021.10 on the $1 old school bet.
Friday night the final Pick 3 paid well of $146.30 for the 50-cent bet, the 50-cent Pick 5 top the grand mark at $1,482.85 and the Jackpot Pick 6 paid $1,521.66 on the 20-cent wager.
On Saturday to hit the Pick 5 you would have needed to string a 5-2 shot to a 3-1 to a 9-2 to a 3-1 and finished off with a 9-5 to collect $1,162.35. The 20-Jackpot Pick 6 paid well again at $792.58 while the carryover to Sunday was up to 23k.
On Sunday the longest shot to win on the day was 9-1 Slew's Tiz Whiz who took the Governor's Stakes and paid $20.40. The 50-cent trifecta was only the 2nd one over $100 on the week paying $124.95 and the $1 super was $725.00. The Jackpot Pick 6 paid $398.68 and rolls over a big pot to start with on Friday night of $27,950. Remember to win the whole pot you must hold the single winning ticket with all 6 winners. 
"As the Backside Turns!" Edition #2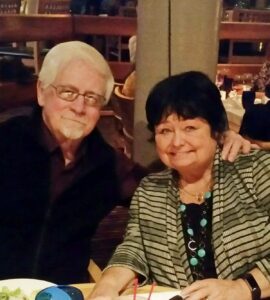 Time now to check in with some Backstretch news with Sally Steiner from the Quarterchute Cafe with "As the Backside Turns!" So many folks stop by and visit with Sally and Joe Steiner and Sally posts pictures and updates on her Facebook page we simply share some of those awesome moments. Here's this week's submissions from Sally…
The Renton Rogues had quite a large group of old friends show up for their weekly get together every Thursday here at the
Quarter Chute Cafe at Emerald Downs
..My Joe sure has fun reminiscing with the guys. Lucky
Bob Stanford
got his photo taken twice …Sheila said "just because"!
Thank you trainer Joe Toye for coming in and telling me all about your "little boy" Kenny Toye's marriage back east to the love of his life Lynette . Beautful photos that I borrowed from your daughter Kara.
CONGRATULATIONS
TO ALL!!!
Trainer Roy Lumm stopped by this morning to catch up on the latest. I really enjoy his visits and stories about the old days when he was an apprentice jockey he rode for Lucile Ball and her husband Desi Arnez..wow
Emerald Downs Investigator
Hugh Wales
brought his grandson AJ into the
Quarter Chute Cafe at Emerald Downs
this morning…wow has he grown, he is now almost as tall as his grandpa . AJ any thoughts of training to be a jockey like your grandpa was for so many years ?
Thank you my dear sweet jockey
Connie Doll
for bring BO into the
Quarter Chute Cafe at Emerald Downs
to see her aunt Sally and give her loves
www.elisportsnetwork.com