7/25/2022
(Auburn, WA) A huge crowd was on hand Sunday for the annual Corgi races and those fans were also treated with two Stakes races, The Washington Legislator Stakes and the last warm-up for the August 14 $150,000 Longacres Mile. (All of our Corgi race coverage can be found here.)
Normally we have coverage of all the races over the weekend and news and notes and we will get that but in this post it is only the Stakes races, with re-caps, interviews and notes on the races.
Washington State Legislators Stakes
The WSLS is for fillies and mares 3-years-old and up and is the last tune-up for the $75,000 Emerald Distaff on August 14. A field of 6 went to the Emerald Downs starting gates for the 6 1/2-furlong  test. The morning line and betting favorite was Blazingbellablu but Bella ended up being a late scratch leaving 5 to go.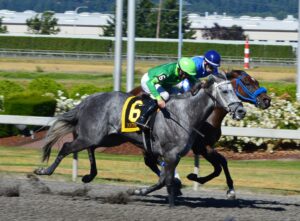 Dontkissntell ended up the bettors choice going off at 4-5 with Jose Zunino. Longshot You Go Girl with Juan Gutierrez went to the lead and set the early pace. Unlimiteddataplan and Lets Declare Peace were both close behind and the favorite Dontkissntell sat on the outside in great striking position.

As they hit the turn there wasn't much change except Dontkissntell began to edge closer and once in the stretch it looked like she would blow past the field. Instead, You Go Girl who got away with setting fractions of 22.61 and 45.37 dug in and would not relent while Lets Declare Peace with Kevin Orozco flattened out and would finish 3rd. Dontkissntell surged a last time just perfectly and got the win over a determined You Go Girl by just a head. 16-1 Unlimiteddataplan with Leslie Mawing just missed the show completing the superfecta.
Dontkissntell is a regular in the older filly and mare stakes and hadn't won since 2018 but with Bella out of the race the public was not fooled and went straight to her consistency making her the 4-5 odds-on choice. Tom Wenzel is the trainer and set a record for winning his 4th Legislators Stakes. The owner is K D Thoroughbreds, which is Darlyne Krieg and her husband Karl who passed away after a long battle with cancer in September of 2019. (For more on Karl, his story is fascinating and you can read his memorial here.) This was the first Stakes win for the Krieg's since Karl's passing and it was a touching and special moment for Darlyne.
Dontkissntell ran the 6 1/2-furlongs in 1:15.65 and earned $27,800. The 7-year-old is now 5-8-6 from 29 starts or a 17% win rate and 66% top 3 finish clip. Her total earnings now tops $182,000. It was Jose Zunino's 11th Stakes win at Emerald Downs. Dontkissntell returned $3.80 on the $2 win, coupled with You Go Girl for a $5 exacta.
Stretch run of Wash Leg Stakes
Winner's Circle with Dontkissntell connections
Governor Stakes
The Governor's Stakes is the last local prep race for the Granddaddy of them all in the PNW the Longacres Mile. Before we go any further, no this is NOT a type-o as many of the details in this story will be very familiar to our coverage of the Legislators Stakes. Let's start with crowd favorite Papa's Golden Boy who was made the odds-on 4-5 morning line choice by tracks odds-maker Vince Bruun but bet down even further to as low as 1-2 but went off at 3-5.
Kevin Radke was aboard for the 2nd time winning easily on June 26th in the Budweiser Stakes with a front running win by 4 3/4 lengths. This time Papa drew the outside 9 post and things didn't go right from the beginning. At the bell Papa took a right hand turn breaking out at least 6-7 lengths sideways and then quickly recovering as they raced out of the 6 1/2 furlong chute.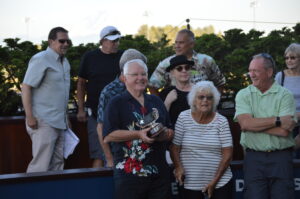 However, Radke and Papa would find company on the front end from  Windribbon with Kevin Orozco. The Blaine Wright trained 6-year-old gelding has been struggling to find his groove since just missing winning the Longacres Mile last year at big odds and the two of them threw-down on the front end. It was visually deceptive though as we watched from near the finish line several observers thought maybe they were going :22+ and we were surprised to see 21.84 for the quarter and a blazing 43.72 for the half.
Meantime, there was a line-up of runners 2-3 lengths behind with Spittin' Image and Juan Gutierrez, Five Star General with Leslie Mawing and Slew's Tiz Whiz coming off a nice closing win in an allowance on July 10th. The pace caught up to Windribbon and he began to fade at the top of the stretch while Papa's Golden Boy went on to lead by 2 lengths at the top of the stretch. 
At the 1/8th pole Papa hit the wall and the closers began to rally but it was Slew's Tiz Whiz with the most momentum and jockey Jose Zunino had his 2nd Stakes victory in sight as he set the 9-1 4-year-old down for the final drive. Zunino unleashed Slew and he closed with a rush sweeping past everyone including Papa to win easy going away by 2 1/2 lengths and stopped the clock in a time of 1:14.73.
The race was on for 2nd and to his credit Papa dug in and held off Spittin' Image by a nose who was just a neck in front of Five Star General who was just a head in front of Fantastic Day with Alex Cruz.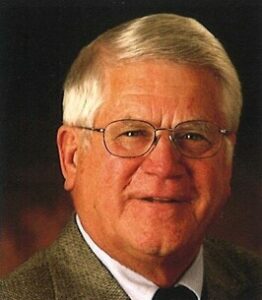 Here is where you will think we copied and pasted from the Legislator Stakes. The winning owner is K D Thoroughbreds, Darlyne Krieg, the winning trainer is Tom Wenzel and the winning jockey was Jose Zunino. Slew's Tiz Whiz however was bred by Darlyne's husband Karl and is a Slew's Tiznow gelding out of Rose's Girl by Rosberg. 
Slew's Tiz Whiz won his 1st Stakes race and clearly could be a contender for the Longacres Mile in August. Wenzel says he will wait and see how he comes out of this race but he's such a hard trier he is a great horse to train. Slew's Tiz Whiz is now 5-1-1 from 12 career starts and earned $27,500 to push his career bankroll to just shy of 89k. 
The bettors who backed Slew were rewarded with a $20.40 $2 win and $29.60 for the $2 Combo ticket. The $1 exacta was a solid pay considering the under was a 3-5 shot paying $26.70, the 50-cent trifecta paid off well too $124.95 and the $1 superfecta was a big $725.00.
Stretch run of Governors Stakes
Winner's Circle with Slew's Tiz Whiz connections
Photo Gallery
www.elisportsnetwork.com