7/24/2022
The 2022 Corgi races were held on Sunday at Emerald Downs. The event that began as the Weiner Dog races with radio station Star 101.5 and fueled by longtime Seattle radio icons Kent and Allen and ballooned into the continuing Weiner dog races which will be held on Sunday, August 28. Since then there have been Bulldogs and wannabe's added but the Corgi's are the group that exploded.
The Corgi's first began with a few heats and a Championship  but since then the demand has reached its pinnacle of 8 heats and a Championship race. In total there were 9 Corgi races on Sunday the matching the number of Thoroughbred races. Track President Phil Ziegler and Promotions Manager Gary Dougherty have taken this event to the next level and will again be a segment for ESPN.
Below is our coverage of this year's Corgi races with each heat and at the top we will put in the Championship Race plus our story on the winning race and a massive photo gallery. Let's get to our coverage and as they used to say at the old Multnomah Kennel Club…"Here Comes Rusty!"
Championship Heat
#1 Wrong Way Loki
Owned by: Terence Ng from Everett
#2 Russell Wilson
Owned by Mengai Gao & Kevin Tan from Bellevue
#3 Bailey
Owned by: Sejal, Sundeep & Alka Goval from Seattle
#4 Norman
Owner: Alex Pham & Lianne Nguyen
#5 Outlands Willow Wisp
Owned by: Lauren Kuperstein from Vancouver, WA
#6 Milo Benz
Owner: Kaela Belen & Nicholas Pecache from Puyallup
#7 Solo
Owned by Jessica & Jason DeLorm from Orting
#8 Darbi
Owned by Teri Boose from Bonney Lake
#9 King Leo
Owner by Michelle & Jovany Schroeder from Kirkland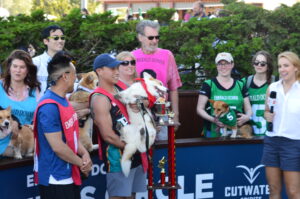 The Championship race ended up being a field of 9 due to the "deadheat" in race 6 between Darbi and King Leo. When the flag dropped the serious racers went for the lead and Darbi was in the front when there was a collision opening the door for others including Wrong Way Loki from the 1 spot, #4 Norman, #7 Solo and #3 Bailey.
As the battling Corgi's crossed the finish line you can hear it was 7, no it was 4, no it was 3, wait I think it's 1 and after several slow motion replays #1 Wrong Way Loki was declared the winner. The Emerald Downs race officials then declared a 3-way tie for 2nd though many observers felt the finish was 1-4-7-3 and others felt it was 1-7-4-3.
Loki's owner Terence Ng  from Everett said last year Loki ran the wrong way so after many day, weeks, months of training and a change of name to embrace last year's performance and it was a completely different outcome and Loki and Terence went home with the big trophy.
The other 3 dogs in the photo were Bailey, Norman and Solo. It was a great race and without the collision it may have been a 5 or 6 dog photo finish. That puts the Corgi's in the books for 2022, we can't wait for next year's re-matches.
Championship Race
Wrong Way Loki's Owner Terence Ng
__________________________________________________________________________________
Heat #1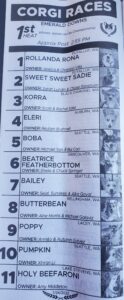 Heat 1 Winner:
#7 Bailey
Owned by: Sejal, Sundeep & Alka Goval from Seattle
Heat #1
Heat #2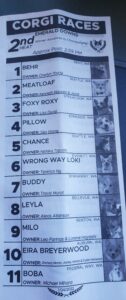 Heat 2 Winner:
#6 Wrong Way Loki
Owned by: Terence Ng from Everett
Heat #2
Heat #3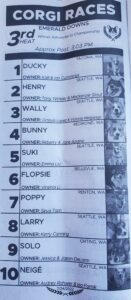 Heat 3 Winner: #9 Solo
Owned by Jessica & Jason DeLorm from Orting
Heat #3
Heat #4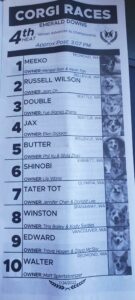 Heat 4 Winner: #2 Russell Wilson
Owned by Mengai Gao & Kevin Tan from Bellevue
Heat #4
Heat #5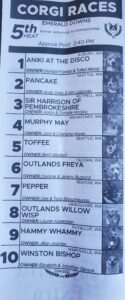 Heat 5 Winner: #8 Outlands Willow Wisp
Owned by: Lauren Kuperstein from Vancouver, WA
Heat 5
Heat #6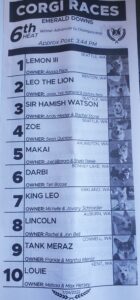 Heat 6 Winner: DEADHEAT
#6 Darbi
Owned by Teri Boose from Bonney Lake
#7 King Leo
Owner by Michelle & Jovany Schroeder from Kirkland
Heat 6
Heat #7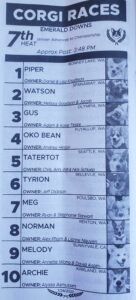 Heat 7 Winner: #8 Norman
Owner: Alex Pham & Lianne Nguyen
Heat 7
Heat #8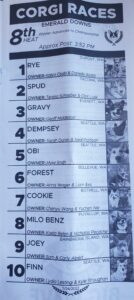 Heat 8 Winner: #8 Milo Benz
Owner: Kaela Belen & Nicholas Pecache from Puyallup
Heat 8
Photo Gallery (Please help yourself to our photos, no permission needed for your personal use.)
www.elisportsnetwork.com