7/27/22
So far this season, the Seattle Mariners have had quite a bit of success against their division rival, the Texas Rangers. The Mariners were looking to complete another sweep of the Rangers and win their 8th consecutive game against Texas. Thanks to some late game heroics by Julio Rodriguez, the Mariners did just that as they knocked off the Rangers 4-2 to complete the sweep.
Ty France would get the day off so the Mariners were down arguably their best hitter against Jon Gray who was rolling coming into the finale. The Mariners however would get to him early.
In the bottom of the 2nd, J.P. Crawford would single and Adam Frazier would follow up with a perfectly placed bunt single to put runners on first and second with one out. After a Luis Torrens strikeout, red hot Sam Haggerty would step up and flip a soft base hit into left field. Crawford would score and the Haggerty double gave the Mariners an early 1-0 lead.
Both pitchers started hanging zeroes on the board after that. Jon Gray for the Rangers and Marco Gonzales for the Mariners controlled the strike zone and were consistently working ahead in the count. Gonzales did not allow a hit until the 5th when Adolis Garcia would single followed by a Charlie Culberson RBI double to tie the game at 1-1.
The 6th inning was unkind to Marco as well. After a leadoff double by Elier Hernandez had Marco in trouble again. He would record two massive outs by getting Marcus Semien and Corey Seager out without a ball leaving the infield. Mariners nemesis Jonah Heim wasn't as kind as he would come through with an RBI double to give the Rangers their first lead of the game 2-1.
Headed into the bottom of the 7th, the Mariners hadn't recorded a hit since the Haggerty double in the 2nd. They wouldn't need a hit to get the rally started as Cal Raleigh would pinch hit and would draw a walk. It would then be Sam Haggerty recording his second double of the game on a liner to right. A strong throw from Adolis Garcia made the play at second close, but Haggerty was able to keep his hand on the base to keep the go-ahead run in scoring position.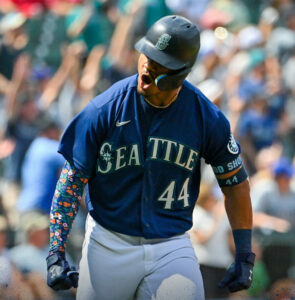 Even if he was on first he still would have been in scoring position as it turned out. Julio Rodriguez would come up with one of his biggest hits of his rookie season as he would crush a Jon Gray slider that hung up in the zone 416 feet for a three-run home run. Julio's 18th home run had given the Mariners a 4-2 lead.
A bullpen that was missing some key guys due to rest would have to come in and record the final six outs. Erik Swanson would give up a Nathaniel Lowe double with one out in the 8th and then an error by Adam Frazier had runners on first and second. Andres Munoz would come in and get a couple of infield pop ups to end the inning.
The 9th wasn't sunshine and rainbows either as Matt Festa got the save opportunity. After striking out Adolis Garcia, Leody Taveras would single to bring up the tying run. Perennial Mariner killer Kole Calhoun would step up and hit a fly ball to center that was put away by Rodriguez. A walk to Ezequiel Duran would bring the go ahead run up for Texas in Josh H. Smith. Smith would hit a grounder to Frazier at second to finish off another sweep for the Mariners and give Matt Festa his second save.
The sweep helped the Mariners (54-45) bounce back from being swept by the first place Houston Astros. The Mariners now head to Houston for a four-game series beginning Thursday at 5:10 as Logan Gilbert (10-4, 2.77 ERA) squares off with Jose Urquidy (9-4, 3.93 ERA) in game one. The Rangers (43-54) will visit the Los Angeles Angels for a four-game set as Spencer Howard (1-2, 7.11 ERA) takes on Shohei Ohtani (9-5, 2.80 ERA) in the opener.
Top Performers
Rangers
Charlie Culberson- 1-3, 2B, RBI
Jonah Heim- 1-4, 2B, RBI
Jon Gray (L, 7-5)- 6.1 IP, 5 H, 4 R, 4 ER, 4 BB, 8 SO
Mariners
Julio Rodriguez- 1-4, HR, 3 RBI, R
Sam Haggerty- 2-3, 2 2B, RBI, R
Marco Gonzales (W, 6-10)- 7 IP, 4 H, 2 R, 2 ER, 1 BB, 5 SO
Updates
With the win the Mariners are now 11-2 against the Rangers in 2022. Against the AL West, Seattle now has a record of 27-19.
Thanks to an Oakland sweep of Houston, the Mariners are back down to 10 games back of the Astros in the AL West. Seattle holds the 2nd wild card, half a game behind Toronto for the top spot and half a game ahead of Tampa Bay.
According to ESPN's Jeff Passan, the Mariners have been one of the three most aggressive pursuers of Luis Castillo and Frankie Montas who are viewed as two of the best starting pitchers on the trade market.
Diego Castillo has been placed on the 15-day IL with right shoulder inflammation, which has plagued him throughout his big-league career. Matt Brash has been recalled from Tacoma in a corresponding move.