7/26/22
Coming into Tuesday night, the Mariners and Rangers had played each other 11 times in 2022. Six of those games were decided by one run. So it was no surprise that once again both teams were biting their nails late in game two of the three game series that once again saw the Mariners get the better of Texas with a 5-4 walkoff win.
The Mariners were excited to get back two starters as Julio Rodriguez returned from a four game absence while Jesse Winker joined the lineup after injuring his ankle on Sunday. Adding in Kyle Lewis who sat out in game one before pinch hitting late and the return of young pitcher George Kirby and it felt like things were coming back together.
J-Rod wasted no time in making his return impactful as he would hit a leadoff home run in the bottom of the first inning. It was his 17th home run of his rookie campaign and gave the Mariners an early 1-0 lead.

Rangers starter Dane Dunning struggled with command early and would walk both Eugenio Suarez and Jesse Winker with two outs later that inning. Kyle Lewis would cash in by lining an 0-1 pitch to left field to score Suarez and give the Mariners a 2-0 lead after an inning.
George Kirby would then take over as the star of the show. Kirby was expected to just go 4 innings and throw about 60 pitches in his return to the big leagues after a short rest to manage his workload. However, Kirby was very economical with his pitch count and would go 5 innings and retired nine straight Rangers from the 3rd through the 5th to finish off a very strong outing. Kirby went 5 IP while allowing just two hits and one walk with four strikeouts.
The Rangers would get to the Mariner bullpen in the 7th. A one out double by Adolis Garcia was followed by a Nathaniel Lowe RBI single off of Ryan Borucki to put the Rangers on the board. Borucki would then walk a batter before getting Nick Solak to fly out. Penn Murfee would then finish off the inning by throwing just one pitch to get Ezequiel Duran to fly out to end the top of the 7th.
The bottom of the 7th was much better for the Mariners. They just needed two batters to get that run back as Cal Raleigh would launch a 400-foot home run into the back of the bullpen for his 14th home run of the season. The Mariners had a bit of breathing room back leading 3-1.
Then everything fell apart. After two quick outs to start the 8th, consistent Mariner reliever Paul Sewald fell apart. After issuing walks to both Corey Seager and Jonah Heim, Sewald found himself up against a dangerous hitter in Adolis Garcia. Garcia would make weak contact, but it didn't help the Mariners after all. A bouncing ball that landed foul would kick back on a nasty bounce over the first base bag and into right field. Both Seager and pinch runner Charlie Culberson would score on a bizarre double and tie the game at 3-3.
We would head to the 9th still tied, but not for long. After a leadoff single by Leody Taveras and a sacrifice bunt by Nick Solak, the Rangers had the go-ahead run in scoring position. Ezequiel Duran would then line one into right field where a diving Sam Haggerty couldn't make the play and the Rangers would take a 4-3 lead.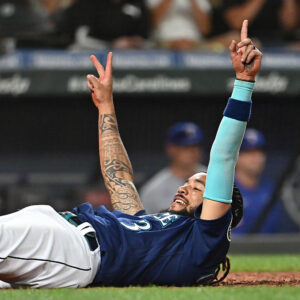 Texas would bring in their tough lefty in Brett Martin to try to close the door. J.P. Crawford wouldn't make it easy as with the stadium chanting his name, Crawford slapped one the other way for a leadoff single. Cal Raleigh would come up big once again as Raleigh launched one to the gap in right center. Crawford knew it was getting down immediately and would score from first to tie the game at 4-4 on the Raleigh double.
A sacrifice bunt by Adam Frazier would move the winning run to third with just one out and the top of the Mariner order coming up. Ranger manager Chris Woodward not only decided to intentionally walk Julio Rodriguez, but also Ty France to load the bases and give the Rangers a double play opportunity with Carlos Santana coming to the plate. The veteran knew he had to get the ball in the air and that was exactly what he did with a fly ball to center. Leody Taveras would make the catch and have a chance to get Raleigh at the plate. The throw would be just a bit off target allowing Raleigh to score. After a short review to see if Raleigh left early or was tagged out at the plate confirmed the Mariners 5-4 win.
The walkoff victory moves the Mariners (53-45) into the second Wild Card in the American League as they passed the struggling Tampa Bay Rays. The Rangers (43-53) now sit 8.5 games back of a Wild Card spot and look to be sellers at the trade deadline. The Mariners will look for their 8th straight win over the Rangers and another sweep at 12:40p on Wednesday. The Rangers will start Jon Gray (7-4, 3.48 ERA) while the Mariners will go with Marco Gonzales (5-10, 3.74 ERA) in the finale.
Top Performers
Rangers
Adolis Garcia- 2-4, 2 2B, 2 RBI, R
Leody Taveras- 2-3, RBI, BB
Ezequiel Duran- 1-2, RBI
Dane Dunning (ND)- 5 IP, 4 H, 2 R, 2 ER, 3 BB, 5 SO
Mariners
Cal Raleigh- 2-4, HR, 2B, 2 RBI, 2 R
J.P. Crawford- 2-4, R
Julio Rodriguez- 1-4, HR, RBI, R
George Kirby (ND)- 5 IP, 2 H, 0 R, 0 ER, 1 BB, 4 SO
Updates
The walk-off win was the 6th Mariners walk-off this season
Cal Raleigh's home run gave him 14 on the year which is tied for the most in baseball by a catcher in 2022 (Will Smith LAD, Willson Contreras CHC)
After signing first round draft pick Cole Young, the Mariners have now signed 19 of the 20 players selected in the 2022 draft.
Mitch Haniger went 0-3 with a walk in his first game with Tacoma in his rehab stint.