8/4/2022
The Power Rankings are meant to be fun and to focus on the human competition between these awesome athletes. Moreover it's a chance to focus more on each rider and their accomplishments each week. We stress there is nothing "official" about these rankings and we know there will be varying opinions which is also great and we hope it does create more conversations about our sport and our athletes.
Things were far from normal this past week. Last week's surging rider flattened out, the top rider dealt with food poisoning and a pair of new faces to the Winner's Circle. Here is our 12th edition of the Emerald Jockey Power Rankings:
#1 Kevin Radke (last ranking #1)
This was a tough choice between the top 4 but we gave the edge to Kevin Radke who finished with fewer wins than the top winning jockey this week but his overall record on the week was the strongest with 19 rides 3 wins, 7 2nds, 4 shows and 3 superfecta 4ths, His win percent was the lowest of the top 4 at 16% but he was 77% in the top 3 with 53% top 2 and top 4 a sizzling 89%. His season-long consistency also played into this move #4 to the top of our Rankings. 
#2 Eddie Martinez (last ranking #9)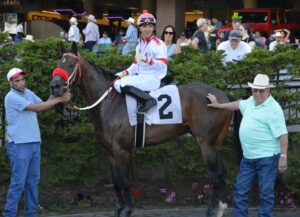 Eddie M shot to the top of the rankings and nearly grabbed the #1 spot off his best weekend of the season. He scored 3 wins pushing him from 7 to double digits on the year. But he also did as much as anyone with his chances with a record of 3-3-1-0 from just 11 rides. That's a 27% win clip and top 3and 4 rate of 64%. Last week it was Jose Zunino he soared up the PR's but you will see it can turn-around in a hurry as Zunino didn't even crack the top 10 this week. Is this the "go" button for Eddie in 2022? We shall see but regardless we cannot ignore his huge week in the final days of July.
#3 Juan Gutierrez (last ranking #3)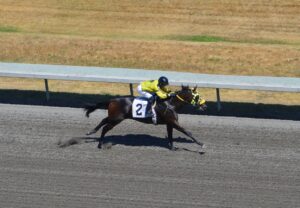 Juan Gutierrez made this the most difficult with the most wins of the weekend with 5 and could be easily justified to be #1 or #2 but we felt having the most mounts of any jockey this week at 20 that more consistency was needed and elected to hold him at #3. Overall his win percent was 25% less than Eddie, top 3 was less than 50 at 45% and top 4 at 60% and that's with a lot of 5 horse fields this last week. To be honest we thought about dropping him to #4 but the 5th win held his position.
#4 Leslie Mawing (last ranking #5)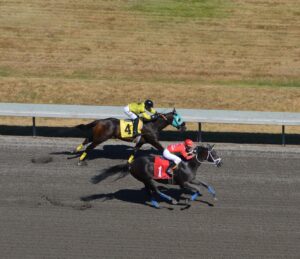 The crafty veteran Mawing is up 1 from #5 and darn close to moving into the 3rd slot. Mawing had a top 4 record of 3-2-3-3 from 14 starts for a win clip of 21%, top 3 57% and a big 79% top 4. For July Mawing has picked up better rides and has been extremely consistent, it will not surprise us to see him continue to climb our rankings.
#5 Alex Cruz (last ranking #1)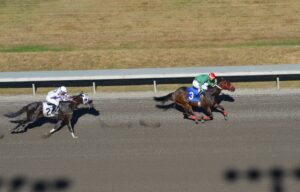 The leading rider dropped 5 spots but with plenty of reasons. Cruz got a bad case of food poisoning and was in and out of the hospital all week but still managed to get on 11 rides but missed all of Saturday. He lost about 10 pounds in 5 days as well. Still Cruz showed why he is the 2-time defending jockey Champion as he still won 2 races and was 2-4-3-1 for the week. He had an 18% win rate was in the top 3 73% and top 4 82%. With those numbers he normally wouldn't have dropped this far but missing a full day coupled with Martinez and Mawing winning 3 and having great weeks dropped him further than anticipated. We expect an immediate bounce back this week.
#6 Alex Anaya (last ranking 8)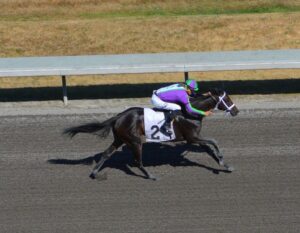 Alex Anaya battled through an extended bought of flu earlier in the month and has been bit hard by the 2nd"itis" bug but this week he finally turned a few of those into wins with 2 wins from 8 starts for a 25% win rate. One of those wins at 25-1. His average odds on his 8 rides last week was 17.7-1 and he got 2 wins and 2 4ths. 50% top 4 finish. A deserved jump in the PR's.
#7 Kevin Orozco (last ranking #6)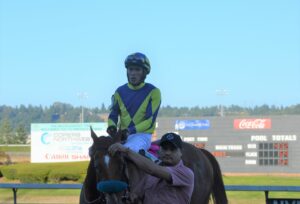 Kevin Orozco dropped 1 spot with a bit of a frustrating week getting just 1 win and 1 2nd but 4 3rds and a pair of 4ths was enough to freeze him at #6. Orozco was 1-1-4-2 from 16 mounts. Just  6% win percent but 50% in the top 4.
#8 Jake Samuels (last ranking not ranked)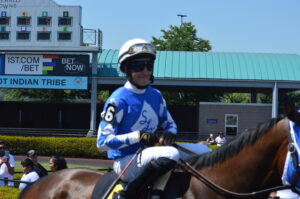 Jake Samuels returned to racing after taking a self-induced break from putting on the silks since October 1, 2020. Samuels was pretty busy in his 1st weekend back with 8 rides and recorded 1 win, a 3rd and 2 4ths for a more than respectable 13% win percent and 50% top 4 finish. Welcome to the Power Rankings Jake!
#9 Clayan Millwood (last ranking not ranked)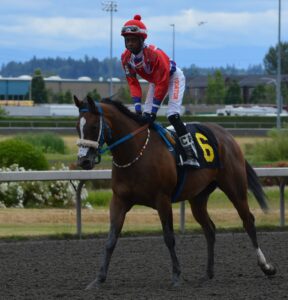 Clayan Millwood moved up to the PNW from Florida earlier the month and he got his 1st win in his 11th try at the Auburn oval going wire to wire in race 1 last Saturday. Millwood had 3 rides all on Saturday and finished a strong 1-0-1-0 for a 33% win percent and 67% top 3 and 4 finish. This Clayan's 1st appearance on the Power Rankings as well. 
#10 Javier Matias (last ranking #7)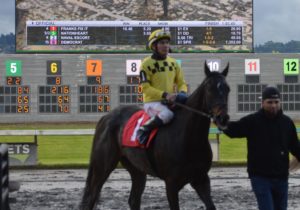 Javier Matias dropped a few spots as he was shut out of the win column this week but also only had 6 rides and he did well with his chances to hang on in the top-10. Matias was 0-1-3-0 from 6 rides for a 67% top 3 and 4 finish rate, certainly worthy of hanging in the top 10. 
Power Rankings Notes:
One name surprisingly not in the top 10 was our #2 ranked rider last week in Jose Zunino. Zunino may have had his best week in his career at Emerald Downs the week before with 2 Stakes wins but then this past week may have been one of his worst. I think he had a day off due to a suspension but did get on 7 rides with just a 3rd and 3 4ths. We don't expect Zunino to be absent from the PR's very long and will be surprised if he doesn't bounce back this week.
This week we're back to normal with 24 races on tap, 7 on Friday, 8 on Saturday and 9 on Sunday including 2 Stakes races as the 2-year-old series continues with the Barbara Shinpoch for fillies and the Lads for colts and geldings.
www.elisportsnetwork.com