8/12/2022
The Power Rankings are meant to be fun and to focus on the human competition between these awesome athletes. Moreover it's a chance to focus more on each rider and their accomplishments each week. We stress there is nothing "official" about these rankings and we know there will be varying opinions which is also great and we hope it does create more conversations about our sport and our athletes.
This week it shows that simple number of mounts is not what it only takes its what you do with the chances you are given and this week a new #1 making his 1st appearance fits that bill perfectly. Here is our 13th edition of the Emerald Jockey Power Rankings:
#1 Eddie Martinez (last ranking #2)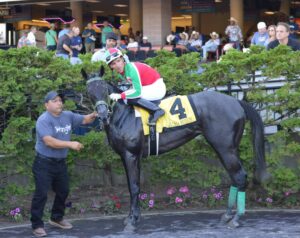 Eddie M only had 6 rides this last week and he made the most of each ride winning 2 placing once, showing twice and 4th place once. He also won the Barbara Shinpoch Stakes and finished 4th in the Lads Stakes. His win percent was 33%, top 3 finish 83% and 100% percent top 4. Martinez had his best week of the season but with 4 rides in Sunday's Championship Stakes races, he looks to hold on to the #1 spot.
#2 Alex Cruz (last ranking #5)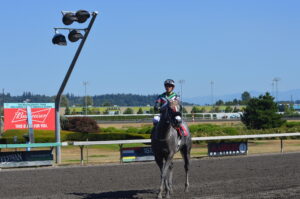 Alex Cruz dropped to #5 because he missed a day and although had a solid week others just did better. This week, Cruz remains underweight and still battling back from a nasty case of food poisoning. But he somehow rode 21 races and finished in the top 4 19 times. He had 4 wins for a 19% win rate, 18 trifecta finishes or a eye popping 86% and 90% in the top 4. Jumping 3 spots back to near the top is no surprise.
#3 Kevin Radke (last ranking #1)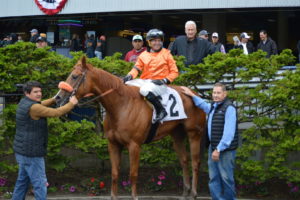 Kevin Radke did lead in wins this past week with 5 and hit a very solid 26% win percent but fell off a little this week with the under-finishes. Had just 1 place, 4 3rds and a 4th for a lower than usual 58% top 4 finish. Radke remains one of the most consistent riders this season just a minor slip this week.
#4 Alex Anaya (last ranking #6)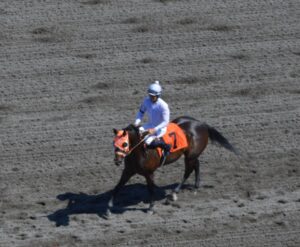 Alex Anaya only had 7 rides and he won 2 had 3 places a show and a 4th. He would have been higher ranked but he did not ride on Friday and did not have a thoroughbred ride on Sunday. His 2 wins were on quarterhorses but his 4 thoroughbred rides were 3 2nds and a 4th. Alex had a 29% win clip, 86% top 3 finish and 100% superfecta finish. A great week for Alex. 
#5 Leslie Mawing (last ranking #4)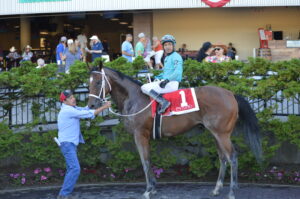 Leslie Mawing dropped 1 spot but you could not ask for a more consistent week with 2 wins, 2 places, 2 shows and 2 4ths from 14 rides. He also won the Lads on 12-1 It's Turbo which kept him barely in front of #6. Mawing has really turned it on since last June and has climbed to 4th in the overall standings. 
#6 Juan Gutierrez (last ranking 3)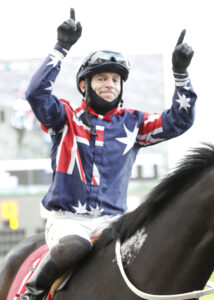 Juan Gutierrez did score 4 wins but like Radke his under-finishes dropped off this week and his average win odds was 5-2. He was 4-2-2-3 for just a 42% top 3 finish and 58% superfecta showing. Guti could have been #5, certainly an argument there but kind of a flat week overall for Gutierrez. He'll bounce back no question.
#7 Jake Samuels (last ranking #8)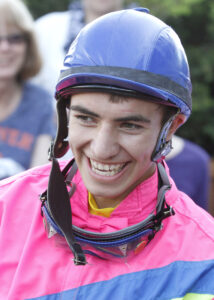 Jake Samuels keeps showing up since his return from a 22-month break from riding and he is drawing attention. Samuels had 12 rides and also finished 2-2-2-2 hitting a 17% win rate and 67% top 4 finish. His 2 wins though were on a 9-2 shot and a 16-1 bomb for a 10-1 average. Won't surprise us if Jake keeps acsending towards the top of the rankings.
#8 Jose Zunino (last ranking not ranked)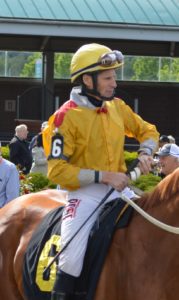 Jose Zunino came off maybe his best week ever 2 weeks ago to one of his least productive and fell all the way off the rankings. Zunino as we expected made a come back this week winning 1, place once, 1 show and 3 4ths from 8 rides. He hit 75% top 4 and quickly is back on the PR's.
#9 Kevin Orozco (last ranking #7)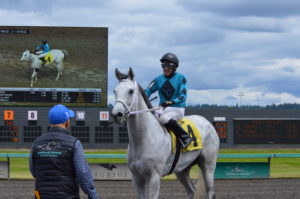 Kevin Orozco is hitting the dog days of summer and has had a couple of mediocre weeks in a row and this last week did not find the winners circle. He did finish 0-2-2-2 from 12 rides for a 50% in the top 4.
#10 Clayan Millwood (last ranking #9)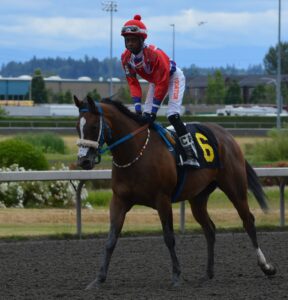 Sometimes number of rides do count a little as Clayan Millwood had just 1 ride but he did the absolute most with that chance with a win. That is certainly enough for him to hold on to a spot in the top 10.  
Power Rankings Notes:
Javier Matias drops off for the 1st time as he had just a 3rd and a 4th but only had 6 rides. Javier has 6 rides alone on Sunday including a mount in each of the 4 stakes races. Look for a return to the top 10 next week. James Wooten rode on Sunday and picked up 4 mounts all on the quarter horses. Wooten just missed a win but did hit the board on all 4 rides with 2 2nds, a 3rd and a 4th. There were several visiting jockeys riding the quarters and getting wins were Santiago Jimjinez and Guillermo Suarez while Cruz Contreras got a 2nd and a 3rd.
We will have a few extra riders this week as well with Evin Roman, Geo Franco and Declan Cannon all coming in to ride in the stakes races.
www.elisportsnetwork.com