Seattle WA –  The Kalen DeBoer era of University of Washington Football began with a resounding win over Kent St. in Montlake on Saturday night in a 45-20 victory at Husky Stadium. Michael Penix Jr. dazzled in his Huskies debut at quarterback and the UW defense had 3 interceptions, two from safety Asa Turner in the victory.
The night though belonged Penix Jr. and the Washington offense, as the Indiana transfer threw for 345 yards and 4 touchdowns, 0 interceptions on 26-39 passing. 10 receivers caught passes for UW, Jalen McMillan had 5 receptions for 87 yards and two scores, Rome Odunze added 7 catches and a touchdown for 84 yards and Taj Davis pulled in a TD on 3 catches for 72 yards.
It was a perfect start for the Dawgs forcing a Kent St. interception on the first play from scrimmage from Turner and it was all Huskies after that.
UW started their opening drive with 4 straight runs, scoring on a Wayne Taulapapa run through a whole on the left side from 28 yards out to make it 7-0. Penix Jr. began to surgically dissect the Golden Flashes defense with short and immediate pass completions and looked extremely comfortable in the pocket in his first start for Washington. He also showcased his running ability as well, picking up a key 1st down on 4th and 1 in the 1st half.
The Kent St. defense struggled to stay with Washington receivers all night, but the Huskies offensive line dominated the game as well giving Penix Jr. all the time he needed to make precise passes.
There were a couple of things Washington will need to focus on before their showdown at home against Michigan State in two weeks, most notably holding on to the football. UW fumbled 3 times and lost one. Against a top tier team that could be costly. Also, there were some defensive breakdowns as well, giving up a long 47-yard TD pass in the 2nd quarter that kept the Golden Flashes competitive.
UW led 21-7 after 1 and 31-13 at halftime and while Kent State was able to have some success offensively, it never really felt like the game was in danger.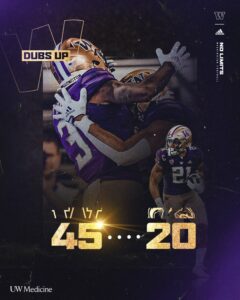 After a disastrous season a year ago, there has been quiet optimism for the season under new Head Coach Kalen DeBoer, and that optimism should continue following the performance on Saturday. UW hosts Portland St. next week in the 2nd of 4 straight home games to start the season. Kent St. should be a contender for a MAC championship this season after losing in the championship game in 2021, but their schedule only gets harder as they face powers Oklahoma next week and defending National Champions Georgia in week 4.