9/10/2022
Montesano 2, Centralia 0
(Centralia, WA) The Montesano Bulldogs are coming off a Final 4 appearance at the State Soccer Tournament last November and remained loaded to make another deep run under veteran coach Fidel Sanchez. The Centralia Tigers are looking to their new Head Coach Noel Vazquez to turn around a program that has struggled for several years.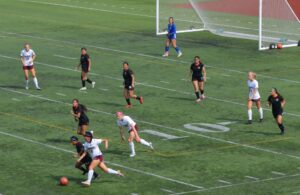 Saturday's match would be a good test for the Tigers, even though they are a 2A school and Monte 1A the Bulldogs program would be competitive at most classifications. The Tigers were also short handed on Saturday missing 3 starters and then regular keeper Liliana Babka wasn't able to start forcing back-up Anastasia Lapierre into goal. Lapierre did a great job holding down the fort with a save until Babka could get in which she did about 10 minutes into the match. 
The Bulldogs would test Babka right away with multiple crosses from Adda Potts and Sam Roundtree with the Tigers keeper catching them and forcing the Bulldogs to change tactics. In the 17th minute Mikayla Stanfield would cut to the inside of the field and hit a shot from 25 yards out to make it 1-0 Monte. Stanfield would strike again in the 30th minute this time off a nice pass inside the 18 yard box a fake to side step shot later and its 2-0 Bulldogs and that would be the halftime score.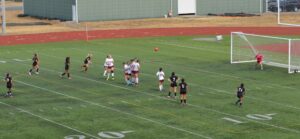 Centralia came out firing and putting a ton of pressure on the Bulldogs defense early in the 2nd half and not afraid to shoot from anywhere when they got an open shot. Those shots coming from the Tiger tandem of Anahi Corona and Olivia Gruginski whose feistiness in the middle of the field caused problems for the bulldogs all afternoon.
Montesano goalkeeper Riley Timmons would get ready for shots as soon as the Tigers crossed midfield and the Bulldog backline of Parks, Kerkser and Wintrip would object to any balls that came into their defensive zone. Stanfield was hungry for a hat trick only to be denied by the cross bar on one attempt and several saves from the Tigers goalie. Lily Causey and Emily Schallon also had chances in the 2nd half for Montesano but the Centralia defense would hold them scoreless. Montesano is now 3-1 and travels to Seton Catholic on Thursday. Centralia drops to 0-3 with a league match against Tumwater on Tuesday. 
Video Highlights
Montesano scores 1st
Stanfield hits her 2nd goal
Tigers defense deny Bulldogs just prior to halftime
Photo Gallery
www.elisportsnetwork.com