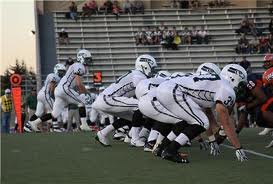 There are some great rivalry high school football games in the state of Washington, but few have the level of pageantry and tradition in the  like the annual Fish Bowl game between The Peninsula Seahawks and Gig Harbor Tides. For those who live in Gig Harbor and the Key Peninsula, this is more than a game. It is as event that brings a town together each year, and has elements that makes it a unique experience in the South Sound.
On Friday, the Seahawks and the Tides meet in the 44th annual Fishbowl in Purdy, and this one might be the most anticipated and enticing matchup ever. Peninsula has won 6thstraight meetings, the  2nd longest winning streak in the series and lead the series by a single game, 22-21.
The Tides are probably tired about reading and hearing about what happened in last years Fish Bowl: The Tides led 28-0 at the half before the Seahawks rallied to score 28 straight to force OT, winning 35-28 in an improbable victory.
For years, Fish Bowl was all about bragging rights for the respective rivals with them being in different divisions, but now they are both in the 3A SSC which adds a level of importance and intrigue to the rivalry.
Gig Harbor is off to as good of a start that you can have under 1st year Tides Head Coach Darrin Reeves. Gig Harbor is 2-0 and has not allowed a single point in a 20-0 win over Spanaway Lake and 24-0 win over Bonney Lake last week. It is the first time the Tides have had back to back shutouts since 2015 and GH is aiming for their first 3-0 start since 2019.
Obviously, the defense has been stout for Gig Harbor to start the season, but senior running back Blaze Herbert has been the catalyst for the offense, rushing for over 100 yards in both games and 132 rushing yards against Bonney Lake and added a receiving score. Senior quarterback Will Landram threw his first passing touchdown of the season last week, a strike to Gavin Nash and added another through the air and on the ground in the win.
Christian Parrish is another Tides player to watch who plays both ways but is always a threat to intercept a pass as well. Receiver Collin Montgomery found the endzone for the first Tides touchdown in last years Fish Bowl, and he would love to do it again this year in win over the Seahawks.
Peninsula comes into Fish Bowl with a 1-1 record after losing a 29-27 nail-biter in week one to 2A SPSL favorite Enumclaw, then bounced back in a big way with a 31-7 thumping of 4A NPSL Kentwood. After 4 turnovers in week 1, the Seahawks played much cleaner last week, forcing 4 turnovers and shutting out the Conks 24-0 in the final 3 quarters after a 7-7 tie after 1.
Payton Knowles has been outstanding for PHS at QB, and has been efficient, running for a TD and throwing for another last week, and Aiden Lester added two rushing scores in the win.  Peninsula is the toughest offense the Tides have faced this season (Spanaway Lake had a backup QB in week 1). Connor Burton, Brady Laybourne, Aiden Lester and Isaac Smith give Seahawks a stable of backs to run behind a veteran offensive line lead by Tanner Stabin and Grady Johnson. Receivers Dane Meddaugh, Gabe Haver Brown and Tight End Cole Muilenburg provide solid targets for Knowles in the passing game.
Keys to the game
For Gig Harbor, the big thing for them is to protect the ball offensively, something they have done well in the 1st two games. Gig Harbor was in control of last years Fish Bowl until Ethan Fias intercepted Landram for an 86 yard TD that completely changed the momentum of the game. Both offensive and defensive lines for both teams are stout, both have veteran quarterbacks and both will look to establish the run with Herbert for GH and Burton and Co. for Peninsula. The Seahawks need to protect the ball as well, as the 4 turnovers in the season opener was a big issue in the close loss.
Peninsula is averaging 29 points per game offensively against a Gig Harbor defense that would love nothing more to shut down the Seahawks explosive attack. Something has to give.
Kickoff from Roy Anderson Field in Purdy on Friday night is at 7 PM, with pre game show beginning at 6:45 on NFHS and the Eli Sports Network. Alex Benzegala, Adison Richards, and Paul Beattie will be on the broadcast.
You can watch this entire game live on the NFHS Network and on-demand. Subscriptions are $11.99 per month and gives you access to the entire NFHS Network all across the country to watch the live broadcasts or any on-demand games. Literally hundreds of thousands of hours of game content. Go to https://www.nfhsnetwork.com/affiliates/eli-sports-network to sign-up if you don't have a subscription or to find the on-demand replay of this game.