Kennedy Catholic 52, Decatur 0
By Alex Benzegala
(Burien, WA) The Kennedy Catholic Lancers used big plays on offense and took advantage of Decatur Golden Gators mistakes in a dominant 52-0 shutout win at Highline Memorial Stadium on Saturday afternoon.
It took a while for the Lancers to get going but Kennedy got on the board with a touchdown pass and a 2-point conversion to make it 8-0 KCHS at the 8:59 mark of the 1st quarter.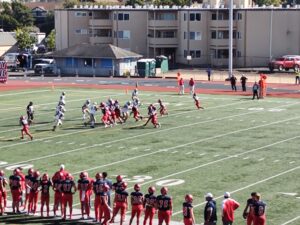 The Golden Gators were moving the ball some in the first half but then had a fumble and the Lancers made them pay with another touchdown and another 2-point conversion made it 16-0 with 1:03 in 1st. The wheels started to come off for Decatur as Kennedy forced another fumble and scored quickly to make it 24-0 after the first quarter.

The avalanche of points continued moments later to start the 2nd frame as a pick-six made it 31-0 Kennedy basically put the game out of reach seconds into the 2nd quarter.
On the game, Kennedy forced a total of 7 turnovers and turned most, if not all of those into Lancers points. 6-4 Senior receiver and Portland State recruit Maclane Watkins had two receiving touchdowns and over 100 receiving yards in the win. Kennedy played 2 quarterbacks, as Sophomore Devon Forehand had a big game with 3 passing touchdowns and Senior Payton Faker threw another two scores.
Kennedy forced 7 turnovers in the win, but Decatur did some nice things defensively as well, forcing 3 turnovers themselves including an interception they almost took for a touchdown.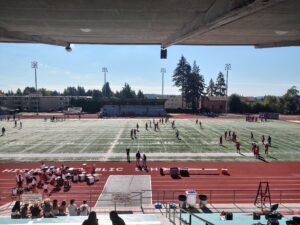 The Golden Gators were unable to get points however due to the opportunistic defense of Kennedy and unable to get their star running back Nehemiah Washington going as he was held under 100 yards rushing.
Kennedy Catholic won their third straight game after losing to 3A power Eastside Catholic in week 1 and are now 3-1 overall and 2-0 in the SPSL. Next week the Lancers have a showdown with fellow NPSL contender Federal Way  at 2-1 overall and 1-0 in the league have multiple Division-1 recruits.
Decatur will look to end their two game losing skid as they travel to Tahoma next week.
You can watch the entire match between Kennedy and Decatur on the NFHS Network on-demand. Subscriptions are $11.99 per month and gives you access to the entire NFHS Network all across the country to watch the live broadcasts or any on-demand games. Literally hundreds of thousands of hours of game content. Go to https://www.nfhsnetwork.com/affiliates/eli-sports-network to sign-up if you don't have a subscription or to find the on-demand replay of this game.
Video Highlights
Lancers strike first on a 50-yard bomb
K-C Defense rises up with a pick 6
www.elisportsnetwork.com