1/6/2023
The Tumwater T-Birds swept the Black Hills Wolves on the road in the Wolf Den in the first crosstown showdown of the season. Our coverage of both games is below. 
Girls
Tumwater 42, Black Hills 21
The two teams struggled offensively through the 1st half with Tumwater leading only 15-11 at halftime. The T-Birds kicked up the scoring in the 3rd quarter with 18 points. Regan Brewer, Cierra Larson and Rylee Beebe all heated up and all 3 ended in double figures by the end of the game.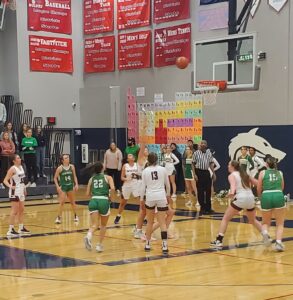 Beebe led all scorers with 12 including a pair of 3's while Larson had 10 but also was sticky on defense with 5 steals. Brewer also added 10 points but grabbed 10 rebounds, 7 offensive, to get a double-double. Brewer also had a pair of steals and 3 assists. This stat line was good enough to earn our Thorbeckes MVP award. Kendal Gjurasic just missed double figs with 8.

The Wolves could never get things rolling offensively missing several open shot as they just weren't going down for Black Hills. 5 players scored with Ava Klovas leading with 6 despite playing very limited time due to picking up 4 fouls in the 1st quarter. Kayla Patti and Kiley McMahon each had 5 and Carmen Williams led in the paint with 8 boards.
Tumwater improves to 5-0 in Evco 2A play and 9-4 overall while Black Hills drops to 1-4 and 3-6.
Scoring
Tumwater: Beebe 12, Larson 10, Brewer 10, Gjurasic 8, Simmons 2
Black Hills: Klovas 6, Patti 5, McMahon 5, Johnson 3, Williams 2
Photo Gallery
Boys
Tumwater 53, Black Hills 38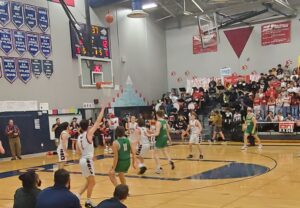 In a battle of undefeated teams in the Evco 2a, the Black Hills boys had the same issue as their girls team they simply could not get shots to fall and the T-Birds took full advantage where they jumped out to a 12-3 lead after the 1st quarter and pushed it to a 27-11 halftime lead. Although the Wolves would close the gap down to 6 at times in the 2nd half Tumwater responded each time with runs to again thwart any thoughts of a full comeback and notched their 5th league win.
Tumwater would also use shots behind the arc as they rained down 6 longballs throughout the game and a solid mix with Luke Reid and Luke Brewer each with a pair and 1 for Connor Hopkins and Brayden Oram. But it was the play of Andrew Collins who exploded for 16 of his 18 points in the 2nd half to put the game away for the T-Birds. Collins earned our Thorebeckes MVP award. 
Black Hills showed sparks but could not sustain any runs with many misses especially from behind the arc. Keagan Rongen did his usual blue collar work in the key and led the Wolves with 16 points, Johnnie Stallings added 11. 
Tumwater is now 5-0 in Evco 2a league play and 8-4 overall while the Wolves drop to 4-1 and 7-5 for the season.
Scoring
Tumwater: Collins 18, L Brewer 10, Harroun 8, Reid 7, Hopkins 7, Oram 3
Black Hills: Rongen 16, Stallings 11, Nysted 6, Ellison 4, Johnson 1
Video Highlights
www.elisportsnetwork.com