1/9/2023
Opinion: Business as Usual is not OK
By Paul Beattie
(This is a long piece, so fair warning.) With the 2022 season in the rearview mirror, I want to talk about what just might be the most important off-season in Washington State Thoroughbred history since 1933. There is no scarier time for the future of Thoroughbred Horse Racing in Washington State than right now and the old ways of doing business at the track no longer work and if we're not careful we will see the sport we all love and support disappear and it won't come back.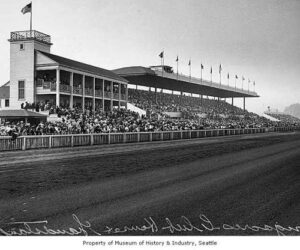 This is meant to be a bold and hopefully stunning statement that I hope will get folks to understand the reality and that there is time to fix this and to stabilize our industry for years and decades to come. Why now? That is the question I am sure some are asking, why is now the time for this kind of story or piece?
To be honest I was intending on posting this during the season when an airing of frustration ended up on Facebook. It was due to lack of races being run and the usual pointing of the fingers comes out as we as an industry commonly do is look to blame each other and not solutions. The desire to have things as they used to be is so strong and remains so prevalent that the harsh truth in front of our eyes keeps many blinded.
I understand the frustration and understand how the horse racing business has become exceptionally hard to simply survive. But I hope by the end of this that a different vision and a new found energy by coming together can get us all to a place where we can again grow and sustain this beautiful sport and industry in this state.
I am going to go through every piece of our current status with facts and reality. This is going to be a long post and I hope you read it all. There is REAL hope for optimism for horse racing but we got one shot at this and it's going to be during the current Legislative session that begins today. I will get to that but first I want to lay out some facts and you can choose to believe or not believe them if you want but it is important that we look from outside what I call the bubble and try to see what others see.
Let me be honest about myself first. I write and cover more of Emerald Downs than any other media site combined and its not close. I must be making a fortune doing this many would think, what a gig getting paid to cover a sport I truly love.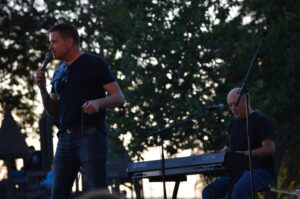 Now the truth, Emerald Downs paid my company $2,000 last year for an ad I run for them on my website and to sponsor a free Music in the Park series in the area I live in Chehalis. I then take that $2,000 and combine it with other sponsors including the City of Chehalis to put on a series of 3 free concerts. This year's concerts included 3 national artists with millions of albums and songs sold or downloaded. Total cost of this series was $40,000. My company also puts in 3k each year for this event because in Lewis County where I live, we have a large low income population and for many this event is their only entertainment of the summer. So in the end the 2k I got from Emerald Downs this year I literally get nothing it went to help cover the costs of this event and I am very grateful for the contribution.
Maybe I do it for the website hits, I get paid somehow for people reading my stuff like this story, the money must magically appear from somewhere. It does not, there is no on-line subscription nor do I allow pop-up google ads because I don't like them so no I do not make anything, in fact after my poor betting choices during the racing season it costs me money every year to cover this sport.
I must have a massive ego otherwise why would I do this? My ego is up for debate but it is very difficult to get ahold of me through my website and I rarely put my name to my work because I don't care about any of that personal crap of "look how great I am as a person", first because it's not true and 2nd I truly don't like being part of the story but love telling the stories of this great sport.
The real reason I do all this is my Grandma Helen's fault. She and my Mom took me to Longacres in 1974 at the age of 9 and even though I was not the minimum age of 10 to get in, I passed for being 10 because I was tall. From the moment "Splendid Splinter" won the 1st race I ever saw live with I believe Tom McAlister riding I was hooked. That $2 show bet that got me back $3.80 and was all that was needed to connect me to this sport for the rest of my life. By the way Grandma Helen was a really good handicapper, however, Grandpa Jim always had a winning ticket and always said "I had that one", but had a habit of betting 75% or more of the field to win.
The other reason is what created my website to begin with, the Eli Sports Network covers and live streams High School sports and between High School sports, Horse Racing and many other sports that don't have NFL, NBA or MLB attached. The traditional media is also in a current state of flux as they try to figure out how to make money off of media. The old days of selling ads is virtually gone in small markets which has seen tons of small radio stations, TV stations and newspapers either go out of business or get gobbled up by bigger entities and then get reduced to the most efficient and cheapest way to provide content while collecting a smaller and smaller advertising pool of money. I do it because no one else is.
I do it because I believe the story of you folks who work dawn to dusk, 365 days a year is a story of value and is a story worth preserving. It is my passion, it makes me happy, I love doing it and I am fortunate enough to be in a position with support from my family to do this. That's why. There is no other reason. The smiling faces of the jockeys, trainers and owners rushing into the winner's circle. The beauty and grace of these gorgeous animals and how they perform is all I need. That's why.
If you have noticed I don't write negative stories. Sometimes I have to report negative things but we do that and move on and focus on why we do this not all the reasons we are bombarded with why we shouldn't. It's so easy to point out and talk about the bad, make assumptions, herd mentality they call it. To me that is the laziest existence a person can be, it is much harder to stay positive, to seek answers and solutions and not rush to judgement.
So why all this in a story about the future of horse racing? Why this diatribe? My career was 25+ years in radio and media and now last 12 owning and running Eli Sports for a career in media approaching 40 years. I understand the media world and I can now see from "outside" the traditional media bubble just how bad it is going for that industry and frantic reactions media owners are going through trying to find their place.
Now take the before mentioned pool of advertising money and replace that with the term "purses". Take the example of big business buying up or forcing smaller ones out of business. Take the part that some newspapers no longer cover any high school sports and are simply a mouthpiece for a few select larger organizations. Sound familiar?
With that let's get started with the truth. One of the biggest issues we have is purses are too low to attract more horses and to really kick start the breeding industry. The finger many times gets pointed to the Muckleshoot Tribe who purchased the track from Ron Crockett. The thought some have is they have a lot of money why aren't they putting more in?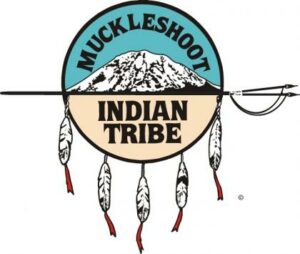 The Muckleshoot Tribe purchased the track and wiped out the long time debt it took to build this track. They have and continue to contribute well more than a million dollars a year and have done so for several years. The Tribe has supported and invested in the facility and horse racing for many years so if they were not interested in keeping racing afloat they did not have to buy the track from Crockett, they already owned the property they could have waited until there was nothing left of the sport and simply taken over.
Those that question the Tribe's commitment best understand without them Emerald Downs would be Longacres, Yakima Meadows, Playfair, Portland Meadows, Grants Pass….need I go on?
Another thing folks not familiar with Tribe's is how they govern. They traditionally operate with a board much like other governmental entities and they hold tribal elections and the direction or prioritization or wants and needs can change very quickly with a change in leadership. With that, changes in priorities can be done very quickly. Unlike State and Federal governments we're all used too, tribal governments are way more efficient and can make both small and big decisions rather quickly and they do. We are lucky the tribe is not only a willing partner but a wanting partner and to ask for more from them is both lazy and dangerous.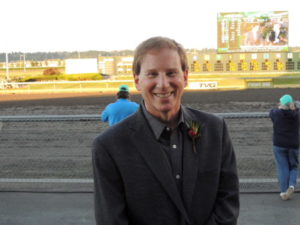 The tribe hired Phil Ziegler to be the Track's President and Phil who has been a trusted member of the Muckleshoot administration for years jumped at the chance to lead this company. There is this belief by some and I have seen it many times on social media, "they want to shut down racing in Washington". First, who is they? Second, what kind of stupid bullshit thought process is this? It's a ridiculous statement that serves no one. Why would Phil or the Tribe want to shut down racing this way when they could simply close it and say we're done? They don't need to pacify anyone, they bought the track, they own the land they can do whatever they want, they do not need some elaborate conspiracy plan to shut down racing if they wanted too, all they would have to do is say, hey pack all your shit and get out, we're done. 
I don't for a second believe that Phil Zeigler who had a great job and position at another racetrack and casino would come back with the goal to shut down the racing industry in Washington state. It's an absurd premise. Further the Tribe has proven time and again of their support for racing, and if you still don't believe it, it doesn't really matter because it's our only option, period. I am exceptionally thankful to at least have an option unlike Oregon and Idaho.
The one thing the tribe does want is for racing to be self-sufficient. Emerald Downs has it's own annual budget, it's own business plan, it's own expenses it is NOT thrown into a huge overall budget that includes the tribe's other business interests, we are supposed to make it on our own. This includes finding ways to remain viable and finding other ways to increase revenue at the track.
This leads me to the truck parking. Yes it's ugly and inconvenient at times but when no one was allowed to come to the track and the track didn't even know when they might be able to return to racing during the pandemic shut down, any cash flow at all was better than sitting here waiting to die. The money that comes in for those parking spaces go direct to the Emerald Downs budget of running the track and has helped allow purse increases over the past few years when most other tracks dangled by a thread. Will the trucks ever leave? We hope so but not until racing can be sustained on its own.
There is something else to remember about these changing times and yes we know about the gambling dollar and how 70% of it used to go to horse racing and now it's like 1%. But if you haven't noticed the NFL and MLB have spent a lot of time and money on how to shorten their games because 3 hours is too long for the public these days. They have focused on fan experience trying to make it better and easier. WiFi hot spot areas, in stadium stats for those playing fantasy football, results and highlights from other games. No longer is a 6-hour event something that most people are wanting to commit to doing so we have to keep changing as well.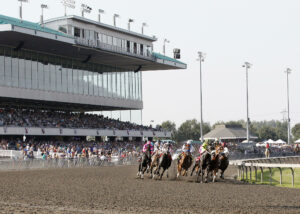 This is a huge reason why the Turf Club was eliminated. The casino that replaced it has not been what was hoped but frankly right now the space is really not needed for the number and type of fans coming to the track these days. When the track was built it was clearly a change from Longacres with the 6 floors and an important part was the park area for families.
There are a lot of families coming to the track and the park area is a great attraction. Some say who cares they don't bet much but this is how you continue to cultivate new fans is by exposing them to this great sport and game. Again, a $2 show bet made me a lifelong fan. The other economic reality is every person who walks through the gates is worth x-number of dollars. They are either going to spend on admission, food, drink, seats, gift shop or betting. I did work for 5 years at Emerald in the beginning so I know that in 1998 every body that walked through the doors, infant to 100-years-old was each worth $29. It's likely near double that now but there is value in people coming to the track and being on-site.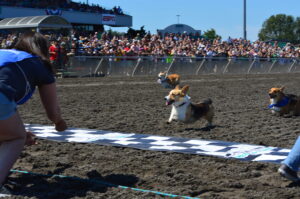 This is why big promotional days are also important. I know many traditionalists are not fans of the Corgi races or the other dog and animal races but they are hugely important to attract people and new people. Now I do have one tiny criticism of all the promotional events and that is they are not tied in with racing. For example, I'd love to see for the corgi races to set up how ever many finalists in the Corgi Championship an entry box for each number. Then fans would get an entry blank at the admission gate and they put it in one of the boxes. Then whichever number wins the Corgi Championship there is a drawing from that box for prizes. To take it another step tie those prizes in with the running of that days feature or stakes race. This ties the promotion in WITH horse racing.
The goal of promotions in my view should be two-fold, attracting new folks who may not have even considered coming to the track a reason to come and then 2nd to tie those promotions in with the act of playing the game of horse racing. Get them to take that first step of picking a horse and rooting for it.
I am getting off track. But the point is there is a thought process behind everything and if you don't agree or have a better idea Phil Ziegler has offered and keeps a standing open door policy and is willing to talk with anyone on how to do things better. The old way of the backside vs the frontside, horsemen vs administration isn't going to cut it anymore. We're the family, we will have disagreements but the first and most important thing to remember is the enemy is on the outside. The enemy wants to end this sport. The enemy refuses to understand and know what you do, how much you love your animals and how much work you do on a daily basis.
If you must be angry that is the target you should direct your anger. Families disagree, fight but when the chips are down families pull together, families set aside silly arguments and focus on the bigger picture. This is it folks. If Emerald fails racing will be gone forever in Washington State. No one is building new tracks anywhere, they're closing them. We have gone from the glory and golden years of racing which peaked in the 70's where Longacres ran from April to October, Portland ran from October to April, Yakima ran those same months, Playfair picked up with racing in the summer and all the fair meets along with Grants Pass in southern Oregon and Les Bois park in Idaho, all are GONE!
Our one chance for long term survival is in this year's legislative session that begins today. Not many folks know that this bill nearly passed last year and will bring the sustained support that many tracks around the country get from casino revenue. We don't have that here in Washington State which is why some tracks that never before could compete with purse money can now, like in Indiana, Minnesota, Pennsylvania and so many more.,
The proposed bill is having the final touches being put on it and will be run this legislative session. The bill is based on the bill Texas passed a few years ago, another state without casino revenue for racetracks, that gets a percent of the sales tax on equine purchases. In other words anytime a saddle is sold, hay is purchased or any other purchase that falls under equine sales tax a portion of that tax will come to the State's horse racing industry. This has boosted Texas racing significantly and stabilized the Texas racing industry.
The bill being proposed in Washington state has a few changes from last year to make it attractive to some lawmakers who clearly don't understand the horse racing business. But it is a necessary move in politics to make it work. Last year the bill passed with a HUGE bi-partisan vote in the House of Representatives something like 95-5. The bill then stalled in the Senate and did not come up for a vote which it would have certainly passed but the leader was uncomfortable with some of the language so it was not brought up for a vote before the session ran out.
This is all really good news though, I have experience as a lobbyist and know bills like this usually take a few runs to get it all good enough to satisfy enough to get it over the finish line. The massive vote in the House last year stunned me and then hearing how much support it got in the Senate had they just put it up for a vote. Of course Governor Inslee also has to sign it but there is nothing to signal he wouldn't and it appears he has no issues with the bill either, another great sign.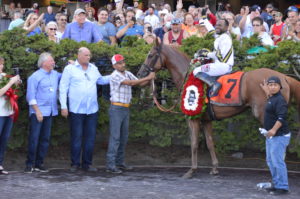 The bill would funnel up to 6-million dollars a year to the horse racing industry. The money will pay for a multitude of expenses that ultimately will allow Emerald Downs to significantly raise purses. The raise in purses again will be much like Texas and will shift Emerald Downs from basically a year-to-year lifeline to a long term, sustained revenue stream. This will do 3 big things, 1st increase horse population, add racing days and ultimately should kick-start the breeding industry once again in Washington State.
What can you do to help? Well first we need the final bill to be completed and offered and then it will be given a number. It will likely be presented in both the House of Reps and the Senate at the same time to get the legislative process rolling quickly. Once the bill is numbered and offered then we need everyone to contact their state reps and senators to let them know we need this bill to pass.
I will be updating the information and I will be publicizing links to how you can contact lawmakers in Olympia. I will even likely post a generic message of support you can copy and send to as many lawmakers as possible. Stay tuned for that information.
This is the reason this is the most important off-season in Washington Thoroughbred history. It is the time we MUST come together, set aside all differences and get this done so the future can be secured and we can truly begin re-building this great sport and great industry. Let's rally together as a family to do what Joe Gottstein did in 1933 that led to the creation of this great sport in Washington State. The training is done, final workouts are completed and we're in the paddock. The race is about to start and we all need to meet in the Winner's Circle. Let's do this!
www.elisportsnetwork.com